What's the prescription for getting over a heartbreak?
Jenny (Gina Rodriguez) is a 29-year-old music journalist who lands her dream job as an editor at Rolling Stone. Nate, Jenny's boyfriend, breaks up with her. So, Jenny calls her two best friends, Blair (Brittany Snow) and Erin (DeWanda Wise, She's Gotta Have It), to take her mind off her pain with a wild night out in New York City.
The trio's plan for the day: shopping, smoking, drinking, singing along to Selena, and, just when they least expect it, personal growth. Erin's a black lesbian with impeccable eyeliner and an effortless comeback for every exchange. She's been casually dating Leah, a fashionable and open-hearted South Asian boutique owner. Leah's ready for more out their relationship, but Erin's got serious cold feet. All the smart ass quips and sexy smiles in the world aren't going to save her from growing up, and she's just not ready yet.
Someone Great's the movie debut of Jennifer Kaytin Robinson (creator of Sweet/Vicious) and leads with its heart first. At the same time, it's a bit like Broad City on steroids, with each comedy bit and one-liner working overtime to outdo the one that came before. The soundtrack – which features Lizzo, Mitski, Frank Ocean, Lorde, Outkast, and more – is a character of its own. Fitting for a movie where the protagonist is a writer, Someone Great is a love letter to love, to your twenties and impending fear of adulthood, to your best friends. The "someone great" isn't a romantic partner at all – it's each of the girls, bringing out the best in each other.
Natalie and Carmen got together to relive every hilarious moment. You can stream Someone Great on Netflix.
---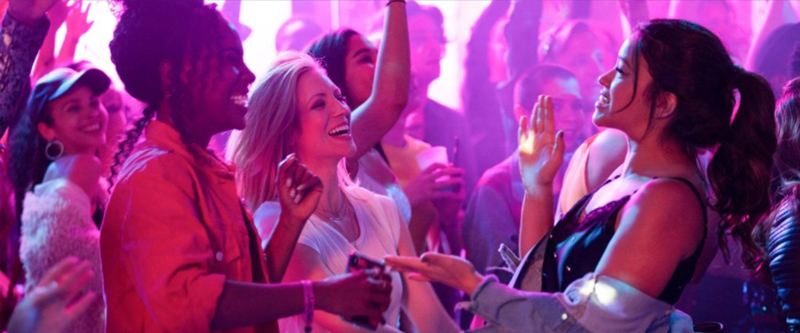 Natalie: Where should we start? Friday in North Carolina was kinda miserable. There were heavy storms with sporadic tornado warnings popping off. I opted to spend the night at home, watching Someone Great and celebrating the end of Lent with some cheap wine – which is kinda the perfect way to enjoy this movie.
Carmen: Hmmhmm. I watched it on my laptop while laying in bed on Saturday morning. The rain was doing this pretty grey streaking thing across the glass that I was obsessed with. My bed was warm and soft. Another ideal way to be introduced to this crew.
Natalie: I feel like Gina Rodriguez keeps picking movie roles to get her as far away from Jane the Virgin as she possibly can.
Carmen: OK SO YES! One thing that kept throwing me really hard was Jane the Virgin just cussing up a storm! And smoking joints the size of my head! And taking Molly!
Natalie: I think she's definitely taking those roles intentionally… so people don't see her as the "girl next door" for forever.
Carmen: I came to like her in Someone Great though! It was a little…. jarring? at first. But I got there.
Natalie: Yeah, I liked Gina as Jenny. I know Gina Rodriguez wants a break from the wholesome JTV thing, but I think her real strength is making a character endearing. And that was really helpful in this movie that had very little exposition and moved from break-up to recovery in the span of one day.
Carmen: I think Someone Great was very effective in throwing its audience into the deep end and then working its way backwards, so that you got to know all of the characters better via flashbacks. One of the reasons that works is because… we all know what we signed up for before we hit play on the Netflix queue, right? We know a "girl power rom-com" and all its clichés. I appreciate that Someone Great didn't try and pretend it was something it wasn't.
BUT I also think it worked well because Gina Rodriguez, DeWanda Wise, and Brittany Snow are all very empathetic actors. You care for them and want to root for them right away.
Natalie: The flashbacks were effective – particularly in terms of showing how everyday things can trigger you, like Jenny buying the Diet Coke at the bodega – but I wouldn't have minded it being spread out over more time. I also agree that Gina Rodriguez and Brittany Snow are naturally compassionate actors. I feel like I'm just starting to get to know DeWanda, though.
Carmen: DeWanda Wise really works for me! To be fair, at least part of that is because I've only seen her in two things – this movie and her leading role in the Netflix series remake of She's Gotta Have It – and she played gay in both of them. Not that I'm complaining!
I didn't love the first season of She's Gotta Have It for a lot of reasons that have to do with Spike Lee's choices as a director and very little with her. I found DaWanda's take on Nola Darling to be charming, despite that show's otherwise many shortcomings. Her charm is turned up tenfold as Erin in Someone Great.
The first time we meet Erin, she's in bed with another woman of color, which I adored. Let the audience know right away what they are getting in to.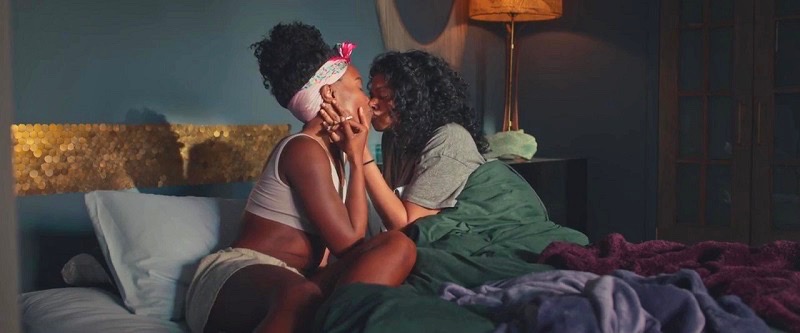 Natalie: Absolutely. I thought immediately about what you'd written when a similar scene happened in the first season of Black Lightning and how rare it is to see two women of color in bed like that.
Carmen: In the next scene, Erin's still a little sex hung over and coming home to her apartment. She tells her roommate, "Dude I went to pet a chihuahua outside of our building, and it was a fucking rat." That's when I knew – I was in love.
I was very much expecting Erin's sexuality to be a minor part of the story. I feel like when you have the "gay best friend" in a straight woman's story, we all sign up expecting the worst and press play anyway.
Natalie: I definitely didn't think we'd get as much of her story as we did. How'd you feel about the non-committal lesbian, though? I feel like we're seeing that character a lot these days.
Carmen: Well, you know what really did work for me? That they framed her being non-committal around a very specific baby gay experience (which I won't spoil) that I think a lot of queer audiences can relate to and that movie made it clear that she hadn't moved on from that initial hurt, in part, because she had straight best friends. She spent years with no one to talk to about it. When that truth came out, it hit me hard. I wasn't expecting it.
The "Shane trope" (for lack of a better phrase) is very common in lesbian or bisexual pop culture. BUT it's not often explored underneath the skin. Similarly, we've seen lots of queer women of color besties in a straight crew (Kat from The Bold Type and Emily Fields in PLL both come to mind), but we don't often get to explore what that group dynamic means for the character in question. How does it feel to be gay without a gay community to lean on?
Natalie: Yes, absolutely.
Carmen: Ok!! This is making the movie sound much more serious than it is. Whoops! At it's core, Someone Great is a comedy about getting high and drunk with your girls and listening to some great pop music and growing up a little in the process.
Natalie: The soundtrack was great! Lil' Kim! Big Freedia! Lizzo! (Hey! Congrats on that album drop on Friday!) SELENA!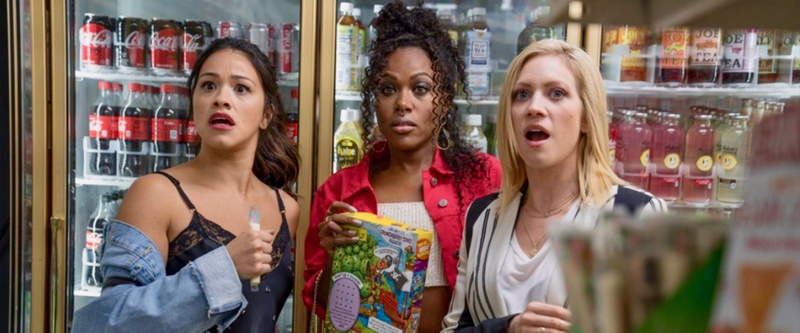 Carmen: I WANT TO TALK ABOUT THE SELENA SCENE! Back to my earlier point, Someone Great really doesn't stray far from the girl friendship comedy playbook – there's multiple required "girls dancing together in their kitchen and while getting dressed" scenes and there's this take on the "girls sing an emotional song together scene." But you know what? It worked for me! Because it was Selena! AND WHEN IS THE SONG THE GIRLS SING TO IN A MOVIE EVER SELENA?? When does a Latina, drunk in a bodega, get to have the intimately familiar experience of crying her eyes out to "Dreaming of You" while her girls have her back? And they were so cute together!
Natalie: That scene really was great. Their friendship felt lived in.
Any surprising moments in the movie for you? I didn't pay attention to the cast list, so Rosario Dawson and RuPaul popping up were a surprise for me. Jaboukie Young-White was a highlight. I want to see a lot more of that kid. He was hilarious.
Carmen: Oh was he the Jaden Smith knock off? (sorry, but it was true)
Natalie: Aww, yes.
Carmen: His scene was funny! I also enjoyed that RuPaul is a high end Molly dealer, without losing any of the gay fabulousness of RuPaul. That was a good touch. May all the Molly dealers in the world have satin robes and tiny dogs laying on velvet floor pillows with tiaras on their heads. Amen.
Natalie: Their love for pets was weird and never fully explained. Maybe just because they were high 96% of the time.
Carmen: Real talk, I think anything unexplainable can be summed up with "maybe just because they were high 96% of the time"
Natalie: Did you relate to one character more than the others?
Carmen: It's weird because I didn't necessarily see myself in any of the girls. I don't even know if we would be friends in real life (I don't do drugs and I clearly don't have their capacity for alcohol consumption), but I still enjoyed them? Their friendship was sure as hell one that was a lot of fun to watch.
I also LOVED the aesthetics of the movie, like Jenny's "Latina AF" crop top, or the "Black Women Artists for Black Lives Matter" poster in Erin's bedroom. They didn't whitewash their characters of color for the sake of some kind of colorblind friendship narrative, and for that I was supremely thankful. Black girls and Latinas like to act silly, do dumb ass highjinks and sing in our underwear to pop ballads just as much as white girls do.
(Though, there were some moments where the movie tried too hard. If I saw one more background throw pillow or coffee mug with hot pink "feminist" written across it, I was going to scream.)
Natalie: Right. I love that Netflix is really cornering the market on the rom-coms featuring POC leads, because that's been untapped for so long. Though I don't think Someone Great is as good as To All the Boys I've Loved Before or The Incredible Jessica James.
Carmen: Oh see? I definitely liked this more than Jessica James! I mean, I liked Jessica James. It was a pleasant summer afternoon on the couch. But it didn't stick with me.
Carmen: Alright, let's do a few rapid fire questions! Ready? Favorite song from the movie!
https://open.spotify.com/user/spotify/playlist/37i9dQZF1DX59ZnvPON3ro
Natalie: oh shoot.
Carmen: Hahaha! Messing us up already!
Natalie: This is an impossible question! Most meaningful? Selena. Favorite? Freedia and Lizzo.
Carmen: I was going to say Freedia and Lizzo, because for a second I forgot that Selena was on the soundtrack. And now I'm going to Latina hell forever. (In Latina hell, it's a lot of white people in somberos drinking Coronas.)
OK! Dumbest thing you ever did while drunk or high?
Natalie: Besides have sex with some really unfortunate people?
Carmen: THAT DEFINITELY COUNTS.
Once, for my 21st birthday, we all got very high and almost burned my apartment down because one of my friends thought he could roll a joint using toilet paper instead of, like, proper rolling papers?
Do you hope that DeWanda Wise continues to play black queer women forever? (trick question)
Natalie: Of course
Carmen: I just hope that when the next season of She's Gotta Have It drops in May, they finally let Nola Darling keep her damn girlfriend.
Natalie: I need a Netflix rom-com with her as the lesbian lead.
Carmen: So say we all!  OK, favorite scene?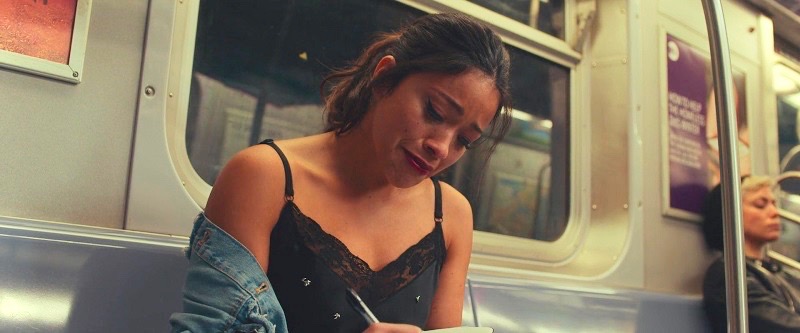 Natalie: The medley of them getting dressed, but that's more about the music and the dancing. I also loved the big writing scene on the subway.
Carmen: Yes! That scene was gorgeous and heartbreaking and heartwarming, all at once!
I think mine is less a scene and more of a line: "Our bestie is drinking champagne out of a green juice bottle that still has green juice in it."/ "Oh like a green juice mimosa? That's actually kind of genius."
Because it is.
Natalie: We should probably wrap things up.
Carmen: I think it's safe to say that if you're the kind of person who likes Bridesmaids, Pitch Perfect, or The Bold Type, you'll probably find something to like or love about Someone Great. Do you think that's fair?
Natalie: I do. I also think Girls Trip fits.
Carmen: GIRLS TRIP!
Natalie: But less graphic.
Carmen: Yes, it's like Girls Trip's less raunchy kid sister who went to NYU and made some white friends.
Natalie: LOL. Yes.
Carmen: Which, to be honest, is all I ever wanted to be able to say about a movie. Instead of a white girl comedy with a token woman of color friend, Someone Great gives us the opposite. That alone is worth it.