Anne Lister could not be contained. Not by her parents. Not by her boarding school. Not by her home at Shibden Hall, despite the fact that it made her one of the only land-owning single women in Britain's 19th century. Not even by Britain itself. Or mainland Europe, for that matter. Anne Lister could not be contained by her church or traditional gender expression or patriarchal notions about sexuality. How, then, can an eight-episode mini-series based on the four million words she wrote in her diaries over her lifetime contain her? Well, it can't. And to the great credit of HBO's Gentleman Jack it doesn't even try. Suranne Jones' Lister is too big for the hallways of Shibden, too big for the town of Halifax. She doesn't wait for carriage doors to be opened for her; she leaps from them. She doesn't wait to be invited in; she hardly even knocks. Jones' Lister is breathless because she never stops moving. The show's whimsical, marching score can barely keep up with her.
Jones' Lister also displays a seductive, sensual, capable, robust soft butch energy that makes Shane McCutcheon look like a clumsy little baby goat.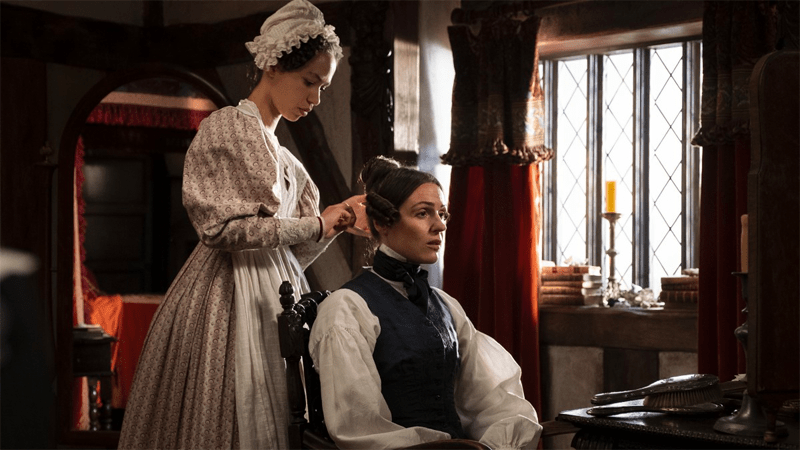 Gentleman Jack kicks off in 1832, the 41st year of Anne Lister's life, over two decades into her realizing, "I love and only love the fairer sex and thus, beloved by them in turn, my heart revolts from any other love than theirs." She owns an estate, over which she exercises complete control; that estate is rich with coal; she's long been settled on wearing men's clothes, in all black; the only thing she's in want of, as Jane Austen predicted of all well-off gentleman, is a wife.
Lord knows she's seduced her fair share of women. Gentleman Jack wants you to know she knows she's impossible to resist. And she's come close, many times, to securing a forever female companion — but they keep leaving her for men with status and money. In the 26 volumes of her diary, Anne writes about a lot of things — her finances, her exercise routines, her family squabbles, town gossip, her plans to solely inherit Shibden and her plans to improve it, the workman she employs and digs alongside — but most of all she writes with ecstasy and despair about the women in her life. For all her power and success, for every way she's in control, all Anne really wants is to love and be loved. Suranne Jones makes intense eye contact with women. She makes them duck their heads and blush. She comments on the fullness of their lips. She wails in agony in the lap of another woman who promised to share her life but then leaves her for another Mr. So-and-So.
And while Gentleman Jack doesn't linger on her rare bouts of rumpled confidence, it also doesn't bluff on the trouble Anne had answering questions about her gender and sexuality. "Are you a man?" the young son of one of her tenants asks her in an early episode. His parents freeze, grimace, brace themselves. "Well, that's a… question," she says to him, quietly, almost conspiratorially. "And you are not the first person to ask it. I was in Paris once, dressed extremely well, I thought, in silk and ribbons, ringlets in my hair. Very ladylike. Even then, someone mistook me for a, well… hmm. So, no. I am not a man. I'm a lady. Woman. I'm a lady-woman. I'm a Woman." He seems satisfied with the answer, and they shift the conversation to his toy soldier.
Gentleman Jack also doesn't shy away to the lengths Anne went to to understand herself. She was quite at ease with her nature because she'd only always been interested in women, and couldn't be interested in men, no matter how hard she tried. She firmly believed God made her the way she was. But she was fascinated with anatomy, curious about how or if it informed desire, and she sought out teachers from medical schools across Europe, especially France, who would allow her to work alongside them with cadavers and dissected organs. She was as good with science as she was with math, and literature, and mountain-climbing, and socializing, and everything. "I dissected a fetus once," she proudly tells her neighbor, Ann Walker, the woman she's got her eyes on when the series begins. She's unashamed of her "peculiarities," and Ann Walker — like every other woman in Anne Lister's life — is enthralled by them.
Less enthralled are the men in Anne's world, and Gentleman Jack pulls directly from Lister's diaries again to add myriad external conflicts to the series. There's the matter of her coal and the bankers who are stealing it; the matter of her tenants, especially the ones who don't respect her authority or try to cheat her. She delights in outmaneuvering them, in making them feel like the bumbling idiots they assume her to be because she's a woman. They're dangerous, these men, and she knows that, but she's undeterred. The more they try to intimidate her, the more she embarrasses them, and the angrier they get.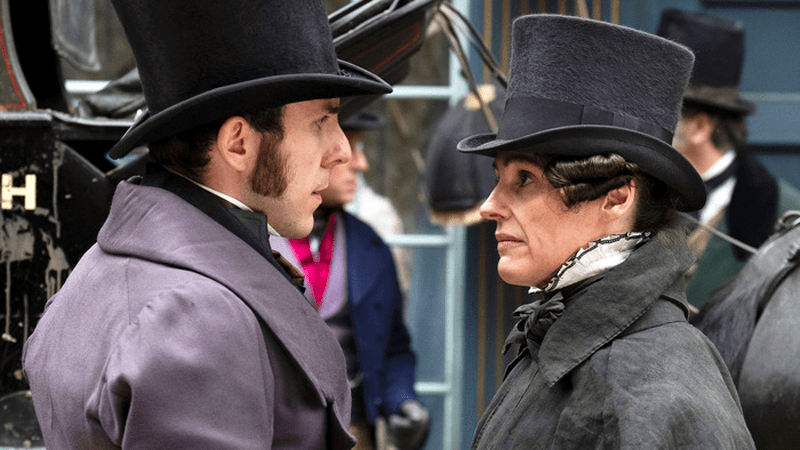 Perhaps most surprisingly, Gentleman Jack is unafraid of Lister's complicated legacy. She's called the "first modern lesbian" by many scholars; there's an official blue historical plaque — the only one in the UK bordered by a rainbow — on the church where she eventually had a private wedding ceremony with Ann Walker. Yet, she set her eyes on Ann Walker originally for her money. And Ann Walker struggled mightily with her own mental health. Lister didn't believe in social or political reform. She wanted the right to vote, sure — not because she was a woman, but because she owned property. She didn't believe the merchant class, and certainly not the peasantry, should be viewed as equals of the landed gentry.
We want, even now, the women in our stories — and every real-life woman who performs for us, from politics to pop culture — to live a life above reproach. When a man is less than perfect, he's just a man. When a woman, especially a gay woman, who doesn't conform to gender norms, is less than perfect, her literal humanity is called into question. Gentleman Jack keeps its eyes wide open as it examines the fullness of Anne Lister's life. She does the hard thing, the heartbreaking thing, no one else can do. She tips her top hat. She runs her hand up the silk stockings, inside the petticoat, of another woman. She whispers gently. She refuses to listen. Her arrogance is astounding. Her pain is visceral. Anne Lister looks directly into the camera, from 1832 to 2019, and winks.