by carolyn & riese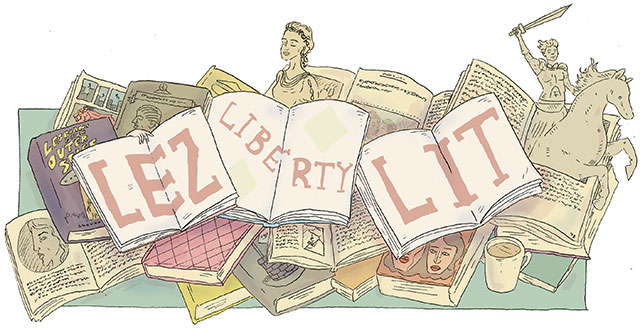 ---
The New York Times bestseller lists for young adult books are, unsurprisingly, not very diverse.
Black Lesbian Books recommended some new books to read, including The Girl With The Treasure Chest, The Rules, Yabo and more.
The finalists for the Bisexual Books Awards include Hild by Nicola Griffith, My Education by Susan Choi, The City of Devi by Manil Suri, Bi: Notes for a Bisexual Revolution by Shiri Eisner, Inheritance by Malinda Lo, Love in the Time of Global Warming by Francesca Lia Block, and many more titles to read immediately.
Elise Cowen is the female beat poet you've never heard of.
In an interview at the New York Times, author Emma Donoghue discusses what she's reading, the worst book she's ever read and the best lesbian historical fiction: "Here's one each for the last six centuries, for starters: Philip Sidney's 'Arcadia'; Honoré d'Urfé's 'Astrea'; Denis Diderot's 'The Nun'; Henry James's 'The Bostonians'; Dorothy Strachey Bussy's 'Olivia'; and Sarah Waters's 'Fingersmith.'"
Roxane Gay, Leslie Jamison and Michele Filgate discuss sexuality, essays and feminism at Salon:
"Gay: I tend to not like essays that are merely confessional, without any sort of forward progress, without any sort of catharsis or just, direction. And I don't begrudge people writing those essays because clearly they need to do something, they need to unburden themselves. But I think we see a lot of unburdening that is not productive, and I don't really love that. And I also don't love essays that lack intellectual rigor, which we see quite a lot of, because the machine sort of demands that we, you know, something happens and we respond, and we respond right away. And it's a race, you know, how quickly can we get this response up? And in doing so, we create arguments sometimes that aren't rigorous and don't make any sense and are full of straw men or other rhetorical fallacies. And that's troubling."
The European Bureau of Library, Information and Documentation Associations is trying to get more ebooks in public libraries. Currently, European public libraries lack access to over half of new ebook titles.
The cast of Fun Home are performing at the College of Charleston, which might have its budget cut by the state for encouraging students to read the book by the same name.
Smartphones can help people read more.
Giovanni's Room, one of America's oldest queer bookstores, will close May 17. Read our piece on the LGBT bookstore closing epidemic here.
The New Yorker asks, "How much gay sex should a novel have?"
A historically accurate version of Choose Your Own Adventure.
My childhood hero author Kit Pearson has won the BC Lieutenant Governor's Award for literary excellence.
"#90sBookTitles" is a thing.
Rachel Fershleiser discussed why she likes the bookternet.
The world's first 24-hour bookstore has opened in Beijing.
In celebration of Shakespeare's 45oth birthday, Stefanie Peters discusses the women making Shakespeare at the Millions.
Mental Floss has mapped the most famous book in each state.
Canadians are most likely to finish a book, Germans read the fastest, Americans' most popular genre is "arts and music," and other insights using data from Scribd's users.
Nicola Griffith's new short story, "Cold Wind," is available online:
"Two women came in laughing. The one in jeans and a down vest seemed taller, though she wasn't. Her cheeks were hectic, brown eyes brilliant, and not only from the cold. Women have lit up that way for thousands of years when they have found someone they want, someone whose belly will lie on theirs heavy and soft and urgent, whose weight they welcome, whose voice thrills them, whose taste, scent, turn of the head makes them thrum with need, ring and sing with it. They laugh. They glow.

The other was paler, the red-brown of old ivory stained with tea. Her eyes were brown, too, slanted and wide set. Deep brown, velvet. Snow dappled her hair. She stood by the door, blinking, as people do when they walk from dark into light.

My aorta opened wide and blood gushed through every artery, all my senses gearing up. But I pretended not to see her. I gazed out of the window, at the sleet turning to snow, the air clotting with cold, and the pavement softening from black to gray. Reflected in the glass the women around me were coming alert, spines straightening, cheeks blooming, capillaries opening.

She was here. She was real. I'd been right."
The winners of the Publishing Triangle Award have been announced, and include White Girls by Hilton Als, Passionate Commitments: The Lives of Anna Rochester and Grace Hutchins by Julia M. Allen, Enchantée by Angie Estes, If You Could Be Mine by Sara Farizan and more.
At the Lesbrary, Abigail reviewed She Overheard Murder by Jean Sheldon. TB reviewed Everybody Else's Girl by Sarah Sawyers-Lovett. Kathleen Wheeler reviewed Finding the Grain by Wynn Malone. Krait reviewed Love in the Time of Global Warming by Francesca Lia Block.
At Lambda Literary, Keith Glaeske reviewed Dust Devil on a Quiet Street by Richard Bowes. Katherine V. Forrest reviewed The City of Palaces by Michael Nava. Isaiah Vianese reviewed Like a Beggar by Ellen Bass. Antonio Gonzalez Cerna reviewed Freakboy by Kristen Elizabeth Clark. July Westhale reviewed Give It To Me, a book of poems by Ana Castillo. Megan Milks also shared a week in her life in the Banal and the Profane.
Recently, on Autostraddle: Gabby wrote about Sister Spit. Maggie wrote about diary feelings and diary scrapbooking. Audrey wrote about YaliniDream and Sonya Renee for National Poetry Month. Mey wrote about kickass ladies being nominated for the Eisners. Laura provided some Home Decorating Tips for the Trend-Conscious Bookpocalypse Participant. You told us all your favorite poems to win a Write Bloody giveaway. Malaika read Diane Obomsawin's "On Loving Women". Our writers celebrated National Library Week by discussing Our Favorite Libraries!
---
Events To Watch Out For:
May 6, Brooklyn: Roxane Gay will be in conversation with Sari Botton at Community Bookstore (143 7th Ave), 7 p.m. RSVP on the Facebook page.
Now to 25 May, New York: The 2014 Whitney Biennial will feature a ton of books and archival material, including some from Semiotext(e), and features work that challenges disciplines and genders and binaries (945 Madison Ave. at 7th St.).
May 22–25, Winnipeg: Writing Trans Genres: Emergent Literatures and Criticism will be held at the University of Winnipeg. (You can also live stream it.)
30 May, New York: Girls Write Now's 2014 CHAPTERS reading series continues with guest author Ana Castillo at Scholastic (557 Broadway), 6 p.m.
20 June, New York: Girls Write Now's 2014 CHAPTERS reading series concludes with guest author Christina Baker Kline at Scholastic (557 Broadway), 6 p.m.
Know of a queer event with literary merit? Send it to us! The Liberty Lit is bi-weekly.
---
---
feature image via bookshelves.tumblr.com