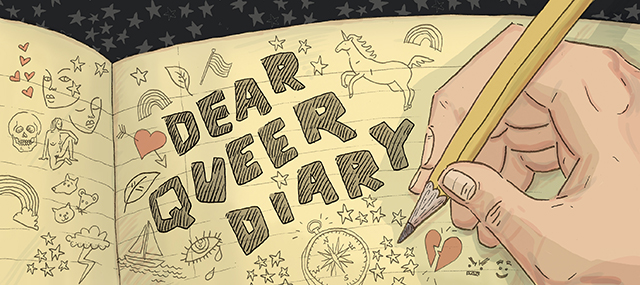 Allow me, my dear queer diarists, to set the scene: institutional carpeting, crepe paper décor, and large bowls of Skittles on white plastic folding tables. "When You Say Nothing At All,wp_postsby Alison Krauss, plays from rented speakers as 150 slightly sweaty thirteen and fourteen-year-olds sway back and forth like exceptionally awkward algae in a gentle ocean current. From the corner next to the Skittles, you gaze longingly at your crush, who is slow-dancing with a tall boy in your pre-algebra class. When your parents pick you up in the family minivan, they will ask you how the dance was and you will make a noncommittal noise that sounds something like "fine.wp_postsYou cannot be bothered to converse with the humans who gave you life! You are already planning what you will write in your diary as soon as you get to your poster-plastered bedroom.
Although I am sure not all of you fearless journalers were blessed with the same suburban 1990s middle school experience that I hold so fondly in my memory, I am sure you can all relate to the need to write down your woes in your dear queer diary. After all, as one of my favorite pieces of Autostraddle merch (which is currently on sale!) so clearly reminds us, feelings are what journaling is all about! Even now, many years after my last traumatic middle school dance experience (one happy memory involves vacuuming the floor of the cafeteria in a pink fairy costume in my capacity as Student Council Co-Vice-President), my diary is full of feelings. In the last year alone, I have felt:
"very grumpy and frustrated"
"fed up with everything. Including my pen, which never works!!!!"
"like there was more hysterical laughter than usual"
"hella awkward"
"somewhat dustywp_posts(I think this was literal, not metaphorical?)
Another selection, from July of 2013, attests to the way that I have not lost my seventh-grade capacity for mixed emotions:
"Meh meh meh everyone is silly and annoying and I am going to miss them I guess."
The above selections speak to the way in which the emotions that most frequently make their way into my diary are more Eeyore than Winnie the Pooh. When, in the words of the Beatles, I find myself in times of trouble and Mother Mary comes to me, the words of wisdom that she frequently whispers are, "Write in your journal."
If you're up on your Autostraddle archive-perusing (who isn't, these days?), you may have read about writing your feelings before. Real live internet doctors say that writing in a journal can help with depression, which Riese's diary has described in a number of strange and strangely truthful phrases. As a self-identified English Major For Life, I am basically the farthest thing from a doctor, but I can tell you from my very own experience that writing in my journal generally makes me feel better when I am upset about everything from love to landfills to linguine. And yet, as much as I rely on journaling as a tool to deal with sadness, annoyance, and anger, a quick flip through my notebook indicates that I am far less likely to write when everything's coming up roses and sunshine and daffodils.
Why is this? Am I going to look back on my journals and determine that my twenties were far less lovely and wonderful than they truly are? I don't think so. After all, there is the entry where I talk about how "I love, I love, I lovewp_postsmy girlfriend, the pages dedicated to the books I am reading, and even the part where I describe the delicious dinner that I enjoyed the night before. Although I can accept that my journals may contain more angst than elation, my own personal goal will be to try and balance them a teeny tiny bit better in the coming months. Why not take a moment to write about how delicious those Skittles were before launching into drama and heartbreak of the middle school dance?
What is the ratio of happy to sad in your journals, my dear queer diarists? What emotion most accurately describes your most recent journal entry? Most importantly, do you miss slow dancing to Alison Krauss as much as I do?
---
Dear Queer Diary is a column about the joys (and occasionally, the pains) of journaling. We crack open our tiny notebooks and break out the rainbow-colored pens on the regular, so get ready to limber up your writing hands and document all your beautiful feelings! Header by Rory Midhani