The history of the TV lesbian wedding starts with Friends and takes a long and winding road towards this very day, when the Lesbian Television Titans Bette and Tina will be getting (re) married on the season finale of The L Word: Generation Q.
Let's take a look back at all the weddings that have carried us from then to here.
---
1996: Friends, "The One With the Lesbian Wedding"
31.6 million people tuned in to see Newt Gingrich's half-sibling, Candace, officiate the ceremony between Ross's ex-wife Carol and her partner Susan — the first lesbian wedding on American television. (The first same-sex marriage was between two men on Roseanne.) After Carol's parents bailed on the ceremony — a staple of lesbian weddings on TV — Carol wanted to call the whole thing off, but instead Ross proudly walked her down the aisle. Two network affiliates refused to air the episode, and despite the buzz and high ratings, only four people called NBC to complain. It probably helped that Carol and Susan did not actually kiss at their own wedding. But Lea Delaria was there and the hats were ICONIC.
---
2002: Queer as Folk, "The Wedding"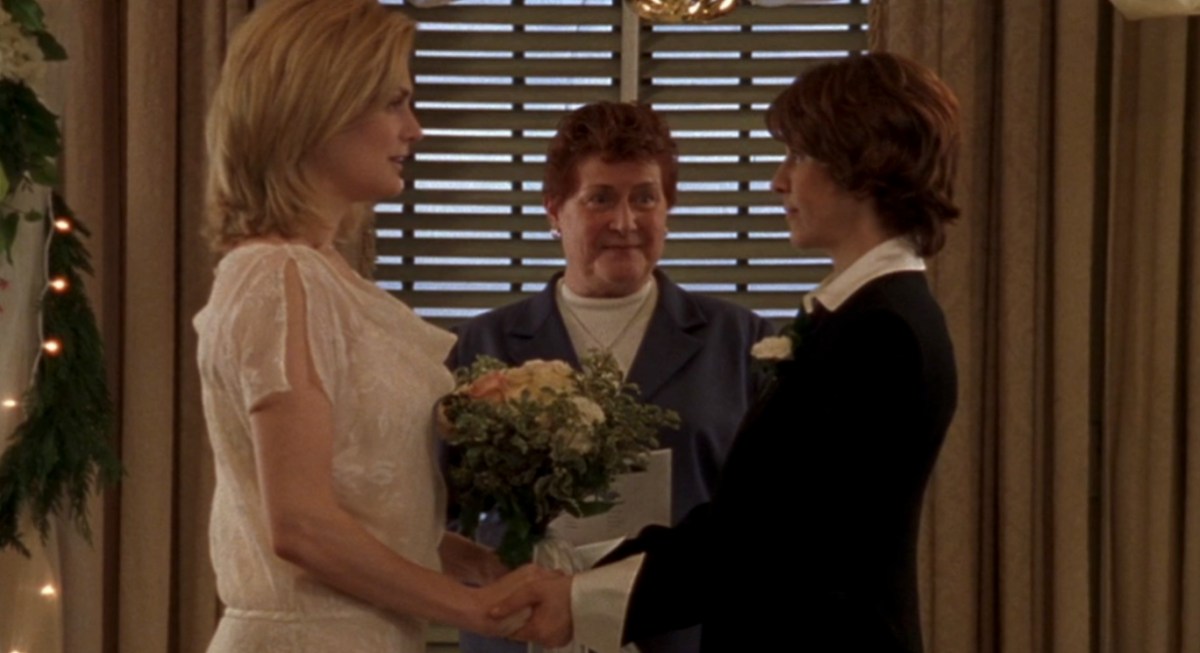 In typical QAF fashion, a bulk of this episode — the first same-sex wedding on cable TV — was consumed by the gay male characters making disparaging jokes about lesbians! The couple faced numerous obstacles on the way to the symbolic aisle, including Lindsay's parents refusing to help pay for her wedding despite covering her sisters' three weddings because Lindsay's wasn't "real." There's mix-ups with every element of the ceremony itself, leading Mel and Lindsay to call the whole thing off. But the gay boys rally together to save the day and provide a splendid little venue where the officiant declares them "married in our eyes." They walk themselves down the aisle.
---
2005: The Simpsons, "There's Something About Marrying"
The first same-sex wedding in an animated series arrived during a time when marriage equality was a hot-button issue following the success of several anti-equality amendments during the 2004 election. Inspired by San Francisco's 2004 same-sex wedding bonanza, the plot concerns the Simpsons' home of Springfield legalizing same-sex marriage to improve their waning tourism industry, which leads to Homer starting a side-hustle as a gay wedding officiant and Marge confronting her own homophobia when her sister, Patty, turns out to be a lesbian. Gambling websites were posting odds on who'd come out in the episode and 10.5 million tuned in to witness it, the season's highest ratings. Although the wedding ended up getting canceled mid-ceremony when Veronica turned out to be a cis man who'd posed as a woman to succeed at golf (the mid-aughts, everybody!!!), it was still lauded by GLAAD and queer media, and Homer did marry other lesbian couples throughout the course of the episode.
---
2009: All My Children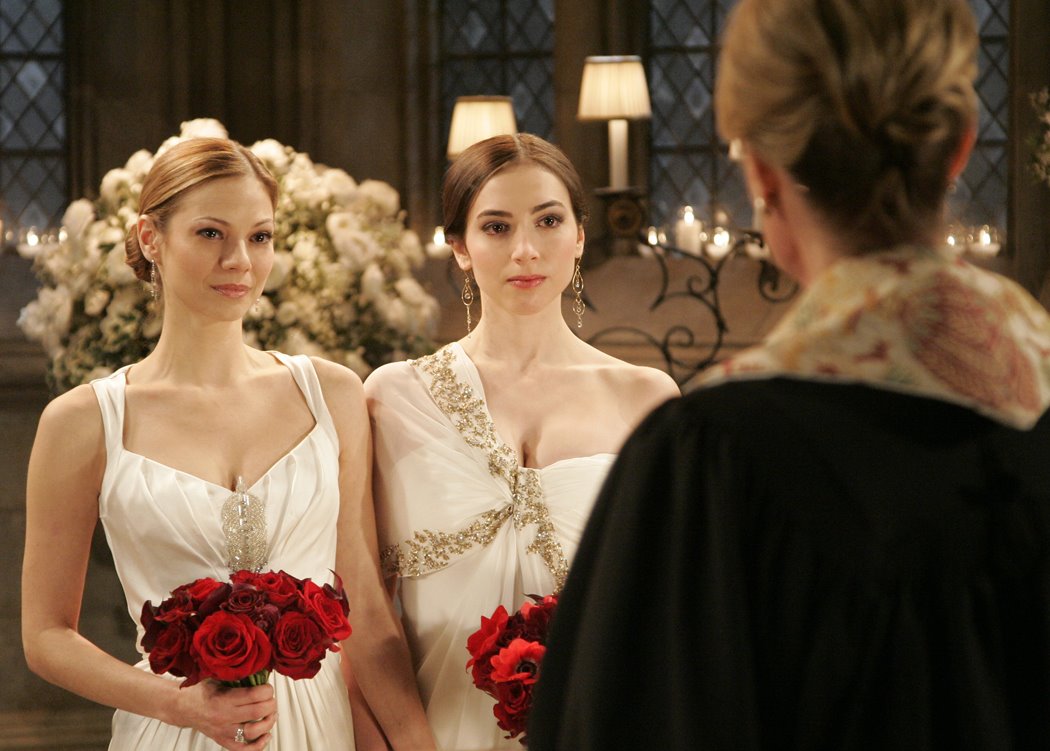 "For most of Bianca Montgomery's life, love had been hard to come by and, in the rare instance where her affections were requited, the romance took place almost entirely off-screen. But with Reese Williams, Bianca was finally given the opportunity to love another person, on-screen. Their love story started (off-screen) in Paris — the love-at-first-sight story that Bianca deserved — but became real when the couple (and their daughters) reunited in Pine Valley.
Soon after Reese's arrival, it becomes clear how serious this relationship is: they have a new daughter, Reese has secretly designed and built Bianca's Parisian dream house, and Reese tearfully proposes to her "beautiful Bianca." They share deep kisses…a far cry from the chaste kisses that Bianca had previously been afforded.
Originally, the couple planned to host a commitment ceremony in Bianca's hometown but once Connecticut legalized gay marriage in October 2008, the celebration moved to a couple of states over. Bianca and Reese exchanged vows on Valentine's Day 2009 in the first ever same-sex wedding on daytime television, but, sadly, their marriage was annulled shortly thereafter." (Natalie)
---
2011: Private Practice, "Heaven Can Wait"

Technically this is the first lesbian wedding on a network TV drama, but most remember Callie and Arizona's wedding on Grey's Anatomy as the ceremony relevant to that specific milestone. After a 20 year secret relationship, Addison's mother Bizzy and her girlfriend Susan chose to marry despite Susan's dire diagnosis of stage IV ovarian cancer. Addison performed a Hail Mary surgery on Susan at Bizzy's urgency, which Susan emerged from feeling better — well enough to participate in the wedding Addison planned for them both. However, it turned out Susan wasn't actually better at all, she was just trying really hard to make it to her own wedding. She collapsed and died after the ceremony, and Bizzy's grief led her to commit suicide shortly thereafter. Bury Your Gays at its finest! 
---
The first lesbian wedding in a network drama between two long-running characters was bittersweet. Callie struggled throughout the episode with her homophobic mother who reminded her that the marriage wasn't legal, they're just "playing dress-up," and then refused to attend, which also meant her father couldn't attend. Callie, in the grand tradition of seemingly all lesbian brides on television, decided to call the whole thing off after the minister had to cancel. But again everybody rallied! Miranda gave Callie an inspirational talk and the father of Callie and Arizona's child, Mark, walked Callie down the aisle. Callie's Dad showed up late for the party and it was beautiful and nothing hurt!
The weird thing about this wedding was how it was paired with Meredith and Derek's storyline: they met a baby they wanted to adopt and decided that very day to just bop in to City Hall and get married to enable them to perform a legal adoption, even skipping the Calizona wedding to do so. It's unclear how the show itself intended this juxtaposition to land, but it ended up feeling a bit like straight people flaunting their privileges while two queer women struggled to find joy despite their relative lack thereof.
---
2013: The Fosters, "I Do"
"Stef and Lena Adams Foster are the closest thing we've ever had to a lesbian Coach and Tammy Taylor in our lives. Their love was the stabilizing force for everyone around them, especially the gaggle of children that were always running in and out of their home. Sometimes they even made time for themselves! Their wedding was extra special because it was the first lesbian TV wedding after the Supreme Court overturned the Defense of Marriage Act in 2012, and because it took place on the network that started out as a megaphone in Baptist bigot Pat Robertson's media empire, before it became ABC Family, and then Freeform. Knowing an interracial lesbian couple got married on his former network absolutely ruined his day! It also made us cry, but for good reasons." -Heather Hogan
---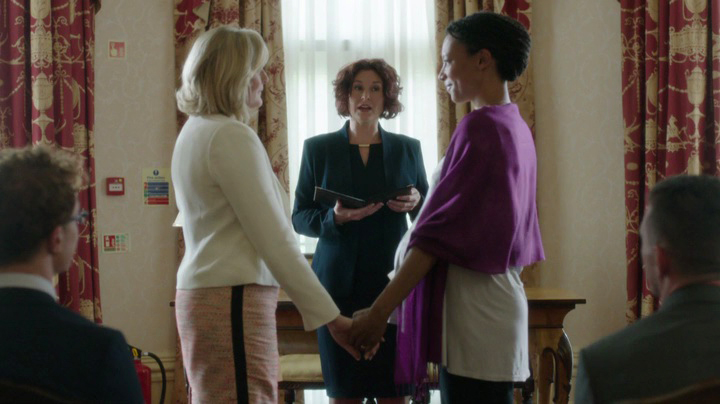 After being praised for the love story granted to late-in-life lesbian Caroline, her wedding to very pregnant Kate (the only woman of color on the show) was immediately followed by Kate getting killed in a post-wedding car accident. Sally Wainwright (who later went on to be the showrunner for Gentleman Jack) defended her choice at the time as a way to bring Caroline closer to her mother. As Kaite Welsh wrote at the time, "she has killed off a queer woman to redeem a homophobic, judgmental snob who refused to go to her own daughter's wedding." A heartwarming event followed by a devastating death, this was one of many that contributed to the LGBT Fans Deserve Better movement of 2016 that challenged the Bury Your Gays trope. It also brought back memories for fans of Los Hombres de Paco, who saw Silvia murdered directly after her wedding to her girlfriend in 2010.
---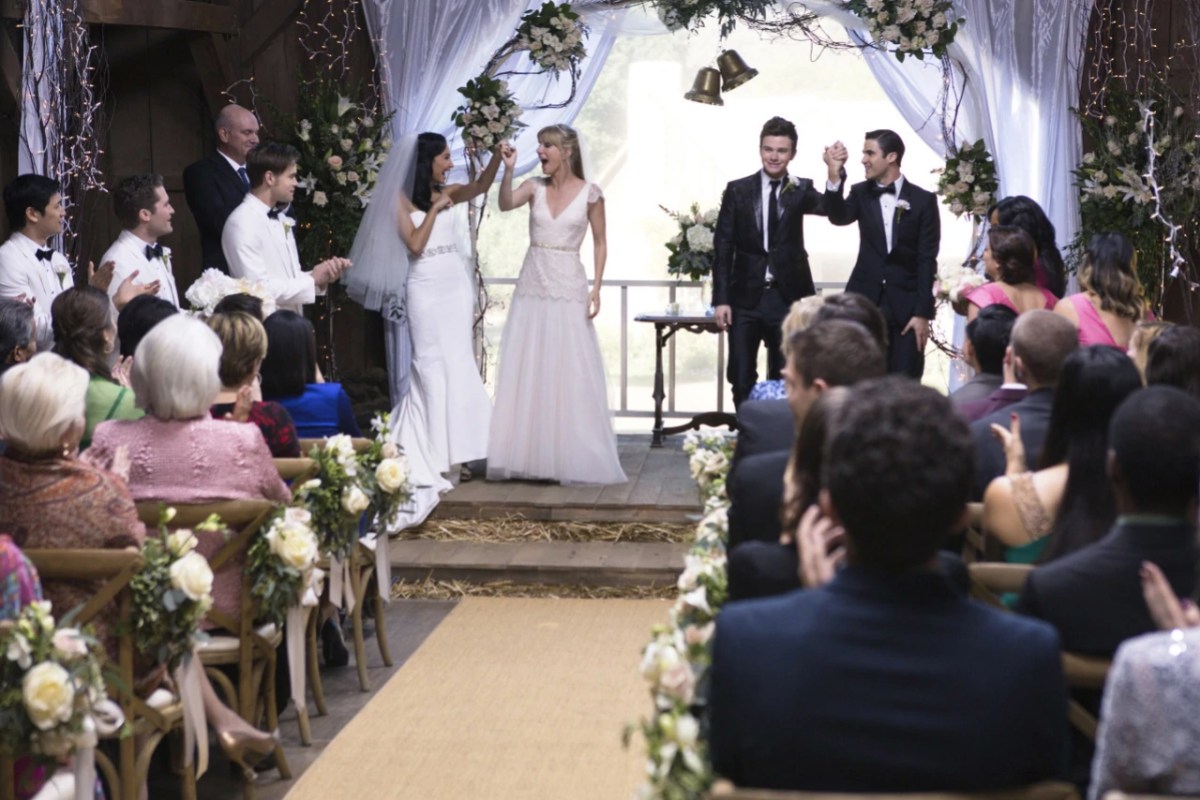 Definitely the only lesbian TV wedding where the happy lesbian couple invited their gay male friends to join the ceremony in a double wedding held in the Indiana barn where one of the brides was born, Brittany and Santana got hitched mere months prior to the federal legalization of same-sex marriage. It honestly seemed extraordinary at the time that a network show would dare to have two queer OTPs, let alone give them a double wedding — and while it was a lot of fanservice, the fans deserved it for our service. The ceremony included an acknowledgment from officiant Burt Hummel of how unjust it was that they had to travel to Indiana from Ohio to marry legally and an affirmation of the importance of marriage equality. Jennifer Coolidge, Gloria Estefan and Gina Gershon performed "I'm So Excited!" and that was pretty wild. Bonus: Sue Sylvester manages to manipulative Santana's Abuela into changing her mind about skipping the wedding, thwarting the lesbian TV wedding trope of "at least one relative missing bc of homophobia."
---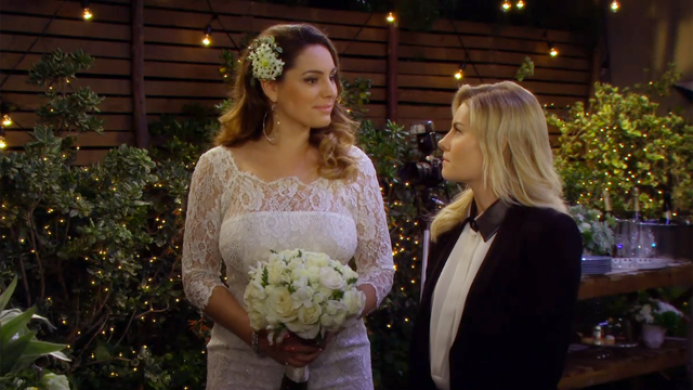 This NBC sitcom was heralded as the first to have a lesbian lead since Ellen but debuted to middling reviews and ended up swiftly cancelled. It centered on two chronically single thirtysomethings: Lizzie, a lesbian who has a baby with her best friend Luke (a straight man), but finds their co-parenting best friendship threatened when he falls for Prudence. In what ended up being the series finale, Luke f*cks up and misses his wedding to Pru so… Lizzie goes ahead and makes it happen all on her own, marrying Prudence herself to stop Pru from getting deported. Despite the frustration that a lesbian is sacrificing her own shot at marrying someone she's actually dating with in order to help straight people, it was the first time we saw on TV a lesbian being able to exploit the institution of marriage for practical rather than romantic purposes, which is equality! (The second time was a year later on Shameless, when V married Svetlana.)
---
2016: Hollyoaks, Episode 4444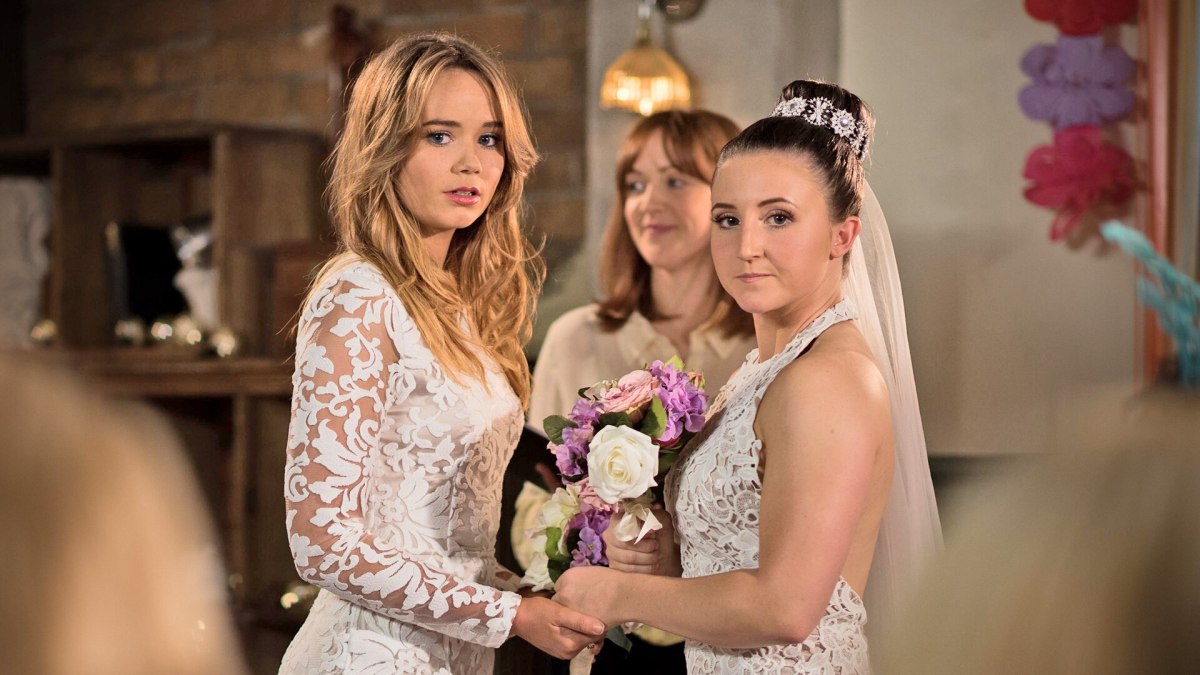 British soap Hollyoaks sent Esther and Kim through several rounds of drama before the two finally tied the knot in an effort to prove to everybody and themselves that they were in it for real this time. Unfortunately Kim is kidnapped mere hours after the wedding, causing Esther to think Kim has left her, but then she returned a few weeks later.
---
2017: The Last Man On Earth, "Gender Friender"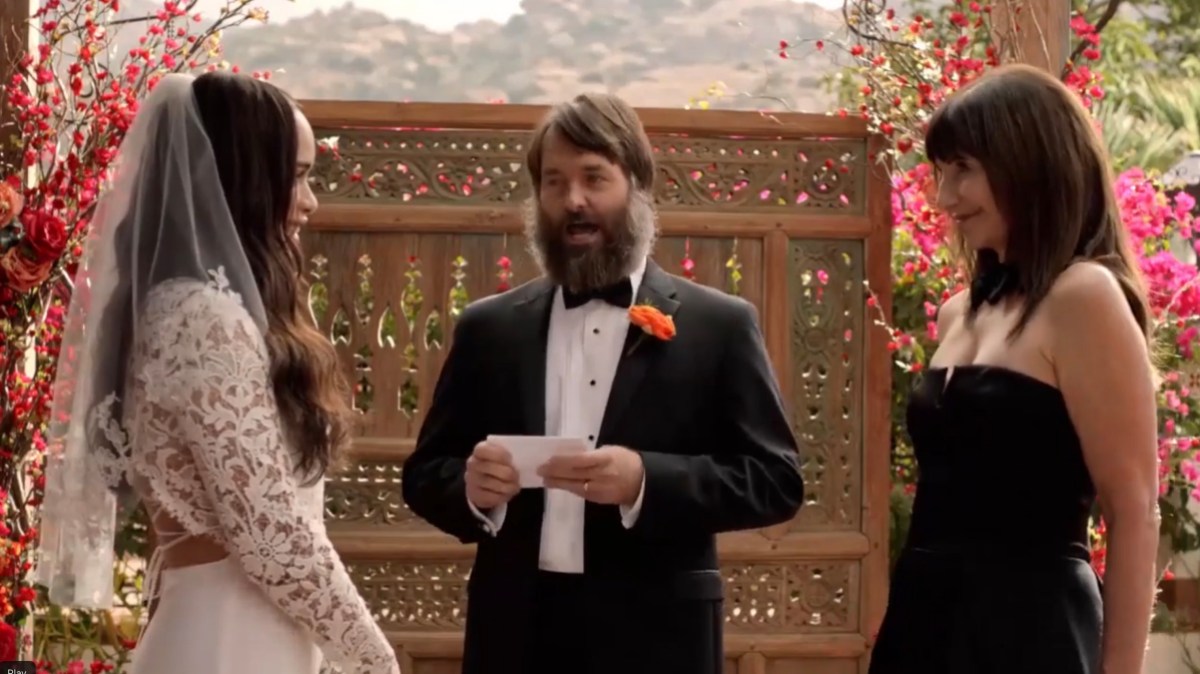 This sitcom about the sole survivors of a pandemic that wiped out most of humanity in 2020 (lol) saw the mid-final-season wedding of Erica and Gail under some interesting circumstances — their fellow survivor Carol complaining that Gail was spending too much time with her girlfriend's children and not enough with her "legal grandchildren" (because Gail had adopted Carol in the previous season because Carol wanted her twins to have a grandmother), thus over-valuing a relationship that wasn't legally binding. So Gail and Erica fight about it — Gail says they already live together and raise a kid together and all they lack is a "stupid piece of paper." Erica doesn't think the piece of paper is stupid! So Gail eventually caves and the very next day, they're married by Tandy, who mostly uses his officiant duties to further his own storyline about trying to prove that he's a feminist, peppered with jokes about bushes, strap-ons, penetration and scissoring!
It says something, maybe, that even when you live in a society of seven (7) grown adults with no recognized government, the concept of "legal marriage" still holds such immense weight.
---
2018: Steven Universe, "Reuinted"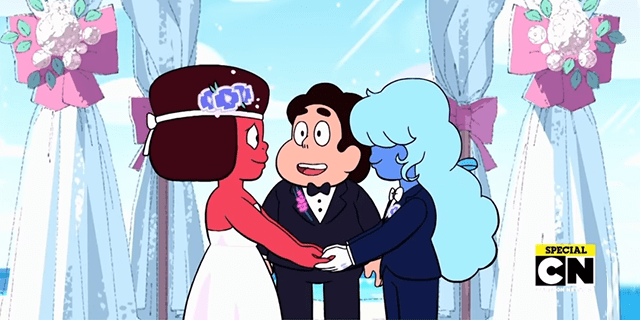 "When Garnet revealed that she is actually a fusion of two lesbian gems, Ruby and Sapphire, it threw the entire cartoon-loving queer world into chaotic raptures. We're only used to bad surprises! This was the best surprise! They stayed fused together, almost all the time, but they got married as their solo gem selves. It was groundbreaking for sure, the first all-ages series to have a queer wedding! It was on Cartoon Network for heck's sake! And it was also revolutionary for the way it flipped gender expectations, and then used Ruby and Sapphire's wedding reception as a showdown for one of the series' scariest Big Bads. "I am the will of two gems to care for each other, to protect each other from any threat," Garnet says, powering up her fists in her wedding dress. "No matter how vast or how cruel. You couldn't stop me 5,750 years ago and you can't stop me now!" The power of love, emphasis on power!" – Heather Hogan
---
This is the first lesbian TV wedding with a trans bride but it's also unique for how queer it felt: not simply because Nomi shared a consciousness with a bunch of other pansexuals in attendance but also their non-traditional wedding garb, the gay fairies handing out weed brownies and the gloriously diverse raucous dance party that followed. The techno lights on the Eiffel Tower. And afterwards, all the sensates retiring to their respective hotel rooms for one final, ecstatic, incredibly graphic, super-queer, beautiful, smashed-together sex scene, culminating in body-swapping leading to a giant pile of naked sweaty bodies fucking spliced with flashbacks from the whole series. It was an honor to witness this orgy, I still can't believe it happened at all.
---
2018: Orange is the New Black, "Be Free"
Consider for a moment that getting "prison married" is likely one of gay marriage's earliest historical incarnations and you'll understand the importance of this toxic union between Piper Chapman and Alex Vause. Conducted by Nicky in a DIY kippah and tallit the day before Piper's unexpected sudden release, this hasty little occasion was full of heart and a (surprisingly unusual) example of chosen family upholding and creating their own traditions with the tools they have to do so. Its lack of legality would dog Piper throughout her post-release season as her loved ones question her loyalty and dedication to Alex.
---
"Anne Lister's wedding to Ann Walker is generally considered to be the first gay wedding in Great Britain. In fact, in 2018, a blue plaque — indicating it as a place of historical significance in the UK — was placed at Holy Trinity church in Goodramgate, York, where Lister and Walker married in 1834. It was the city's first LGBTQ history plaque, and it's rimmed with a rainbow. Gentleman Jack depicted Anne and Ann's wedding beautifully, at the end of the first season. They took communion together and exchanged rings, quietly, in their own pew, promising love and fidelity for the rest of their lives. Their union granted Anne Lister's her greatest wish, and it was as swoony as she — and we — had imagined it would be." -Heather Hogan
---
2020: The Chi, "Foe 'Nem"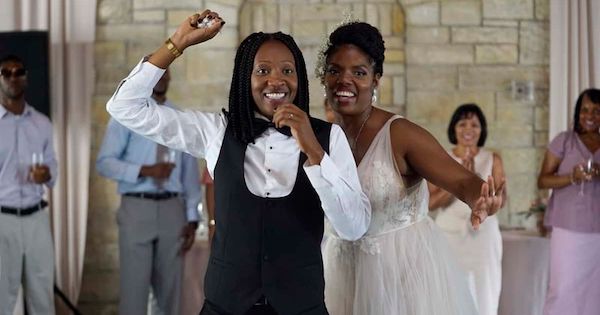 Dre and Nina's wedding in The Chi's third season premiere did something more TV lesbian weddings really ought to do, which is follow up the ceremony with very hot wedding night strap-on sex. "We never, and I do mean literally never, get to see black queer sex scenes like that on television," said Carmen of the scene. "I joke a lot about how great Lena Waithe's sex scenes are, but more than that — they are important. It takes a stand that we're here, too."
---
2021: Wynona Earp, "Old Souls"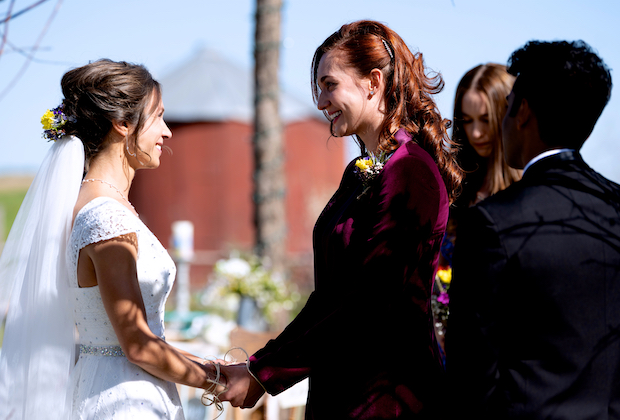 "One of the best things about Wynonna Earp's queer characters is that, while Nicole was seemingly introduced to be Waverly's love interest, and Waverly's love interest she was, over the course of the show's four-but-should-have-been-more seasons, Nicole became inextricably intertwined with more characters than just Waverly, more plotlines than just their relationship. To the point that, if Waverly and Nicole had broken up, neither of them would have been able to disappear into the parking lot of no return. But luckily, they did not break up, and instead got engaged and spent the series finale planning, saving, and executing the big day. It was Wynonna's show, but Waverly was Wynonna's world, and Nicole was Wynonna's best friend, so it didn't feel out of place for this big, beautiful gay wedding to be the centerpiece of the last episode. They were surrounded by family, of both the natal and chosen variety, with fellow queer people, and with empty chairs symbolizing those who couldn't be with them. It was a beautiful conclusion to their journey." – Valerie Anne
---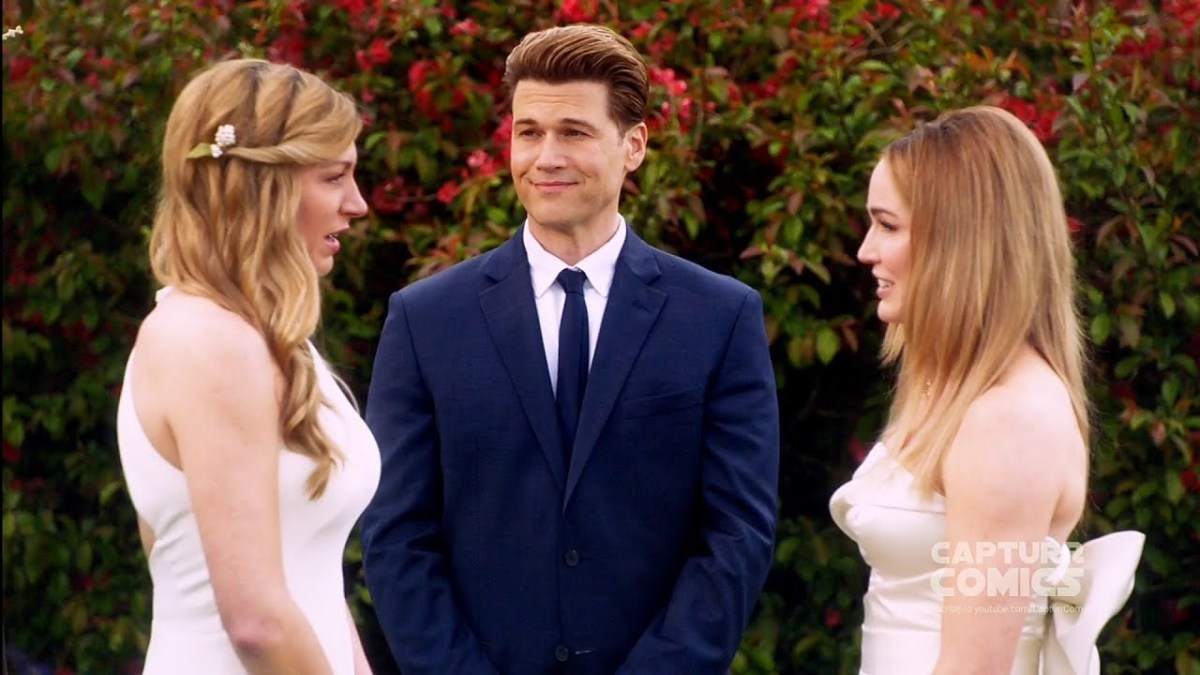 "Legends of Tomorrow did something with Sara and Ava's relationship that happens too rarely on television (partially because TV shows with queer leads don't tend to run as long these days…) It took these two already-out, adult queer characters and introduced them as perfect strangers, then slowly, over the course of many seasons, followed them through meeting, butting heads, making up, flirting, courting, dating, fighting, moving in together, getting married, and eventually planning to have a baby together. (A baby made up of their joint DNA because aliens.) Ava went from enemy of the week to co-captain, and that really got solidified in Season 6. The entire emotional undercurrent of that season was about Sara and Ava's relationship; Sara was going to propose to Ava but got interrupted by an alien abduction, and they spent the rest of the season fighting to get back to each other so they could get married. On TV all kinds of couples get engaged then married two episodes later, so it felt unique for many reasons, including the long buildup and eventual wedding. It was a celebration of their queer love for each other, and they were surrounded by their found family, and it was a beautiful, genuine moment. One of the best in the long run of the show. And honestly, after how Season 7 ended up going, probably should have been their series finale." – Valerie Anne
---
2022: The L Word: Generation Q, "Looking Ahead"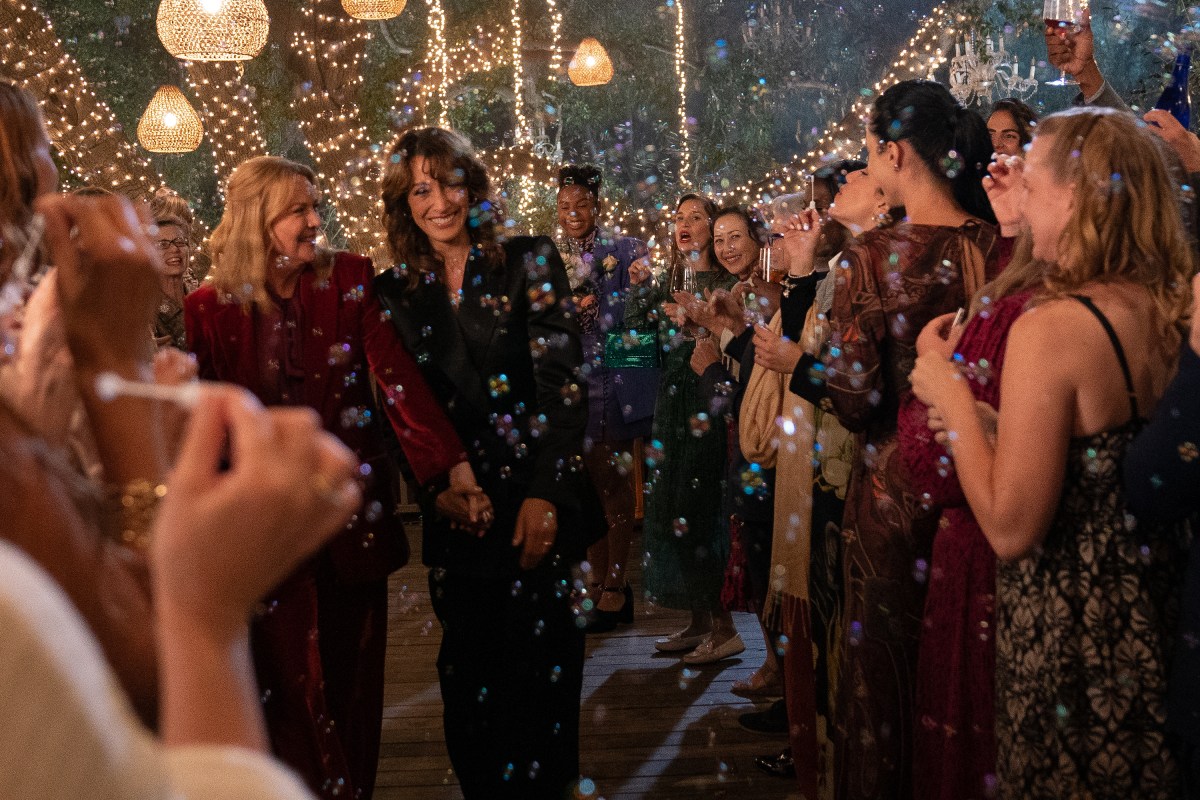 Prior to Bette and Tina's big day, The L Word franchise had racked up a bevy of unrealized engagements: Tanya and Dana's "first corporate-sponsored lesbian weddingwp_postswas canceled when the brides both fell for other women, Shane left Carmen at the altar in Canada, and Finley interrupted Sophie and Dani's wedding to declare her love for Sophie.
But then along came the Season Three finale of The L Word: Generation Q. (For which the recap will be finished posted later today!) After years of on-and-off dating and one marriage and divorce already behind them, one of television's more storied lesbian couples promised to spend the rest of their lives together, in front of a lot of their friends, their daughter Angie and, of course, Ilene Chaiken.