The final episode of The Fosters not Fisters opens in the Great Lesbian Kitchen where an episode of "Hoarders: Napkin Edition" seems to by playing out. There are hundreds of cloth napkins strewn about the table and the only reason I'm not completely distracted by the mismatched patterns is that Annie Potts is sitting there. You can't just drop Annie Potts into a scene! She should have had an entrance, so I'm already bitter.
The family is folding napkins and polishing silver and Stef comes down carrying a box and Lena freaks out because she shouldn't be carrying boxes. Then, they start talking about the impending nuptials and, if you say nuptials aloud enough times, you'll realize it's an absurd word and laugh.
You're doing it right now, aren't you? Me too.
Anyway, we learn that Lena's dad got ordained on the internet, Stef's dad has yet to RSVP and Stef thinks walking down the aisle is silly and being given away is silly and Stef really should stop talking and take a course in reading Lena's non-verbals because yikes! "Silly" isn't playing to this crowd.
Callie comes downstairs and Stef and Lena mention that they need to talk to her about Liam.
Later, in the hallowed halls of the Anchor Beach Charter School, Wyatt tells Callie that his family is moving to Indiana to live with his grandmother and Callie is stunned and they say their goodbyes and Wyatt kisses her on the cheek.
Digression 1: When someone says "Indiana," I immediately start humming "Gary Indiana" from The Music Man and I don't like that song so I'm not fond of Indiana though I do like Indiana Jones.
Meanwhile, Talya tells Brandon she doesn't know what to get his moms for a wedding present.
Digression 2: I'm getting married soon and I would like Talya to get me a new pepper mill because my kids dropped ours and it's cracked. Wait – a cracked pepper mill! That's funny so never mind. I'll keep it.
Brandon reluctantly agrees to go shopping with her and then sees Callie sitting alone looking pensive and says he's going to talk to her. Talya is fine with that and suggests he invite her to go shopping with him and she seems genuinely nice and not at all evil. Brandon asks Callie what's up and she tells him that she is reluctant to go to court against Liam because it will be her word against his but Brandon wants Liam to pay for what he did to Callie.
Stef is in the bathroom with her tank top pulled up and she starts poking her bullet wound. Lena comes in and Stef pulls her shirt down and Lena says she is sorry she made her self-conscious and Stef says she's not the one bothered by it and Lena says it's a constant reminder about the shooting and I say, "Damn. Stef looks amazing in that tank top."
Stef's mom visits Stef's dad and they talk about the ugly wallpaper in his kitchen and the fact that she used to dress like Holly Hobbie but they bore me so I focus on the fact that he has two identical bottles of ketchup in his fridge.
Digression 3: Also, does Frank ever do anything besides wander around his kitchen and make sandwiches. He's a full-time TV sandwich maker. I guess that's why he needs all that ketchup.
Sharon laughs when mentioning that Lena's dad is performing the ceremony and then says, "It's going to be a lovely afternoon. They're happy you're coming." And then we know that Sharon's super power is passive aggression. Frank stares blankly because that seems to be his super power and then she gets mad and says, "Get over yourself and put on a nice shirt and haul your saggy ass to that wedding on Saturday." Then, she storms out. I really don't like thinking of Frank's saggy ass.
Jesus and Lexi are making out and Lexi wants to have sex again and Jesus wonders if she's testing him and I know this show is testing me because I've seen a lot more tongue wrestling between these teens than I've seen from the adult moms. Jesus realizes the lesbian characters are not getting equal treatment in the making out/sex department and stages a sit in and, after the second verse of "We Are A Gentle Angry People," Lexi leaves in a huff. Okay, Lexi just leaves in a huff.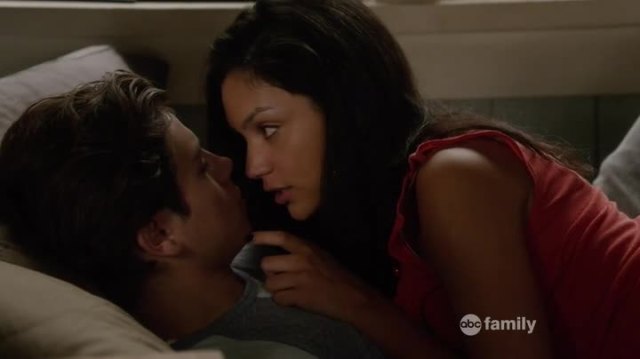 Stef, Lena and Callie are meeting with the assistant district attorney who looks like a nerdy turtle. He tells Callie that it won't go to a jury because there is no physical evidence and too much time has passed. Then, he says that if the sex was consensual, they could get him on statutory rape and he'd go to jail for a year. God Bless America!
Digression 4: I once spent two days on a jury listening to testimony regarding negligence in a dog bite case. I listened carefully and took a million mental notes and then, when it was time to deliberate, I was informed that I was the alternate and was dismissed. I'm still mad and that was 11 years ago.
Mike is taking tables from his car and it reminds me of that scene in A Charlie Brown Thanksgiving when Snoopy and Woodstock are setting up tables and making popcorn and toast and I hope they're not catering the wedding.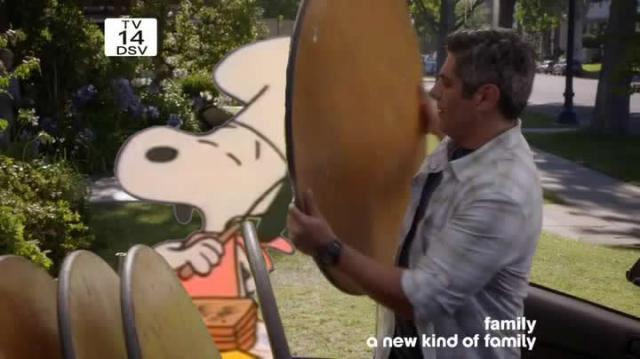 They talk about the investigation into the shooting and Mike tells her that Ana said the greasy guy dropped his gun and was unarmed. Stef says that's true and she'll change her statement but he says she'll lose her job and she's worried he'll lose his job and I don't have a job to lose but I might lose my mind if they keep talking.
Brandon asks Callie how the meeting with the attorney went and she tells him what the guy said and Brandon says that he is sure everything will work out. Callie gets mad and says that he lives in a magical world and Brandon looks perplexed as he sits atop his unicorn under a rainbow with a pot of gold clutched in his idealistic little hands.
Stef enters the kitchen with Lena's parents and they open a bottle of wine. Stef's mom comes in and says, "Oh boy! Wine! Yum!" and it's very endearing and also I want wine because this is a wedding episode and I've yet to have any feelings so maybe I want to feel "wine." They ask Stef and Lena about their vows and Stef says they're not doing vows and I start to think that Stef doesn't understand what a wedding is.
Marianna and Callie are in their room and Callie can't sleep and Marianna says, "I don't know what you're going through but I know a lot about lying." Is this insight? Character growth? Temporary insanity? Then, she says, "Whatever you decide, you know we've got you, right?" and my Grinchy heart grew one size. Just one – let's not go crazy.
Fast forward to Callie in a courtroom. She's on the stand and the nerdy turtle asks her if the sex was consensual and she gives a long, dramatic monologue about knowing what they want her to say but ends with "No, it was not consensual. No. He raped me." Sometimes doing the right thing is so hard.
Back at home, Stef tells Lena that Callie did the right thing and Lena says that Callie deserves better than what the system has given her and you can't really argue with that.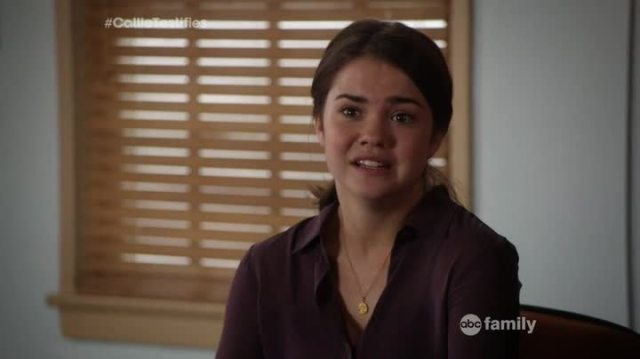 Lexi pouts her way through the halls of Anchor Beach and Marianna asks her what's wrong. Lexi says her grandmother in Honduras is sick and they may go visit her. Marianna says, "How can you do that since you're, you know…" What Marianna? A teenager? A fraggle? I can't even with this undocumented business.
Meanwhile, the moms' moms are arguing about flowers. Sharon wants color! Dana wants something sophisticated! Dana realizes she may have offended Sharon and says, "I didn't mean…" and Sharon says, "Of course, you didn't. I didn't realize sophisticated actually meant stick up your ass!" Sharon walks out and Lena walks in and Dana tells her that Sharon wants colorful daisies which will make it a clown wedding. I guess that's bad because everyone hates clowns. A mime wedding would be worse though, everyone walking in slow motion and trying to get out of invisible boxes.
Digression 5: My mom used to collect clowns. Not real ones because we had a small house.
Stef is lying on her bed and Sharon comes in and starts complaining about Dana wanting calla lilies and says they are funeral flowers. The Libra in me wants to strike a compromise so a Dead Clown Wedding seems to strike a balance. Sharon continues her rant by asking Stef to wear a dress for the wedding instead of pants and Stef says "I just want this day to be here so we don't have to talk about it anymore!" Yeah, that's not the right attitude for a wedding even if there are dead clowns involved. Sharon storms out and Lena storms in complaining that their families are crazy. Stef says, "All of this fuss over some stupid wedding." Serious tactical error, Stef. Lena is ready to call off the wedding because Stef thinks everything is dumb and I can't really blame her.
Stef visits her dad in his kitchen and I hope that, with the renewal of the show, Frank might get a living room next season. Stef delivers a killer monologue, "I've been really embarrassed about this wedding. I haven't been able to enjoy one single solitary second of it. This voice in my head keeps telling me it's not right what we're doing – two women standing in front of friends and family promising to love each other forever. That's wrong." She then talks about how screwed up that is because she loves Lena and their family more than she has ever loved anything and then adds, "And I realized that voice, that voice is yours, not mine." She then tells him that she doesn't want him at the wedding if he can't support them. It's hard to make a good, dramatic exit with a sliding screen door, so, Stef just wanders out with her hands in her pockets. I hope Frank gets a door next year too. Then, people can leave with more pizzazz.
Digression 6: A similar scene played out in my own life in 2000. When planning our ceremony, there was a family member who was very unsupportive and it was my sister who went to that person and said almost exactly what Stef said to her father. For the record, the family member came to our ceremony and it was a turning point in our relationship.
Stef goes home and Sharon is sitting on the couch reading a magazine. Stef apologizes for snapping at her and tells her that she won't wear a dress just to please her and I'm a little bit confused about this dress issue because Stef has worn a dress before so why is it a big deal? Stef tells Sharon she's sorry she's not the daughter she dreamed of and Sharon, showing a great grasp of the latest lesbian wedding fashion trends says, "I don't care if you wear a bikini, overalls or a flak jacket." She continues to stare at her magazine and says, "But you're right about one thing. You're not the daughter I dreamed of. You're better." It's predictable and it could have been too sweet but Annie Potts plays it just cool enough to pull it off.
Stef continues the Tour of Apologies and finds Lena in the bedroom reading "She's Just Not That Into You." Stef gives her the weepy puppy eyes and says she wants to marry her and Lena keeps reading and Stef says, "I'd be crazy not to." Then, Lena throws the book across the room and they hug and roll on the bed and then, when we see them again, they are naked and Lena says, "Are we sure about this?" and I think maybe it's their first time. Then she says, "Then I want to tell them today. I don't want them to come to the wedding not knowing." What? That you have sex? Because I'm still not sure that you do.
Stef and Lena sit down with the kids and tell Callie and Jude that they deserve a home and they want to adopt them. Callie asks the other kids if they're okay with this and Brandon says, "There's enough to go around." Maybe I teared up a little. Maybe. My only question is now that the Fosters won't be fosters will they have to change their name to The Adopters?
The garden is decked out for the wedding and it's all in white so I assume that Dana beat Sharon in a behind-the-scenes wrestling match and that all the clowns were stuffed back into a Volkswagen that's parked in the driveway.
Jesus takes Lexi to his room and she's still mad that he won't have sex with her and he tells her he knows she might be going back to Honduras and that he'll wait for her.
Callie asks to talk to Brandon privately and thanks him for believing in her and Brandon gets really close and I can almost smell his idealistic magical breath and it smells like Lucky Charms. Then he tells her, "You deserve to have everything you want, don't you?" I don't think he's talking about a pony and that's confirmed when she dives in and eats his face off.
Talya asks Sharon if she's seen Brandon and I start to panic. Brandon and Callie continue to make out like the non-lesbian characters they are and it's Jude that catches them. Jude stomps away and Callie follows and he's like a little mafia boss in his suit and the way he talks to Callie. He tells her she ruins everything and she promises she won't do it again and he says, "Yes, you will or you'll find some other way to ruin everything because that's what you do." He tells her she's selfish and I hate the way she is basically groveling. Then, he makes her kiss his ring before he takes his leave.
The Captain mentions to Lena that she's glad Stef is coming back to work next week which is new information to Lena. Stef overhears and knows she's probably in big trouble. Lena grabs Stef's hand and drags her into a room and shuts the door and pushes her against the wall and starts undressing her and I think FINALLY WE ARE GETTING SOME HOT ACTION but she just puts her hand on Stef's bullet wound and I yell, "Lower Lena! Lower!" but she says she's making peace. She tells Stef she is going to marry all of her, "the scar, the bullet and the cop" which is better than "the Lion, the Witch and the Wardrobe" but still a disappointment. Make love not peace, Lena!
The wedding begins with a shout out to the Supreme Court decision and then Dana reads a traditional wedding thing and Sharon quotes Erma Bombeck and then we get to the vows. Lena says, "Stephanie Marie Foster, you are a piece of work but you're my piece of work." Subconsciously, I substituted "piece of ass" because I'm still frustrated from the making peace scene. Lena finishes her vows and Stef says to Lena, "You're the person I've been waiting for my whole life and I am so proud to be standing here." The mafia boss has the rings and they exchange them and then kiss like they're blotting excess lipstick off on a napkin.
Digression 7: I expected Stef's dad to enter during the wedding and he didn't and I am so thankful they didn't go with the sappy/happy ending to that arc.
At the reception, Jesus and Lexi are dancing while Lexi's parents watch and Sonja says Lexi will be devastated when she finds out they're not coming back. I will admit that caught me by surprise. Maybe we won't have to endure the whispered "undocumented" storyline next season.
Jude is eating wedding cake and Callie comes up to grovel some more and Jude doesn't say anything and I'm worried Callie might soon sleep with the fishes.
Marianna dedicates Macklemore's "Same Love" to her moms and then the whole family dances with wolves. Other than Callie and Brandon's awkward glances, it's a cute little scene.
As the song comes to an end with the words "She keeps me warm," we see Lena and Stef naked spooning in bed. I know they can't or won't show the sex but I wish they'd at least kiss like real lesbians kiss – passionately with hummus breath.
As everyone sleeps, Callie packs her things and then peeks into everyone's rooms and then walks out of the house and down the middle of the street because using the sidewalk wouldn't be as visually stunning. She shows up at Wyatt's as he's packing the car and asks if he takes hitchhikers. He's says he thinks she should go home and she tells him to drive safely and walks away. He catches up with her a few blocks away and she gets in his car and they drive off to Gary Indiana Gary Indiana Gary Indiana.
Digression 8: What kind of mother lets her teenage son drive from California to Indiana by himself?! When I was that age, my stepmother let me drive to store to get Tylenol and I got distracted by the Go Go's and ran into a woman in her brand new Volvo!
And that's a wrap of Season 1!
Overall impression: I expected to have lots of feelings because I'm sappy about weddings but I felt almost nothing.
Favorite line: I struggled to find a line I really loved this episode so I'll have to go with Marianna telling Callie, "Whatever you decide, you know we've got you, right?" just because it shows such growth in that relationship.
Really? Did they have to do that?: Brandon and Callie. Hasn't that been the answer to this question all season?