It's pretty much inevitable – sometime in the next couple of weeks, you're going to get invited to an Olympics party or you're going to host your own Olympics party, and you're going to have to throw together some food. There's nothing quite like watching other people do strenuous things on TV to inspire an appetite (and you'll need something to munch on while you play the Our Team drinking game.) But what sort of dish is worthy of the most bombastic two weeks on the planet? What foodstuff could possibly stand alongside the pure physical expression of brotherhood for all man and womankind through fly uniforms and friendly competition? Never fear! Get Baked: The Olympic Edition is here!
The Olympics are all about tradition, so we're not doing anything fancy — just theme-y twists on old favorites. Read on to learn how to make Medal Chips, Five Ring and/or Torch Pizza and, of course, Ice Cream Of Champions.
+
Medal Chips
You're a champ, right? And all your guests are champs too? That's why you invited them? That's what I thought. Treat your whole party like a winning team by serving up some delicious medal chips.
This one's really all about the presentation — the chips themselves are secondary. You just have to make sure they're the right colors (potato chips for gold, blue corn for silver, barbecue for bronze, for example).
Ingredients:
2 sweet potatoes
3 plantains (green is best, although I didn't know that when I went to The Plantain Store and mine came out fine)
1 taro root
olive oil
garlic
spices of your choosing
some books that are about the same size, fabric or napkins, index
cards, and sharpies.
Method:
1. Preheat the oven to 400 degrees. Slice your veggies as thinly as you can (a mandoline or a food processer with slicing attachment helps with this, but if you lack those, just use a sharp knife and some self-control).
2. Put each type of sliced veggie in its own bowl, along with two tablespoons of olive oil. Then add your preferred spices. I used cumin, chili pepper and salt for the plantains, salt and pepper for the taro, and salt, garlic powder and rosemary for the sweet potatoes. Mix it all together until your skin is as oily as an ancient Roman/lesbian oil wrestler's.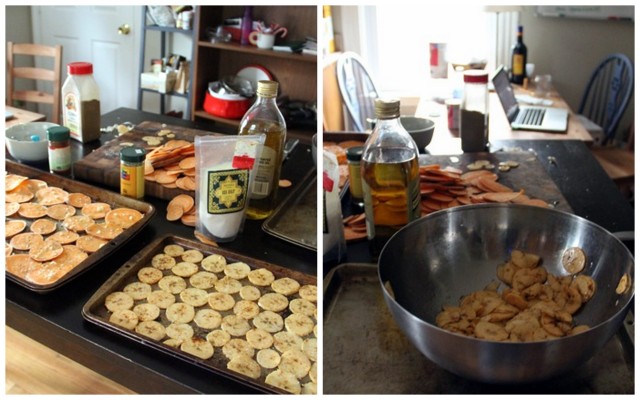 3. Lay out your slices on baking sheets. Pop 'em in the oven and check them often. When the taro and sweet potatoes look like they're getting dried out and crispy (probably around the ten minute mark), take them out. They're done!
4. At this point the plantains should be looking browner too. Make like a gymnast and flip them over and then put them back in and wait till they're crispy again. PRO TIP: Let them cool before you taste them. Ouch.
5. Have you got a few bowls full of crunchy chips? Excellent! Time to build them a podium. Pile your books into three stacks of staggered height, like this.
6. Time to drape and label. If you need a confidence boost at this point, picture yourself standing at the top, a proud but humble expression on your face.
7. Award your chips their appropriate positions and voila! Crispy, salty manifestations of win.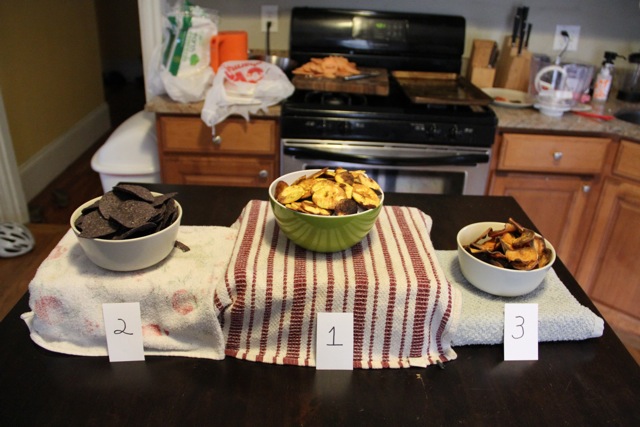 +
Five Ring Pizza & Torch Pizza
You can build these designs or others on whatever kind of pie you want. I decided to give my Ring Pizza an international flair, and to make my Torch Pizza barbecue because, you know, fire. But in the end it's all about the stylish arrangement of colored vegetables.
Ingredients:
olive oil
pizza dough
sauce of your choice
cheese of your choice
toppings!
Method:
1. Preheat your oven to 400 degrees. Brush a pizza tray with oil. Knead the pizza dough into a flat circle and place on the tray. Crimp the edges over the tray, crust-style.
2. Put sauce on your pizza. My Ring Pizza is a white pizza, so I just used a thin layer of olive oil for sauce. For my Fiery Torch Pizza, I used barbecue sauce.
3. Cheese time! For Ring Pizza, I used shredded mozzarella and dollops of ricotta, and I dusted everything with oregano just for kicks. For the Torch Pizza, I used three parts sharp cheddar to one part pepper jack.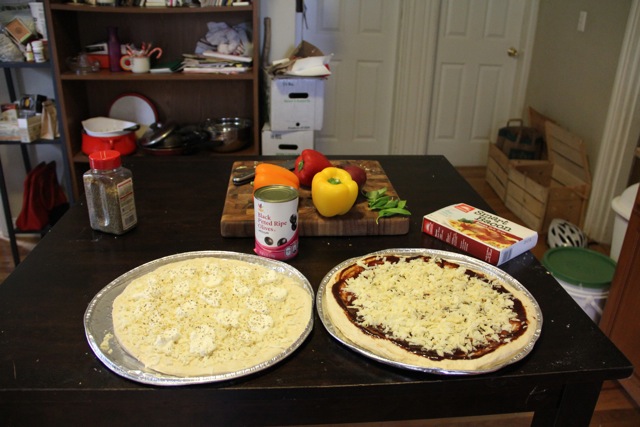 4. Now for the fun part: the toppings. I built my rings out of olives, basil, red onion, and different colored peppers. The torch is made of olives, peppers, red onion, and fake bacon. Go nuts.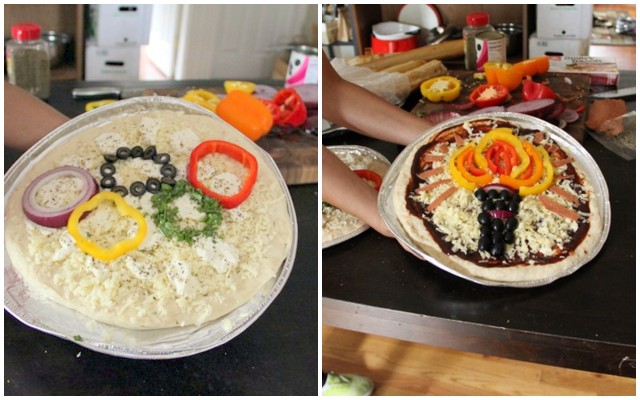 5. Stick your pizzas in the oven. When the crust gets golden and the cheese starts to bubble (about half an hour), take them out again. Devour them or throw them like discuses, whichever you prefer.
+
Ice Cream Of Champions
It is the Summer Olympics, after all. What better way to cool down and sugar up at the same time? If the US Women's Soccer Team had an ice cream social, this is what they would eat. As with our other courses, this recipe is available at several difficulty levels. If you only have time for a sprint, you can use store-bought vanilla ice cream and just mix in your add-ins. If you're down for the whole decathalon (and you own an ice cream maker), here's your order of events.
Ingredients:
2 eggs
1 cup sugar
2 cups heavy cream
2 cups half and half
2 ¼ teaspoons vanilla extract
1 ½ cups M&Ms
1 cup chocolate covered pretzels
1 tablespoon vodka (optional)
Method:
1. In a heavy saucepan, whisk together the eggs, sugar, heavy cream, and milk. Cook over medium-low heat until the mixture reaches 160 degrees. If you don't have an ice cream thermometer, heat it until it thickens enough to coat the back of a wooden spoon.
Important: Stir CONSTANTLY or the eggs will scramble and then you've got to get your guests really drunk before they'll eat it, which is expensive.
2. Take it off the heat and let it cool down to room temp (you can speed this along with an ice bath if you wish). Once it's there, cover it and put it in the fridge to chill even more. Keep it there for at least two hours — overnight if you have the time.
3. Meanwhile, it's time to sort your M&Ms! Empty them into a bowl and take out all the orange ones. Bet you haven't done that since Intro to Statistics. Conveniently, the remaining M&Ms will be Olympics colors if you allow yourself some leeway with the brown ones. Chop up the chocolate-covered pretzels – you can even be fancy and make sure they end up in rings. Put all your candy in a bag and put it in the freezer.
4. When your creamy mixture has chilled for long enough, take it out and stir in the vanilla. If you like your ice cream easily scoopable, add the vodka – it softens the texture without affecting the taste.
5. Pour it in an ice cream maker and let it churn till it's soft-serve consistency. Quickly stir in your candy bits, and then put the whole shebang in the freezer. Let it freeze for as long as possible before the party — four hours minimum. When you take it out, you'll have a lovely sweet color-streaked bowl of goodness. Dive in.