Rest In Power
+ Unfortunately, I have to start this news fix with horrible news that's become all too familiar in the last few weeks — Tamara Dominguez, a 36-year-old Latina trans woman, was killed during the weekend in Kansas City.
She was repeatedly run over in a church parking lot early Saturday morning. Witnesses say they saw Dominguez get out of a black SUV, a Chevy Avalanche. Police say the driver then hit her and ran over her at least twice. Police are investigating whether this was a hate crime. Family and friends have left flowers at the site of the crime and remember Dominguez as a fun person to be around. Dominguez's family is raising funds to bury their loved one. Donations can be made by calling 816-745-2904, according to a local news station.
Dominguez's is one of too many murders of trans women this year. Just this weekend, we reported on the shooting death of black trans woman Kandis Capri, 35, in Phoenix and we learned police found the remains of black trans woman Elisha Walker, 20, who went missing in October 2014. Within the last couple of weeks, we also learned about the murders of black trans women, Amber Monroe, 20, Shade Schuler, 22, and black transgender and genderfluid person, Ashton O'Hara, 25.
So far this year, 11 other trans women have been murdered. They were K.C. Haggard, 66; India Clarke, 25; Mercedes Williamson, 17; London Chanel, 21; Kristina Grant Infiniti, 47; Penny Proud, 21; Taja de Jesus, 36; Yazmin Vash Payne, 33; Ty Underwood, 24; Lamia Beard, 30 and Papi Edwards, age 20. Mya Hall, a black trans woman, was also fatally shot earlier this year by National Security Agency security guards after making a wrong turn into an incorrect exit which led to NSA headquarters.
Almost all of those murdered were women of color — mostly black trans women — and most were under the age of 30. That means 16 dmab trans people — 17 when you include Hall, and 18 if you include Walker, whose date of death has not been confirmed by police — have been murdered this year, more than in all of 2014.
We mourn and remember these trans women and think about what we as a queer community can do to lift up and support living trans women, especially black trans women.
+ Jovana Luna, 29-year-old Mexican/Native and transgender rights advocate from San Francisco, died Sunday afternoon. The cause of death is unknown. Luna was the outreach coordinator for El/La Para TransLatinas, an organization for transgender Latinas. She was a Mission resident and "played a vital role in rallying [her] community to get behind the Violence Prevention Act that El/La presented at City Hall in 2013."
"She was an advocate to keep our space open and has mobilized communities to show up to rallies and participate in keeping spaces alive,wp_postssaid Isa Noyola, the organization's advisory board co-chair. "Our community trusted her completely."
El/La held a vigil on Sunday and another service yesterday in honor of Luna and her work. The organization is deeply devastated and shocked by her death. They've set up a memorial fund to help with Luna's funeral costs. From the Memorial Fund page:
"She gave from her heart and she was able to form meaningful and deep relationships with her sisters/hermanas. She was tirelessly committed to making sure translatinas in San Francisco were treated with respect and dignity. She was a powerful advocate that fought to ensure translatinas had resources and space to form community. Above all else she believed in her trans sisters ability to create family, safety, and love."
---
#BlackLivesMatter
+ At the end of her performance on The Today Show on Friday, Janelle Monae was speaking about the Black Lives Matter movement before she was cut off by an anchor and the cameras panned away to cut to a commercial. She had just finished her last song when she began to speak about police brutality. "God bless all the lives lost to police brutality. We want white America to know that we stand tall today. We want black America to know we stand tall today. We will not be silenced…wp_postsThe awkwardness of the cut led many people to think she was deliberately cut off, while NBC sources say she just went over her allotted performance time. Monae recently released her new song "Hell You Talmbout," a protest song dedicated to raising awareness of police brutality.
+ The University of Texas at Austin, my alma mater, will delay its plan to relocate the statue of Confederate President Jefferson Davis in response to a request for a temporary restraining order by the Texas division of the Sons of Confederate Veterans, the Texas Tribune reports. University President Greg Fenves announced on Thursday the Jefferson Davis statue would be removed from the main mall of the campus and relocated to UT's Briscoe Center for American History, after creating a task force and hearing from students, alumni and the public. The statue is one of many Confederate soldiers and figures on campus and was spray painted with the words "Black Lives Matter" earlier this year.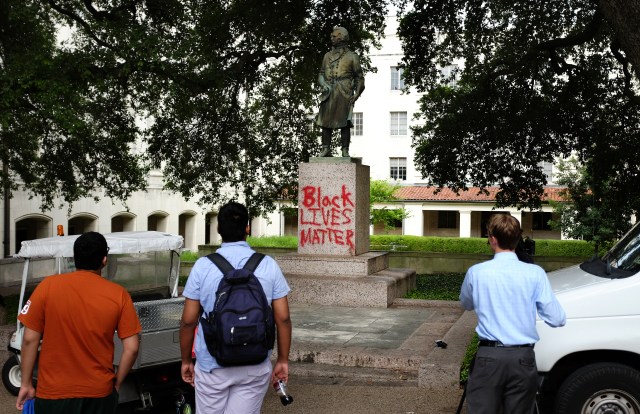 ---
Grab Bag
+ MyTransHealth, a new startup funded by Kickstarter, aims to help trans people to search for doctors and healthcare providers they can trust. The free service will launch this fall in San Francisco, New York City, and Miami. The MyTransHealth website will include a list of verified doctors and along with a search feature that will allow users to search for providers they need. In order to be on the site, doctors and health providers must pass a screening process and answer questions regarding trans issues and to determine their inclusiveness. One in four transgender people delay seeking healthcare due to discrimination, according to the National Center of Transgender Equality.
+ A school board in Texas will postpone a vote on policies aimed at stopping anti-LGBT bullying and harassment. Superintendent Randy Reid of Keller ISD sent out an email hours before the school board meeting to announce the vote would be delayed because "the issue has become extremely polarizing, with the great potential of creating feelings of winners and losers," the Fort-Worth Star Telegram reports. The board was supposed to vote on "clauses aimed at protecting students and employees from discrimination, bullying and harassment based on gender identity, gender expression and sexual orientation," which their current non-discrimination policies do not include. Thursday night's meeting drew over 200 people, both in favor and against the vote, who voiced their opinions.
+ After months of discussion, the First Baptist Church Greenville, a historic Baptist church in South Carolina, agreed to not discriminate based on sexual orientation or gender identity "in all facets of the life and ministry of our church, including but not limited to membership, baptism, ordination, marriage, teaching and committee/organizational leadership."
+ Michael Sam, the first openly gay player in the NFL, is stepping away from football to take care of himself and his mental health. Sam tweeted Friday that he is leaving his current team, the Montreal Alouettes of the Canadian Football League. He tweeted: "The last 12 months have been very difficult for me, to the point where I became concerned with my mental health. Because of this I am going to step away from the game at this time. I thank the Alouettes for this opportunity and hope to be back on the field soon. Thank you all for your understanding and support."
+ In Maryland, a new legal opinion states cheating by spouses in same-sex marriages is now considered to be adultery and is grounds for divorce.
+ Same-sex couples in Florida are suing the state for refusing to list both same-sex parents names on their children's birth certificates.
+ Donal Trump doesn't think you should be fired from your job because you're gay.