(Ed. Note: Sources are telling us that K.C. Haggard was white and should not be counted among the twoc who have been murdered. Still, that makes 11 out of the 12 trans women murdered up to this point twoc.)
Early this morning in Detroit, Amber Monroe, a Black trans woman, became the 12th trans woman of color murdered in the US this year. Monroe was just 20 years old.
Few details are available right now, but I talked to Cherno Biko, a trans rights advocate who has been talking to friends of Monroe and other people on the ground in Detroit. Biko told me that Amber "was 20 years old and full of life and such a fighter. This was actually her third time being shot, but she wasn't comfortable going to the police the first two times because of the relationship Black trans women in Detriot have with the police." This broken relationship is shown in Dream Hampton's documentary Treasure, about 19-year-old trans woman of color Shelly "Treasure" Hilliard, who was brutally murdered after working with the police in Detroit.
These past two weeks have started to seem frighteningly similar to the first two months of the year when a trans woman of color was murdered every week. Since July 22, just 17 days ago, three trans women of color have been murdered. When I talked to Biko, she told me that she was scared, that it felt like she could be next. She said that "after the first eight weeks, we hit the ground running and we launched all these campaigns" aimed at bringing awareness to the violence that twoc face, and that things looked hopeful. Then "something happened this summer with India Clarke. In the last two weeks, we've had three (murders)… we have to do something to stop this because it's only going to get worse."
As Janet Mock said: "The names of our sisters shouldn't only make headlines when we walk a red carpet or lay in a casket." But that's what seems to be happening. If you glance at trans women in the media, it may seem like we're being embraced. Biko told me that if you actually take a closer look, it really seems like they just want to "worship you or (want you) dead, so that they can save you or fund raise off of your legacy." Trans women of color are constantly asking for donations or help or places to sleep in posts on Tumblr, and usually barely receive any attention. Trans women of color often try to get money for films or books or other projects and are barely able to raise half the money that they need. Yet stories of their murders go viral. It's long past time that trans women of color's lives were valued while they are still happening.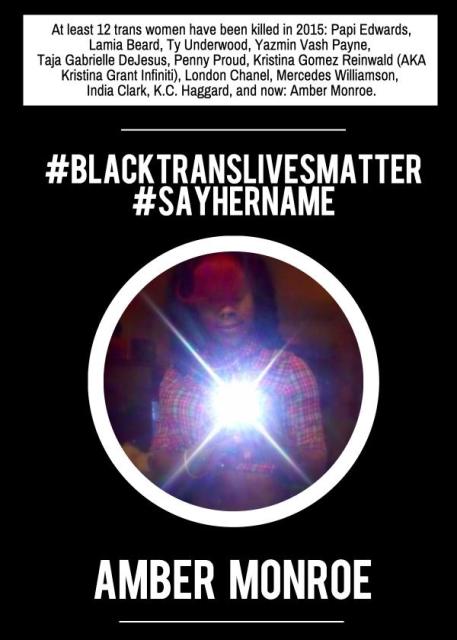 The full list of trans women of color murdered this year, at least as far as we know, includes Monroe, 20; Mercedes Williamson, 17; India Clarke, 25; K.C. Haggard, 66; Papi Edwards, 20; Lamia Beard, 30; Ty Underwood, 24; Yazmin Vash Payne, 33; Taja de Jesus, 36; Penny Proud, 21; Kristina Grant Infiniti, 47; and London Kiki Chanel, 21. What makes this even more shocking is that if you look at the ages of the Black trans women who have been murdered, most of them weren't even past their mid-twenties.
There are two other deaths that could well be counted among the list of trans women murdered this year, that of 22 year old Bri Golec, whose friends have given mixed reports about whether or not she was trans, and Mya Hall, another Black trans woman who was fatally shot by NSA security forces after she and another trans woman tried to drive their car through a security cordon around Fort Meade. According to Hall's friends, she was struggling with mental illness but could not afford to get any treatment. Police reports have also been unclear as to why exactly her vehicle was fired upon, when many people regularly accidentally turn into the area where she did.
We need to get out Amber Monroe's name and images of her that show who she really was as soon as we can. So often the mainstream media will misgender and slander twoc in death, using mug shots and birth names, wrong pronouns and "reasons" for their murders, such as sex work, homelessness and drug use. As Cherno Biko told me, now "it's less about individual girls and more about culture and society as this has happened 12 times this year alone." Large parts of society still don't seem to care about trans women of color or even view us as human beings.
"We make more sense dead than alive," Biko told me. "This is the culture that we are dealing with, not just in Detroit or the mid-west, but in all of America."