Megyn Kelly: "You've called women you don't like, 'fat pigs,' 'dogs,' 'slobs,' and 'disgusting animals'—"
Donald Trump (interrupting): "Only Rosie O'Donnell."
(Wild laughter and applause from the audience.)
– The GOP Presidential Debate, 9:15 PM, August 6th, 2015
"try explaining that 2 ur kids."
-Rosie O'Donnell via twitter, 9:28 PM, August 6th, 2015
We knew Thursday night's GOP debate would be a totally bizarre and awful circus, just like we know to gird our loins before an encounter with that horribly homophobic relative at a family gathering. Anticipating and moving on from the disgusting remarks we know we'll endure becomes second nature, and we have lots of practice. We've spent years deconstructing the wildly illogical sentiments of the anti-gay politicians and the ridiculous things they say about our right to build a family, get jobs, get married, be in the military or live in buildings with roofs. As more and more Americans agree that we're people who deserve the same things as other people, the tone of the discourse of those who disagree begins shifting, just as it has with the conversations about other minority groups who achieved equality on paper but not in practice. The topic stops being addressed directly and we enter a new era where every racist or sexist belief is said in code. We see all manner of linguistic gymnastics and intentional obfuscation and overall nonsense. Bigots make strategic alliances, claiming they can't be racist if they have black friends or watch Oprah, can't be sexist if they are a woman themselves and don't let child-rearing halt their career aspirations. Or, you know, they can't be homophobic or transphobic if they love Neil Patrick Harris or think Caitlyn Jenner looked good on the cover of Vanity Fair, even if they openly ridicule feminine men, masculine women, fat lesbians or non-passing trans women. For example: Rosie O'Donnell.
In 2010, when the right-wing media lost its collective sh*t over Rachel Maddow's yearbook photo — in which she had long hair and wore makeup, thus inspiring a Buzzfeed post to note, "Three words I never thought I could say about Rachel Maddow: I'd tap that!" — I wrote an article about the various ways in which the media polices, is threatened by, and expresses its disgust over female masculinity and women who "look gay." In addition to talking about the reaction to Maddow's yearbook picture, I also mentioned Perez Hilton's misogynist jabs at Samantha Ronson (a.k.a. SaMANtha Ronson) and Cynthia Nixon's partner (a.k.a. "The Hobbit.") and took a brief trip back in time to discuss what I think is the epitome of this type of policing: Donald Trump vs. Rosie O'Donnell, 2006.
Rosie's certainly far from perfect as a media figure or a queer activist. She was a lesbian entertainment pioneer in her own right, she's incredibly philanthropic and she's said a lot of awesome things… but she's also said and done a lot of profoundly f*cked up things. However, I don't think Trump or the clap-happy audience he addressed at the debates went wild when Trump dissed Rosie because she dismissed the opinions of women of color about The Vagina Monologues, which one of many reasons why many queers and feminists justifiably want to keep their distance.
Whether they realize it or not, Trump felt and has felt comfortable trashing Rosie because she doesn't fit into traditional ideas of how women should behave and appear and definitely doesn't fit into their traditional ideas of who women should date and be attracted to. But Trump's (or society's) opinion on the worthiness of women who exude traditional gender norms is hardly empowering, either: as Megyn Kelly pointed out last night, Trump told a former Playboy Playmate on The Celebrity Apprentice that seeing her "on her knees" would be "a very pretty picture." After the debate, Trump took to twitter to call Megyn a "bimbo." Women who dare to eschew a traditionally attractive presentation are monsters, inhuman, slobs, pigs and beasts. Women who embrace a traditionally attractive presentation are sex robots, objects, bimbos and idiots. So let's be clear about one thing: neither group of women — the masculine or the feminine — are coming out on top with any semblance of privilege. Nobody wins. Speaking generally, all women face specific indignities, discrimination and violence related to their specific gender presentation, class, race, and other intersectional identities that vary depending on context. I'm focusing in this piece on a particular type of gender discrimination leveled at gay women who embody "masculine" traits not because they won the Oppression Olympics, but because that's the topic of this post.
Far too often, butch women are used as punchlines for their "failure" to achieve normative gender presentations, as are non-passing trans women. If a woman's display of "femininity" involves too much "masculinitiy," she will often find herself dehumanized and ridiculed. When these identities intersect with race, the result can be deadly — or can land you in jail, as demonstrated by the four black lesbians who were prosecuted for defending themselves against a homophobic harasser and were referred to as a "WOLF PACK" in the mainstream press.
Trump's jab at Rosie Thursday night made my stomach turn and was the first thing I thought about when I woke up yesterday morning, which's saying a lot after a debate that was chock-full of blatant sexism, homophobia, misogyny, racism and anti-intellectualism. But I shouldn't have been surprised — although Megyn pointed out that it "wasn't just Rosie" that he said sexist things about, Trump knew that Rosie, perhaps with the exception of Hillary Clinton, was the one woman who, when Trump chose to insult her, was most likely to engender a supportive audience response. No other statement made by Donald Trump last night seemed as well-received as that one.
Fat masculine women aren't just punchlines, though, they're also portrayed as dangerous or damaging when it comes to respectability politics, even amongst alleged liberals. We hear it all the time from family members and peers: "just don't become one of those lesbians." And we know what they mean, right? Those lesbians? They're talking about lesbians who are fat, who don't wear makeup, who have short hair, who wear men's clothing. Lesbians you might call "bulldykes" or "bulldaggers." Lesbians like Lea DeLaria and Rosie O'Donnell. O'Donnell, the more famous of the two, is often summoned as the epitome of those lesbians. She doesn't give a shit about how men feel about her. She's loud and outspoken and often very politically radical. Having spent time with her personally (she was friends with a lot of my friends when I lived in New York), I can safely say that she also hates dressing up, wearing makeup, putting on a bra, wearing any shoes besides Crocs or being forced to diet — but she does do those things because she has to for her job. Perhaps the weirdest part about O'Donnell coming to stand in for so many butch stereotypes is that her public presentation is rarely what we traditionally think of as "butch."
Still, she has come to represent a kind of dangerous female masculinity that many young butches learn to fear embodying very early on. In an essay called "On My Butchness" for The Toast, Caroline Narby described growing up as a tomboy and feeling pressure to eventually "grow out of it":
…I was and am assertive, vocal, and even—dare I say—aggressive in ways that would be totally normal and therefore invisible in a man, but that are hypervisible and distinctly "mannishwp_postsin a woman. A fat, abrasive man is just a fat, abrasive man. A fat, abrasive woman can be a lot of things, none of them flattering. At best, a shrew. At worst, a dyke.
As Kate wrote in her Autostraddle column "Butch Is a Hairy Man-Hating Lesbian," after detailing a frightening encounter with a cis straight guy who told her he was glad she wasn't one of those "man-hating lesbians" with "the buzzcuts and the hairy legs":
The feeling in the pit of my stomach would carry into the first years of presenting as butch. I felt shame in being something that was considered a stereotype. I heard the critiques of butch and femme as antiquated identities, and regardless of my intentions to do otherwise, I internalized them. My second girlfriend cheated on me with a man, and that man said of me that I was so ugly, he wouldn't touch me with a ten foot pole. I remember that because it was right when I'd begun to explore masculine expressions. I internalized that, too, even though I'd told myself over and over again that I was still desirable. There are still times when I doubt my own validity, my own desirability, and any wide range of things simply because some small-minded person told me way back when that lesbians were ugly bulldaggers.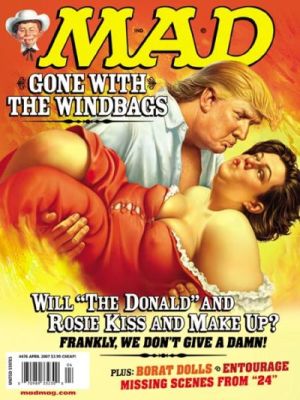 It might seem weird to call this discrimination based on gender presentation "homophobic" because obviously gender presentation and sexual orientation aren't the same thing. But that's exactly it, really: the two are quickly conflated when a man feels his masculinity is threatened.
Donald Trump's attacks on Rosie O'Donnell have always been tinged with this particular brand of homophobic misogyny, as was apparent in this 2006 mud-slinging:
"She talks like a truck driver…I never understood, how does she even get on television?… I'd look at her right in that fat ugly face of her's and say Rosie, you're fired!… It's not the chubbiness, Rosie is a very unattractive person inside and out, and she's very lucky to have her girlfriend and she better be careful or I'll send one of my friends over to get her girlfriend. Why would she stay with Rosie if she had another choice?"
His disbelief that Kelli could fall for Rosie was a constant sticking point for The Donald, who later asked Fox News, "Can you imagine the parents of Kelli… when she said 'Mom, Dad, I just fell in love with a big, fat pig named Rosie?' Can you imagine the expression on their face?" Again we see misogyny working on both sides — Donald sees Kelli, the more feminine partner, as apparently helpless, naive and stupid (and, apparently, vulnerable to the advances of his cool friends) and Rosie, the more masculine partner, as disgusting and dominering. He even suggests sending his friends to take Kelli away — because clearly, Kelli's homosexuality is a result of just not finding the right man. He has also called Rosie a "slob" and an "animal."
But this specific type of vitriol against Rosie began over a decade ago, before Trump even got into the mix, when Rosie came out and got that haircut. You know the one.
Back in 2002, Sarah Warn at AfterEllen wrote about the appalling media-wide reaction to Rosie O'Donnell's alternative lifestyle haircut, stating:
The news coverage of O'Donnell's haircut has been one of the most troubling issues, since it demonstrates the homophobia and sexism still lurking beneath the surface of many supposedly objective publications… Words like "radical,wp_posts"masculine,wp_postsand "drasticwp_posts[employed by a National Enquirer article titled "Rosie Loses Her Family"] are all designed to invoke disgust, fear, and dismay over O'Donnell's defiance of traditional feminine norms. Never mind that her current look actually resembles most forty-something suburban American housewives.
Still, O'Donnell told People Magazine in 2014 that the feud with Trump was "the most bullying I ever experienced in my life, including as a child. It was national, and it was sanctioned societally. Whether I deserved it is up to your own interpretation."
What makes this even more relevant in this election cycle is that the mindset behind Rosie-hating is the same mindset misogynists employ to degrade Hillary Clinton, whose political aspirations and power have led many to resort to wielding "dyke" as an insult since day one. She's inspired headlines such as, "How Is The Vile Marxist Dyke Bitch Hillary Clinton Not In A Jail Cell" and ledes like "Hillary Clinton, widely rumored to be a highly sadistic bull-dyke…"
Regardless of how you feel about Hillary or Rosie — and there are plenty of reasons to dislike both women — you can't deny that despite the many advances we've made in areas like same-sex marriage, a violent homophobia still drives much of the discourse around women in powerful positions who don't appear traditionally feminine. Powerful women are still called "dykes" as an insult and dykes are still insulted, insidiously, on the regular.
A lot was said on Thursday that was downright terrifying when it comes to the rights of people of color, women and queer people, and part of what was so terrifying about it was how unapologetic the candidates were about expressing these problematic points of view. But the subtext of offhand remarks like Trump's deserve our scrutiny, too. How can any of us, really, explain this to our children.