Well! That debate sure happened!
"Debate" is maybe a strong term. Participants often made only token efforts at making their comments related to the question asked, and the fact that ten — ten! — candidates were involved meant that there wasn't really space for 'debate' so much as popcorning around the room and yelling. To be honest, the whole thing felt more like a reality show than anything else.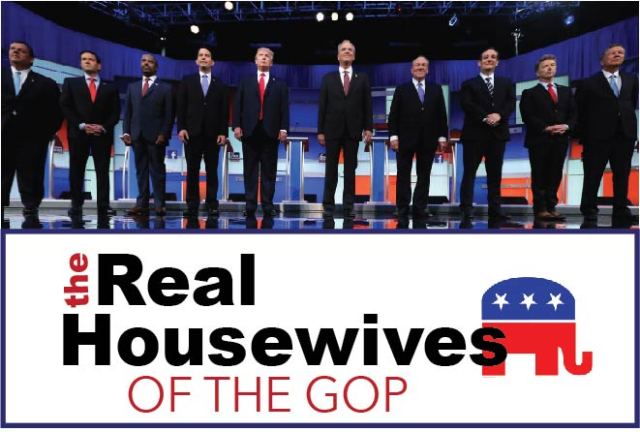 Big topics of the evening were ISIS, immigration, Planned Parenthood and abortion, healthcare and Medicaid generally, how candidates would stack up against Hillary, and in a meta twist, Donald Trump. At this stage in the game — the respective National Conventions won't happen until July 2016, almost a full year away — debates like this one are less about candidates advertising their stance on the issues and more about everyone trying to build their brand. That said, we can make some tentative observations.
Scott Walker and Jeb Bush, whom pundits have said are both flagging already even this early in the race, both appeared to be on the defensive to a degree. Both were asked to defend or explain policies of theirs — Walker confirmed that he doesn't think abortion should be accessible even when the mother's life is at risk, and reminded us chillingly that many Americans agree with him; Jeb Bush was asked to defend his support of Common Core educational standards to the sound of enthusiastic booing from the audience. Jeb's deployment of his talking points was very slick and fluid, but he had a lot of backpedaling to do. Walker, whom I am predisposed to extra-hate as a resident of Milwaukee, did not come across quite as charismatically on camera. Walker was the only candidate asked to address police violence and the #BlackLivesMatter movment; I almost had an aneurysm when Walker referenced Milwaukee County Sheriff David Clark positively and explained that "it's about training… we treat everyone the same here in America." Milwaukee's police force has a terrible track record for violence! Seriously, it's horrific!
Rand Paul didn't have a great showing either; he didn't get much speaking time, and a significant portion of what he did get was spent being shouted down by Chris Christie. He differed from the other candidates probably most notably on the issue of surveillance, opposing the trend towards government surveillance of citizens' activities and data without a warrant. Ben Carson also didn't get much speaking time; he just got a chance to sidestep a question about his lack of experience with foreign policy, promote a proportional tax system, and cryptically support waterboarding by insisting "I don't believe in politically correct wars." (People who had "political correctness" on their debate bingo cards really cleaned up last night.)
Mike Huckabee stayed on-message very effectively; the message being stayed on seemed to be that he's a real conservative's conservative, consistently promoting "bolder" measures than his counterparts. For instance, amid the other candidates rushing to say that they had already defunded Planned Parenthood in their individual states long before the current PP smear campaign, Huckabee went a step farther and advocated for personhood laws that would give unborn fetuses legal rights to due process and the same protection under the law as living humans. Ted Cruz, whose voice is the most grating sound on earth to me for some reason, tried to bill himself as a loose cannon who doesn't play by the rules and speaks truth to power as well as redoubling his opposition to illegal immigration and potential amnesty. Marco Rubio acquitted himself pretty well, with pat answers ready for the questions posed to him; he positioned himself as an ally to the working class, citing a low-income upbringing and lots of student debt as he asked "What can Hillary Clinton say to me?"
John Kasich of Ohio illustrated an interesting snapshot of the Republican party in 2015; when it was pointed out that he went for the Obamacare Medicaid expansion to his state, the crowd booed, even as he explained that it was important for him that the poor in his state be able to access healthcare and that mentally ill people could access medication and treatment. That sounds like pretty standard Republican fare. But he was also booed a bit later when his opposition to same-sex marriage (sorry, "belief in traditional marriage") was brought up. Even the question was framed accusatorily: "If one of your children were gay, how would you explain to them your opposition to same-sex marriage?" This is where we are in 2015; it's semi-officially an embarrassment for a Republican to oppose same-sex marriage, but it's also an embarrassment for them to even make moves towards providing accessible and affordable healthcare to their constituents (which include, of course, LGBT people). If you had explained this to me five years ago — two years ago! — I don't think I would have believed it.
Chris Christie came out looking maybe most competent of all — he's been planning his Presidential run for a long time, and he's not pulling any punches. The art of trying to build an electable brand is complex, and requires finding a very fine balance between building a platform of policies you think a majority will vote for and crafting a personality that people feel positively, even enthusiastic about. You can see all of the candidates' range of attempts at this; Kasich's answers were almost all explanations of his platform, while Ted Cruz's responses were stacked with key words and phrases that his team wants people to associate with him as a person and potential president. Christie's rhetoric accomplished both pretty ably, however; he was adept at explaining his stance on issues with clever language that could also be used to describe him as a person or politician, subtextually aligning himself with patriotic imagery and the time of nationalistic rebuilding immediately following 9/11. Before the debate, I had thought that what we're apparently calling "Bridgegate" would be a big hurdle for Christie. After seeing the motley crew of candidates assembled here, I'm not so sure anymore.
And then there's Donald Trump. What is there to say about Donald Trump? Everything, basically. I hadn't followed the Trump news any more than I absolutely had to prior to this, because I try to delay the beginning of the artificially elongated election cycle for as long as possible, much like I do with the Christmas season (I just prefer that it start in December). So I wasn't totally prepared for what was coming. Trump's performance was never less than bizarre and often ranged upward into "malicious." Probably I shouldn't have been surprised; Trump is the person on stage with the most reality show experience. Christie may be trying to balance policy with personal brand, but Trump sure isn't; policy is at best an afterthought to the construction of Trump's persona. He insulted the moderators, insulted the other candidates, and started off by announcing that he was ready to run as an independent if he didn't win the nomination, thus likely tanking the Republican prospects by splitting the vote, before the debate even started. He made no effort to be likable or even palatable; electability did not seem to be a major concern. Rather, the idea seemed to be that his brash, apparently extemporaneous opinions are winning in their directness; you know, the guy who defends his habit of saying incredibly offensive things with "What? I'm just being honest."
The reality show feel of the debate wasn't just a joke; it's based also in the evident drive of the moderators to create conflict, to engineer heated disagreement. Megyn Kelly's first question to Trump asked him if he could defend his misogynistic comments about women, a habit of his that's definitely awful but also certainly wasn't unique to him on that stage, or even very politically relevant in comparison to other candidates' remarks (Jeb Bush was just criticized for suggesting women's health is overfunded; Carson has suggested domestic violence against women doesn't really happen that often, etc.) When Trump tried to joke that he's said those things "only about Rosie O'Donnell," Kelly corrected him repeatedly that "it wasn't just Rosie." Later, the moderators asked Trump to explain his racist statements about Latinos directly to Jeb Bush, the only time that one candidate was asked to engage with another at the behest of moderators. It wasn't a coincidence — Bush's wife, Columba, was born in an indigenous village outside León, Mexico, and became a US citizen in 1979.
I was genuinely puzzled at this approach. It makes sense that the GOP as a body and FOX as its news network would be frustrated with Trump — his weird political rhetoric is screwing with the political landscape that the GOP works hard to curate, his racist comments about Latinos are coming at a time with the Republican party is trying harder than ever to court the Latino vote, and Trump has made it clear that he's willing to throw the party under the bus for the sake of his own personal election prospects. But that doesn't necessarily explain why the network clearly seems to have made a conscious decision to draw Trump into conflict on a personal level on national TV — they could have stonewalled him by asking him barely any questions, like Rand Paul, for instance.
The best I can come up with is that it's the network's attempt at scripting the reality show that is the early GOP races; the hope being that if they can stir up enough discord, clear heroes and villains within the party will arise, and Trump will be cast solidly as a villain. I think they're hoping that if they can make him look cruel and petty on a personal level, his I-tell-it-like-it-is appeal will fade.
I'm not sure it's a smart strategy, though. It doesn't take a lot of knowledge about reality tv to see the trend that our favorite characters, the ones we tune in to see, are the villains, the people who are cruel and petty and self-interested. Even if we don't want to hang out with them, we do want to watch what they do and listen to what they say, which is a major leg up when you're running a national campaign. Anecdotally, I've already heard at least twice as much about Donald Trump from last night's debate as any other candidate, maybe all the candidates combined. Does that mean people are excited to vote for him? Not necessarily, but they say that there's no such thing as bad press. There are a lot of gross people out there in the world who pride themselves on being the one who "goes there," who "says what we were all thinking," and if Donald Trump strikes a chord with them, who knows what that will mean for the election or anything else.
In conclusion, I will leave you with this youtube comment I came across while trying to find someplace to rewatch this debate in full in order to write about it. I don't think the commenter necessarily shares my political views, but I'm grateful to them for putting words to my feelings.