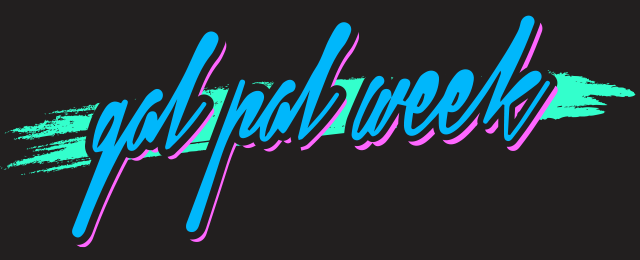 ---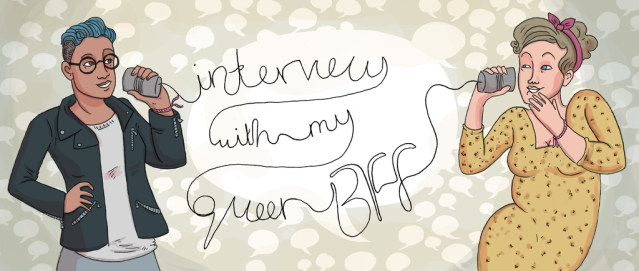 Far too often our queerness is only discussed in three contexts: relationships, family and politics. But our queerness plays a role in our friendships with other queers, too, and that's what this series is all about. In honor of Gal Pal Week, welcome to "Interview With My Queer BFF," in which gals interview their best queer pals about their exciting queer paldom. And by "gal pals" we don't mean "girlfriends" or "wives" … we mean GAL PALS.
This week, Contributing Editor Laura Mandanas interviews her bestie 4 LIFE, Kate.
---
Laura: So, how did we meet?
Kate: Well, obviously I met you on the school bus. And then I asked you if you were "Oriental." And then after that we were best friends!
Laura: That is my memory too.
Kate: Because we only — because Oswego is whiter than white, and I had never seen a person who wasn't white before in real life. The only "oriental" people that I knew about were in my Nancy Drew books. That was how she talked about them, so that was the only language I had.
Laura: I remember telling you that I wasn't a rug, but I don't even know what else I said beyond that. Except that I didn't have the vocabulary to tell you why that wasn't the right word.
Kate: If you did I probably just ignored you and was like, whatever, she's just like the people in Nancy Drew!
Laura: Yeah… But you were like, the friendliest person on that bus.
Kate: I loved new people.
Laura: I could tell.
Kate: And you were interesting! And obviously different, 'cause, you know. In Oswego everyone is the same.
Laura: That's true.
Kate: There was just that one dude in our grade who was Black, but his parents were white because he was adopted.
[Two minutes trying to remember other non-white classmates in Oswego. There were depressingly few.]
Kate: Anyway, next question. I pick… what was our biggest fight about? I'm pretty sure it was when you told your mom that I thought she was annoying.
Laura: I don't remember that at all! When was that?
Kate: Oh my god. I totally remember it. We were really little. I think we were between elementary school and middle school, in that time where you're a horrible human being. Your mom had just done something that I thought was annoying or like, I thought was too inquisitive about something. Because we were so cool and couldn't be bothered. I went ugh, your mom is annoying. And then you told her! I was mortified. I was so mad at you. You broke the silent rule, or like, the sacred bubble of friends. I just thought, how dare she?
Laura: Why did I do that?!
Kate: I don't know, but I was like, why?? I don't understand! You are so cool and here you are telling your mom?!
Laura: Oh Kate, I would never do that today! I must have blocked it out, because I have no recollection. I know that we fought over some things, but I couldn't even tell you the specific things that we fought about. I remember when I first met you I was best friends with Susan. And you didn't want me to be best friends with Susan.
Kate: Oh yeah, Susan was mean.
Laura: She was always very nice to me and I just couldn't understand! And then I had to pick, and I picked you, and I wasn't friends with Susan anymore! For the rest of forever.
Kate: I don't know, she was just really… I don't know if she actually was mean, or if Leah told me she was mean. And I believed Leah.
Laura: Oh, I feel like that was what it was. She didn't tell me, but she told you. That Susan was mean and neither of us could be friends with her.
[Several minutes reminiscing about how dramatic Leah was.]
Laura: How long have we been best friends?
Kate: Since… second grade? Right?
Laura: Second grade? You were not my best friend in second grade, though! I had best friends at St. Mary's. You were my best friend, like… definitely by middle school.
Kate: But we were friends in elementary school.
Laura: We were friends. Well, I moved [to the neighborhood Laura and Kate grew up together in] when I was eight. You were definitely my best friend outside of school. We were together all the time.
Kate: Yeah. Remember "no separation" [a thing we used to chant when our parents tried to take us to our separate homes]?
Laura: I do remember that.
Kate: I'm pretty sure you were my best friend throughout elementary school. Maybe not. I don't know.
Laura: Oh, I always felt like Leah was your best friend at the time. Because you knew her longer.
Kate: Ooh, I'm going to pick number 11. What's the most embarrassing thing I've seen you through? I would have to say during the middle school phase where glitter was super popular and everyone would wear it on their eyes like eyeshadow. But you were allergic and your eyes were all red and puffy.
Laura: That was SO HORRIBLE!
Kate: I KNOW. And everyone was like, Laura what's wrong with your eyes? And you were like, I don't know! And then you would continue wearing that glitter that you were allergic to.
Laura: I think actually, though, I was just allergic to cats. Because I stopped wearing the glitter and I continued to have allergies for a long time, until I left that house.
Kate: Oh! I don't remember that. I just remember you saying, I think I'm allergic to my glitter.
Laura: Yeah, and like, glitter was in everything back then. You would buy lotion and there would be surprise glitter in it, and you'd like, touch someone else and you'd be covered in glitter. It was so bad. My eyes were almost swelled shut. That was really embarrassing.
Laura: What was your most embarrassing thing? I guess various crushes on boys. You had a crush on Joe. And you would write about it in your diary, show us your diary, and then tell us not to read your diary.
Kate: I don't remember that at all!
Laura: There would be like multiple girls in your room. You would bring out your diary and be like, I wrote about a boy that I like in this diary. Don't read it. And then you would set it down and leave the room! And of course we would read your diary and then pretend that we hadn't read it. And you would come back and tell us what was in your diary. That was pretty ridiculous.
Kate: [joking] Well, obviously I only half trusted you. But actually didn't…. That's weird! I don't remember that at all.
Laura: Oh, really? Having a crush on him? Or the diary bit?
Kate: I mean, I vaguely remember having a crush on him. He was super nice, and a boy, and on [local sports team]. I feel like that was inevitable. But I don't remember being coy with my diary.
Laura: Yeah, you would put it on the edge of your bed and leave! This only happened once or twice, but it was really funny.
Kate: That's hysterical. Ah, I'm glad I was that cool.
Laura: Yep. It was you, me and Leah. We all had a crush on him, but you said it first so you had dibs.
Kate: Ha! Whatever. Clearly that was not going to happen.
Laura: Okay, next. Why are we friends and not girlfriends?
Kate: Umm. I feel like we both discovered super late — later than we should have — that we were not straight.
Laura: I agree. Like I certainly wasn't pining for you in elementary school, or middle school or high school. It didn't even cross my mind that I could be queer. It didn't even occur to me as an option.
Kate: It was just like… I remember in psychology, Mr. Smith talking about people who were gay, and how they knew… you know, whenever other people discovered that they had crushes, that was when they knew they were gay. But that didn't happen for me, so I just thought, oh, everyone thinks that girls are prettier than boys.
Laura: Yeah, I thought everyone thought that too!
Kate: I'm pretty sure we talked about it a couple times, and we were like, oh yeah, that's normal! Haha.
Laura: I do remember talking about that, actually. I remember specifically that what I thought was that… Well, I was learning about feminism, and I was like, oh, women are so sexualized in the media. Of course people are going to look at women and think that like, they're prettier. And like be more attracted to them. And you were like, yeah, totally! But… no.
Kate: Yep. We were like, no, that's just what people think! Like, very few boys are attractive, and lots of girls are. That's just how the world is. Isn't that sad, that there are so few attractive men, and that the ones who are just so happen to be famous.
Laura: There was a lot of rationalization. I think we sort of enabled each other. … And then we went away to college and both figured it out within the same few weeks of each other.
Kate: YES. I remember being so excited, like, yay, there's someone else!!
Laura: I remember that! And then not wanting to talk about my stuff at all, and just wanting to talk about you figuring it out.
Kate: Yeah, that was weird. For a long time you were like, this is weird, I'm not going to talk about it. And I said fine, it's a secret. Then I visited and when I met M you were like, okay, you're the first person who knows, so like don't… say anything. Say what?! Like, oh, you're dating each other?
[Long tangent remembering the visit and how neither of us really identified as feminists at the time. So much has changed since then.]
Kate: Do you think our friendship would be different if we were straight? I'm going to go with yes. Because I feel like we were kind of not talking as much when we discovered that we weren't straight, and after that we talked a lot more and it brought us a little bit closer. I feel like that probably wouldn't have happened if one of us hadn't realized hey, I'm not straight.
Laura: Huh. Maybe! I don't know. I feel like it wouldn't be that different? Because I knew you for such a long time, and we sort of grew on parallel paths that ended up being more similar than I would have thought, but like… I've known you for longer where we both thought we were straight than not, right?
Kate: I guess that's true. Maybe I'm just remembering how exciting it was to be like, oh this is so cool! We've been friends like forever, and now this [coming out] has happened.
Laura: That was pretty amazing. And like, comparing notes.
Kate: YES. Oh my god. I also think it was super fun because it was new for both of us, so we were like, yeah, let's discuss!
Laura: Yes — you were like, did you do this? And I was like, just last week I did that for the first time!
Kate: I do remember that. Maybe it wouldn't have been different, but it was just fun to have that conversation.
---
Last month, Laura and Kate both went home on the weekend of their high school reunion and only saw each other. Laura now thinks Kate was right, actually. They've been best friends since second grade.