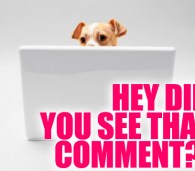 Hi! This week in awards we have a million pictures, I think it means you're all becoming friends and bantering more, that's so great. Last week we brought you our It Gets Better video! I just want to say that I love you.
Other things: Taylor, Kelsey, and Riese wrote an article about things they remember from Nickelodeon and everyone took a trip down memory lane. To cope with your feelings you could join our Ani DiFranco appreciation club, it's free.
Lastly, Laura wants to know what do you do when people say homophobic things in your presence? Please advise.
---
On Laneia's Team Pick: These Cashews:
The Tourrettes Is Not A Joke Award to radamize, Unsparky: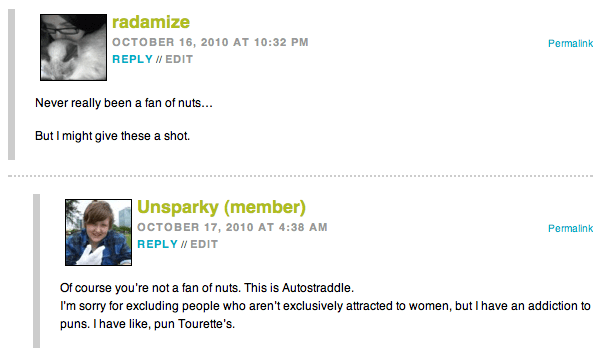 On In Which We Avoid The Easy Pun About Krystal Ball's Name: It's Sunday Funday!:
The Celine Dion Is Integral To Canadian Culture Also Quebec Which Is Part of Canada Award to InTheJunkDrawer, SomethingClever: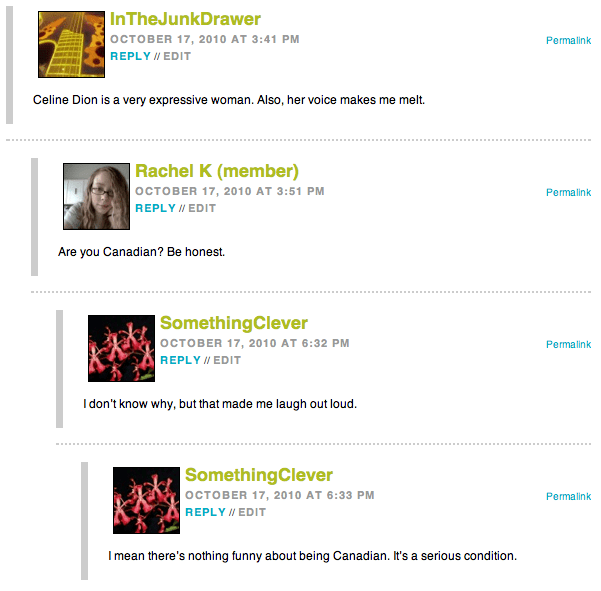 On NSFW Lesbosexy Sunday Gets Kicked Out of the Hot Tub:
The Ooh! Something Shiny! Award to kate.: I think I did have something interesting to contribute but I got distracted by "glitter muff" and I have to go back there now. k, bye.
On Christina Aguilera Gets Divorced, Likes Girls After All, is Not Dating Samantha Ronson:
The Sporcle.com Award to TSwizzle, Ziggy Hreins: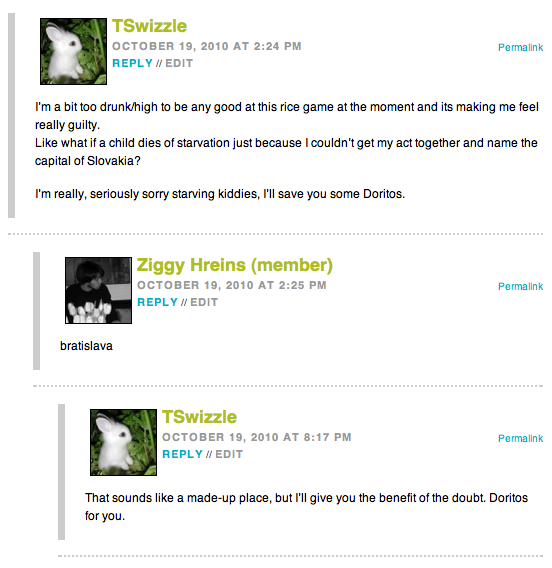 On Top Ten Nickelodeon Shows We Remember Things About:
The Robin Sparkles Award to el Pammo:
I hate to brag, but Ross from Are You Afraid of the Dark? is now my occasional local weatherman. I have a big fat crush on him – and also, my best friend definitely saw him at Safeway with his boyfriend one night. Cuuuuuuuute.
And yes – the Weather Network is what happens of former Canadian teen stars. That and pop fame, ala Alanis Morrisette. Canada ftw.
The Full Circle Award to wasteunit, Katie: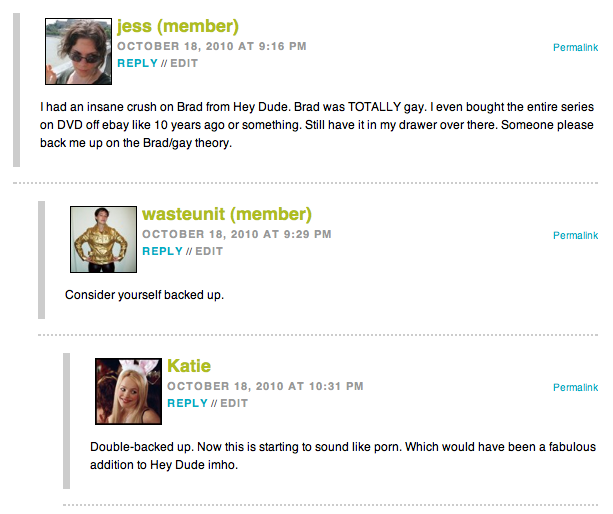 On The Good Kind of Tea Party: How to Pick a Good Tea, Drink It:
The Making Real Life Friends on the Interwebs Award to Brianna, e: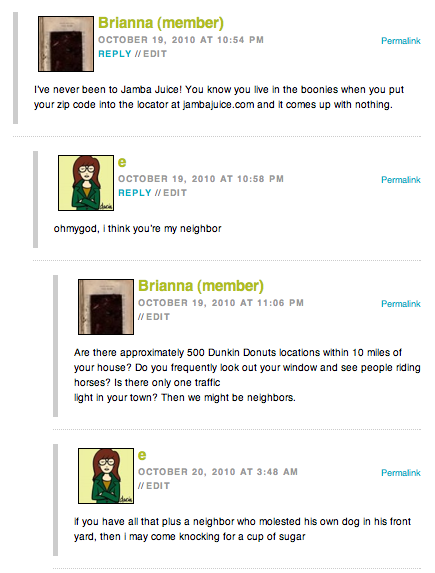 On Ani DiFranco Appreciation Club Meeting #1: Now More Than Ever:
The bcw Award for bcw to bcw & friends:

The Yeah, That's Pretty Gay Award to Che:
MMMMMMMMMM.
I'm going to see Ani and Melissa Ferrick in November. With my ex-girlfriend. How much gayer can you get?
On It Gets Better: 23 Lesbians, 10 Animals, 2 Children, 1 Message (#itgetsbetter):
The MOTHERFUCKING POKEMON Award to elster:
I still wish to become a Pokemon Master… but Master Lurker will do for now.
The There's A Pill For That Award to Ziggy Hreins, RachelwasHere, s.w: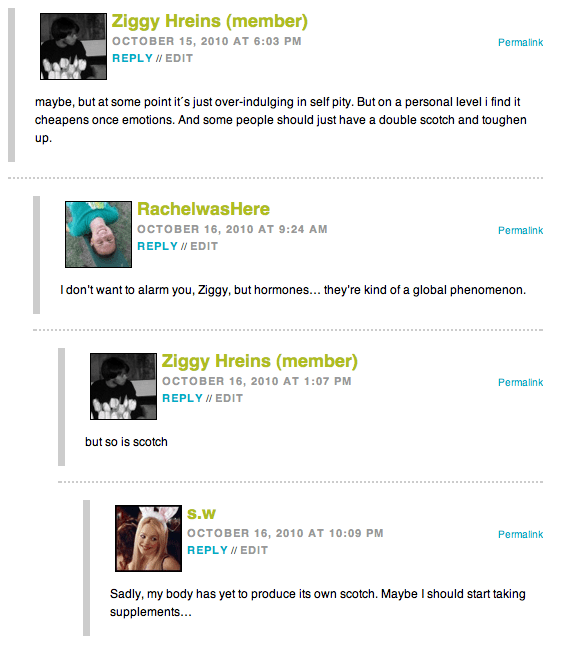 On Metroid: Other M Review, Where's the Samus We Know and Love?:
The Taylor Speer Nominated This One Award to MICHAEL:
I TOTALLY AGREE I AM HALFWAY THROUGH THE ?EPIC? IT WAS THE ULTIMATE FUCK-ALL OF VIDEO GAMES. IT ONLY FUELS THE FIRE OF MY ANTICIPATION FOR SKYWARD SWORD. SURELY THEY DID BETTER.
YOU REALLY BROKE IT DOWN. UNBELIEVABLE I DIDN'T KNOW GIRLS EVEN KNEW WHO SAMUS WAS.
On Doctor Finds Homosexuality Cure, Involves a Better Diet, Less Alcohol, Exercise:
The On/Off Award to Lissi:
I generally find when my "lightswitch" is in the upright position, i'm feeling rather gay.
On What The F*ck IS Happening With DADT: Discharges Are Possible Once Again, Maybe:
The Continued Canadian References Award to e:
fuck this shit i'm going to canada
The Harry Potter Award to Ziggy Hreins:
fuck it i´m going to hogwarts