Actress Nicole Byer frequently discusses what being a woman means to her on the first two seasons of the talking heads comedy, Girl Code. Before appearing regularly on MTV, the UCB trained comedian appeared on 30 Rock and Late Night with Jimmy Fallon. Right now you can catch her at Upright Citizens Brigade Theatre LA with sketch team New Money and in the webseries Pursuit of Sexiness with newly minted SNL cast member, Sasheer Zamata.
If you could star in any Broadway show from any period, what would it be?
Well if we are in fantasy land and I can sing, I would be in Taboo, the Boy George musical. If I'm me, I'm dying to be in Raisin in the Sun. I love that play so much. I read it a hundred times in school. There's the narrative about being black in a time of segregation, but it's also about discovering yourself and what's important to you. It's fucking beautiful.
I'm a big believer in foul-mouthed motor skills. Some people just miss the boat in their youth and it shows. You're excellent at cursing so I'm interested to know what or who you would credit for this particular ability?
I FUCKING LOVE TO CURSE. LOVE IT. I think it all started in maybe first grade or some year in school where you still got recess. I remember swinging on the swings with a friend and daring her to say "fuck." It was the baddest of all bad words at the time. She whispered it and like a psychopath I kept being like, "louder, louder, LOUDER!" Finally she said, "you say it." It was like a light going off in my head. I was like this is it, I was meant to be here on these swings saying fuck. So I swung hard and yelled "FUCK" at the top of my lungs and kept saying it over and over. I never felt so free. Probably because I was like 7 with no life experience. From that day on I've loved cursing and saying the nastiest shit possible.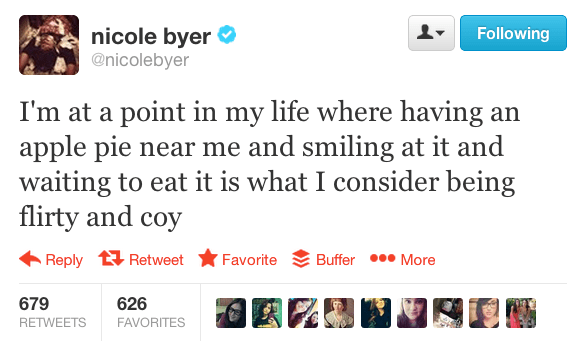 You've been on UCB Harold teams in both NY and LA and as far as I know, you're the first black woman to do that in both places. Given the growing prominence of the theatre, that seems like a big step for black female improvisers. As what I consider a trailblazer, did you feel any added pressure?
I just remember my friend Alan saying I was the Rosa Parks of improv and me telling him to fuck off. There had been a handful of black dudes on Harold teams in both places but I think I was the first black woman. I've only had one class with another black woman which says a lot but not seeing black female performers never deterred me. Coming up I wanted to be like the boys in "Death by Roo Roo" so making a Harold team was just a personal accomplishment for me. I never thought, "WELL THE NEGROES ARE WINNING NOW" because I don't identify as "Nicole the black girl." I'm just Nicole who wants to be funny.
If you could create the perfect job for yourself right now, what would it be?
I would want to be on my own show that I co-created with someone I care about and trust — but who knows if I'm ready for that. I think it's hard to say what the perfect job is because you don't know what the future holds. Your dream job could really be a nightmare. What I do know is that my perfect job is one where I'm acting, being funny, getting paid adequately, and happy.
Who is your favorite drag queen of all time?
OH MAN!!! I used to work a drag show in New York and the host of the show was such a bad motherfucker in and out of drag. Her name is Sweetie and she's such a powerful funny bitch who slays the stage when she lip syncs. I would watch those shows and hope to be as funny and quick witted as they were. Latrice Royale from RuPaul's Drag Race Season 4? SO FUCKING FUNNY. I love drag queens because all of them have a story and they are all so brave and strong. It takes a lot to put on a dress, tuck your dick, and fuck the views of the world. I try to live my life like a sloppy drunk queen.
Twitter: @nicolebyer
Current Shows: Maude Night
---
As you probably know by now, comedy and women are about the extent of my interests. So why not combine these two things? Comedy Crush will highlight the work of current comedy writers and/or performers in hopes of encouraging a queer lady following so they'll pander to us for the rest of their careers. Hey, at least I'm trying.