It's the first Boobs on Your Tube for 2022! Heres' your guide to what's new and gay and streaming this month, lovingly crafted for you by Riese Bernard. Riese also ranked every Kristen Stewart movie. Kayla has made you a nice and convenient list of yellow jackets she'd like to wear while convincing people to watch Yellowjackets. Kayla also, of course, recapped the most recent episode of Yellowjackets. Heather wrote about how Yaz has finally confessed her feelings for The Doctor, and she recapped this week's And Just Like That. And, finally, Shelli binged all of Dickinson in one week and she has had it up to here with Sue.
Speaking of Sue…
Notes from the TV Team:
+ One. More. Year.
+ New Amsterdam returned to our screens this week but Leyla Shinwari did not. The young resident is keeping her (ex?) girlfriend at arm's-length: having moved out of their apartment and taking a rotation at the VA. — Natalie
+ Lots of our favorite shows are returning this week — RuPaul's Drag Race, Euphoria, Legends of Tomorrow and Batwoman — but make time in your schedule for Naomi, the newest DC Comics franchise on the CW. The pilot (which debuts on Tuesday) is great and I think y'all are gonna love it. — Natalie
+ Queens returned this week and just to cut to the gay parts quickly, Jill blames herself that her homophobic husband shot Eve (I'm sorry, I'll probably never learn her character's name, she'll always be E-V-E to me). So Jill ends up in a drinking spiral that almost leads to a drug spiral but she stops herself in time. Sadly, not quick enough to avoid a not in jail. The Queens bailed her out (awww friendship!) and are starting an indie record label called Nasty Bitches Records. For my fellow lovers of late 90s/00s women's rap, you'll want to know that their first artist to sign on? Remy Ma. — Carmen
---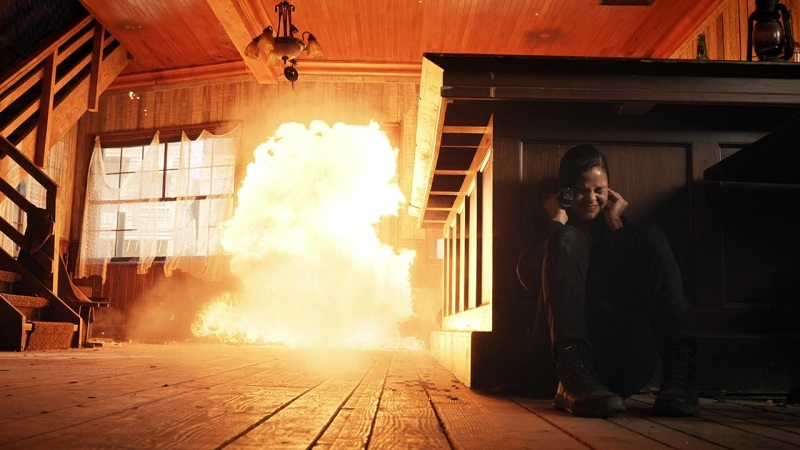 In S.W.A.T.'s second season, Chris Alonso was involved in a polyamorous relationship that drew the ire of her moralistic colleague, Deacon, and his wife. But despite their judgement, when Chris' relationship ended, she went straight to Deacon's house for comfort, as if his wife calling her relationship not normal, right or moral was no big deal. I was not pleased.
So this season when a disagreement arose between Chris and Deacon over her support for a safe house for undocumented women, I feared that S.W.A.T. would repeat its past mistake. I worried that they'd minimize Chris' personal connection — the aunt that raised her was undocumented — and paper over the tension with Deacon as if it were inconsequential. But thankfully, S.W.A.T. seems to have learned its lesson. This week, the show lead with the discomfort, with Chris taking a private security job alongside Deacon to help raise money for the safe house.
Chris promises to use their trip to Vegas to convince Deacon of the righteousness of her cause but he learns the lesson the hard way: the businessman they're transporting is a former cartel accountant and the cartel tracks him down, looking to reclaim their files and cash. They're ambushed on a side-street but fend off the initial attack from the narcos and take shelter in a nearby abandoned ghost town.
But they don't stay hidden for long: the cartel arrives with reinforcements and tries to flush the accountant out. Chris and Deacon try to make a stand from afar with what little supplies they have but when a town cop interrupts, they have to take the fight directly to the narcos. The action gives Lina Esco the opportunity to showcase her close combat training and it's enthralling (and a little painful) to watch. Chris suffers a painful leg injury — I winced when the guy snapped her knee — and the cartel offers her in exchange for their former accountant. But before anyone has to sacrifice themselves, the cavalry arrives: Hondo, Street and Tan arrive in a chopper and take down the remaining narcos from afar.
The experience makes Deacon sympathize more with the undocumented women Chris is trying to help. He climbs aboard the chopper with a new appreciation for the worthwhile work she's doing and for the legacy she's leaving.
---
Claws 405: "Chapter Five: Comeuppance"
This season, Quiet Ann's entire mission has been to get out of Palmetto, Florida as quickly as she can. Her alliance with Uncle Daddy is a necessary, but temporary one…a way to earn as much money as she can in as little time as possible. But in her rush to secure the bag, is Ann becoming the very thing that she hates the most?
Cherry approaches Ann about securing combat pay for the dealers she's hired. Ann's former softball teammates are being forced to dodge bullets while out in Palmetto's seedy neighborhoods trying to offload fentanyl patches and they want to be compensated for the additional risk. Ann dismisses their concerns, attributing it all to Cherry's disappointment over Ann's decision not to sleep with her. But Cherry assures her that she's only interested in everyone's safety — "This isn't about your strap-on," she says — and threatens a walkout if their demands aren't met. But Ann realizes that giving more money to the dealers means she gets less…and she's not willing to have anything keep her "from getting the hell outta this shithole town."
Ann's effort to stymie the collective action from her employees takes a backseat to ensuring that Jenn's daughters — who have been put in Uncle Daddy's custody by the courts — are safe. Her promise thaws the frosty relationship between Ann, Desna and Jenn for a moment but, of course, that doesn't last. Upset that Ann's not taking their demands seriously, Cherry leads a crew to confront Uncle Daddy and Ann at the park. The impromptu meeting distracts Uncle Daddy and Ann long enough that Jenn's daughters are able to scurry off. They're found, by an undercover officer, and Jenn blasts Ann for her selfishness.
"Ann, I don't know whatever self-righteous tip you're on, but it has made you blind to the fact that you are guilty of the exact thing you're accusing Desna of," she admonishes.
Jenn's words make an indelible impression on Ann and she sets out to make things right with Cherry and her former teammates and Jenn. She locates EJ, the biological father of one of Jenn's daughters, and gets him to take temporary custody of the girls so that they won't be forced into the foster system. She acknowledges that she was too harsh with Cherry and agrees to pay the team the combat pay they were seeking. And just to make everything official, Ann leans in and seals the deal with a kiss.
Sidenote: I've been worried about all these new people Desna keeps bringing into the fold, in hopes of expanding her empire, and now I'm convinced that the new Claws Up Delivery/Security guy is the police. Am I alone in this?
---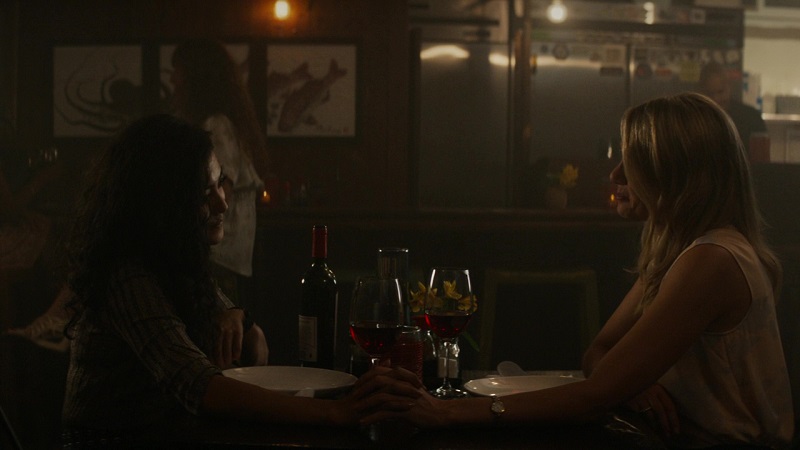 When a port inspector's body is found in a shipping container alongside some spart parts from Navy M2 machine guns, Lucy's NCIS team is called into investigate. A munitions expert surmises that it's not just a murderer that the team is after but a potential arms dealer, looking to offload heavy guns or RPGs. When the team discovers a GPS tracker atop the container, Ernie backhacks to discover who was tracking the shipment. The team rolls out to the location, guns drawn, and discovers Kate Whitsler and a joint interagency task force. Turns out, Kate's been leading an effort to track down weapons that have fallen into the wrong hands. So far their efforts have proven fruitless — she suspects that the arms dealer realizes they're being watched — but Kate's hoping that the team's murder investigation will lead them to the dealer.
When Kate and Lucy cross paths later at HQ, Lucy reveals that she's made a dinner reservations for them both. To assuage Kate's fears, dinner will be at a restaurant unlikely to draw anyone else from work — "That's because it's fancy, right? Not 'cause it's gross?" Kate asks, adorably — and Kate agrees to try. By dinnertime, the team's ostensibly solved the murder and tracked down the missing weapons and Kate and Lucy are free to enjoy their time together.
Kate's appreciative of Lucy's efforts to make her feel more comfortable and she slides her hand across the table. Lucy assures her that she really does care and intertwines their fingers together. Next time, though, Kate suggests that they go to a regular restaurant and Lucy recognizes what a big deal that is. It's all just so cute! Lucy bashfully admits that her team already knows about them but they'll continue to pretend like they don't. They toast to the successful conclusion of the case but, as they ponder, they realize the case came together a little too easily. Crime solving girlfriends, this is what I want to see!
They finally track down the bad guy and recover the guidance system he stole and afterwards, Kate and Lucy meet back up at HQ. Lucy offers to escort Kate to her office to collect her things and Kate suggests they try dinner again. But Lucy declines — clearly in the mood for other things — and Kate follows her out with a broad smile on her face.