Heads up this has spoilers on Dickinson so like — stop reading if you get mad at spoilers.
---
I sat on my couch and binge-watched Dickinson last week after getting a very enthusiastic response from Tracy and Yash when I dropped a tweet and a question into the Autostraddle Slack.
I made my way through each episode, watching 4-5 in a row some days, and as as I did I tweeted to the world my thoughts on Emily Dickinson and her crew.
Not Dickinson turning into Euphoria.

— Swap Meet Mannequin (@HiShelli) December 29, 2021
I did a little research as I watched and found that so many people loved Emily & Sue together. Respectfully — I disagree.
Sue Gilbert my darlings is messy.
She's a pretty 19th-century package wrapped in a narcissist bow.
Now, I know many of you Dickinson Dykes are already heated at those first two sentences. So before I get into it let me explain, these thoughts are based on the sometimes exaggerated/fictionalized stories and portrayals of the actual people as shown in the show Dickinson. This has nothing to do with the real versions of these folks, but that should be obvious because neither I nor y'all were around in the 1800s to know what these people were like.
Oftentimes, we excuse the horrid actions of folks with a hard history in lieu of checking them on their shit, especially in the queer community. Sue was a mess, and that could be for many reasons. She has had quite the hard life filled with death, trauma, and pain. However, that does not give her a pass to treat those in her orbit the way she does — namely one Miss Emily Dickinson.
Sue wanted to have her cake and eat it too. She wanted Emily to obsess over only her, to yearn for and only want to love her — but she (Sue) could love or lust after anyone she so chose. She was disrespectful of Emily's boundaries, and the moments where Emily gained enough courage to stand firm in her convictions, here came Sue with the gaslighting, tears, or timely "…but I DO love you Emily Dickinson!"
There are many reasons why I am so vehemently anti-Sue but these are just a few.
---
Her emotional Olympics are tired.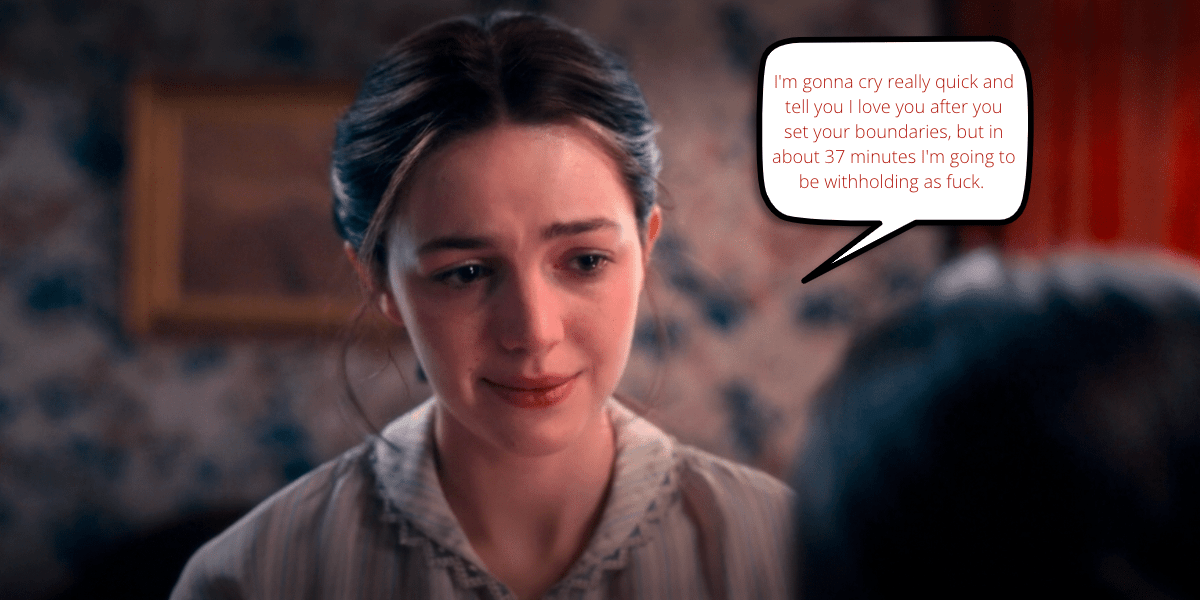 "Why do you always do that to me?" is something Sue has repeatedly said to Emily after reading her poems. Upset that her words bring up emotions that she isn't ready to feel — but then also getting upset when Emily opts to write about or get notes from someone that isn't her? She constantly flip-flops on her love for Emily, dangling it in her face when she feels her slipping away and then withholding it when she gets her back.
She wants Emily to constantly chase her.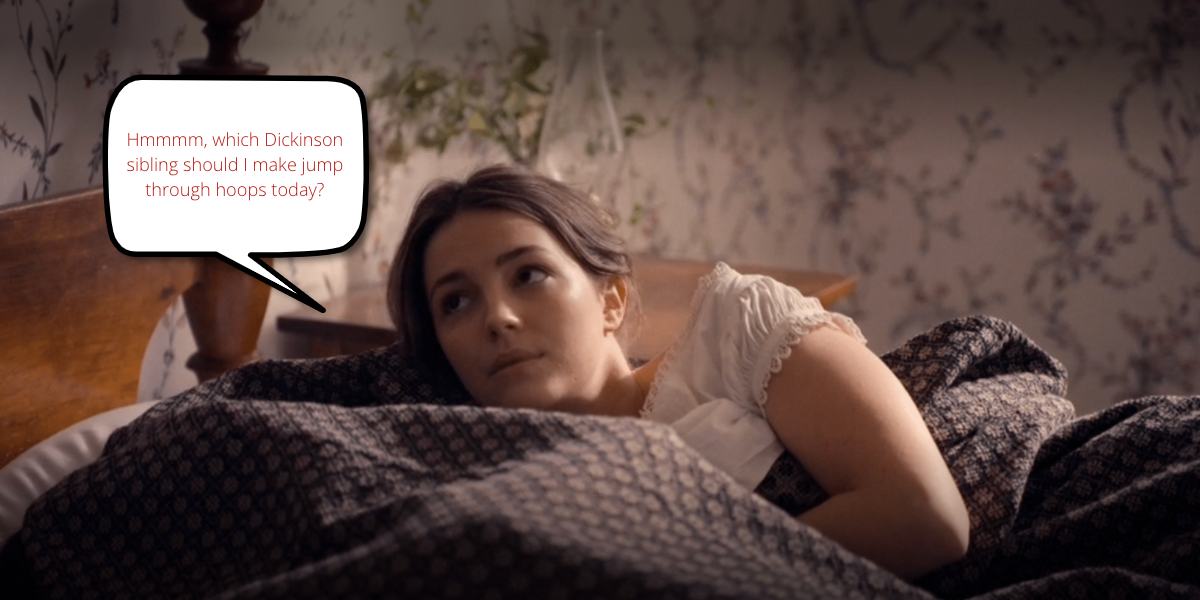 When Emily wants to give her some space after Sue is upset with her (yet again) She yells at her, "I am mad at you and that's why you should have come to see me!!" TOXIC. That is the equivalent of texting your girlfriend/crush to leave you alone after a fight that YOU picked — and then getting upset when they don't call you 10 minutes later. Also, they live right next door to each other………I wish Emily had responded "Shorty, you know where I live if you were so mad why didn't you come to see me?!?!"
She is WILDLY NARCISSISTIC.
Remember when she went to have afternoon tea with the wife of the man she was having an affair with? And when the wife revealed she had a miscarriage, Sue then was like "me too girl" and cried while the wife consoled her. Oh yeah, this is the same man she tried (successfully) to get Emily to fall for under the guise of him publishing her poetry, but it was really so she could keep him close to gas up her and her little parties? Oh, and also so she could sleep with him and blame it on the power of Emilys' poetry. Like — ma'am what?
Everything has to be done on her time.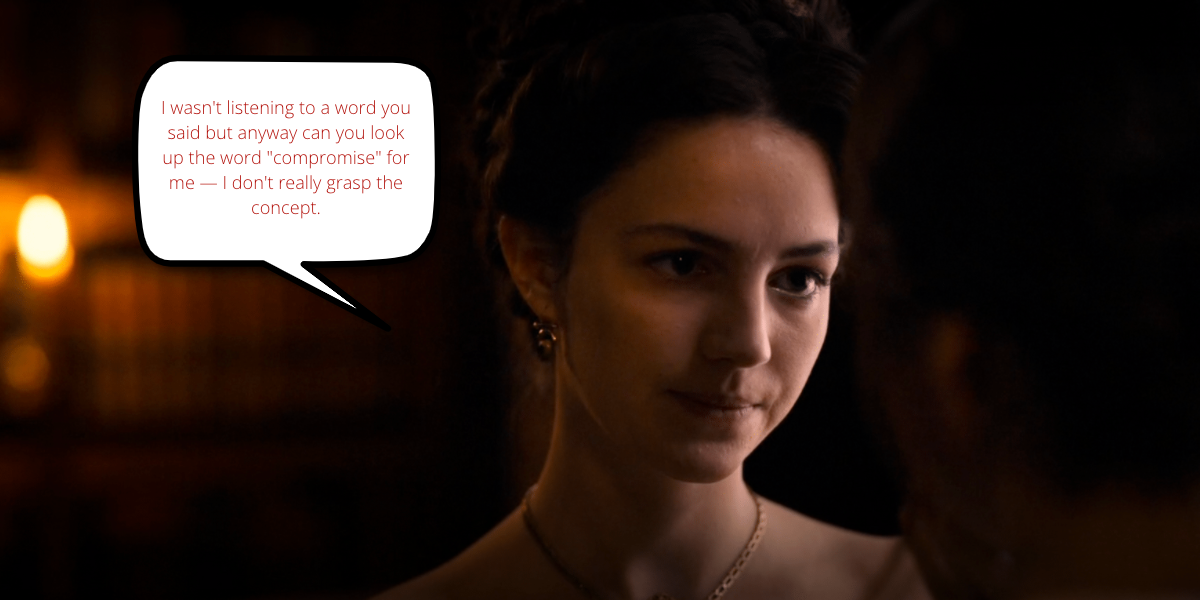 She goes on about how she has to wait days and weeks to see Emily, in an attempt to make her feel bad but fails to acknowledge how Emily feels about the situation. What is she supposed to do? Kick her brother out of your bed so she can sleep there? Blow up her whole life and hope that she is doing it at a time where Sue is in one of her "I love Emily" modes? Nah. When Austin brings up having a child in hopes of discussing it, she immediately knocks it down, and then when wants to instead care for his orphaned cousins in place of having their own child she has issues with that too. There isn't any wiggle room for Sue and compromising isn't something she cares to do.
She lets fame go to her head.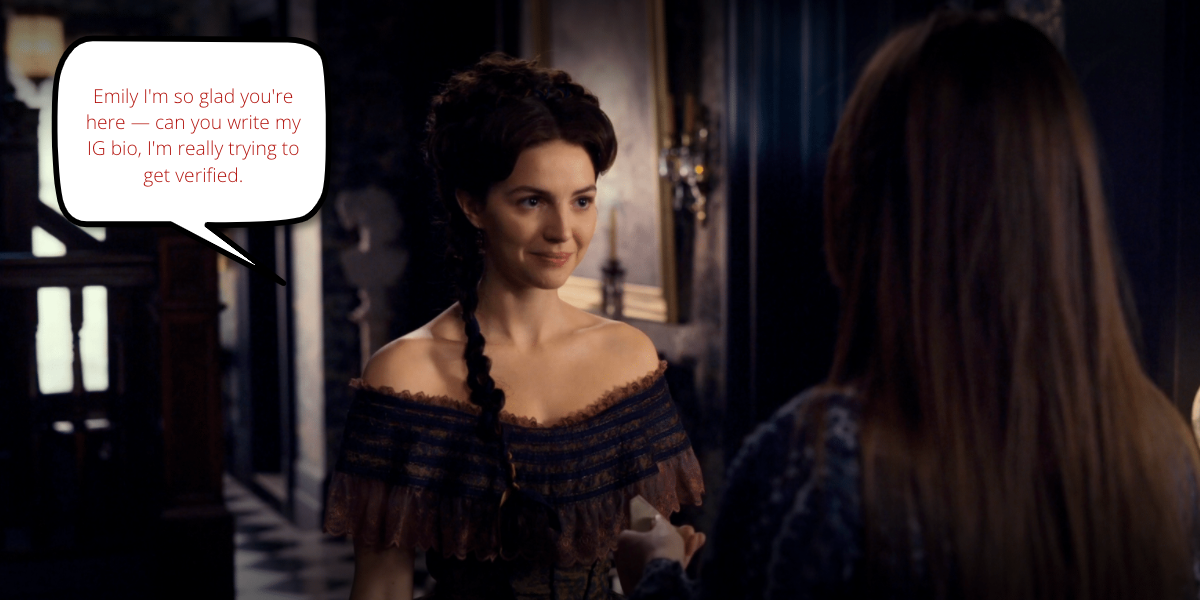 She turns into one of The Real Housewives of Amherst! She's an influencer now, so as soon as she got popular she changed. She becomes rude to the fire starting orphans, is short with the help, starts fucking folks husbands, ices out her mother-in-law, won't even wear the same dress twice, and is spending Dickinson money frivolously as fuck. It really hit me how much she thought she was that bitch when Austin Is like "Sweetheart we are about to be broke — actually we lowkey already are so chill on the spending" and she's like "Fuck you, buy me another horse."
---
Anyway, the show is incredible. I think it's wonderfully written, gives the whispers of queerness around this talented poet a great story, and drops in just the right amount of modernity to make a period piece interesting to a millennial audience.
The reason I despise Sue so much is because the writers did such a damn good job at making this the type of character that you either love or hate as her story evolves throughout the series. I watched the show on a whim and now that it's a wrap, you too can binge all three seasons. After you're done, come back here and let me know: How do you feel about Sue?