What a week, Boobs Tubers! We kicked off our March Madness: Best Coming Out tournament! Abby's dropped on NBC and Heather chatted with Natalie Morales about it. She also opined about Samira Wiley's surprise guest arc on Will & Grace. Carmen contextualized last week's super gay Boomerang and gave Lena Waithe the credit she deserves for bringing a queer reckoning to BET. Lena Waithe murdered us.
Thank you for having me @glaad . pic.twitter.com/XYus4XADKx

— Lena Waithe (@LenaWaithe) March 29, 2019
Riese wrote a really important piece about romantic friendship, bisexual culture, and the ending of Broad City. Valerie Anne insisted that you give Legacies a go and recapped this week's Supergirl with a Lena Luthor-shaped fire in her heart. Natalie wrote about heartbreaking penultimate episode of Good Trouble's first season. Kayla reviewed the second season of Killing Eve, which is coming at us in just a week! And, finally, Riese ranked every female Star Trek character by lesbianism.
Some reminders from the TV Team:
+ In the Dark premieres on April 4th. I've watched screeners for the first three episodes, and I'm really enjoying it so far. The main character's roommate is a lesbian with a bisexual girlfriend. — Valerie Anne
+ The queer webseries Barbelle dropped its season two trailer and I think it's worth a peep. — Valerie Anne
+ There's this new Idris Elba show on Netflix called Turn Up Charlie. It's bit like Who's the Boss meets Charles' in Charge, if all the characters were British and Tony was the child of Nigerian immigrants instead of an Italian from Brooklyn. Idris' Auntie Lydia in the sitcom is a lesbian (you won't find that out until [spoiler]) and she's hilarious. In case you're looking for a quick weekend laugh.  — Carmen
Here's what else!
---
Project Blue Book
A few weeks ago, Ksenia Solo posted a video on her Instagram with the caption, "Well you can't say these ladies don't know how to have fun," promoting the season finale of a show I hadn't yet heard of called Project Blue Book. It's basically a fanvid of Ksenia's character, Susie, and another woman, Mimi. I was watching it thinking, "That's gay," when suddenly their lips actually touched. Next thing you know I'm teaching myself how to watch a show on The History Channel and knee-deep in middle-aged white men grumbling about UFOs.
But then, just like that, we're in a department store not unlike the one Carol met Therese, and Susie is PUTTING LIPSTICK ON Mimi. The first time they met! Overall I'm not sure I can recommend watching the whole series; basically Susie's husband (played by Littlefinger from Game of Thrones) and a grumpy soldier are set out to prove that all the extraterrestrial sightings in a post-Roswell world were just weird science. With the exception of a very brief appearance by Erica Hahn, their storylines weren't interesting at all to me. But Susie and Mimi? That's another story entirely. It starts out as just an intense friendship between Susie and Mimi, a gentle hand on a thigh here, a caress there, Susie teaching Mimi how to shoot a gun with unnecessary touching.
It turns out Susie is a Russian spy sent to gather intel from Mimi's husband; the kiss in the promo was from a night Susie drugged Mimi and was meant to take photos of her and Mimi in…compromising positions.
But when it came down to it, Susie couldn't do it. Sealed with a kiss, she realized she was actually falling for Mimi. Mimi later told her that while Susie was one of her dearest friends, she loved her husband, and even though Susie had already killed her spy partner to avoid having to hurt Mimi, she was willing to also kill the "I want you" dancing on her tongue to make Mimi happy.
That said, Project Blue Book was renewed for a second season, so despite the fact that I used the boys-only scenes to play mobile games, I'll be checking in on Susie and Mimi again for sure.
---
Quick Hits
Riverdale 317: "The Master"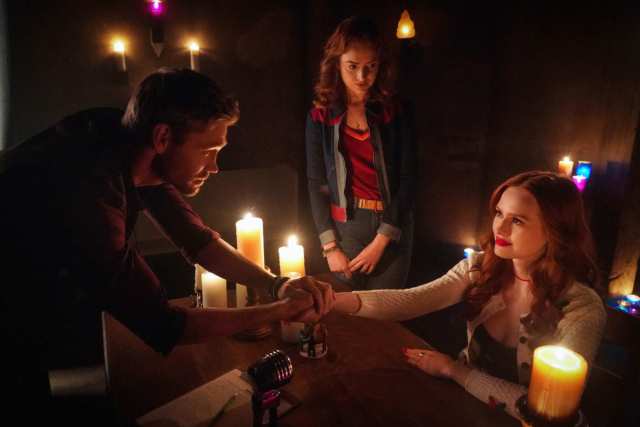 A convenient open house at the Farm finally lets Betty do some much needed investigating of the new cult in town in this week's Riverdale. But our resident Nancy Drew realizes that she's going to need to be a bit sneakier to get past Evelyn and her father Edgar Evernever a.k.a. cult leader Chad Michael Murray. So she enlists sweet cousin Cheryl Blossom to needle her way into the Farm, which isn't that hard since the group specifically preys on troubled teens, and Cheryl certainly fits the bill. Although to be fair, every teen in Riverdale probably fits the bill. Cheryl brilliantly fakes a breakup to get in with Evelyn.
Once at the Farm, Cheryl doesn't really have to do too much acting to convince the Evernevers that she's got some trauma to work out. We revisit her suicide attempt as well as the time she burnt her own house down. As creepy Edgar puts it, she was already baptized in the frozen Sweetwater River and then reborn in fire. And uh-oh! It kinda works on Cheryl. The tricky thing about trying to infiltrate a cult is that cult leaders are very good at what they do. Cheryl decides to keep going to the Farm and stop spying for Betty. They got her, and now she's seeing dead people. That's the Farm's schtick apparently — reuniting people with their lost loved ones. Whether that's through hallucinatory drugs or what remains to be seen. Everyone in the town of Riverdale is so desperate for genuine connection and for people who they can actually trust that it's no surprise the Farm is so successful at luring people in under the promise of family and community. But I'm worried about Cheryl!
Even though I missed Toni in the episode, it was fun to get a Cheryl/Betty storyline. They're a great duo together, and they call out bullshit when they see it. Madelaine Petsch has been pretty underused this season, so it's nice to see her in a storyline here that lets her play to her strengths. On Instagram, Madchen Amick teased that next week will feature one-on-one scenes between Cheryl and Alice for the first time ever, which is definitely content made specifically for me. I'm ready! — Kayla
Now Apocalypse
Starz has a new show called Now Apocalypse and it is… a trip. I think it's technically still airing week to week but all ten episodes are on the Starz site and I watched them all because it was just so… shiny. With a confusingly beautiful cast of Beck from Victorious, Jake Puckerman from Glee, Matty from Awkward, Disney Channel export Kelli Berglund, and Tyler Posey, this is the kind of show I had to watch with headphones on so my roommate didn't think I was watching porn loudly enough for her to hear it. It does involve lizard people sexually assaulting men? And this one character who is either a really bad actor or a really advanced AI.
It can be… problematic at times, e.g. a female teacher trying to prey on a female student, but one character pointed out that millennials have kind of all adopted sexual fluidity as the norm (she also said she's 99% straight but sometimes finds herself with a cunt in her mouth, so that was pretty hilarious) and the maybe-AI is into open relationships and multi-gender sex parties.
The main guy, Ulysses, is actually very endearing and I ended up pretty invested in his happiness, so do with that as you will. — Valerie Anne
Roswell, New Mexico 110: "I Don't Want to Miss a Thing"
This week, Isobel has more flashbacks about being close with Rosa that makes my heart flip around. See, Liz gave her an antidote and it started the heal the parts of her brain that had blacked out these strange happenings and her time with Rosa is coming back in bits and bobs.
She tells her brother Michael that she thinks she was in love with Rosa. She says it casually; she's not weirded out by this fact, just surprised she's saying it about Rosa. "In this memory, I could feel it, I wanted her." Michael doesn't seem all that shook either. He welcomes her to his team saying, and I quote, "It's a real bisexual alien blast."
In a final flashback, we see Rosa apologize to Isobel for not liking her like that, but it soon becomes clear that it's not Isobel at all. It's her body, sure, but the mysterious fourth alien seems to be driving. It's kind of hard to tell based on the conversation whether the fourth alien is male, a shapeshifter, or if they can just jump into anyone's body they want, because they were saying they could be a strong man for Rosa if that's what she wanted.
And at any rate, regardless of whether or not this fourth alien has a gender, they killed two mean girls for Rosa and when she didn't appreciate it, they killed her too. So all-around, not a great being. But I appreciated the casual way Isobel handled potential queerness in her own life anyway. — Valerie Anne
Crazy Ex-Girlfriend 415: "I Need to Find My Frienemy"
On this week's episode, Beth tells Valencia she won't be pressured into proposing, but this isn't really a fight Valencia wants to lose. So Beth heads back to New York, and Valencia heads off to Vegas with the girls while they all try to avoid their real life problems. (At one point there was a line that went, "We're basically heroes. Dare to defy." and I love when CW goes all meta on itself.) Eventually Valencia calls Beth and apologizes for giving her an ultimatum. Beth promises her not wanting to propose right now doesn't mean she never wants to get married, and then it dawns on Valencia that she can be the one to propose someday if she really wanted to.
— Valerie Anne
Legacies 116: "There's Always a Loophole"
The Legacies finale was a roller coaster of emotions that including TWO of my precious gays being in mortal danger, but Josie survived her magical gunshot wound and no matter what happens, I'll never lose Hope. I can't wait for Season Two, and fingers crossed Penelope will return to us at that time. I wanted to leave space here in the comments of this Boob Tube for finale feels, but if you have any general feelings you want to add to my desperate plea to get more people to watch this show, please feel free to pop on over and do just that. — Valerie Anne
Grey's Anatomy 1519: "Silent All These Years"
This week's episode of Grey's Anatomy wasn't gay, but it was incredibly important. I'll tell you like I told the TV Team, I think it's going to go down as one of the most significant hours of feminist television this year. It's one of the best episodes of the 16 season series, ever. I honestly cannot stop thinking or feeling about it.
Heavy trigger warnings for the aftermath of sexual assault and PTSD, but if you can watch it, I would very much like to encourage you to do so. Have you already seen it and want to learn more about how it all came together? Natalie found this in-depth behind the scenes piece from The Hollywood Reporter. It's best out of everything I read today (and trust me, I read a lot).
Want to relieve that astounding Wall of Women scene again? Here it is. — Carmen
The Good Fight 303: "The One Where Diane Joins the Resistance"
We didn't get as much of the utterly insufferable Roland Blum this week — and thank goodness for that — but we do get enough to give Maia some screentime and make the character almost seem tolerable.
Blum shows up at Reddick-Boseman, anxious to begin strategizing for their upcoming trial, but he's surprised to discover that Maia doesn't have an office. He chastises her for it — how's anyone supposed to take her seriously if she doesn't have an office — and she realizes that he's not wrong. She goes to the partners to see about getting some space, dropping Blum's name in the process, and gets it, at the expense of another third-year associate. Blum and Maia meet the new prosecutor in the case (it's Aaron Tveit!) who's looking to avenge his father whose career was ruined by Blum.
But once he realizes that Blum will truly do anything — including framing him for anti-Semetic behavior — to win, the prosecutor decides to offer his client a deal to flip on Maia's client. Thankfully, she's able to intercept the deal and go behind Blum's back and secure that deal for her own client. Blum, as I'm sure you can imagine, does not take the well. He tosses a chair into the glass wall and Maia gives his schtick right back to him.
"Is that supposed to scare me?" she ask rhetorically. "Am I supposed to beg your forgiveness? No, I beat you at your own game, and it wasn't difficult because you were stoned and sloppy and you left me an opening. I don't need the 'love' of a, of a sick, washed-up fuck who's pretending that he can cut it when he fucking can't!"
He walks away, a little impressed by Maia's fire, but the resolution comes a little too easily…that is, until Maia goes down to her car to go home and, just as he threatened, there's a cop there to arrest her for the drugs Blum planted in her car.
But the true highlight of the episode…which felt like a gift just for me…was when Lucca hands Liz the initial reports from her husband's divorce attorney, alleging that she had an affair. Liz ask who her husband is suggesting she had an affair with and Lucca just glances to her right.
"Diane?" Liz guesses, as if that were a real possibility. I laugh out loud and then think to myself: #IShipIt.
Also? ICYMI: last week's Good Fight Short: NDA. — Natalie
Will & Grace 1017: "The Things We Do for Love"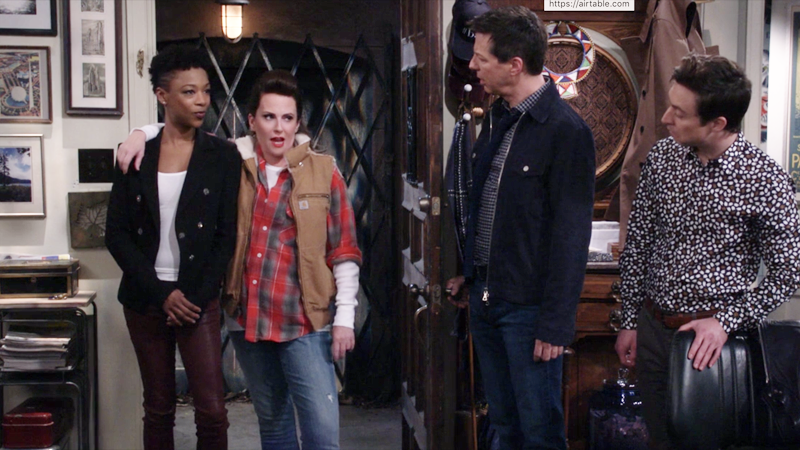 Samira Wiley was back on Will & Grace this week, and she and Karen are for real a thing! Samira's not feeling Karen trying to keep them a secret, though, so she tells Karen to tell her friends they're seeing each other or she's out. Karen says, "Do straight girls want to do the things to you that I do to you?" And Samira says, "Uh, yeah." So Karen brings Samira to a dinner party dressed like a lumberjack and announces that they are "doing gay stuff" together and generally acts like a lesbian cartoon character from the '90s. Samira finally tells her to cut it out and they decide to go upstairs and scissor on a pile of coats. She'll be back for next week's Season Ten finale! — Heather
Jane the Virgin 501: "Chapter Eighty-Two"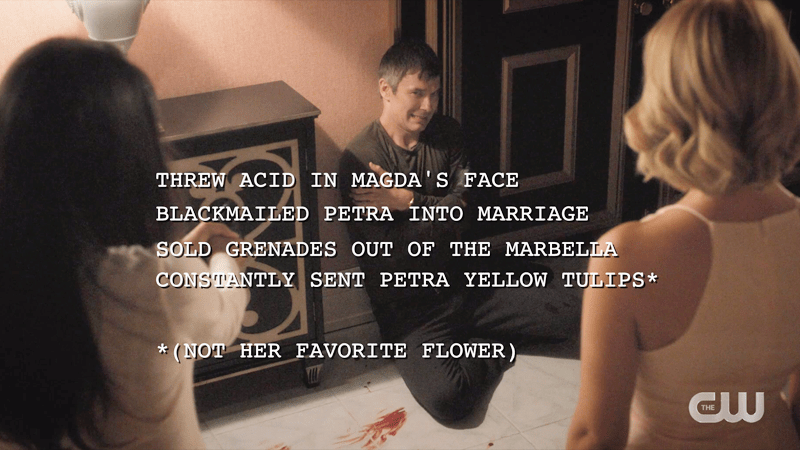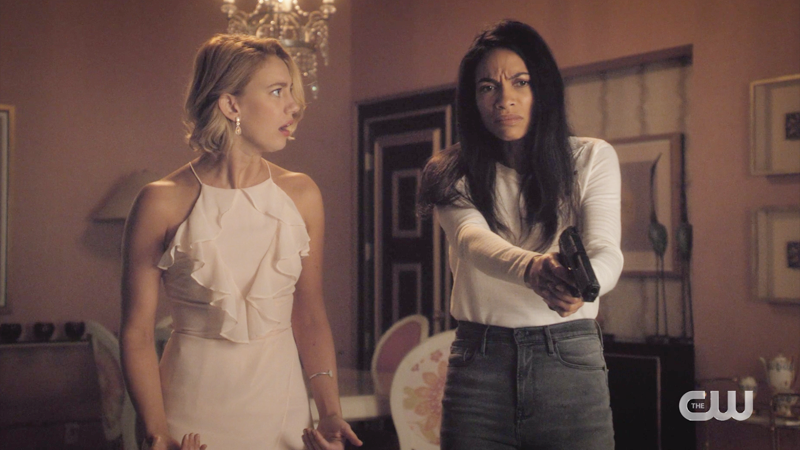 I'm going to write a longer thing about Jane the Virgin early next week, but I want to let you know it came back for season five this week and featured Petra, JR, Rose, Luisa, and a goddamn seven-minute monologue from Gina Rodriguez that better ensure her an Emmy win next year, I swear to Rogelio. Watch it so we can talk about it Wednesday! — Heather