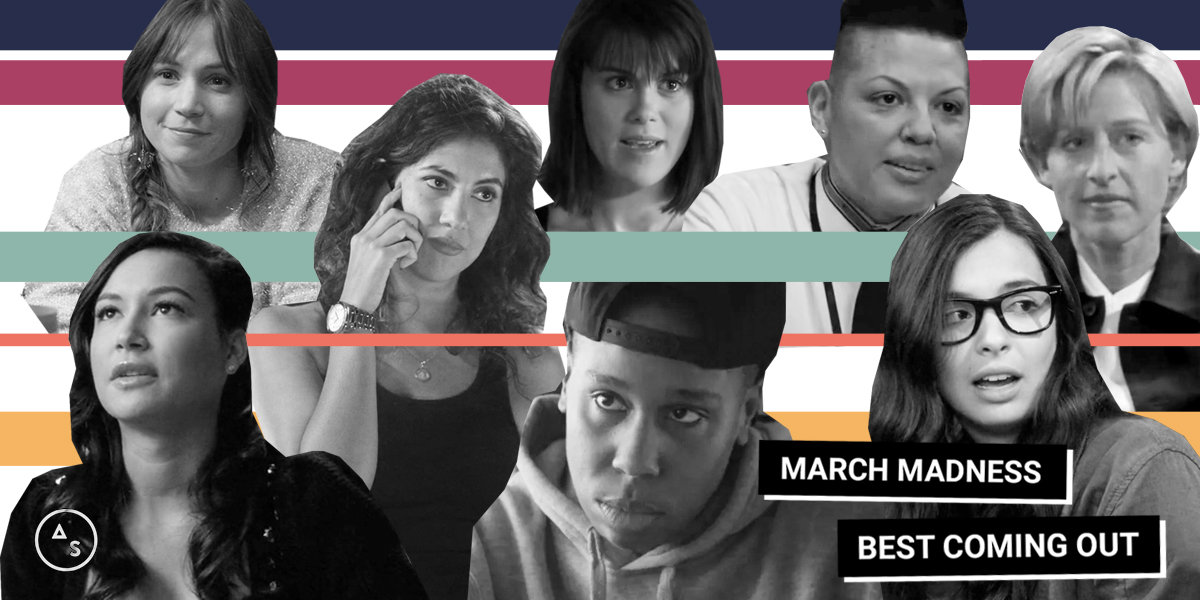 Last year, we hosted Autostraddle's first ever March Madness competition…and when the dust settled and after nearly 50,000 votes were counted, we crowned Everything Sucks the national champion of kissing. We're back in 20-BI-Teen, with a new theme — best coming out story — and a new field of competitors.
The seed for this March Madness theme was planted last June when the TV Team hosted a roundtable conversation about our favorite baby gays. We delved into some of our favorite coming out stories and tried to figure out what makes for a great coming out story on television. In the months that followed, the queer pop culture landscape saw even more coming out stories — Clare on Derry Girls, Coop on All American and Nomi on grown-ish — and the second most popular gay TV trope (you can guess the first, I'm sure) became the topic for this year's March Madness competition.
With the help of my TV team colleagues, I've compiled a list of 64 coming out stories and divided them into four regions: Classics, Baby Gay, Grown and International. Within those regions, each coming out scene is ranked, 1-16, relative to the others in the field, and the match-ups are set. If you've seen the episodes, vote accordingly…if not, check out my descriptions or links to video of those scenes. Voting for each round lasts for 48 hours. Your favorite stories advance through a simple vote by Autostraddle readers.
Today, we kick things off with the CLASSICS region: highlighting some of the shows — many of them cancelled long ago — that laid the groundwork for the stories we're seeing on television now. Hope you're feeling nostalgic!
On Tuesday, Wednesday, and Thursday we'll reveal the other three regions! And then we'll post the full bracket for you! 
---

#1. Ellen Morgan – Ellen
At first, Ellen Morgan can't bring herself to say the word. She cloaks her admission in jokes. She waits for Susan, the TV producer with whom she's built this incredible connection, to make the assumption again so that this time Ellen can tell her that she's right. But she can't bring herself to say the word. She paces around, chastising herself for carrying this shame, until she finally turns back to Susan, leans in and finally says the words: "I'm gay." It's meant to be an intimate moment — a gift Ellen shares with only Susan — but because she leans into an airport microphone, it's a moment that's broadcast throughout the terminal.
With 42 million people watching in a post-DOMA and post-DADT America, there will likely never be a more pivotal coming out scene than Ellen Morgan's. It is the coming out scene upon which every subsequent coming out scene has been built.
Spencer Carlin doesn't really come out of the closet to her mother. She's pulled out. Literally.
It wasn't supposed to happen that way: Spencer wanted to tell her father before he went away for the weekend but their conversation was interrupted. Instead, the truth about Spencer's sexuality is revealed when her parents return home early from a weekend getaway — after having bailed Spencer's brother out of jail — and discover her in bed with her girlfriend, Ashley.
---

#2. Santana Lopez – GLEE
The first time Santana Lopez comes out on GLEE, it's in a quiet conversation with her future bride. She admits then that she's been angry because she's not ready to deal with the consequences of loving Brittany openly. She's afraid of the snide looks, the offensive taunts, the poisonous gossip, and so she stays locked firmly in the closet. But, a season later — in an episode that should haunt Ryan Murphy for the rest of his days — she's forced out.
Santana's conversation with her grandmother echoes that earlier conversation with Brittany: keeping this secret has kept her in a perpetual state of war with herself and she's tired of fighting. The talk ends in heartbreak and Santana's fears about the consequences of being out are fully realized…only it stings a little more to know that snide look and offensive taunt comes from her abuela.
#15. Anna Taggaro – One Tree Hill
When Lucas, One Tree Hill's brooding protagonist, breaks up with Anna because he still has feelings for someone else, she runs to Peyton for comfort. Even if you've never seen an episode of One Tree Hill, you know Peyton: she's the straight girl that you fell in love with despite yourself….every queer girl who's ever been to high school has a Peyton. Anna questions herself — is something wrong with her, she wonders — and Peyton answers with an unequivocal no. Peyton pulls Anna into a hug and for a second, long enough to drop a kiss on Peyton's lips, Anna thinks there could they could be more. You can guess how that worked out.
Eventually, rumors about Anna's sexuality start swirling at school. Determined not to let what happened at their last school — where the rumors became so deafening, the family was forced to move — happen again, Anna's brother, Felix, tries to redirect the gossip towards Peyton by spray painting "DYKE" on her locker. Anna realizes the real target of Felix's anger is her and turns him in for the vandalism. Later, when he confronts her for doing so, she shares the truth that he's tried so desperately to ignore: she's gay. With the revelation, Anna Taggaro becomes the first bisexual recurring character on television.
---

#3. Naomi Campbell – Skins
Coming out is a process…and while we talk about — and this contest highlights — the moments when we share our truth with others, it's important to remember that coming out is, fundamentally, a process of self-acceptance. With each revelation, we move closer to fully embracing the person we were always meant to be.
There's not a single person in Freddie's shed when Naomi reveals the depths of her love for Emily that doesn't know she's gay…but this is still coming out because it's about reaffirming who Naomi is…who she's always been. She's no longer scared, she doesn't have to sabotage their relationship anymore. She deserves to love Emily and she deserves to be loved.
#14. Helen Stewart – Bad Girls
I'll leave this one to Heather:
For three seasons, starting in 1999, while Ellen was losing her career in the United States and lawmakers were fast at work essentially banning gay people from the military and explicitly banning gay people from getting married, Helen and Nikki were falling in love in the United Kingdom on what was, apparently, primetime broadcast TV. The L Word was still half a decade away, and coming for premium cable, and very late at night. That message was clear enough. Helen and Nikki were on during dinner, on England's NBC. They kissed. They had sex. They lived happily ever after.

The last thing Helen said on Bad Girls, after she'd helped Nikki get released, was "Thomas is gorgeous, and he's everything you'd want in a man — but I want a woman."

Helen had tried to love men. The best kind of men. But she couldn't help it. She wanted a woman.
---

#4. Bianca Montgomery – All My Children
Just before Bianca Montgomery comes out to her mother, she gets a visit from Sarah Livingston, the first woman she ever loved. Sarah admits that she still loves Bianca but she doesn't share Bianca's strength or bravery so she can't eschew her family's expectations and follow her heart. But Bianca doesn't feel brave. She feels like someone who's allowed fear to govern her life. Seeing Sarah walk out to the door — towards a life with a man she doesn't love — is enough to convince Bianca that she needs to let go of that fear.
In front of her mother, Bianca strips herself of their resemblance. Their matching outfits had been part of a marketing strategy for the new Enchantment campaign: "the perfect mother and daughter for all the world to see." But Bianca knows that before the world can see her, she needs her mother to really see her first.
When their "mission to ascertain the disposition and intent" of Dana's latest crush (and future love of her life, don't @ me) Miss Lara Perkins doesn't go according to plan — Lara ends up within the margin of error on their "lesbian or not" scorecard — Bette, Tina and Alice send in their secret weapon: lesbian lothario, Shane McCutcheon. Usually, the Shane test works on everyone but not on Lara so the gang walks away from the club convinced that the "soup chef" is straight. But, as it turns out, Lara's hip to their game and comes out to Dana in the sweetest way possible: by kissing her against the lockers after Dana secures the Subaru sponsorship. #Winning
---

Paige McCullers tried so hard not to be gay, to the point that her internalized homophobia caused her to act out in some really messy, hurtful ways. Her feelings for Emily are finally what pushed her to admit the truth to herself and to everyone else. After another sad date with another boring boy, she ended up at Emily's house, flailing and panicked because she couldn't imagine herself being as strong as Emily, strong enough to just walk right out of the closet. Emily laughed, sweetly, and told Paige she didn't come out of the closet, she fell out on her face. "If I say it out loud," Paige gulped, "If I say, 'I'm gay,' the whole world will change." Emily sat down beside her, smiled. "Yes," she promised, "it will." And it did.
#12. Faith Duluth – unREAL
There's a fundamental dishonesty to nearly every moment on unREAL, the show that depicts the behind-the-scene machinations of a Bachelor-like program. The search for love is constantly manipulated by producers of the show to gin up better ratings. Faith's coming out — however manipulated even that is — might be the most honest thing that happens during the show's first season.
Faith is one of 26 contestants that tries to find love with the show's bachelor, Adam Crowell. She's shy and awkward and by the time Adam returns with Faith to Mississippi for their hometown date, she decides that she wants Adam to take her virginity. But when Faith kisses Adam, it doesn't feel right and she retreats from the scene to figure out why. Away from the cameras, the show's producer, Rachel, is the first person, maybe ever, to describe the attraction Faith feels towards her best friend, Amy, with warmth. Rachel challenges Faith to say it aloud, just once, to see if her world will end. She does and it doesn't..
---

#6. Jessie Sammler – Once and Again
When Grace tells Jessie that her best friend, Katie, is gay, she doesn't want to believe it. But even while she insists that there's no truth to the rumors — according to Grace, Katie was once madly in love with a girl named Sarah but ultimately broke her heart — Jessie becomes self-conscious. Anytime she's around Katie after that, the ostensibly straight Jessie feels everyone else's stares and hears their whispers. Katie tries desperately to hang onto the connection between them, penning a love letter for Jessie.
It's enough to make Jessie confront her own feelings…and she holds fast to the letter, her friendship with Katie and, though she doesn't say it with words, the love growing between them. With a kiss, they become the first teenage lesbian couple on network television.
#11. Nancy Bartlett – Roseanne
When Nancy Bartlett first meets Roseanne and Jackie, she's engaged to Arnie Thomas, the hapless high school friend of Dan and Roseanne Conner. She marries him but their marriage collapses when, according to the note he left, Arnie is abducted by aliens seeking intelligent life on earth. By the show's fifth season, Nancy's over her heartbreak and her newly minted business parter, Roseanne, pushes her to hook up with another one of Dan's friends.
When Roseanne refuses to take no for an answer, Nancy admits that she's already seeing someone: a woman named Marla. To Jackie and Roseanne's stunned disbelief, Nancy comes out.
---

#7. Kerry Weaver – ER
Kerry Weaver's life is, seemingly, a series of meticulously planned events. She is a highly talented doctor with lofty ambitions, determined not to let anything — including her gender or disability — stand in her way. But, in a testament to how disarming it can be to fall in love with a woman for the first time, the woman who planned everything's coming out happens almost by accident.
Soon after realizing she's gay, the homophobic Dr. Romano set his sights on ousting Kim Legaspi from her job as an psychiatric attending. Unbeknownst to him, Legaspi and Weaver had been seeing each other — it ended when Kerry wouldn't defend her girlfriend from spurious sexual harassment charges — and Weaver was desperate to rekindle their romance. When Romano finally fires Legaspi based on trumped up charges, she finally stands up…and comes out to her homophobic boss in the process.
Soon after she broke up with Ben, Emily finds herself inside a photo booth at Noel's cabin party with Maya, the neighborhood new girl in whom she's developed an interest. They flirt, they touch, they kiss…and the camera captures it all. But when they step out of the photo booth, the pictures are gone, swiped by a member of the A-Team, and Emily is left to worry if someone will upset her image as the classic All-American girl.
And, of course, A does.
First, A delivers a copy of the photobooth photos to Emily, making her paranoid about who else could've seen her kissing another girl. Then Hanna sees…and uses that as the impetus to set Maya and Emily up at the Homecoming dance. It doesn't go according to plan initially — nothing on this show ever goes according to plan — but, in the end, it's enough to get Emily to admit her attraction to Maya and take comfort that things between her and her friends likely won't change because of it.
---

#8. Emily Fitch – Skins
Their hands linked through the cat flap, Naomi asks Emily, in her eponymous episode, if there's something more than just being with someone. Emily wants to believe that it can be that simple but, deep down, she knows there's more to it…because that's the thing that sends her to the psychological support center for counselling. She wants help being a bit more honest, presumably because she's not out of the closet to her friends or her family yet. And while the center seems content to just hand her a pack of pills — the same pills they've prescribed to JJ for his overstimulation — it works: Emily tells the unapologetic truth about her sexuality to JJ after her appointment.
It doesn't work so much for JJ, though, who collapses on the floor as if he's been struck by lightning.
#9. Carmen de la Pica Morales – The L Word
Shane McCutcheon has never had a real family, not really, so when Carmen's family embraces her, she relishes the connection. She's willing to abide the indignities of not being recognized for who she is and for who she and Carmen are to each other if it means that she can stay in this embrace. But once Carmen's Mom, Mercedes, spots their matching tattoos — undeniable proof that Carmen and Share more than friends — she sets out to hook Shane up with an eligible neighborhood bachelor. That's when Carmen has had enough.
It's one thing to keep up the charade…to mask who you are to make others feel comfortable…but to sit idly by when someone is trying to upset the happiness that they pretend not to see? Nope, nope, nope. So Carmen de la Pica Morales comes out and destroys her (and Shane's) relationship with her family in the process.
---
Oops! We could not locate your form.