Nearly every queer person we know has a story about how a fictional character helped them realize they're not straight, which makes sense, of course; stories are how humans have been figuring out who they are and what they're doing for the whole history of humankind. In this TV Team roundtable, we're talking about the LGBTQ characters who helped us realize we're queer, and some of our all time favorite baby gays. We want to hear your answers in the comments!
---
Heather: Do you remember the first queer character you saw on TV? Funnily enough, for me, it was Ellen. I watched "The Puppy Episode" in real time when I was a sophomore in high school. What I remember about it is my dad being kind of uncomfortable and my sister being so vocally supportive of Ellen – I should have known then that she knew I'm gay.
Carmen: Mine was also Ellen! "The Puppy Episode" aired at the end of my 5th grade. I remember feeling like it was such a massive big deal, even though I couldn't get all the jokes at the time. It felt like my world stopped, and I didn't know why! Ellen just meant so much to me. I admired her authenticity and willingness to be herself, even though I didn't know yet that I was gay. She moved me in my gut. I also did a 6th grade research project on Ellen and "homosexuality in pop culture," which made me, ummmm, very different from my midwestern classmates. And in case you were wondering if I always was who I am now, the answer is yes.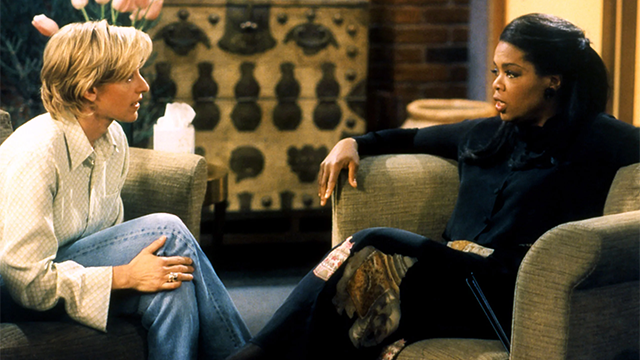 Riese: For me, it must have been Ricky Vasquez on My So-Called Life because I watched that in 8th grade. I'd seen gay characters in movies prior to that, most notably Philadelphia, and also in theater. I don't remember being shocked or even affected in any way by Ricky's sexual orientation. His character was so authentic and heart-rending and full. He was also very cool! I think I watched it and thought "I want a gay best friend!" (Although I will mention that Ricky specifically identified as bisexual, although near the end of the season things happened that I think made him realize he was gay? IF ONLY WE'D GOTTEN MORE SEASONS.) He was portrayed very lovingly, too. He was funny and interesting — but also, because of his sexuality, he was also often lonely, and eventually ended up homeless. So I guess my second gay character would've been Ricky's English teacher who took him in after all that. I didn't really think very much about women being gay back then, because they were basically invisible in the media and even the news, but gay men were very visible in the early '90s. DADT ("Don't Ask, Don't Tell") was a hot topic and I feel like HIV/AIDS was something we thought about nearly every day at that point.
Natalie: So, my first queer character actually predates Ellen and Ricky – Matt Fielding on the Aaron Spelling primetime soap Melrose Place. Like every other teenage girl during that era, I was obsessed with Beverly Hills: 90210 — thank you, Luke Perry — so after that show went off on Wednesday nights, I stayed glued to my television for Melrose.
Matt was pretty much what you'd expect from a '90s era gay: totally admirable and completely sexless. Even then, I remembered being jarred by how everyone else that lived in this fictional West Hollywood complex got to be totally hedonistic, except the black girl and the gay man. Matt didn't get to do much, but a lot of stuff happened to him — I lost count of how many gay bashings he suffered — which, I suppose, was their way of making a gay man sympathetic to the masses back then.
Riese: Oh that reminds me — I bet my first lesbian would've been Allison Lash, in 1995, on Beverly Hills 90210. (I mean I was watching Ellen before that, but she hadn't come out yet.) You know, the lesbian character who developed an intense crush on Kelly Taylor after they survived a fire together. That was when I learned that lesbians were psychotic stalkers!
Valerie Anne: I guess technically Buffy the Vampire Slayer's Willow was mine, with Tara hot on her heels, but I don't think they officially explicitly came out in a way I understood at 12? So they overlapped with Bianca Montgomery from All My Children in such a way that she feels like my first. I very vividly remember where I was sitting when she came out to her mom and Erica lost her whole damn mind. I remember asking my mom why Erica was being so ridiculous and my mom saying something factual and emotionless like, "Some people don't like gay people, so they get upset when their kids come out to them" which gave me zero clue about how she herself felt about such things. I started high school a year later so I was no longer home on Wednesday afternoons to watch the rest of her tumultuous life play out, which I think was probably for the best.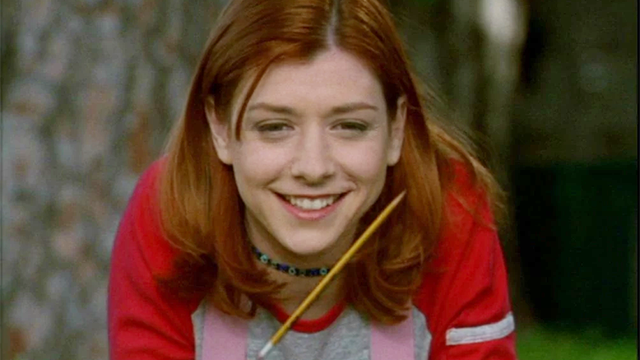 Kayla: The first gay TV characters I met were Susan and Carol on Friends. I spent a lot of time trying to convince myself that this answer is off-brand, but sadly, it is incredibly on-brand. Carol is a Mommi if I've ever seen one and probably the root of my unshakeable attraction to women who look like they'd play the evil stepmother in a Mary-Kate and Ashley movie. Because Jane Sibbett indeed played the evil stepmother in a Mary-Kate and Ashley movie. Anyways! Susan and Carol weren't just the first gay TV characters I'd met, they were also the first gay people I'd "met" at all because there were no out gay people in my life at the time! And Friends treated them as a punchline, so you know, that was great for my whole internalized homophobia sitch.
Riese: OH RIGHT CAROL AND SUSAN ON FRIENDS. My second and third lesbians.
Heather: Okay who was the TV character that helped you realize you're queer? Not What do you remember about your journey with them? Did you see them and know right then you're queer? Did you realize you're queer along with them? Is it something you accepted in your own mind right away, or did you try to ignore it? I don't think I've actually ever written this before but the exact moment all of the stuff I'd been blocking from my mind or trying to ignore or pretending didn't exist was the moment in the opening credits of The L Word pilot when Bette rolls over in bed and wraps her arm around Tina. I was just like, "Ah. Right. Oh well!"
Riese: I mean – Shane on The L Word. I was in my early twenties at that point. I'd always been… I guess you could say… promiscuous? But to me that had always gone hand in hand with proving my self-worth through my ability to hook up with hot guys. Shane was empowered by her sexual desire and prowess in a way that I'd never seen in a story that didn't also involve men. It opened up a whole world of possibilities. Most of them, honestly, were not super-great, w/r/t how to treat women, but you know. YOUTH!
Valerie Anne: I have a lot of characters that sent up little red flags, but I was great at ignoring them until I started college and discovered The L Word. I was helpless to Carmen de la Pica Morales and examined the length of my ring finger in horror, taking to the internet and Asking Jeeves if I was gay. But, I convinced myself (with the help of some shitty-in-hindsight friends) that it was just a phase and I'd get over it. It wasn't until the year after college, after I started grad school, that I was binge-watching South of Nowhere that I fully and officially came out to myself and stopped trying to run from it. It was that scene on the beach, when Spencer asks Ashley how she knows she's gay, and admits she's feeling confused and interested in girls. She goes, "I don't wanna be different I just, I wanna be normal. Ya know, like everybody else who knows who they are, what they want, and who they love." And Ashley said, "Stop worrying about it. Look, whatever people consider to be normal, it never is."
Also, Alex Danvers had one of the best coming out speeches, in my opinion, because I think it mirrored my own the most – older, had never really had any intimate romantic relationships, knew on some level the people I love would be okay with it but somehow couldn't grapple with it myself for a long time until finally I did and I felt like it was smothering me, etc. I felt like a baby gay having my feelings validated all over again, even though I am… not young and have been out for eons now.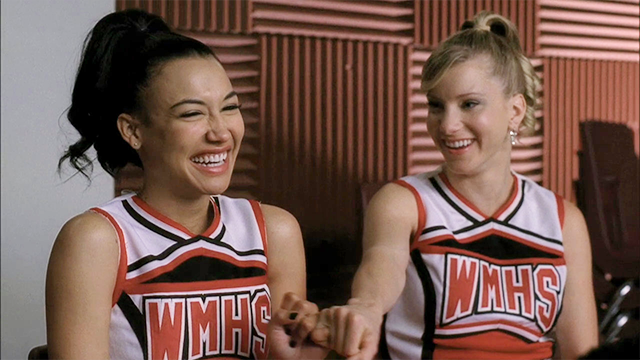 Kayla: Santana Lopez undoubtedly helped me realize I was queer, but I definitely still tried to ignore it for a long time after. Something I say about myself a lot is that I was "out in the tags" before I was out in the world — referring to a good ol' place called Tumblr dot com. Tumblr was the first space I had to express queer desire, but I was so closeted that I didn't even necessarily acknowledge it in the text of posts themselves but buried it IN THE TAGS. I would literally reblog a photoset of Santana Lopez and tag it with things like "#boobs" and "#gay o'clock" and all my friends were like hmm Kayla do you have something to say and I was like NO WHAT ARE YOU TALKING ABOUT! Anyway, that started to creep into my real life, too, and I literally wrote AN ENTIRE ZINE ABOUT SANTANA'S COMING OUT ARC for a project for one credit in a pop culture class I took freshman year of college. I felt connected to her on a deep level — she is the only girl I've written an entire zine about — but wasn't ready to really engage with it.
Carmen: Callie Torres. 100% Callie Torres. There is absolutely no version of my "coming out story" that doesn't involve her character. Our coming outs sort of overlapped each other? I had a messy, on-again/off-again, relationship with my queerness in college. When Callie kissed Erica Hahn for the first time during my senior year I mostly ignored it. It was a blip on my radar. The next fall Erica walked into The Parking Lot of No Return and my heart shattered. At that point there was no more pushing down my feelings. Callie was ready to face with her emotions head on and so was I. Every heartbreak, every nervous flutter, every awkward stumbling language – we walked that journey together. (And like Kayla, I spent a lot of time on the Calzona and Callie Torres Tumblr tags). During my coming out process, I probably watched reruns of Callie and Erica and Callie and Arizona a thousand times. I re-watched Callie's first date with Erica before my very first gay date! Callie held my hand at a time when it felt like there was no one else. Those seasons of Grey's Anatomy were my port in the storm.
Heather: Did any queer characters help you come out to people other than yourself? I suppose this isn't a surprise to anyone who has ever read anything I've written, but my coming out to my close friends and family was pretty smooth, except all of them begged me not to tell my grandparents. And so I didn't, for a long long long time. It was eating me up inside to the point where I was dreaming about it multiple times a week and sliding into a terrible anxiety-filled depression — and then Paige McCullers happened. I know Paige is complicated and a lot of people hate her and Emison shippers want to tie me to some train tracks, but Paige McCullers was me as a teenager and she meant everything to me when I met her. She reclaimed my youth! The night I came out to my grandparents, I drove to their house at like 1:00 am with my sister and sat in their driveway and watched Paige come out like ten times on YouTube — "If I say it out loud, if I say, 'I'm gay,' the whole world is gonna change." — and then I went in and came out in the middle of the night and was finally whole again.
Valerie Anne: Once in college I was talking on AIM to this girl in my Spanish class and we ended up talking about TV and The L Word came up. We talked in code using L Word characters, she told me she was bi without saying the words by talking about Alice, I told her I was mostly confused, but probably definitely into girls without having to explain it by saying I was somewhere between Jenny and Dana, etc. Later she told me she had never been that indirect about coming out to people, but I appreciated her going along with my need to talk about it with some distance to it.
Also, I had come out to my parents about three months before the Pretty Little Liars episode where Paige has her "If I say it out loud" speech. I watched it with my parents and didn't breathe the whole time so I think probably they learned something about me from that too.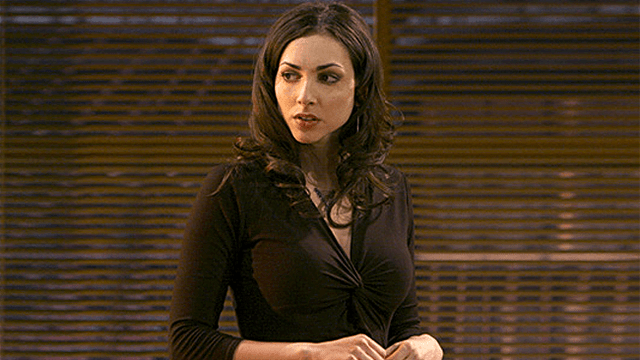 Natalie: I've talked a little bit before about Bianca Montgomery from All My Children and how much of a game changer it was for me — not just in terms of seeing a version of myself reflected on-screen, but also as a barometer for how my family would react to my coming out.
It gave my parents the opportunity to see a character they cared about — everyone who watched All My Children adored Bianca — and embrace her sexuality, long before I'd be courageous enough to do it myself. It gave them a chance to see Erica Kane react to her daughter's revelation and to see how the pain of a mother's rejection impacts a child. I'd watch episodes of the show, sitting across from my mother, hoping that she was making note of what not to do. Ultimately, I knew we were good when my mom pretty much became a BAM shipper.
Carmen: I've shared this Heather and Riese at different points before, but Santana Lopez came out to her Abuela the same exact week that Paige gave her "If I say it out loud…" speech and I had such strong feelings about those overlapping developments that it brought me to Autostraddle for the very first time! Santana was tired of feeling at war with herself, and I was too. I wept watching Paige. I had never heard someone explain the fear that I had bubbling inside of me so perfectly! I couldn't form the words "I'm gay" when it mattered most and neither could she and somehow that made it perfect. At that point, I had been out to all of my friends and in my daily life in New York for years, but I still hadn't found the words to tell my mother. I was afraid that saying it out loud to her, everything about our relationship would change. And that fucking terrified me! I was a swirling, spiraling mess of emotions. That Christmas, roughly a month after Paige's and Santana's big coming outs, I finally found the courage.
Heather: Okay, I know it's not really possible to be objective about something so close to our hearts, but what are some of your favorite coming out storylines for baby gays? Why? Mine are Paige and Emily Fitch, always and forever.
Riese: It's hard to say because a LOT of queer storylines take place in high school, but the characters are played by actors who are so old that it's hard to think of them as baby gays! I want to say Santana on Glee, which I've talked about before, as really relating to her experience of being pretty promiscuous with boys, but having that NOT turn out to be indicative of her sexual orientation in any way. And you know — she got the girl. I loved Nicole's coming out storyline on Fresh off the Boat, and how even though it was set in the '90s, they didn't turn it into a story of banishment.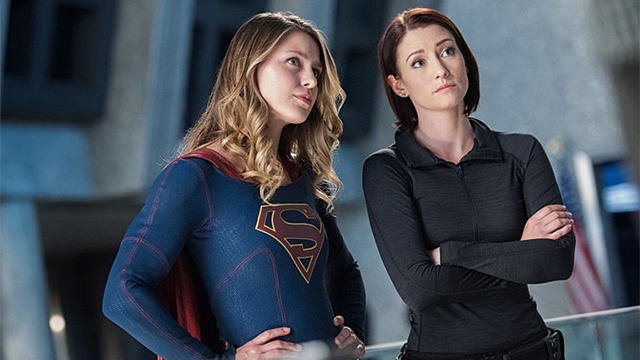 Valerie Anne: Do y'all think the "baby" in "baby gay" always refer to age in human years? Or does it refer to amount of time a person is out? Was Alex Danvers a baby gay in Season Two of Supergirl, since she was just coming out, even though she was in her late 20s?
Natalie: Good question.
Carmen: I think she is! I feel like Alex Danvers is a classic capital letter Baby Gay. Another good example for me (obviously! Because I spoke about this earlier!) would be Season Four/early Season Five Callie Torres. Both of those characters are late in life adults who are decidedly baby gays, no? Granted when we first came up with this roundtable idea, my first thought for "favorite baby gays" was Paige McCullers and Santana Lopez. I suppose that speaks to your point about age.
Valerie Anne: Well, they too were baby gays! They just happened to be literal babies and baby gays at the same time. Like Riese said, it's more common in TV for characters to come out as babies (read: teens). Even though most of my friends came out later. Mostly I just want more excuses to talk about Alex Danvers.
Riese: OH, I thought baby gay was high school. Like they had to be teenagers. Which was also weird because Naya Rivera is 25.
Heather: I meant young people, but should we open it up to anybody realizing they're gay?
Riese: It feels to me like that may open it up to almost every character ever, since sometimes it feels like every queer character gets a coming out arc. I don't know! I think we would have to be very careful and focused on characters like Alex Danvers who are for sure just realizing who they are. But, also I am insufferable during Scattergories about THE RULES.
Valerie Anne: I agree that the scope is much larger if we include new gays vs teen gays.
Riese: Yeah. But also, some questions for this roundtable I've struggled to answer because I didn't come out to myself til my early twenties.
Valerie Anne: Same. As I get older I find that my favorite coming out stories are the ones that don't happen. That said, Paige's coming out will always be burned in my brain, and also Emily's coming out to Hanna. And Hanna's response always healed old wounds for me: "You were Emily dating Ben, now you're Emily dating Maya. We love Emily."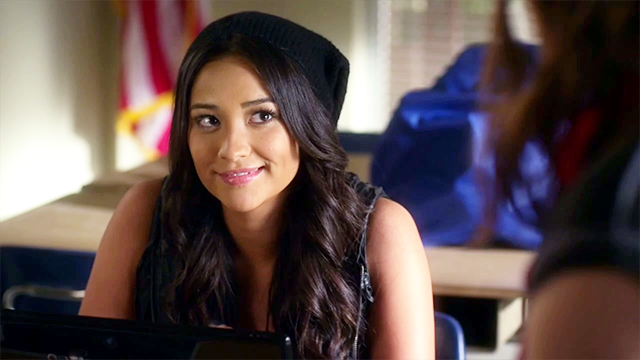 Natalie: I know it's not in our wheelhouse but one of my favorites of all time is Justin Suarez from Ugly Betty. It gets overshadowed a lot by Glee, but I thought Ugly Betty did those storylines so much better. Justin's family saw him for who he was and embraced him fully — they tried to throw him a celebratory coming out party before he'd even come out — and it was so heartwarming. I also loved that he had an adult gay mentor in Marc St. James because we rarely get to see that on television.
Also, as I mentioned in our "Best of 2017" list last year, I thought Elena's coming out story on One Day at a Time was one of the best I'd ever seen. I loved that the story was all about Elena affirming herself because she realized who she was, rather than it being about a love interest.
Carmen: Yes! On both counts! Oh man, I love Justin's coming out on Ugly Betty! I agree that Kurt got all the shine, but I felt like Justin's coming out arc was damn near perfection. It deserved a lot more attention than it ultimately received.
Heather: Who are some of the best baby gay characters?
Riese: Kate on Everything Sucks! What a little button! Santana on Glee, obviously. Other faves: Elena on One Day at a Time, Alex on Degrassi, Spencer and Ashley on South of Nowhere, Amy on Faking It, Haley Clark on Halt and Catch Fire, Cheryl on Riverdale, Nico & Karolina on Marvel's Runaways
Valerie Anne: What would you guys do if I said Tea from US Skins? KIDDING, kidding, don't fire me. Instead of repeating everything Riese said like we're playing "I'm going on a picnic," since I agree, I'm just going to add to her list: Brenna and Greer from Chasing Life, Tilda and Odessa from Into the Badlands. And I never watched Once and Again, so I can't really talk to the show as a whole or even really the characters, but once I watched a YouTube compilation called something like "Every Katie and Jessie scene ever" and it was better than a lot of lesbian movies I've seen.
Carmen: Santana Lopez. Yes, I know that she's already on the list. But, hear me out – she deserves her own line. She would want it that way.
Heather: What are some must-have storytelling elements or character traits for baby gay storylines?
Valerie Anne: First, re: coming out stories, I want to see a distinct before/after. I want to see them become more sure of themselves after they come out, even if it didn't go well. For characters that are past that point but are still wee, I want everything the heterosexual teenage romances have. I want the butterflies in your tummy, the "do they like me or do they LIKE like me?" or "is this trip to the movies a date or are we just friends?" I want the first kisses and fights that are blown way out of proportion because everything feels like the end of the world when you're 15. The coming out and the sneaking around and the being outed stories are all important because they're real, but I want to see teenage gaybies getting to go through everything I missed out on because I was trying to hard (and failing miserably) to fit the heteronormative narrative that was all I'd known at the time.
Natalie: One of the things I remember reading from some of Heather's Skins coverage was how Bryan Elsley and Jaime Brittain had a group of teenage consultants to really help them develop their young characters. And while I'm not sure every show needs to go that far, there does need to be some effort made to bring that authenticity into the writers' room. There's universality to the experience of growing up gay — you can see that in '90s centered television like Fresh Off The Boat or Everything Sucks! — but there's also something very unique about this moment that needs to be captured.
Carmen: I'm going back to our earlier conversation about "adult baby gays",because I want to see more of those storylines done well on television! Valerie already mentioned this, but a lot of gays don't come out in high school. Looking at this roundtable, it's clear that most of us didn't! I think one of the reasons Alex Danvers resonated with so many people was that she was a late 20something and was already established in her career when her world turned upside down. Coming out happens at any age! I think it's perhaps easier for writers to think of those storylines as tied to the "coming of age" tropes that high school shows already do so well, and I get that. But, I'd also challenge writers and showrunners to think outside of that box. Major life changes don't stop when you turn 18 – or even 21. Life continues. It bends, and curves, and snaps in ways that you don't see coming. It can be just as scary to come out when you have an entire adult life on the line.
Heather: I have this theory that queer people come of age over and over because we don't do it all in one fell swoop like straight people do when they're teenagers. As a person who is out and professionally queer, what storylines or characters excite you most for Kids These Days?
Riese: It's cool to see queer Muslim teenage characters on Ackley Bridge and Degrassi: Next Class — of course neither of those shows are set in the U.S., but I'm excited for Kids These Days outside of the U.S.! I loved how Nico hadn't expressed any interest in women throughout Marvel's Runaways, but was open to it immediately when Karolina confessed her feelings — I love when that happens because it shows that it doesn't have to be a huge deal sometimes, you just sort of … end up with a girl! Elena's storyline on One Day at a Time is clearly a stand-out here, but I imagine Carmen is going to talk about that!
Carmen: Hello! I am here to answer Riese's call and talk about One Day at a Time! I have no shadow of a doubt that if I'd seen geeky, empathetic, politically active Elena Alvarez (in her Catholic school uniform!) come out and fall in love, everything for me would have played out differently as a teenager. I've actually tried to imagine it more than once, and every time I skip a breath. She sort of breaks my heart? Because I didn't have her when I was a 16 year old Puerto Rican in a Catholic school uniform who was so confused about the daydreams she was having about the girl who sat across from her in AP US History. At the same time, Elena makes me feel so bright about our future! Every aspect of her storyline, from the writing to Isabella Gomez's performance, is lovingly crafted and pitch perfect. Elena Alvarez is changing lives.
Valerie Anne: I think I'm most excited about the sheer quantity of storylines? Even when I first started writing about queer TV for the internet, I watched every single show with a queer character on it that was airing at the time, and then some. It wasn't that hard to keep up, and that sucked because it meant I was suffering through mediocre shows to get the crumbs of a queer storyline. Now there's so much! There are queer storylines in all genres, not just sci-fi. There are gays on every channel, not just Showtime. Baby gays pop up on shows my parents watch all the time now! So I'm excited that maybe it won't take as long for kids to stumble across folks who look/act/love/are gay to either affirm or awaken the baby gay inside.
Natalie: I keep thinking that, one day, I'll age out of watching baby gay storylines, but ultimately, I think part of me will always be invested in seeing these stories being told. The future of baby gay storytelling, I hope, is writer's layering identities and really telling intersectional stories. The writers at One Day at a Time and Ackley Bridge have done really well with that (while also being funny!) and I'd love to see them become the standard for the genre.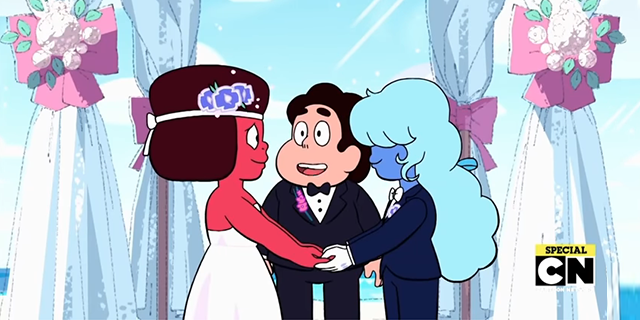 Heather: Since I'm the oldest person here and yet the only one who still watches animated teeve, let me name Steven Universe. I think it's is some of the best queer representation on TV ever, and the fact that kids get to watch it blows my mind and fills me with so much hope. If I'm being real with you, I think Ruby and Sapphire's relationship reminds me more of mine and Stacy's relationship than any queer couple on TV I've ever seen. In the last episode, the wedding one, Ruby says, "I used to think I wasn't much good, just one of me on my own. But when we're together, it feels like it's okay to just be me. I just want to be me, with you, forever." And Sapphire says, "You changed my life, and then I changed your life, and now, we change our lives." And when they faced down their arch-nemesis together as Garnet, she said, "I am the will of two gems to care for each other, to protect each other from any threat, no matter how vast or how cruel!" And I was like, "Yep. That is my love, my love, my love — exactly."
It's funny, bookending this roundtable like that. I was too scared, as a teen, to see myself in Ellen; and now I am almost 40 and I have finally found my relationship mirror in a cartoon.