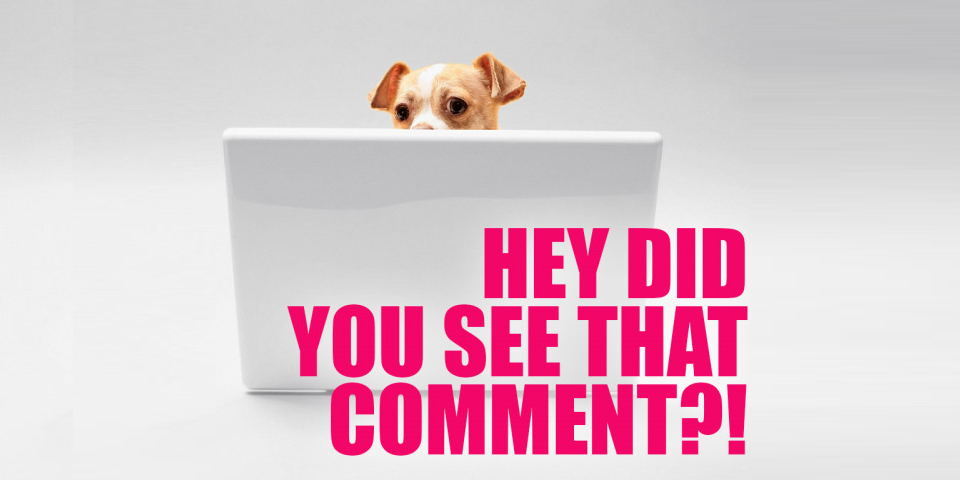 Hi there, shiny happy people! Today I have a tip for you courtesy of this cold I have had for approximately 84 years: Did you know that gnawing on a hunk of dark chocolate can work on a lingering cough just as well (and even better, for some people) than sucking on a cough drop? I only just found this out and tested it and I cannot BELIEVE I have spent my entire life buying disgusting cough drops when I could've been eating chocolate. So many years wasted!
(You're welcome. I love you!)
This week, Mel B confirmed that she slept with Geri Halliwell back in the day, news that traveled back in time to make seventh grade Queer Girl's heart explode.
Samira! Wiley! Karen! Walker! Will! And Grace! Listen, I haven't seen the episode yet but I truly have no words.
Since things are all 90s all the time around here in a way that is making me extraordinarily happy, here is Every Major Female "Star Trek" Character, Ranked By Lesbianism.
Vanessa wants you to meet your long-distance crush IRL. And to remember that distance goggles are a thing!
Need some dapper, MOC looks for the summer months? Mika's got you covered.
Have you voted yet in AS's Coming Out March Madness?
Please read this lovely, lovely piece about queer Emily Dickinson.
And then there were your comments.
---
On "Brooklyn Nine-Nine" Introduces Cameron Esposito as Rosa's Girlfriend Like Some Kind of Soft Butch Fever Dream:
The Leather Look Award to shamblebot:
On Mel B Confirms She and Geri Halliwell Definitely Boned During the Spice Girls' Glory Days; I Am Deceased:
The Zig-a-zig Ahh Award to Carmen SanDiego: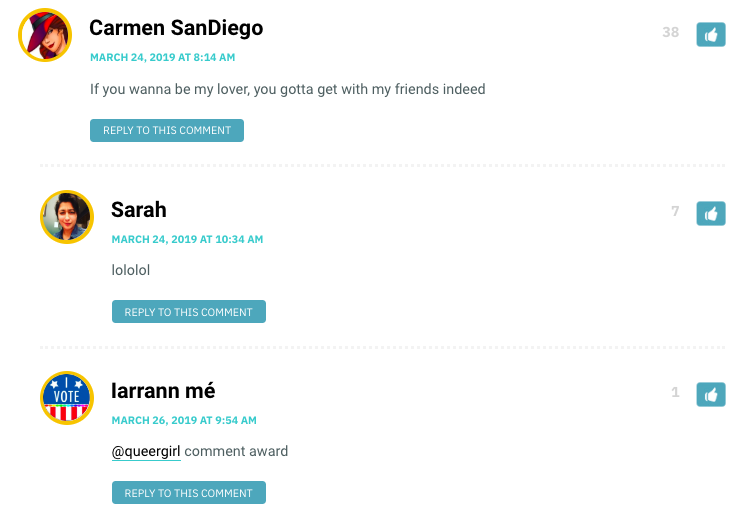 On Samira Wiley Arrives on "Will & Grace" to Turn Karen's Bisexuality From Running Joke to Swoony Storyline:
The Gay 90s Award to Gilbert:

On Every Major Female "Star Trek" Character, Ranked By Lesbianism:
The First! Award to Elizabeth S.: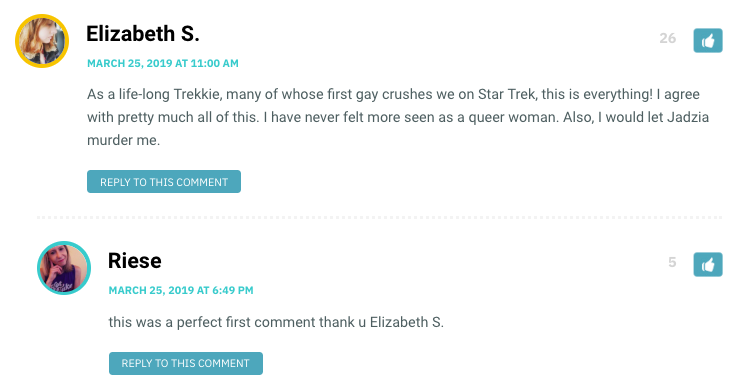 And the Disposition and Intent Award to Sally:
On Monday Roundtable: Our Ideal Birthdays:
The Announcement, Announcement, Announcement! Award to Al(aina):

And on Traveling to Meet Your Long-Distance Online Crush: A Gentle Guide:
The Love Is Not A Lie: Extreme U-Haul Edition Award to Chandra: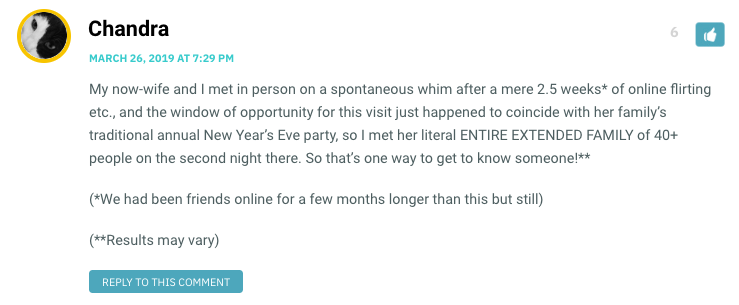 ---
See a funny or amazing comment that needs to be here? E-mail me at queergirlblogs [at] gmail [dot] com!