Melanie "Scary Spice" Brown has given us a lot of controversial takes during her tenure as a very public bisexual, but on Friday she really outdid herself by declaring – on Piers Morgan's Life Stories series, of all things – that she and Geri "Ginger Spice" Horner (née Halliwell) had sex during the peak of Spice Girls mania.
The sound you just heard was the sound of roughly one million queer women in their late twenties and early to mid thirties doing roughly one million spit takes.
Apparently when Morgan asked Brown to clarify rumors that she and Horner had "had a little dabble" (his words), she demurred but did admit, "She had great boobs." This is news to approximately no one. When pressed further, Scary did admit that the "little dabble" had indeed taken place. "She (Geri) is going to hate me for this because she is all posh in her country house and her husband, but it's a fact. It just happened and we just giggled at it and that was it," Brown offered. "We were best friends. It just happened."
Morgan looked to Melanie "Sporty Spice" Chisholm, seated in the audience; Chisholm mouthed, "I don't know anything," to which Melanie B replied, "Oh, whatever Mel."
"This is all new to me," lied Melanie C. I swear this is from an actual transcript and not fan fiction I wrote when I was 14.
Apparently this was a one-time affair, The tryst was not mentioned in Brown's autobiography Brutally Honest, so the decision to announce this to Piers Morgan (OF ALL PEOPLE) is a little surprising! In 2010, during her own interview with Piers Morgan (WHY???), Geri Halliwell said of Melanie, "She's absolutely gorgeous, even more gorgeous in real life. She has great boobs..  she's got an amazing bottom." The Spice Girls were absolutely checking each other out during the ENTIRE nineties and I feel extremely vindicated.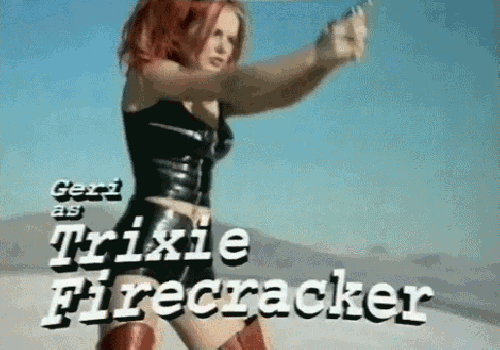 In 2003, Geri told Howard Stern on air that she'd once had sex with a woman, but didn't reveal her lover's name.
Reportedly, after walking off stage, Melanie rushed to a phone to call Geri and apologize in case her revelation upset her husband. A source told the Sun, "…the girls all know Mel struggles to keep her mouth shut but Mel C who was in the audience was visibly horrified when it all came out. The [Spice Girls reunion] tour is just two months away they don't want anything jeopardizing it, but there were real fears this would upset Geri's husband and cause serious issues." In the Year of Our Bisexual Lord Stephanie Beatriz 2019 I have a hard time believing that setting tongues wagging about two Spice Girls hooking up would necessarily hurt ticket sales for this reunion tour, but sure OK!
As we all know, the only reason Melanie C would be upset about this information coming to light is because she herself was carrying on a torrid affair with Emma "Baby Spice" Bunton, or at least I hope so. Meanwhile, Victoria "Posh Spice" Beckham is sitting this one out, presumably because she has more important things to do