What I'm here to write about is the very most essential thing that almost all of us have somehow learned to do; the thing that our Editor-in-Chief Riese hates and I love talking about. It's poo and pee in the potty time.
Remi has been showing signs of potty readiness for, oh, I don't know, like three months. We've been delaying and delaying for many reasons. We'll wait until she can put her own pants on. Check. We'll wait until she's more verbal and better with directions. Check. We'll wait until we have a long weekend to work on it. No check, but also, like, no potential weekend in sight in the near future. We'll wait until she's out of diapers. Check, kind of, but then we bought more diapers and now we have a lot of extra diapers.
What I'm saying is, we finally went all in on potty training and, well — it's going well and is also the weirdest, funniest, most frustrating parenting thing I have yet done. Mainly, I feel like I don't know what I'm doing. The first day was a lot of trial and error. We started in earnest this past Sunday. Waffle was working most of the day, so Remi and I were home together just the two of us. Gee whiz, did I wish I had a second set of adult hands when I was scrubbing the floor around 11:30 AM wondering what I'd gotten myself into.
I didn't necessarily have a set plan for how this would go so much as I did a ton of online reading to prepare and hoped my smart, self-motivated Virgo would figure it out quickly. I'd hoped we could get away without Pull-Ups because they're essentially toddler diapers and they are, like diapers, expensive and wasteful. By mid-day, I'd instructed Waffle to grab some Pull-Ups on his way home. Ultimately, I was successful when I decided to throw my reservations and Remi's pants to the wind. We just went bottomless for most of the day and, after two more accidents and a hurried pick-up of any stuffed animal or thing that could not survive being peed on, we were making progress. Remi consistently used the potty with my help for the rest of the day. HOORAY, mofos! I documented the day in my Insta story because, I dunno, why not? (No worries, no super gross stuff… mostly bathroom parties and deep potty training thoughts.)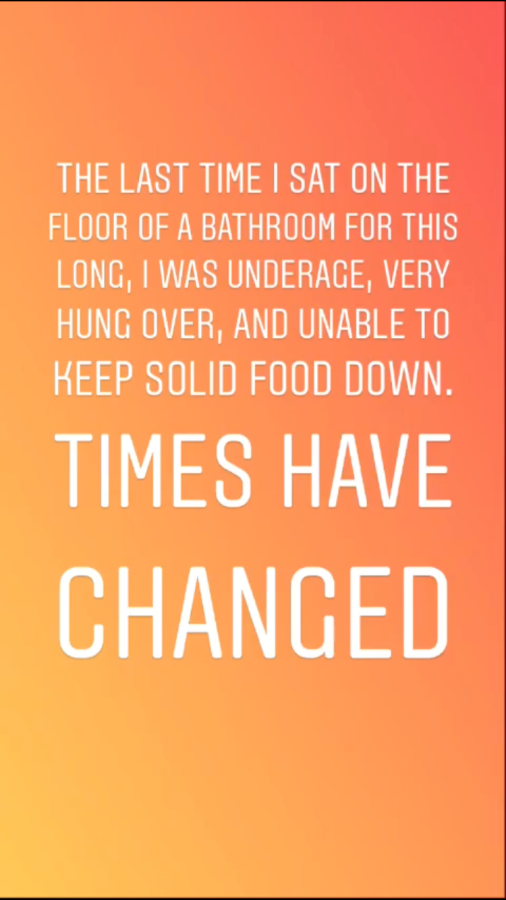 Sadly, we don't live in a world where one can just waggle around bare-assed all day every day. As much fun as we had running around the house in the buff, we would have to leave the house eventually. The next day we introduced the Pull-Ups and there was a little regression into forgetting and going in the training pants. To be fair, Pull-Ups feel like and sound like and essentially are diapers. (Don't tell Remi. We told her they were big kid underwear.) That said, we made major progress on the potty and only had one total meltdown over having to wear the training pants. My child just wants to be free and, quite frankly, I don't blame her. I still hate wearing underwear at 36.
Usually, poop training comes after pee training, but Remi had pretty much figured out both by Wednesday, day four of this whole event. Ultimately, it's going well. Of course, now that we're in a huge new developmental stage, her sleep is all screwed up and she's getting more irritable at bedtime and waking more at night. We don't know if it's just an overtired thing or because she's still in diapers at night and feels mad about that or if she's becoming more aware of her body at night because of potty training or something else or all of the above! You figure one thing out; something else goes all wonky. That's how it is with toddlers, I guess.
We're figuring it out. Ironically, she'd just (very early) dropped her last nap, so we're bringing back the nap to see if that helps with bedtime. It's literally a social science experiment every day and we don't have any control. That's how it feels to me, anyway.
My very favorite thing about this stage, as much as I've dreaded it, is how truly joyful it is in between the moments of grossness. Remi is, obviously, just so proud of herself and overjoyed to gain a little more autonomy over her body and genuinely excited about leveling up as a big kid. I think bathroom stuff is probably one of the most shame-filled areas of our human world. We're straight-up weirdos about it in our culture. We have literal political debates about bathrooms and whether trans and gender non-conforming people have the right to be in them despite the fact that we are primarily using them to do our private potty business. We make toilets places of shame, in every context.
Yet here we are, though, clapping and cheering for Remi for using her little potty. It's a toddler party zone in our downstairs bathroom right now. I gave up early on and allowed an iPad in there to keep her on the potty for longer sits. We have two different potty options going, the hilariously miniature potty chair with real flushing sounds and the step stool with a seat that goes over the grown-up potty as a transitional option. We've got books and toys and, to be real with you, sometimes snacks in there. It's a very joyful and silly place in our home right now. It's stressful. It's screwing up her sleep. It's also kind of a lot of fun? She's just so, so happy when she uses the potty like a "big kid." I look at her doing her half-naked "I did it!" hop and wonder if I'll be able to pinpoint the moment that body shame sets in, that she learns that her body is somehow both vulnerable and dangerous, that she stops appreciating all the good things her body does.
It's also forced me to be very patient, with Remi and with myself. There is nothing more challenging than watching your kid go to the bathroom directly on your floor, on your floor, and having to react like it's no big deal, very casual, totally not a thing just going to clean this up right here oopsie no problem no reason to have ongoing trauma that sets us back on potty training everyone is cool! On the other hand, I can't imagine having to learn how to do this after going in a diaper for more than two years! It'd be like if someone told me to go to the bathroom right now, on my couch, with my pants on and expected me to be able to just do it. How super impressive that kids can learn this at all!
Most of all, I'm loving watching her grow up and grow more independent. At one point, I was thinking Remi would still be in diapers for A-Camp, but it's clear we're definitely going to be using the potty by then. I hope she's figured out the big potty by June, mostly because I don't want to pack the potty chair as a carry-on.
---
5 Queer Parenting Things I'm Currently Overprocessing
1. Femme Gender Feels
So y'all know we're raising Remi without strong associations with gender norms. However, we did make the choice to use gender pronouns aligned with Remi's assigned sex until she's old enough to articulate a gender. We also don't shy away from "pink aisle" toys completely. Gender expansive play doesn't mean play that only privileges masculinity or that hold up complete androgyny as the gold standard, at least not in our definition of it.
All that said, I'm really fascinated and also scared by the ways gender norms have creeped in at the edges of Remi's development. As a queer femme, I love feminine things as a way to intentionally express my gender, but I also realize some of those things are or come off as very gender normative. For example, Remi has a fascination with my jewelry, so I made her a bunch of pony bead bracelets and necklaces. She notes my lipstick colors and my nail polish shades. She has started gravitating towards pink clothes as she's begun dressing herself and having more opinions on her own fashion.
I mean, she also gravitates towards sharks and dinosaurs and play power tools. Gender doesn't really mean anything to her yet, but I can see the messages getting through anyway. I just really hope that whatever gender Remi is and whatever Remi's gender expression is, that it's purely hers and not influenced by dominant culture. I know it probably will be and this is probably at least one part my own internalized femmephobia popping up, but I sometimes wonder and worry about it all.
---
2. Things I Googled This Month
potty training sleep problems
potty training poop next to the potty
pull ups potty training
average age potty training
signs ready for potty training
how to help two year old poop on the potty
sleep regression potty training
---
3. Under the Sea, the Ocean
Remi's love of all things ocean has not slowed down. In fact, it's intensified since we let her watch Octonauts, a cartoon about animal (mostly mammals for who knows why?) ocean explorers who go on missions and discover aquatic life all over the world. I don't even know if this show is still on air, but there are four seasons of episodes on Netflix and we've watched all of them at least three or four times. It's all she wants to watch! Screw Sesame Street. Forget Daniel Tiger. As far as Remi is concerned, there is no other show but Octonauts.
We took Remi to a very small rescue aquarium just a couple hours away from our home. They had rescued sea lions and are the leading facility for blind seals! It was very fun and, despite the whole place being maybe a 10-minute walk in a big circle, we managed to spend three hours there. Mostly, Remi wanted to see the sea lions and the SHARKS. But they also had sting rays and puffer fish and sea horses and cleaner shrimp and lionfish and turtles and eels and all of Remi's favorite slippery friends!
---
4. Protecting Family Time
Lately, Waffle only has one day off per week. I'm consistently working more than one job and am behind on at least one of them. I've also been traveling for public speaking a lot lately, revamping my website and online branding, making some big career choices. It's been a lot for both of us. Whenever Waffle's able to get a weekend day off that I'm also around for, we try to make that time meaningful. Even if we're running errands, we do it together and build in some time for toddler fun.
I feel bad about how much we work. Sometimes I wonder if she'd be happier in day care with other kids her age.
---
5. Touch Em Touch Em Touch Em
Sensory boxes are all the rage with the pre-K set these days. We no longer use this sensory bin because Remi accidentally knocked it off the table while playing with it releasing a catastrophic amount of bouncy, wet, slippery Orbeez water beads all over the house. HAHAHAHAHA OMG, it was fun. We're still finding the damn things. I prefer the kinetic sand.