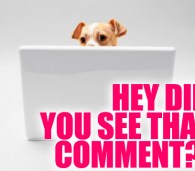 Do you have Halloween plans? I don't. Is that relevant to anything? No. Another irrelevant thing I want to tell you: I made banana bread tonight IT'S SO GOOD NOM NOM. Sorry, my last therapy session was like 3 weeks ago, I need to get these things off my chest. SORRY THE COMMENT AWARDS SUCK THIS WEEK, I'M TIRED I JUST WANT TO WATCH A MOVIE
ANYWAYS —
Taylor and Kelsey continue their journey through Texas, this article includes the topic of nude beaches if that interests anyone, Glennisha gives you a list of some out and proud female emcees, and Lily is back with College Lesbianage #10.
Also in case no one noticed there were over 900 comments on the how to meet other queers article. I read about ~150 of them when the article was published, I think you understand if I didn't read them all last night and give out awards to the best email addresses. BUT I encourage you to command+F [your city] and see if you can meet some other queers! If it all looks too overwhelming, lovely commenter Tiara the Merch Girl set up a page where you can browse commenters by location.
---
On President Obama Says It Gets Better:
The Being President of the United States Is Not As Great As It Seems to shannon:
I'm confused. His tie is not perfectly dimpled. I thought that was the primary motivation/perk of becoming president: you will have a team of people to make sure your tie is always perfectly dimpled.
On Facebook's Gay-Targeted Ads are Confusing, Patriarchal, Pointless:
The Democratic Party of Gaga Award to Katie:
I have my political views listed as "equality and gagaism" and i get tons of ads about "i love healthcare" "waiting for superman" "obama this and that" etc. so i guess lady gaga is a legit part of the democratic party now??
On Skins USA Trailor Debuts, Suggests Exact Replication of Original (But With a Lesbian!):
The Favourite – Colour – Neighbour, etc. Award to anna: I'm actually adoring all this love for England.
I'M ENGLISH. I PUT A 'U' IN COLOUR AND MUM. LOVE ME.
On NSFW Sunday On Location: Best Places to Have Lesbian Sex:
WHO WINS? Arreola:
Inside a confessional room during school hours at my all-girls catholic high school's chapel.
I win.
Liana:
on the church piano, with the pastor. my baptist church thought they were so progressive hiring hot, young, blonde female pastors. ha. they had no idea.
On Gay Adoption: It's A Thing. Coming Soon To A State Near You, We Hope:
The Joys of Parenting Award to Vikki:
Yay for queer adoption! Everyone should have the right to be financially strapped, exhausted and neurotically worried about little people over whom you realistically have no control!
On The Bishop's Manifesto: "I will no longer debate the issue of homosexuality in the church with anyone.":
The Blasphemy Award to Sky:
You mean the bible wasn't written in English all those years ago and therefore perhaps we can't take it literally?
Tie this woman to a stake and get me a flaming torch!!
On Lily's College Lesbianage #10: Words and Music Videos:
The Solve For x and Get a High Five Award to terracottatoes, Brooke: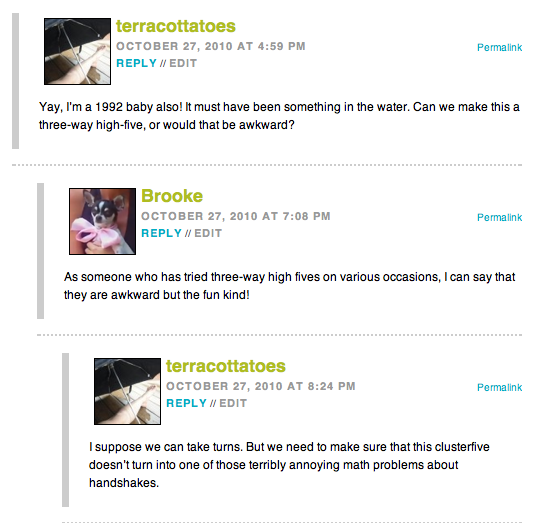 On Obama Makes Surprise Visit to DADT Meetup, Promises to Bring Repeal and Dessert Next Time:
The Conversion Award to naomi:
So, if being gay is a choice in some states and something innate to a person in others, I hope all of the hot straight girls move to the states where it's a choice and choose to be gay.
On 15 Lesbian or Otherwise-Inclined Girls Need Advice. Your Advice.:
The Accents Are A Turn On Award to Laura:
10. I live in New Zealand. It's small here. Reckon my life will get sweeter if I move overseas?
Yes. Your accent will be cute. Many (including me) will date you.