As we approached the Texas state line, we knew we were entering what would be our last tranquil harbor of familiarity before crossing the rubicon into whatever abstract, likely spaghetti-western-inspired version of the subsequent states we carried around in our minds. Like I said before in my litany of flashback-fueled childhood complaints, I lived in Texas for 9 years when I was growing up.
People hate on Texas all the time; the state inspires a weird, blood-boiling kind of vitriol that spits from the tongues of us liberal lesbian angryfaces™, who are otherwise a peaceable, though argumentative lot. And sure, a lot of stupid shit goes down there, almost constantly, but I'm convinced that stupid shit going down is a universal feature of the suburbs and not of the south or the Lone Star State. Sure, Texas has this weird complex about being really big and Texasy (#1#1#1) and I still don't really get it, but I feel like that whole attitude is at its most obnoxious on the billboard signs that pollute the highway than anything. And hey, when it comes to GWB, may he rest in peace, that shit got born in Connecticut.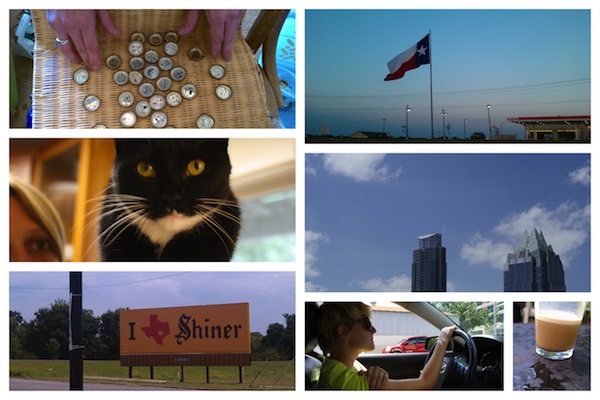 There's always been a soft spot in my heart for Texas, not based in any actual affinity for the state itself per se, but for its lax liquor laws and any number of hot, blurry Houston nights spent in my best friend's back yard, enjoying the faint symphony of cheap longnecks clinking together, our eyes following the smoky tendrils of our Black and Milds as they twist upward and lose themselves in the wide, black Texas sky.
Houston, TX: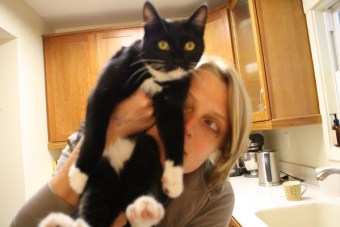 We took our time in Texas, much like we took our time in New Orleans. But we took our time because Texas is f*cking huge. Seriously, look on a map. We stopped first in Houston, still crippled by the fresh wound of leaving New Orleans, we managed to drag ourselves across state lines and lay us down to sleep. We slept at my friend Kelly's house, who had one of the top three cutest kittens I've ever seen, the best boyfriend I've ever seen and also the biggest television I've ever seen. We lingered on there in a delightfully domestic kind of purgatory for a few days, recouping our everythings for the road ahead. When we finally stifled our nesting instincts long enough to remember we were on a road trip, we headed out to visit my friend Daly, who lives in Bryan, Texas, a place I assumed would be absolutely horrible.
Bryan, TX:
As it turns out, Bryan is a beautiful little town chock-full of gay hipster kids. If there's one place in Texas I assume I'm not welcome, it's probably Texas A&M, the university in Bryan's next door sister city. I've imagined lots of horrible nightmare scenarios where I would be chased out of what I perceived to be a fiercely conservative area with a pitchfork, but it just goes to show you that a) assumptions make an ass out of you and both of us really and b) the gay shall inherit the earth.
Pulling into to Bryan, it was clear that the moment my high school best friend Daly re-entered my orbit that things would be zany. First of all, his mom runs a residential hospice care facility, which is where we'd be sleeping. There were approximately one hundred dogs running around, some of which would only speak if addressed in Spanish and by their respective dog pound assigned six-digit numbers.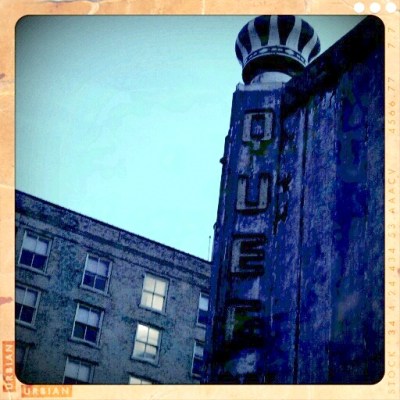 The yard of the (actually really adorable) hospice facility was peppered with all sorts of weird stuff, like bowling balls and pinwheel-what-have-yous. That's because Daly's mom is the kind of lady who takes her patients (who usually are in the often late-stage throes of dementia) out to yard sales on weekend mornings and insists that they pick decorative items for their shared home and wholeheartedly supports their (maybe clouded) judgment in selecting things like say, a bowling ball, to place in the garden.
Our first night we in Bryan, after admiring the lawn accoutrements, we dragged our sorry asses downtown for some beers, because one thing I love about Texas is that life really, truly revolves around beer (how much there is in the fridge, does everyone have one and do we need more now or later). Also you can verbally pluralize 'beer' by tacking a lazy-sounding sibilant on the end, and I honest-to-god think that it's great.
Downtown, Daly pointed out local bars to us, which didn't take long because Bryan is tiny and cute. So there's a bar for asshole punk burnouts, an all-purpose Irish pub and a bar for the gays. And that ain't a bad ratio, not at all. We were charmed by Bryan, its remarkable presence of an organic cafe and equally remarkable prevalence of sleeve-tatted maybe-queers, roaming the streets with their bright, possible gay faces.
Even after a dapper homeless fourty-something hustler stole my best friend's car, we remained unfazed. Texas is a place for beers and misadventures, and naturally Rooster, the charming compact cowboy callboy with the lispy Texas drawl who we'd met drinking Steele Reserve on the foot of Daly's bed that morning, returned the car when he was done with it. No ill feelings. Rooster was an amazing poet, as it turns out, and while I had a photograph of him I readied for the purposes of pressing charges, I never got his email address.
Austin, TX:
When we had our fill of Daly's particular brand of misadventure-ridden run-of-the-mill zaniness, we realized we would never make it to California and set out for Austin. When I went to school in New York, I suddenly fell in love with the city of Austin, since it represented my other life, the alternative I would never inhabit since I decided to set out and go to school at NYU, for reasons opaque yet fortuitous. Revisiting Austin now, the city still reels you in with this amazing crossroads energy. It's like a certain flavor of hippie/hipster counterculture, Texas as-you-know-it and some kind of southwest seasoning all mash into each other and it just happens to be beautiful there too. We ate some amazing brunch that we doused into oblivion with approximately four distinct kinds of hot sauce and then decided that, with our stomachs that full, it only made sense for us to go somewhere and be naked in public.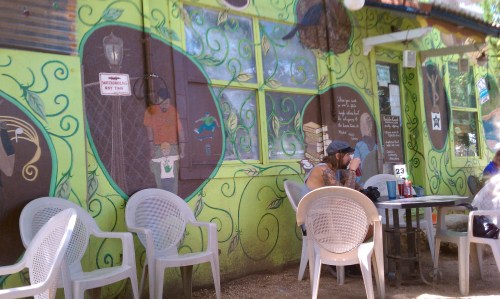 One amazing thing I love about Austin, because I'm more than a little amphibious, is the fact that on any given day, I can and will swim in any of about five different bodies of water. There's a lake, a natural spring and another bigger lake within a stone's throw of the city. We opted for the big lake, Lake Austin, or perhaps more specifically we opted for Hippie Hollow, the only nude beach in the state of Texas. Who knew, right?
I'd been there before, so in fact did know and was confident we could handle this. (Naturally it can be a little unsettling to find yourself naked on the shore of a remote, wooded, rocky freshwater beach somewhere right in the middle of Texas). Kelsey and I found the beach to be a little more crowded than I'd seen it, which was kind of weird because not only does that mean more bodies, like in a normal beach, but also more and more variable naked bodies. The thing is, I know I'm as gay as the day is long, but dudes just look funny naked. It's like the entirety of all of this nonsense systematic oppression by the patriarchy all boils down to what? Apologies in advance to all of my beloved queers of a different stripe, but those funny little piles of assorted man-parts are just too funny.
It's been my experience that nude beaches are always dominated by endearingly shameless men in their sixties, so Kelsey and I were naturally on high alert when a maybian floated by, perched atop a yellow inflatable raft, wholly naked, paddling disinterestedly at the lake with two massive oars. We soon learned she was paddling her way not into our arms, but over to her (possible newfound?) partner who was lazing naked on a rock next to a man having his penis painted like a Jamaican flag by a very pleasant looking woman in a sunhat with a paintbrush set.
Crushed by this epic defeat, and feeling the weirdness creep in around the edges, our time in Austin had drawn to and end. We'd wrung a few misadventures out of Texas, and that was enough for us. My back catalog of Crazy Things that happened to me in Texas could fill a book, or perhaps Lake Austin itself, the lazy wouldbian's raft and all. But those are stories for another time.