It was a strange year for the television industry — prematurely truncated seasons, retroactive cancellations and long production delays for network and cable programming while streaming networks erratically churned out new content and many humans found themselves spending more time than ever watching television. We did comfort re-watches and ambitious multi-season first-watches. We did remote watch parties to fill a "watching television with my friends" sized hole in our hearts. We googled "what's new on Netflix" 45 times.
What ultimately emerged onto our screens this year was not necessarily a careful balance of content consciously arranged by network executives, but rather a haphazard release of whatever anybody had already finished producing, as soon as they had space to debut it. Many of the queer-inclusive seasons we were anticipating new seasons from this year were pushed off to next year — Pose, A Black Lady Sketch Show, The Handmaid's Tale, Russian Doll, Euphoria, Dickinson, Gentleman Jack, The L Word: Generation Q, Work in Progress.
Still, LGBTQ+ inclusion had a solid 2020, with more shows centering our experiences or taking up a lot of ensemble space, including lots of queer characters of color and more non-binary characters than ever before. We had stylized horror like Ratched and The Haunting of Bly Manor; historical reckonings from Mrs. America, Little Fires Everywhere, Hollywood, Self-Made and Hunters; witty first-person aspirants in Feel Good, Gentefied, Vida and Twenties; confused teens of I Am Not Okay With This, Trinkets, Utopia Falls, The Wilds and Never Have I Ever; and shows that got gayer this year than ever before, including The Chi, Umbrella Academy, Homecoming and Dead To Me. Unfortunately, many of the new shows we fell for in 2020 were swiftly cancelled: Dare Me, I Am Not Okay With This, Stumptown, Teenage Bounty Hunters, High Fidelity and Party of Five all landed on the chopping block. Most devastating of all, though, was saying goodbye to Vida.
The shows on this list were compiled from the votes of Autostraddle TV Team members, and each TV team writer was also invited to make their own Top 5-15.
Technical notes: The L Word: Generation Q and Work in Progress also snagged spots on last year's list and put us in a slight bind for this one: the general rule is that the show must have aired more episodes in 2020 than in 2019, but TLWGQ released 4 in both years. They did much better this year though so good for them.
The number in parentheses next to a show title is the number of other publication's Best Of lists on which the specific show appeared. The lists counted are: Rolling Stone, The New York Times, Vulture, Vanity Fair, Entertainment Weekly, The New Yorker, The AV Club, LA Times, NPR, Esquire, Guardian, Daily Beast, Indiewire, Slant, Variety, The Ringer and Paste.
An interesting comparison between last year's list and this one — in 2019, only six of the top 25 shows didn't appear on any other mainstream critics' Best-Of Lists. This year, a whopping 12 of them were absent from mainstream Best-Of lists.
You can read about our top shows below and each individual critic's picks are discussed shortly thereafter.
---
Top 25 TV Shows With LGBTQ Women and/or Trans Characters of 2020
These are the top 25 according to our internal ballots and scoring system. For each critic's individual picks: Carmen Phillips // Kayla Kumari Upadhyaya // Riese Bernard // Drew Gregory // Natalie Duggins // Valerie Anne // Heather Hogan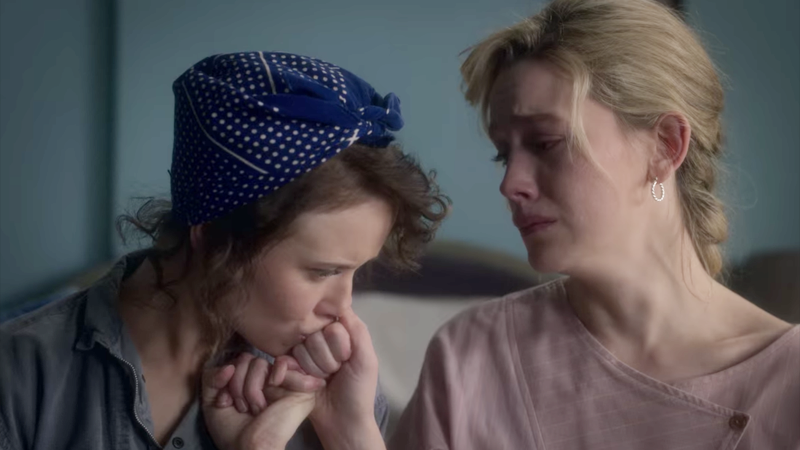 The Haunting of Bly Manor is one of those rare shows that caught the attention of basically every gay person on earth, including all of our TV Team, and all kinds of mainstream critics. There was high queer interest in 2018's The Haunting of Hill House, the first entry in the The Haunting anthology series with a major lesbian character, but Dani and Jamie's story was right there at the the absolute center of Bly, and something about it cast a spooky shadow across our isolated Octobers. Maybe it was Jamie's butchy gardener swagger. Maybe it was the romance across space and time. Maybe we loved the idea of being haunted by love and trauma and the seemingly endless battle to see which one's going to win out. Maybe it was the rumination on being a lonely ghost in your own home. WHO KNOWS. Maybe lesbians just like to be spooked and see women smooching! Whatever the particular draw, Bly Manor was gay, gay, gay right down to its toes, including the fact that T'Nia Miller is gay in real life. It resonated as deeply as any series in 2020.
24. The Circle (Netflix), Season 1
I argued at the time that The Circle was "about working in a remote office," forming relationships and pulling together narratives about people you've never met, drawing on clues that seem solid but might not be, typing that you feel one way while resolutely feeling another. I didn't realize how quickly this would become all of our lives. The conceit of being unable to leave your home or communicate with other people no longer feels quite so dramatic. But the show was, and is — it delivered "bisexual chaos" and casual queerness and a sociologically fascinating look into how relationships are formed online, and just in time, too.
Last Year: Didn't rank
Motherhood seems manageable when Sam's doing it — manageable insofar as it begins with admitting defeat and then proceeds from there with a kind of hopeful, biting swag. Better Things has been unique and smart and caustic and warm-hearted every season, but this year won even more of our respect for its careful, informed approach to Frankie's confusion around her gender non-conformity and sexuality.
22. D.C's Legends of Tomorrow (The CW), Season 5 (0)
Last Year: Didn't Rank
Legends of Tomorrow competes hardcore with Batwoman for the title of "gayest show in CW's Arrowverse." While it didn't clock quite as many lesbian and bisexual characters at Batwoman, total, in season five, it did give significant screentime and storylines to Waverider captain and badass bisexual Sara Lance, and her partner Ava, who had plenty to do on her own outside of her relationship with Sara, a real rarity for queer supporting characters! They are one of the longest running queer couples of TV full-stop. Sadly, season five bid adieu to Charlie, a genderfluid pansexual character played by queer actress Maisie Richardson-Sellers. The door seems open for her return in the future, and here's hoping!
21. Killing Eve (BBC), Season 3 (0)
Last Year: #4
Killing Eve has yet to match the revelation of its first, sexual-tension-soaked cat-and-mouse guessing game of a season, and it's possible we're all still tuned in for the outfits and Villanelle's general deal but at this point have no fucking clue what's happening with whatever international spy situation is at play? But there was still those outfits, that kiss, that dance.
Last Year: Didn't rank
930 years into the future, our beloved crew faces a new set of mysteries and subsequent reckonings with the influence of institutional power on friendship and chosen family, the ethics of leadership and general mayhem regarding hot women in space. Plus Tig Notaro says a line every now and then! Although her pansexuality was basically ignored this season, Philippa Georgiou's ascendence to a central role gave us Evil Mommi in spades, even if it ended with a farewell into Spin-Off Land.
The series' most remarkable queer move this season was the introduction of Adria, a non-binary character played by non-binary actor Blu del Bario, who spends the majority of her time in the Science Room with Mark from Rent. Trills were at the center of one of the Star Trek Deep Space Nine episodes that offered a small slice of near-queerness amid an absurdly heterosexual franchise, and the introduction of Adria as a human host of a Trill family line (including their boyfriend, Gray, played by trans actor Ian Alexander) brings that legacy to bear with patience and care.
19. Gentefied (Netflix), Season 1 (0)
New in 2020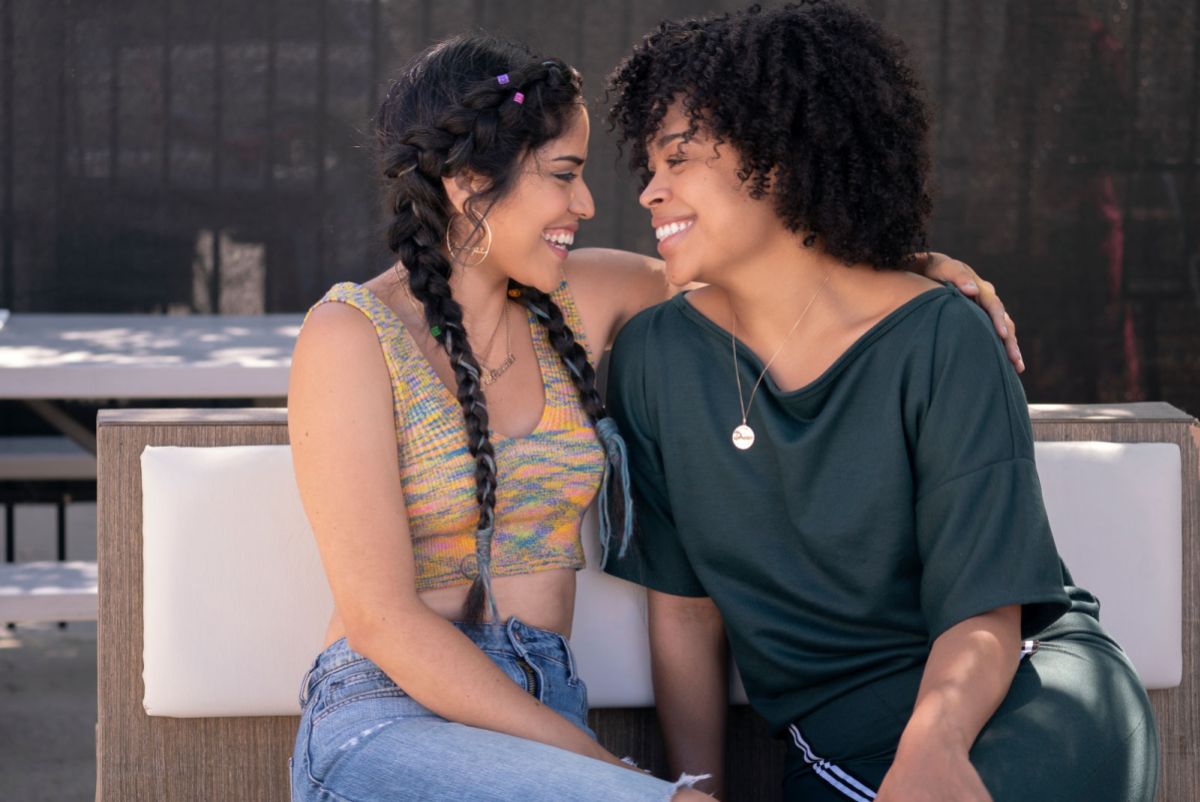 Adapted from a 2017 Sundance hit, Gentefied largely flew under the radar this year, which's unfortunate: it's very good! It's a warm, bold comedy centered on a family-owned Boyle Heights taco shop facing the rapid gentrification of the neighborhood they love. One of the cousins, Ana, is an artist still dating her high-school girlfriend who's offered a career opportunity that thrusts the personal and the political into immediate focus. Gentefied delivered big laughs and beautiful queer love and a stack of cliffhangers, all of which will return for a season two, bless us all.
18. Batwoman (The CW), Season 1 (0)
Last Year: #23
Batwoman's first season starring erstwhile VJ Ruby Rose as Kate Kane aired 9 episodes in 2019 and 11 in 2020, having to wrap after 20 episodes due to the COVID-19 pandemic. In April, Heather declared it "the gayest non-The-L-Word thing on TV so far this year." Kate Kane owns a gay bar, has lingering feelings for an ex-girlfriend, an eventual love triangle, lots of queer friendships and is part of a cast including a bisexual vampire, gay bartender and angsty lesbian teen. Oh and also she's Batwoman. But we're ever-so-very eager for Javica Leslie to inhabit the Batwoman suit when the show returns for Season 2,
17. Harley Quinn (DC Universe, now on HBO Max), Season 2 (7)
Last Year: Didn't Rank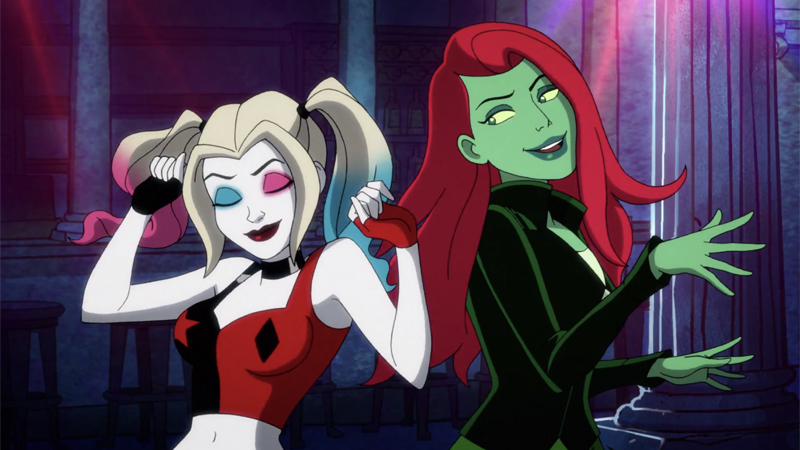 In its second season, Harley Quinn achieved new depths of attempted super-villain shenanigans and new heights of weird and gay. In new New Gotham, the series' edgy, esoteric humor and balls-to-the-wall appetite for chaos truly has room to play (and destroy), and whomst amongst us cannot relate to dealing with feelings for one's best friend by creating a whole new set of life problems with which to distract oneself?
16. High Maintenance (HBO), Season 4 (0)
Last Year: #22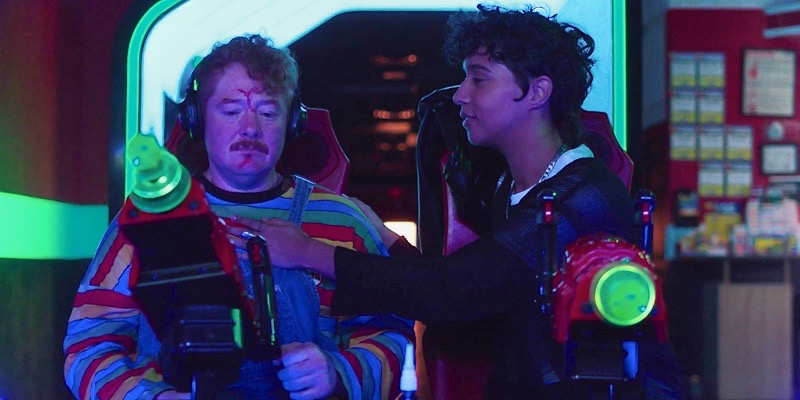 This oddball New York anthology series co-produced by lesbian director Katja Blichfeld and her ex-husband, Ben Sinclair; reached an important milestone in Season 4: we finally published an entire article about it! Genial weed guy "The Guy"'s brief journeys into the diverse patchwork of distinctly New York situations took on a level of unexpected escapism during a time when the idea of riding a bike around town and entering the homes of several strangers per day to deliver drugs — and, sometimes, to smoke from a communal pot dispensing device together — seemed essentially unfathomable. Consistently queer-inclusive, this year's eighth episode, "Solo," gave us a very rare story: a sweet if fleeting love affair between two non-binary people, converging at the intersection of curiosity and loneliness.
15. Feel Good (Netflix), Season 1 (1)
New in 2020
Mae Martin's lean, funny, smart and genuinely touching snack of dark-light comedy, which they wrote, directed and star in; reminds us that relationships are not just between two people, but between two sets of insecurities, obsessions, fears, baggage and hangups. It's interesting that so many masculine-of-center and non-binary queer comics have emerged with self-created shows that traffic in this self-deprecating relationship-torpedoing territory usually dominated by white male comics (e.g., Louie, Seinfeld, Crashed) — Take My Wife, One Mississippi, Work in Progress and now, Feel Good. Unsurprisingly, the genre looks way better on Mae than it ever did on Jerry.
New in 2020
Jenji Kohan's comedy about twins who become bounty hunters just to add a little bit of excitement to their lives had a late-emerging bisexual twist that became one of the shows' sweetest spots. Alas, like so many other queer-inclusive series in 2020, Netflix axed it when it'd just begun to find its footing.
Last Year: #19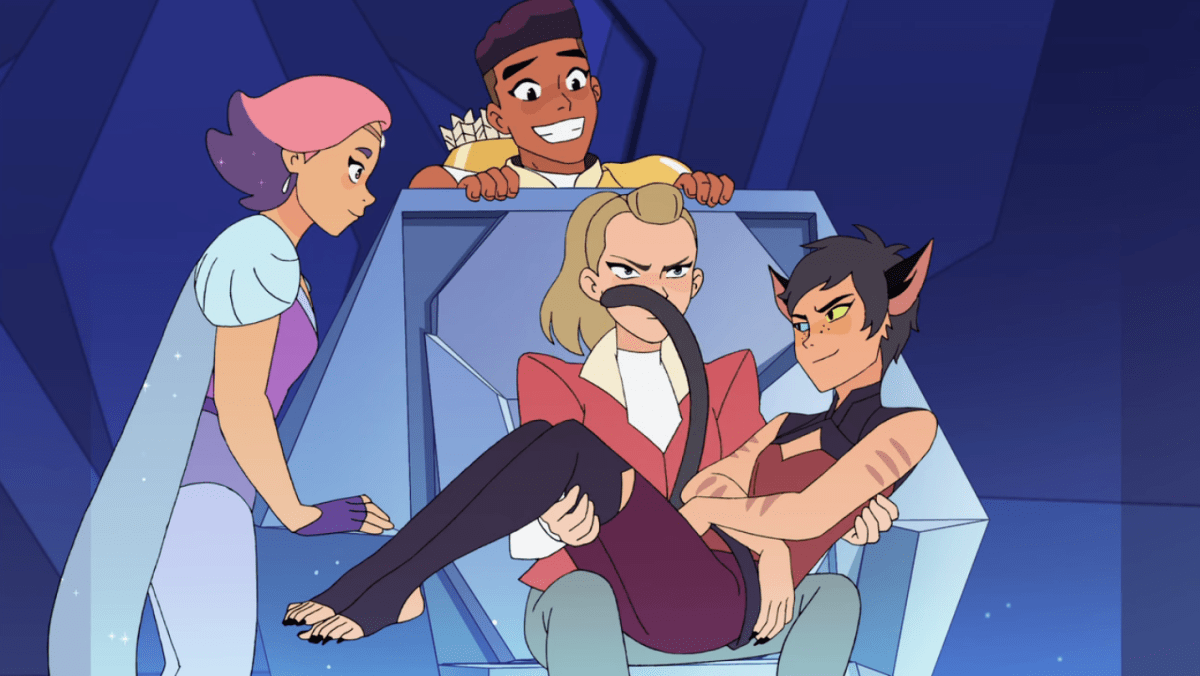 In its final season, She-Ra and the Princesses of Power handed the fruits of its bounty into the hands of its loyal queer viewership with "an ending befitting an epic film saga." Most importantly, after so many moons of gal-palling around, the series' central 'ship sailed hard into the horizon, providing a fitting end to a show with an enduring legacy of queer representation in the all-ages space.
12. P-Valley (Starz), Season 1 (9)
New in 2020
Playright Katori Hall and an all-women team of writers and directors transformed her play, Pussy Valley, into a unrestrained, blue-and-pink-neon family portrait of sex workers in the Mississippi Delta that earned unanimous critical acclaim. Out gay dancer/choreographer/actor Nicco Annan plays Uncle Clifford — a role he originated onstage — the non-binary owner/proprietor of The Pynk. Amid the hyper-femininity and masculinity of the industry, Clifford is a revelation.
11. Betty (HBO), Season 1 (3)
New in 2020
Betty brims with life — with busy streets, chance encounters, friendships forged over a shared attitude — and centers gender non-conforming and queer characters; including Kirt, a charmingly oblivious tomboy and Honeybear, a Black videographer from a conservative family who skates with abandon and dates with reservation. Like High Maintenance, Betty delivered the joy and struggle of interlocked lives during an isolated time.
10. Dead to Me (Netflix), Season 2 (3)
Last Year: Didn't Rank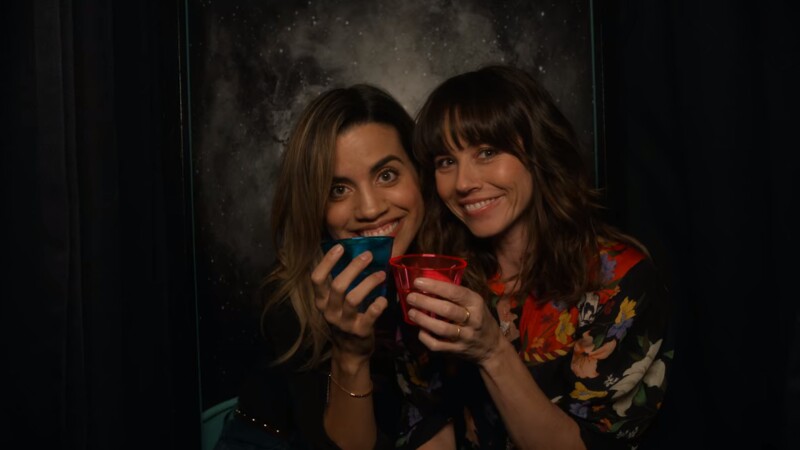 The first season of "Dead to Me" was buzzy but missed our radars due to its' heterosexuality. In Season 2, a queer storyline featuring special guest Natalie Morales and series co-star Judy (Linda Cardellini), and it is one of the chiller elements on the wild stage of this female-centric dark comedy that asks big questions about grief with slapstick emotion.
New in 2020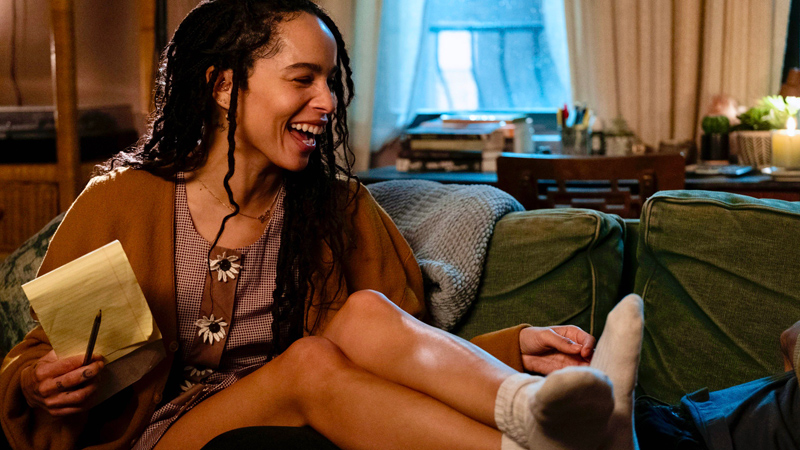 Yet another series on this list cancelled after one great season, High Fidelity is also yet another series that illuminates the benefits of re-telling a story originally centered on a straight cis white man by removing him entirely from the picture. In this case, Rob became a self-sabotaging, incidentally seductive, sardonically art-snobby navel-gazing twentysomething Black bisexual woman — and damn did the story look even better on her. Zoe Kravitz defiantly embodies the character's edgy sentimentality to a killer soundtrack, surrounded by a compelling cast.
Last Year: #21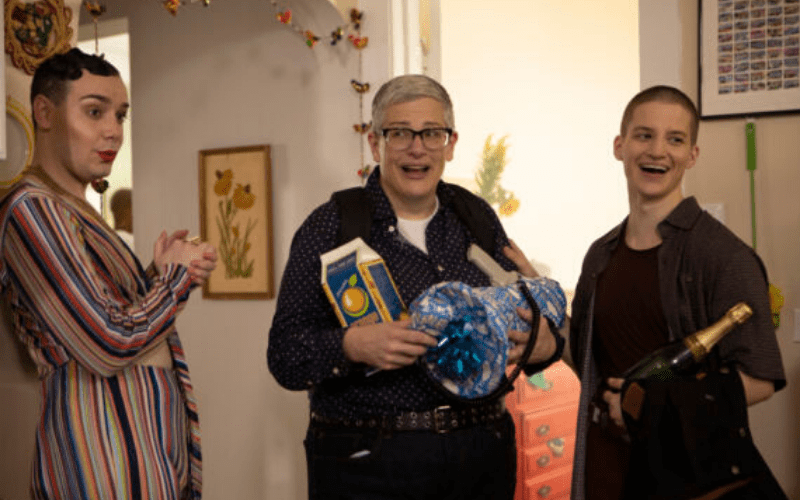 Did the back half of Work in Progress improve upon the first half, or was there just a lot less competition this year? Hard to say! Drew called it "a hilarious triumph of specificity" and it's hard to find a better sentence about Work in Progress. In 2020 we watched between our fingers as Abby stumbled towards an epic knife twist of a finale, daring us all to love ourselves and each other as people who make mistakes rather than as the walking mistakes we so often feel we are.
7. Twenties (BET), Season 1 (0)
New in 2020
Lena Waithe's first stab at telling her own story in "Master of None" crowned her the first Black woman to win a Comedy Writing Emmy. Twenties is her second. Hattie, embodied by winsome newcomer Jonica T. Gibbs, isn't the first young, ambitious writer character with ego to spare and a refusal to compromise their artistic goals in favor of activities like "getting a paying job" to headline a TV program, but she's absolutely the first Black masculine-of-center lesbian lead character to do so. After a middling pilot, sticking withTwenties pays off, blending hijinks with life lessons amid a classic Hollywood backdrop. Also worth noting: Kym Whitley's delightful performance as Hattie's gossipy mother.
Last Year: #7
It feels impossible that a show this beloved by its fans could struggle so mightily to find a home, but it did, and this year we said goodbye to this charming, politically progressive sitcom about a Latinx family in Echo Park that brought Rita Moreno back into our lives and delivered a hard-won feel-good queer storyline. Multi-cams are generally the domain of wealthy white people and their abundant families, but they've also long been a vehicle to bring less-often-spotlighted, but incredibly common, working class and middle class lives into center stage; including many of Norman Lear's own programs. One Day at a Time will take its place in the annals of television history with the best of them.
5. Mrs America (Hulu), Limited Series (10)
New in 2020
The history of various civil rights movements tend to reveal how little the hard work of activism has changed, even as the objectives of each wave have been summarily or partially achieved. In this star-studded Hulu series we saw all those big names — Sarah Paulson! Cate Blanchett! Nicey Nash! Uzo Aduba! — trudging through the interpersonal work of political progress, including storylines where lesbians and women of color feel pushed out of the party platform and where an activist's marriage, commodified to advance a movement goal in a debate with Phyllis Schlafley and her husband, is challenged by her recently-ignited bisexuality. Who ignites it? Roberta Colindrez as effortlessly sexy photographer Jules.
Last Year: #13
The first three episodes of this series' inaugural run were only impressive enough to warrant a #13 finish against last year's bevy of worthy contenders, but now we look back upon those wanton days of L Word Generation Q-enabled community with more fondness — and it didn't hurt that Episode 104 (which aired at the very close of 2019, after the 2019 list had been completed) was when the series truly picked up with a drama-filled birthday party featuring an improbably sexy backroom threesome and preceded by Bette Porter and Shane smoking weed on the kitchen floor. In ensuing episodes we got a love story for Angie, the return of Tina, a surprising emerging romantic and sexual tension between best friends and even Roxane Gay. Now we're all impatiently awaiting its return.
3. Sex Education (Netflix), Season 2 (1)
Last Year: #12
As Otis spun off into new levels of self-obsessed faux-selflessness in our sophomore season, Sex Education gave us plenty to chew on elsewhere: a budding romance between certified fave Eric and new kid Rahim, Ola leaving Otis and finding herself in a queer relationship with eminent weirdo Lily, and Maeve falling for Issac, her self-deprecating neighbor, who uses a wheelchair. One of its most groundbreaking moments took no more than two minutes, however: an asexual student comes to Jean for advice, and is told she is not broken for not wanting sex. Finally!
New in 2020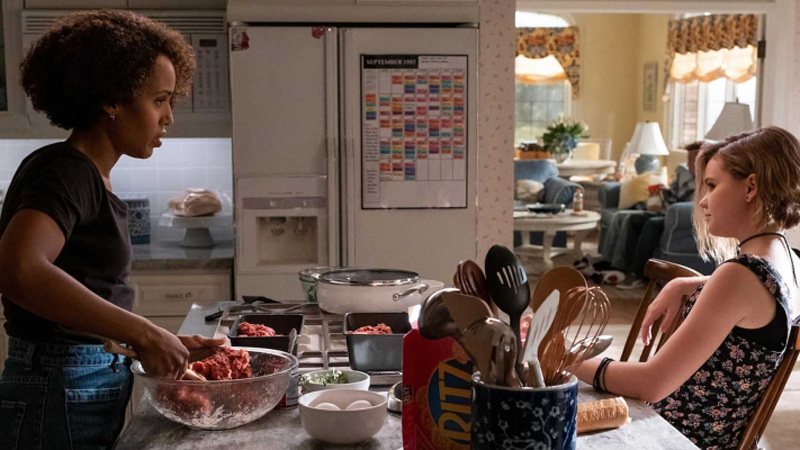 Despite receiving mostly positive reviews and five Emmy nominations and, obviously, a bevy of gay Emmys — this limited series didn't make any critic's 2020 best-of list. Interesting! I went into it knowing that Izzy (Megan Stott), the black sheep of her WASPy Shaker Heights family, would be explicitly queer, which wasn't the case int he book. But we were not told about the bigger queer storyline — the one centering Mia Warren (Kerry Washington / Tiffany Boone)'s herself. Add a whirlwind flashback to New York City's edgy '80s art scene featuring Anika Noni Rose as a photographer who takes Mia under her wing and into her bathtub? My God. But it spoke to us now, too. On the precipice of a mass generational reckoning with white supremacy and institutionalized racism, Little Fires Everywhere reminded suburban white Elder Millennials and Early Gen-Xers of the dreamy post-racial bullshit that defined our youths. While not without flaws, its pitch-perfect depiction of a specific time and a specific place hit us all in different ways for different reasons, but hit hard.
1. Vida (Starz), Season 3 (1)
Last Year: #8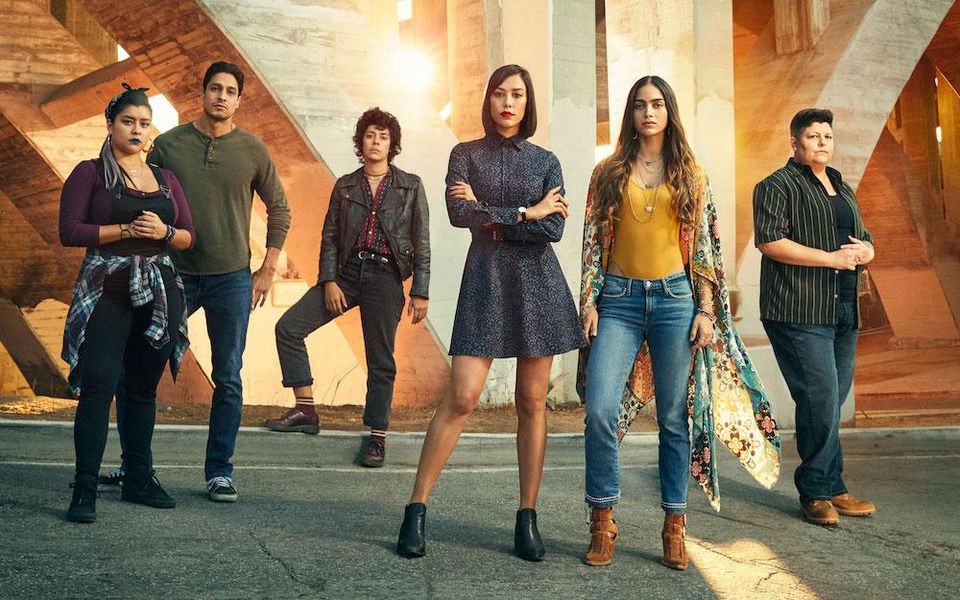 When Vida's premiere date was announced in early 2018, it felt like a fever dream, like something we never imagined television would let us see. We were adrift in the ocean of mostly-white shows with mostly-straight writers rooms and mostly-poc shows with mostly-white writers' rooms. Now Tanya Saracho was out here saying she had an all-Latinx writers room, an all-woc directing team, centered on a family with a queer matriarch (with a butch wife!) and a queer daughter?
The show that resulted was as unapologetic as promised. Vida captured queer life from every angle: sticky bathroom finger-fucking, drag kings, drag queens, face-sitting, genderqueer gen z'ers, old-school butches, bar dykes, chosen family, hate crimes, true love, class conflict, the itchy insistence of capitalism upon those who rarely benefit from it — all of it with wit, intelligence, consciousness and, of course, life.
The most ubiquitously beloved series from our voting took its final bow in the manner of your wife looking hotter than fire on the morning she left you, with a bittersweet finale that honored its characters and its subject matter. The only thing wrong with Vida was that more people didn't watch it.
---
Our Critics' Picks For The Best LGBTQ TV of 2020
Drew Gregory // Natalie Duggins // Kayla Kumari Upadhyaya // Valerie Anne // Heather Hogan // Carmen Phillips // Riese Bernard
Drew, Writer
10. Work in Progress (Showtime)
Queer characters deserve the same complexity, idiosyncrasy, and unlikability as the cis straight white men of prestige TV. It's a joy to watch Abby McEnany's fictionalized self precisely because it's often not a joy. She is a difficult character — selfish, cruel, immature — and how lovely to get a fat queer dyke with depression, anxiety, and OCD who is allowed to be those things while also being funny, loving, human.
9. Better Things (FX)
Pamela Adlon's Sam Fox is the best mom on TV. She's loving and thoughtful and treats each of her children like individual people all the while being her own individual person. It's such a warm and comforting experience to spend time in her world and point of view. This season really did right by its queer, possibly trans character and I'm grateful it approached those identities with its usual open-heartedness.
8. Betty (HBO)
The main reason I love Crystal Moselle's follow up to her film Skate Kitchen is the vibes. It's just so fun to hang out with a bunch of cool, mostly queer skater girls as they ride around New York. But the show's cinema verité style also creates an honesty and its honesty creates a casual depth. Janay's storyline of confronting her friend accused of assault and accepting her own experience of assault has especially lingered in my mind. Betty manages to mix the serious with the fun and even though it only lasted six weeks it ended up being my biggest comfort show of 2020.
7. P-Valley (Starz)
So many of our best TV writers start out as playwrights! I feel like this is a very underdiscussed aspect of the last two decades of "golden age of TV" discourse! Anyway, Katori Hall is an amazing playwright and this show based on her play Pussy Valley does not disappoint. Its incredible writing is populated with a phenomenal ensemble cast — especially Brandee Evans and Nicco Annan — and elevated by its all-female and nonbinary directing team that includes Kimberly Pierce and Sydney Freeland. The dancing is amazing, the music is amazing, and I really recommend stepping into its world. There may not be any explicitly queer women in the first season, but Annan's Uncle Clifford is a nonbinary icon you won't want to miss.
6. Feel Good (Netflix)
Mae Martin is so charming and delightful it's easy to forget their show is kind of devastating. The humor and the romance is revealed to be as much a defense mechanism as it is just humor and romance. And that's not to say the show isn't still hilarious — it is — but in exploring addiction, shame, and gender it reveals a painful depth. This is one of the few times I've ever seen dating as a GNC person explored on screen and I'm grateful for its resonance. And grateful we're getting a second series!
5. Sex Education (Netflix)
Given my obsession with the first season, I went into Sex Education's return with equal parts excitement and hesitation. Hesitation not needed! While it wasn't perfect, the second season deepened the show, taking risk after risk and landing most of them. And it got gayer! Eric got a love interest worthy of him — though he inexplicably made other choices, ugh teenagers — and Ola and Lily found someone worthy of them — in each other! I love all the characters on this show so much even when they're fucking up. I understand them in their successes and failures and attempts. There's a goodness at the core of Sex Education — a belief that we all deserve pleasure and connection and that no hang up is too great to move through. I'm so excited that next season is adding a trans character to its loveable group of horny misfits.
4. High Maintenance (HBO)
The web series High Maintenance started my first year of college and the HBO show started my last. My experience of New York happened alongside this show's development and my experience of queerness happened alongside show co-creator Katja Blichfeld's own self-discovery. This show reminds me of those things — New York, queer discovery — and it reminds me of the deeper meaning they both hold — the messiness of being human. Watching this season from across the country during a pandemic stabbed my heart with homesickness, but it also brought comfort. The show continues to deepen, we all continue to deepen.
3. Little Fires Everywhere (Hulu)
I spent two weeks living with my parents in the suburbs when in between homes this year. That's also when I watched Little Fires Everywhere. One night, walking my parents' dogs with my dad, we were talking about how for some people queerness is an identity, but for me it's a culture. My dad didn't understand. He didn't see why being gay should determine where you live or what you do. "Do you consider this a culture?" I said gesturing around us. Houses all the same, schools within walking distance, taking your dogs on a nightly stroll. My dad said, no. But he's wrong. The suburbs are a culture — one that is often oppressive to anyone who isn't cis, straight, and white — and never have I seen that captured as acutely as this remarkable series.
2. Veneno
Ten minutes into this Spanish limited series about complicated trans icon Cristina La Veneno, a person looks at herself in the mirror. She has what most would call a boy's chest. Her hair is long but androgynous. Her face doesn't read male or female. She bikes to school wearing a baggy jean jacket and walks to class inside herself. "Dreams" by The Cranberries plays over the soundtrack. We're looking at gorgeous trans actress Lola Rodríguez presented "as a boy." We're looking at Valeria before her transition. It's such a simple moment, but it's unlike anything I've ever seen before. The whole show is filled with moments unlike anything I've seen before. Amidst the ever-shifting styles and the layered stories, Javier Calvo and Javier Ambrossi's show centers authenticity in the telling of trans stories. And they understand that authenticity doesn't always mean realism. It's a remarkable, complicated work, and it's what we deserve. We should never again settle for less.
1. Vida (Starz)
Okay I know I can be pretty hyperbolic — I'm enthusiastic! — but I feel comfortable saying Vida is my favorite show of all time. It's just everything I ever want. It's a super queer dramedy created by people telling complex, emotional stories drawn from their own experiences. And it has the best sex scenes in anything ever. Tanya Saracho is such a special artist — both in her artistry and in her commitment to principles — and this is a crowning achievement in an industry that does not often allow for so much of what it achieves. I'm sad it was canceled, but, of course, it was canceled! Something this special isn't allowed to go on in our racist, sexist, homophobic industry. And yet it's work like this that starts to change the industry. It's work like this that gives me hope for the future. Each one of these last six episodes was a gift. Each of the show's twenty-two episodes is a gift. I'll revisit them for the rest of my life — in rewatches and in my heart.
---
Natalie, Writer
What's interesting — and slightly dispiriting — about my Top 8 shows of 2020: only one of them, Katori Hall's P-Valley will definitely live to see another season (Trigonometry hasn't gotten its second series renewal yet). Seeing how most of 2020 has been an absolute dumpster fire, that tracks. Still, though, I hope that new and continuing shows — *cough*Gen Q*cough* — take notice of where the bar's been set and strive to exceed it.
8. How To Get Away With Murder (ABC)
For six seasons, we got to watch one of the greatest living actors of our time play a messy bisexual character — who was more like me than any other character I've ever seen — on primetime television. What an absolute gift.
7. Trigonometry (HBO Max)
When we say "representation matters" nowadays, we're mostly talking an underrepresented person seeing some version of themselves on screen. It's about making folks who've been ostracized feel less alone in the world. But there's always been a second component to representation: to expose the majority to the experiences of a minority group and hope that they learn something in the process. For me, Trigonometry fulfills that second component of representation, demystifying polyamory in a way that I hadn't seen before.
6. High Fidelity (Hulu)
Top five favorite things about Hulu's High Fidelity: Cherise. Cherise. Cherise. Cherise. And Zoë Kravitz.
Don't get me wrong, Kravitz shines as Rob — and, of course, I love seeing a hot bisexual mess — but it's Da'Vine Joy Randolph's Cherise that steals the show. Her character could've easily fallen into trope-y territory but Randolph infuses the character with such depth and vulnerability that you can't help but love her. Every conversation Cherise has about music isn't just a rhetorical exercise…it's a slight movement towards the musician that she'll one day become. I'm remiss that we won't get a Season 2 of High Fidelity — one that would've shifted Randolph to the lead role — to see how far Cherise could go.
5. P-Valley (Starz)
If Hustlers elevated the glamour of the lives of strippers, P-Valley brings those tales back down to earth. Set in the fictional city of Chucalissa, Mississippi — M-I-Crooked Letter, Crooked Letter-I-Crooked Letter, Crooked Letter-I-Hump Back, Hump Back-I — the show follows the travails of the employees of The Pynk,* a strip club in the Delta.
(*It's "Paink," not "Pink." You gotta put some Southern twang on that.)
I remain not entirely sure how or why there are no queer women among the cadre of dancers at The Pynk but their stories are compelling nonetheless…and their performances will leave you astounded. But the true star of the Pynk is the club's owner, Uncle Clifford. She is unapologetic and unafraid: sporting a perfectly coifed beard with a lavish wig and boots even as she throws in with the city's religious leaders to stop the gentrification that'd mean an end to The Pynk. Her love story with up-and-coming rapper, Lil' Murda, is a particular highlight.
[Will it ever stop being weird that the guy who played Barack Obama in Southside With You falls in love with a stripper at The Pynk? No, it will not.]
4. One Day At A Time (Pop)
There's a great scene in Scandal where Olivia Pope is confronted by her father about her delusions of grandeur and he asks — in that way that only Papa Pope can — about he taught her.
Papa Pope: Did I not raise you for better? How many times have I told you? You have to be what?
Olivia: Twice as good.
Papa Pope: You have to be twice as good as them to get half of what they have.
It's a conversation I've had before with my own father and one that I'm reminded of as I reflect on One Day at a Time's end. Because if ever there was a show that was twice as good and got half as much, it was ODAAT. They adapted to every single hurdle placed in front of them, while never losing sight of what made this show so magical.
Focus more on comedy, less on drama? Sure. Moving from streaming to cable? No problem. Cut the show down from an hour to 30 minutes? We can do that. Produce an animated episode of television in eight weeks at the start of a pandemic? Hustlers gon' hustle, let's do it. No matter the challenge, Gloria Calderón Kellett and her crew rose to meet the moment.
I'm heartbroken that we won't see Elena, Penelope and abuela on our screens again — and soon I'll revisit those portrayals and revel in how incredible they were — but, for now, I'm still angry about a TV landscape that wouldn't give a show that was twice as good more than half of what they have.
3. Mrs. America (Hulu)
I was weary about Mrs. America…mostly because I didn't want to see Phyllis Schlafly iconized any more than she already is (in Republican circles, at least)…but the miniseries skillfully avoids lionizing Schlafly and her repugnant views. The series succeeds, not as a show solely about Schlafly, but an ensemble show about the fight for the Equal Rights Amendment. The performances are masterful: Rose Byrne as Gloria Steinem, Elizabeth Banks as Jill Ruckelshaus, Margo Martindale as Bella Abzug, Tracey Ullman as Betty Friedan and Uzo Aduba as Shirley Chisholm.
It was a veritable Dream Team of actresses but here was something particularly poignant about watching Aduba's portrayal of Chisolm, the first black woman elected to Congress and the first to run for a major party's nomination, as we moved closer to electing a woman of color to the vice presidency.
2. Little Fires Everywhere (Hulu)
There's a moment in the Little Fires Everywhere finale where Elena shows up at Mia's door to tell her that she won't be renewing her lease (as if that were ever in doubt). She finds her daughter's glove on the doorstep and if there were ever any hope that Elena would hold her tongue and accept some accountability for how her life has fallen apart, it's gone. Elena is so sure of herself in that moment — so invested in painting herself as the better mother, despite her husband's assertions to the contrary — that she can't even fathom being wrong.
"You do know your daughter was pregnant, right? That's just another feather in your mothering cap," Elena spits.
Mia pauses and smirks, knowing that Elena's "elegant racism" has vastly overplayed its hand. That smirk? That smirk…brought me so much joy. It was so much of my experience with racism bound up in one Kerry Washington slight smile.
1. Vida (Starz)
I have so many misgivings about how the third season of Vida went — how it was cancelled, how it was cut to just six episodes, how it was overshadowed, first, by less compelling queer television and then by COVID and the political uprisings — but, at the end of the day, I want to remember the show not by what Tanya Saracho and the her team couldn't control but what they could: the stories. And, my god, those stories were magnificent.
For my money, Vida will go down as the best queer series in television history. In three far-too-short seasons, it set a new bar for what queer television could be and established itself as the standard upon which other series — who are truly aspiring to greatness — should measure themselves against.
---
Heather, TV Editor:
So many of my top shows of the year are also so many of our other writers' top shows of the year, so I'm going to narrow down my choices to the five I think no one else will choose to write about! Every show on my little list here meant something extra special to me — and, I think, to the queer TV canon — in this specific 2020 hellscape.
Batwoman (S1) (The CW)
With the exception of The L Word: Generation Q, Batwoman was, hands down, the gayest thing on TV in 2020. A lesbian main character and the world's most popular gay superhero headlining the show, and half a dozen supporting queer characters and love interests. The series also just had a real queer sensitibilty. Every lesbian was falling in love with every other lesbian; there were coming out stories from multiple angles; Kate owned a gay bar; Rachel Skarsten as Alice; and, unlike Batwoman: Elegy, which is a terrific and revolutionary collection of comic books, Batwoman's queer writers and lesbian showrunner really were able to grapple with the complex nature of Kate's compounded history with secret identities. It was also just fun! And creepy! And ridiculous! And I, for one, cannot wait to see what Javicia Leslie's Ryan Wilder brings to the series. I know in my heart it's going to be even better.
Adventure Time: Distant Lands — Obsidian
Adventure Time's series finale, "Come Along With Me," finally allowed Marceline and Princess Bubblegum to give in to the subtext and angst and smooch on their cartoon lips, and their curtain call saw them snuggled up in bed watching TV together. It was a huge victory for two characters who spent eight years dropping hints about what they meant to each other, and why, and what happened that caused them to have such an intense and antagonistic relationship. Like all of the supporting characters' storylines on the series, theirs was fractured, moving them forward in time and occasionally revealing something about their past. Adventure Time: Distant Lands — Obsidian stopped donking around and filled in all the blanks with care and affection, and in probably the greatest gay fanservice scene ever, the episode ends with the couple dancing and collectively flashing back to the origin story of the shared t-shirt that launched a million fan fictions.
Harley Quinn (HBO Max)
Harley Quinn's second season is a near-perfect season of gay TV that includes character growth for both Harley and Ivy, and satisfying love story that sees them riding off into the sunset together in the exact same car they escaped in during their first episode of Batman: The Animated Series. There are few queer fandoms as long-suffering as those who pinged Harley Quinn and Poison Ivy as more than friends in the '90s, and while the hints have continued for three decades and finally landed in the comic books in recent years, Harley Quinn's animated series is the first time the couple has gotten the on-screen treatment they deserve.
One Day At A Time (Pop)
I don't know how exactly how One Day at a Time always managed to strike such a perfect balance of laughing with and at Elena in a way that also made me feel like I was in on the joke — but it was the one comedy series I always felt completely relaxed watching because I knew the show was never going to punch down. And, of course, it wasn't just Elena and Syd who brought the queer laughs. Judy Reyes' Ramona, a friend of Penelope's from her veteran support group, talking about how Rachel Maddow was her Outlander — "What I wouldn't do to get into her blazers. Sometimes I picture her naked, beating the crap out of Mitch McConnell" — was one of my favorite TV moments from 2020. The laughs were hard to come by this year, but ODAAT always earned them, and they never traded punchlines for pathos. The show always handled that tricky sitcom balance with deftness. This is the series I will miss the most. It was the one constant narrative joy in the entire four years of the Trump administration.
She-Ra and the Princesses of Power (Netflix)
She-Ra and the Princesses of Power's final season finally gave queer nerds what we've been craving our entire lives: the luxury of seeing ourselves in a legendary space opera and epic fantasy story, not just as sidekicks, but as main characters who save the day with their heroism and also with their BIG GAY LOVE. Every lesbian, bisexual, and queer character has their moment to shine in the finale, from longterm couple Spinarella and Netossa, to Bow's gay dads, to fan favorite baby angel Scorpia and her new love interest Perfuma. And it wasn't just the quantity of characters; it was the quality of representation. Much like Steven Universe, She-Ra took so many of the lessons of queer adulthood and imparted them onto fully realized characters that landed across generations.
---
Kayla, Writer:
10. Work in Progress (Showtime)
I feel like it has become somewhat of an Austoraddle TV Team inside joke that half of us prefer nice characters who live happy lives and half of us prefer fucked-up characters who live frustrating or sad lives. I fall into the latter category, so I gravitate toward depictions of queerness that are very very messy, and Work In Progress does that so well!
9. Dead To Me (Netflix)
Dead To Me was already a knockout surprising show in its first season, and then when the second season got GAY AS HELL? I felt like it was a personal gift to me. But queer storyline aside, this dark comedy checks so many boxes for me. I love an achingly good depiction of a truly unhealthy relationship dynamic, what can I say.
8. High Maintenance (HBO)
High Maintenance just gets better and better all the time? At this point, it has made me feel every emotion there is to feel. It makes me miss New York so so so so much.
7. Killing Eve (BBC)
I know that the most recent season of Killing Eve was pretty divisive, but I really loved it? It's the bleakest season for sure. But the bizarre combination of aesthetic maximalism and brutalism is something I love about this show. Its intermingling of beauty and terror has always been a compelling part of its visual storytelling. Season three also marks such an interesting era for Eve, who is so deeply submerged in her worst tendencies that she's more like Villanelle than ever. These two are forever merging and repelling, like same-poled magnets that can never get too close.
6. Star Trek Discovery (CBS All Access)
I'm very on record as loving this wonderful space show, which leans into a lot of my favorite sci-fi tropes but in a way that feels exciting and satisfying. It's so well acted, and the action sequences do not disappoint, but there are compelling stories there, too. It's a show I find myself wanting to watch over and over.
5. Schitt's Creek (Pop)
The same thing happened to me that I think happened to a lot of people with Schitt's Creek, which is that we initially just had fun laughing at these ridiculous characters to all of a sudden being way too emotionally invested in their lives???? The character arcs are surprisingly deep and complex, and the final season sticks the landing. I miss the show already, but it was also the right time to end it.
4. Sex Education (Netflix)
I have loved this show since its start, and it just delights me over and over again. Frank and hilarious about the horrors of puberty, it's a sharp and layered comedy with incredible characters. And the overall trajectory of the show is that it just keeps getting gayer and gayer, and that's how it should be for all shows!!!!!!
3. Feel Good (Netflix)
As I wrote in my review for The A.V. Club: Much more than just a show about modern dating, Feel Good looks at all kinds of relationships: fractured ones, blooming ones, evolving ones. It's impeccably detailed on aesthetic, story, and character levels. Mae Martin is a genius. Also LOVE TO SEE STRAP-ON SEX ON MY TEEVEE.
2. Vida (Starz)
I have so many feelings about Vida that I'm feeling overwhelmed trying to sum up how I feel about its final season, but this show is about as close to perfect as it gets. Its world-building is fantastic. So when you get to this final season, you feel like you're really living amongst these characters and their lives. It also has some of the best sex scenes on television, and I like my television to be very sad and very sexy!!!!!!!
1. Dare Me (USA)
If I'm being honest, Dare Me gets this number one slot on my list not because I technically think it's the best of all these shows but rather because I'm perpetually bummed that it was not an instant hit because IT DESERVED TO BE AN INSTANT HIT. But instead, it was cancelled, and I'm forever bitter about it!!!! Because it's a very smart and twisty thriller stacked with compelling characters, particularly its messy teen girls who are terrifying and lovely all at once. BRING BACK DARE ME.
---
Valerie, Writer:
This was very hard, because remembering what aired this year is nearly impossible because time became even more abstract than ever in 2020, but also because I've spent a lot of my extra quarantine time watching shows I definitely should have already seen but didn't, like Imposters and Station 19, and I'm halfway through Vida now. So I was very surprised when I broke it down and actually had a really hard time narrowing it to only ten. (Sorry to Legacies and Motherland: Fort Salem, who got the boot due to my arbitrary logic of wanting to make sure to honor shows that won't qualify for future lists.) But this is the best my mushy 2020 brain could come up with, here's hoping it doesn't make my 2021 self furious when I look back.
10. Little Fires Everywhere (Hulu)
I've never enjoyed a show making me so uncomfortable so much. The acting was so superb across the board, including but not limited to the teenagers and flashback versions of Mia and Elena, and every single character was so interesting and complex. I was so sucked in and I hadn't expected to enjoy this show quite so much.
9. Harley Quinn (HBO Max)
The chaos of Harley Quinn is so appealing to me and combined with the logical and calm Poison Ivy, this cartoon was non-stop delight for me. I live for a Hufflepuff/Slytherin combo, the high-energy impulsive eager gal and her grounded, reality-checking, protective pal. Plus, I'll never get tired of cannon queer cartoons which leads me to…
8. She-Ra and the Princesses of Power (Netflix)
Despite knowing how many queer people worked on this show behind the scenes, because of how many queer characters there already were, and because of a lifetime of being let down by television, I really and truly never thought they would Go There with Catra and Adora. I will never get over how important and impactful seeing queer love quite literally save the universe will be to the children watching this show, and how thus how important it was to me.
7. One Day at a Time (Pop)
When the last chunk of One Day at a Time episodes aired amidst the pandemic in June, I had been in a "shit this is going to last a lot longer than two months" slump and it was the first time in weeks I really laughed in a genuine, uninhibited way. It was written (and performed) with such heart, combining fun goofs with serious topics in a way that made me laugh and cry regularly. I'll miss the Alvarezes a lot.
6. Batwoman (The CW)
Listen, I'm as surprised as you are to see Batwoman on my list, but the truth is, while we did already have queer characters on CW DC TV, Batwoman came along and doubled our ranks. Kate Kane is a lesbian, and the show didn't shy away from that fact. They gave her a lesbian bar and sprinkled a bunch of queer friends and ex-girlfriends into her past and present in a way that was closer to authentic than most shows that aren't in The L Word universe accomplish. The show balanced humor and drama in a fun way, and also: Rachel Skarsten. And honestly based on what we know about Javicia Leslie so far, it can only go up from here.
5. Dead to Me (Netflix)
Dead to Me was one of my biggest TV surprises last year. I watched season one on a lark and was enchanted. The chemistry between Christina Applegate and Linda Cardellini was electric and then Season 2 gave us a bonus queer Natalie Morales, and oh what a gift she was. Even though the women's situations, settings, and lives are so different from anything I've ever experienced, their conversations feel so authentic that it's hard to look away.
4. Haunting of Bly Manor (Netflix)
I've already spewed all my feelings out about this show but I'll summarize a bit: I love horror movies and ghost stories and there are so, so few centered around queer women, that to have a lesbian love story at the heart of a Mike Flanagan production brings my spooky gay heart so much joy. Plus, we all need a good, full-body sob now and then, right?
3. Teenage Bounty Hunters (Netflix)
Another surprise hit for me, this quirky comedy was an absolute delight I consumed way too fast, not knowing it would be the only existing season. I might never forgive Netflix for cancelling this show because of how Season 1 ended, but I enjoyed the journey of it so much. Teenage Bounty Hunters was a unique story with unique characters and unique arcs for its queer teens and it's a shame it gets the boot while 900 remakes of 90s shows are announced every week.
2. Legends of Tomorrow (The CW)
I don't know how they've done it, but Legends of Tomorrow has managed to avoid the Curse of the CW DC TV shows and hasn't lost any of its levity or the core of what makes it great post-season 3. Season 5 was just as ridiculous and wacky as ever, following no rules except the golden rule: have a lot of fucking fun. And with an un-killable bisexual badass and her lesbian clone girlfriend at the helm of the spaceship, co-captains for life, everyone taking their orders from their space moms happily (even the grumpiest man among them), it's one of the queerest shows I've ever watched, and never ceases to make my nerdy heart sing.
1. Wynonna Earp (SYFY)
Gosh it feels so good to be able to include Wynonna Earp on a year-end list again! Season 4 came back with a bang (in some cases, quite literally…thanks, 10pm time slot!) and reminded me why it was well worth the wait through the extra-long hiatus. Waverly and Nicole are going through their own shit, they're going through shit together, and the mid-season finale ended with a queer proposal for the ages. Wynonna Earp crammed more delicious content into six episodes than a lot of shows do with 22 and there are still a few more coming in 2021. Yipikaye, motherfuckers.
---
Carmen, Interim Editor-in-Chief
Twenties (BET)
I started this year really not liking Twenties (I can say that, right?). I always thought Jonica T. Gibbs was captivating as Hattie — the fact that Hattie was a carbon copy of nearly ever woman I ever dated in my 20s certainly didn't hurt — but overall the show didn't work for me, feeling too much like it wanted to be taken seriously as a "prestige comedy" over doing the actual work to get there.
This is a weird way to open a summary of why I consider it to be one of the very best this year had to offer, but hear me out — somewhere along the way, Twenties eased into itself. It came from behind to not just become good, but legitimately great. In Hattie we are saying a Black stud fully formed, not a sidekick or one note love interest. She's a fuck up, but loyal to her friends, hardworking, ambitious. By centering its narrative around hopes and dreams a young Black butch, Twenties is having conversations about queerness the likes of which aren't happening anywhere else on television.
Betty (HBO)
Betty was a purposefully cultivated, understated, small slice of joy in this hellish year. It's pretty much not like anything else on queer television (cinema verite is a style that doesn't often find its way to our waters) and the final result is absolutely fucking breathtaking.
High Fidelity (Hulu)
High Fidelity was easily one of the best shows of the year, and it should never have been cancelled by Hulu. It's strength stands on not only on one helluva script, but also Zoe Kravitz's most magnetic, mature performance to date: "On TV… a young black woman doesn't get to pick a pack of cigarettes, a whiskey neat and her lonely artistic obsessions over family or emotional obligations. She's never allowed to stumble haphazardly and figure out her own shit, fuck off what others' think. By keeping most of Rob's characterizations exactly the same as previous versions, and instead mapping them onto a biracial black woman grappling with a quarter-life crisis, everything else about High Fidelity kicks into high gear."
Mrs. America (Hulu)
Mrs. America doesn't have the strongest queer performance on this list, but no matter — it more than makes up for it on power of its performances from so many of the best women actors working today. A cast of Cate Blanchett, Sarah Paulson, Margot Martindale, Tracy Ullman, Niecy Nash and Uzo Aduba — each playing some of the most iconic women of the 1970s (or in the case Cate Blanchett's Phyllis Schlafly, infamously evil) — is a lot to live up to, but somehow every episode of Mrs. America was better than the one before. It's nuanced and elegantly detailed, coming across as if your feminist history textbook made a stop down Big Little Liars Emmy bait lane. That description will either delight you or bore you, but if you're anything like me it will be the former and Mrs. America will more than deliver your dreams.
Little Fires Everywhere (Hulu)
So much about Little Fires Everywhere is brilliant and there are at least thousand reasons of equal importance as to why it deserves to be considered one of the best of the year. But for me, it all comes down to this one scene — less than a scene, a single image really — from the episode "The Uncanny":
"To see it in real time — to watch the playfulness, the acceptance, (and to be very honest — the sexiness of it, I don't think I've ever seen two Black women laid so bare on television before), it's simply unreal. Even once the surprise has been lost, I find myself returning to it time and again in my memory. A truly perfect moment of acting, of cinematography, of television. Easily the best of the year."
Vida (Starz)
I've been so fortunate to write more words about Tanya Saracho's exquisite and brilliant Vida than anyone else on this website, and as the show takes its last bow, may I tell this story. Ahead of dramedy's third and final season, Starz gave Saracho fewer episodes to work with and a smaller budget to boot. But in a mythologizing moment Tanya Saracho marched into her writers' room and wrote on the whiteboard: "Six Masterpieces."
This season of Vida was Saracho's last party on the dance floor, and to quote my third season review, "few get to say that they've truly made history. That what they've touched won't be the same after they've gone. Television won't be the same after Vida. That's just a fact."
---
Riese, CEO
I wrote all the blurbs in the Top 25 myself and therefore am TOTALLY BLURBED OUT! My Top Ten is mostly represented in that Top 25, though: The L Word: Generation Q, Better Things, Mrs. America, Little Fires Everywhere, Work in Progress, Betty, Twenties, Vida and The Circle.
Shows that didn't make my Top 10 but I really enjoyed a lot this year include Dare Me (USA), Star Trek Discovery (CBS All Access) (which continues tackling the highs and lows of organizational leadership but in space!), Schitt's Creek (Pop), The Haunting of Bly Manor (Netflix), The Chi (Showtime) and two HBO Max shows that flew mostly under the radar this year: Pure, centered on a girl with compulsive sexual thoughts and Trigonometry, leaning into Throuple TV 2020, which Natalie wrote about in her Top Ten.
What were your favorites?