"I'm all for fighting comadre homophobia with queer love bombs."
Yessika Castillo (Julissa Calderón) is standing around with her closest friends and her girlfriend, Ana Morales (Karrie Martin)  — the entire chingona squad casually hanging out at night in the Boyle Heights neighborhood they grew up in.
Ana's been commissioned by a rich white developer and art-dealer who has been buying up property in the Los Angeles neighborhood. He first encountered her at a children's birthday party, where she was painting faces just to be able to do her art. He quickly establishes himself as the young artist's "benefactor" of sorts, parading her in front of his Art World friends as "a gift." Now he wants Ana to paint a mural on the side of a neighborhood corner store, without the business owner's permission. And yeah — it's as gross as it appears. Yessika nicknames ole dude A Colonizer, and she is most certainly not wrong.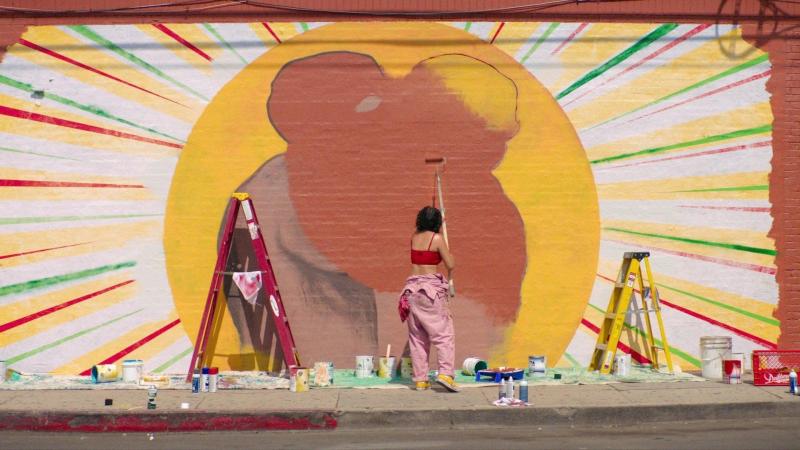 Here's the problem, the mural that the neighborhood colonizer wants Ana to paint? It's of two Mexican wrestlers in the throes a full-on make out. Those luchadores, with the complete strength and beauty of their queerness painted from the earth to the heavens, have become a proxy for Ana's own queerness, along with Yessika's as well. If Ana paints the mural, she's supporting the gentrification that's waging an economic war against her own family and neighbors. If she bows to neighborhood outrage, her silence is complicit in saying that homophobia has a place in Boyle Heights. That she and her girlfriend, along with every other queer brown kid who grew up going to that same store for their after-school hot Cheetos fix, don't have a home there.
A mural is no longer just a mural. It's an opportunity to lob "queer love bombs," but what does that matter if those same bombs come with the price tag of boxing out your own? It's in these moments of tension between individual and community, between structures of economic exploitation and systematic racism, moments where questions of "who belongs" present themselves with no easy answers, that Netflix's Gentefied most shines.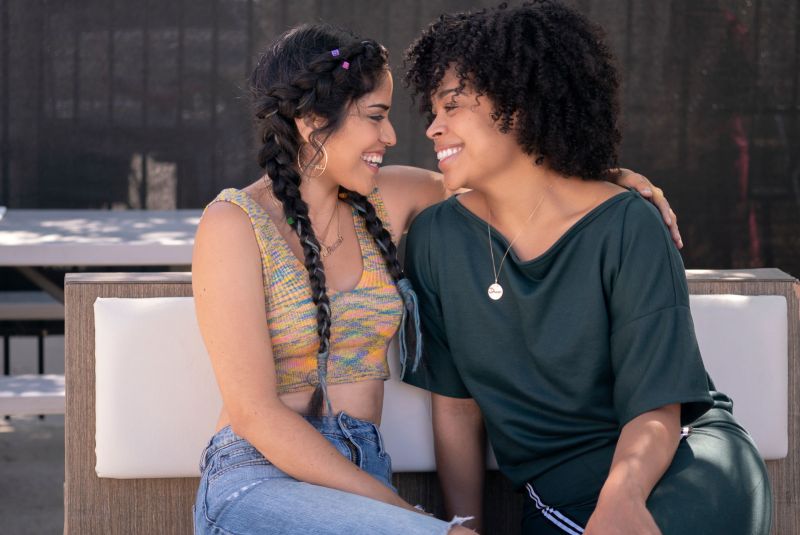 Gentefied is centered on three adult cousins — Chris, Erik, and Ana — as they work to keep their grandfather's taco shop, Mama Fina's, afloat amid rising rents. They face an untenable situation. In order to raise the money, the shop must begin catering to the needs of a more affluent clientele, a tight-rope walk that also feels a lot like displacing friends (already you can see how the mural plot fits right in). Chris, who grew up in mostly white spaces and dreams of being a Michelin-chef, believes their solution resides in a trendy "cutting edge" menu that will attract new customers. Erik, who like Ana was born and raised in Boyle Heights, worries about losing their connection to the community. Ana, the queer youngest cousin, just wants to change the world through her art, continue her love story with Yessika, her girlfriend since high school, and keep the other two from killing each other with their macho pride. Each cousin has their own talents, though they have to get out of their own stubborn way to find it, and Mama Fina's needs all three of them to survive.
Originally conceptualized as an indie web series with Sundance roots, Gentefied gets its name from the obvious mash-up of gentrified and gente, often used to describe the intra-community gentrification that often happens in neighborhoods like Boyle Heights as affluent Latinxs actively participate or encourage the gentrification of their own 'hood. Many Autostraddle readers have encountered this framework on television in Tanya Saracho's Vida, which is also set in Boyle Heights, and also uses gentefication as the underpinning structure of its narrative.
From a production perspective, there are more similarities between the two shows: Both are bilingual productions from Latinx creators — Gentefied comes from Marvin Lemus and Linda Yvette Chávez, and is produced by America Ferrera. Both have faced some amount of pushback from real life Boyle Heights activists who are weary of the attention the productions bring to their neighborhood. Both have deep benches of writing and directing talent compromised of queer people and people of color. Gentefied's directed in part by Lemus, Ferrera, and Autostraddle favorite Aurora Guerrero (Mosquita y Mari). For the first season, their writing room included up-and-coming trans Latina writer Camila Maria Concepción, who died by suicide just as the series was released by Netflix and whom the cast and crew have lifted up in magnificent light.
Both Gentefied and Vida are exquisitely detailed love letters to and portraits of the immigrant Chicanx communities that birthed them. I don't list their similarities in some misguided interest of competition, but because I'm dumbstruck at the assortment of wealth for both shows to even exist. Still, their difference in tone couldn't be more stark.
In Gentefied, Boyle Heights radiates warmth and light. Neighbors sit on lawn chairs on the sidewalk; grandfathers grow hot peppers in their backyard; cute kids with cholo dads get free tacos for reading books; activist women plot on park picnic benches. The show's voice is assured, funny, comforting. It intimately understands the politics of code-switching in ways few other shows fully capture. In a pitch-perfect moment early on, Ana reminds Erik to "use your white voice" when the pair find themselves at the bank. Unfortunately, the show's overall tone takes longer to establish. Gentefied can be clumsy (I found the first two, and ironically, the last two episodes the most difficult to reconcile). It seemingly can't decide if it wants to be a  working class family sitcom, a dramedy, a zany satire lampooning white people, or a coming-of-age story about brown millennials trying to survive. In its worst moments, the storytelling comes across unintentionally off-kilter, as if it can't quite find its groove.
At the same time, it doesn't need to be narratively perfect. Gentefied is hellafied fun, smart, and has a lot of damn heart. Why can't that be enough? Sure, the show would benefit from telling a more cohesive story across its ten episodes, but its not like I didn't find myself enamored regardless. Gentefied finds its strength in its characters. And surprisingly for a show that I watched for the lesbians, it was the tough-on-the-outside, hard-headed, but deeply loving and humbled Erik who walked away with my heart. Smaller characters are equally well-drawn and memorable, like the neighborhood marachi musician who begins the show as a comic relief, but becomes a heartbreaking symbol of the economic warfare strangling those most vulnerable in Boyle Heights. Ana's mother starts the series raging on her daughter to find "a real job" and dismissive of her life choices, only for the two to bond together in a scene that's sure not to leave a dry eye among those watching at home.
Of course through it all, there is Yessika and Ana. There are moments when two of them can be #RelationshipGoals personified. In fact, they're so adorable that Ana's younger sister videotapes their love story as a part of her Confirmation class (sure, that's partly to make the nun's head explode, but it's still real cute). Yessika, a community activist, knows that to love Ana is to love her family, no matter how many times the cousins' antics pull Ana from their warm shared bed. Loudmouth, always eating, always dreaming Ana is not ostracized for being gay; Yessika is as much part of the crew as any other cousin. Mama Fina's also has a dyke working in the kitchen, Norma, that the girls grew up idolizing — and for good reason, she's a badass! There's no trauma. Just the sweetness of their love. Quite simply, it feels damn good to see two Latina lesbians fully themselves, accepted by their loved ones, and at no point expected to leave their queerness at the door.
Getting to spend time in Boyle Heights makes the fight against displacement personal, which only becomes more poignant and complicated when Yessika and her friends step into their role as defenders of the neighborhood. Without giving away too much detail, a plan devised by the cousins to save Mama Fina's puts them squarely in the crosshairs of Yessika's activism. Yessika sagely implores the cousins not to bend over backwards for white folks — "they may love all our shit, but they don't love us." Her warnings fail. Instead, as she later confesses to Ana, she finds herself isolated by Morales' unspoken racism. She cries to her girlfriend that she's being written off by her family as some angry black woman stereotype, despite all their years growing up together.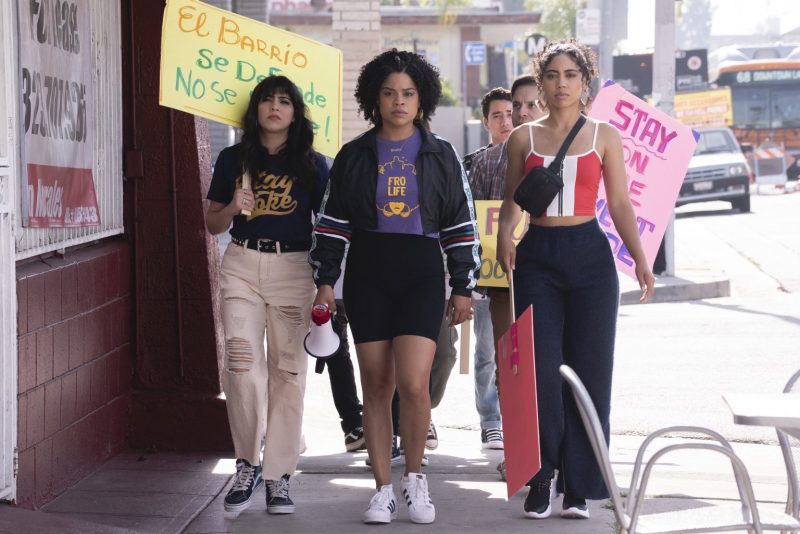 According to the showrunners, Yessika was always designed with an Afro-Latina actress in mind. Originally she was imagined as Mexican, but the character was later adjusted to be Dominican, reflecting Julissa Calderón's heritage. As Lemus noted to Remezcla ahead of Gentefied's premiere, "Gentrification and 'gentefication,' is very much a class issue. And I think a lot of times we have this conversation around gentrification that's very black or white or very brown and white. But with Boyle Heights and gentefication specifically, we wanted to explore class. We wanted to explore how Latinos themselves can discriminate… We really wanted to explore those issues of anti-blackness and colorism within the Latinx community." Watching Yessika be an out and proud queer Afro-Latina, the kind of woman who wears "Fro Life" T-shirts and "La Sabia" sweatshirts with earrings as big as her head — it's a revelation. Afro-Latinas are still a rarity in television, and then to talk about queer ones at that? Whew. Bless La Santa Sophie Suarez, we've only just begun.
Which is why what I'm going to say next will probably seem nit-picky. I'm so thankful that we've finally begun telling Afro-Latinx and queer Afro-Latinx stories on television, that Latinx creators are recognizing the double standard in Hollywood and using their platform to work towards correcting it. But when Yessika complains on-screen that, in the end, the Morales family wrote her off as a stereotype? It doesn't excuse the fact that the writers of Gentefied did, too. Calling out a racist act within the television show doesn't negate what happened. The Moraleses wrote Yessika off because by that point, the writers had as well. She wasn't arbitrarily stereotyped as the "angry black girl" by the people she loved, she became consciously written as one. Those are production choices.
If you're going through the care to write black characters into a Latinx world in which we already exist, don't reach for the lowest hanging fruit.
I want nothing more than to write Gentefied a glowing review that leaves us all scrambling for our Netflix queue. By most measures, the show more than deserves it. If you haven't yet — you should watch Gentefied. You should fall in love with the Morales family. You should remember the ways that capitalism is tearing families like ours apart. You should laugh and think and squeal to your heart's content.
But also, you know — maybe throw some of those queer love bombs for my girl Yessika, too.