Crisp leaves always make me wanna read a book. You too? We have so much in common already. So get your pea coat on and take a look in a book of Reading Rainbow with Autostraddle. But first … a handy guide to the icons you'll see displayed with each NEW FALL BOOK: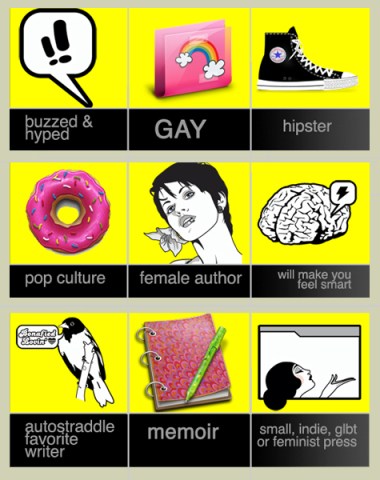 See, our taste is pretty damn eclectic, so we're hoping this key will help you easily locate your particular brand of literary awesome. Also, you'll notice the book titles link out via our Amazon Associates Account, which  means we'll get five cents or so if you do buy via Autostraddle.
We're hoping to switch our associate advertising over to the more independent-bookstore-friendly IndieBound, but first we must reach our minimum payout threshold on amazon and thus cash in. Keep that in mind if you're gonna buy anything, little consumer bunnies!
This will help too:
Jump To:
The Others by Seba Al-Herz
A Gate At the Stairs by Lorrie Moore
Ash by Malinda Lo
Graph Out Loud by graphjam.com
Official Book Club Selection by Kathy Griffin
The Original of Laura by Vladmir Nabokov
The Bicycle Diaries by David Byrne
Girl Studies by Eileen Lipkin
My Invented Life by Lauren Bjorkman
Love Warriors by Davina Katolski
Girldrive: Criss-Crossing America, Redefining Feminism by Nona Willis Aronowitz & Emma Bee Bernstein
Other Books to Look Out For & Calls for Submissions from Microcosm Press & SheDate.
Actual review of Shoplifting from American Apparel, by Tao Lin









Other Fall Books To Look Out For:
September:
Lawrence Hill Books: Sexism in America: Alive, Well, and Ruining Our Future, by Barbara J. Berg, Ph.D. September 1st, 2009.
Penguin:The Meaning of Matthew: My Son's Murder in Laramie, and a World Transformed, by Judy Shepard. September 3rd, 2009
Clies Press: In Sleeping Beauty's Bed: Erotic Fairy Tales
, edited by Mitzi Szereto. September 8th, 2009.
Simon and Schuster: Hungry: A Young Model's Story of Appetite, Ambition and the Ultimate Embrace of Curves
. by Crystal Renn with Marjorie Ingall. September 8th, 2009
Penguin Classics: The Yellow Wall-Paper, Herland, and Selected Writings, by Charlotte Perkins Gilman (Author), Denise D. Knight (Editor, Contributor). New edition & packaging & editing of the classic feminist writer's work. September 29th 2009.
October:
W.W. Norton: The Book of Genesis Illustrated,
by R. Crumb. October 19, 2009.
St. Martin's Press: Cassette From My Ex: Stories and Soundtracks of Lost Loves, edited by Jason Bitner. October 27, 2009.
November:
Audiobook! Parker Posey reading Betty Friedan's The Feminine Mystique. Must-hear! November 15, 2009.
NYU Press: Girl Zines: Making Media, Doing Feminism, by Alison Piepmeier (Introduction by Andi Zeisler). November 19, 2009.
From Indie 'zine & book publisher Microcosm, out now: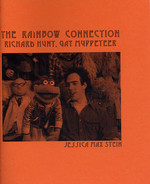 What We Leave Behind, by Derick Jensen, is a piercing, impassioned guide to living a truly responsible life on earth.
The Rainbow Connection: Richard Hunt: Gay Muppeteer by Jessica Max Stien: A heap of information about the life of Richard Hunt, a Muppet puppeteer who worked on Sesame Street, Fraggle Rock, and a myriad of other Henson projects.
My Brain Hurts #2: Liz Baillie crafts a Degrassi-style teenage soap opera about queer punks in New York City!

Calls for Submissions
Deadline Nov 1
"Hello friends, I am putting out a call for writing, art, comics, photographs, on the practical and philosophical aspects of gender, sexuality, bodies, and queerness. Personal experiences (good, bad, and other), philosophies, rants, funny stories, observations, interviews, dreams of the future. Ultimately, I want to put a zine out that is a positive fuck yeah for queerness, transgenderisms, bodies, sexualityies, and ultra wave inclusive feminism. A recognition that all oppressions are interconnected, and the time is now to share our stories and deconstruct the dead ends."
SheDate.com Coming Out Stories
Deadline September 30
SHEGROUP is a company made entirely up of members from the lesbian community. They are all passionate about who they are, what they stand for, and how they can contribute to the acceptance of the community. In an attempt to bring the lesbian community closer together, their first initiative is in launching an all lesbian dating site, SheDate, which asks you to share your coming out story to win $1,200 in SheAvenue prizes!

Because I actually read Shoplifting from American Apparel by Tao Lin I thought I could put it on its own page, like a real book review. Then, all alone on its own page, it took over the page. I am excited for the Autostraddle redesign when we can have more little things all over. That's NEXT! –>

Pages: 1 2 3See entire article on one page