Once upon a time (October 9th-13th, to be specific) in a land far far atop a mountain two hours outside of sunny Los Angeles, approximately 275 queer humans gathered for four days and four nights of revelry, carnivalia, intellectual stimulation, dance parties and deep sea bonding. They called it A-Camp 4.0, and it was beautiful! This is the third of four fantastic recaps which serve to ease our collective separation anxiety, give you a behind-the-scenes look at how your A-Camp soysage is made, enable us to wax nostalgic over times gone by and provide prospective campers with a brilliant glimpse into the A-Camp Experience.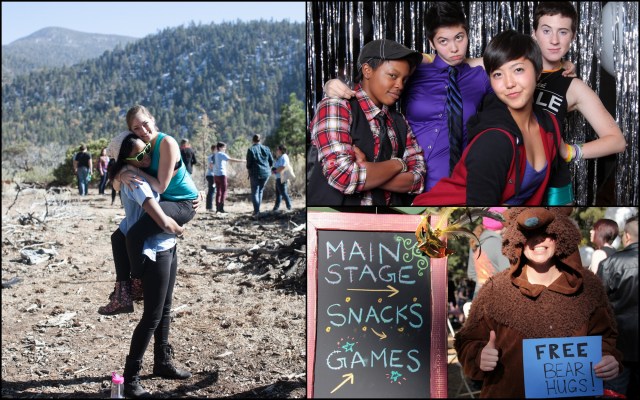 A-Camp was the genesis of an idea Riese had at 3AM in July 2010: the concept was to take the spirit of the website into three glorious dimensions by renting a summer camp in the off-season and jam-packing a long weekend with panels, workshops, discussions, crafts, sports, entertainment, parties and so much more! We gave the idea a spin with an abbreviated, smaller edition of A-Camp in April 2012, followed by full-size full-length camps in September 2012 and May 2013, all hosted by everybody's favorite dynamic duo, Julie Goldman and Brandy Howard. Which brings us to October 2013, the Little Camp That Could!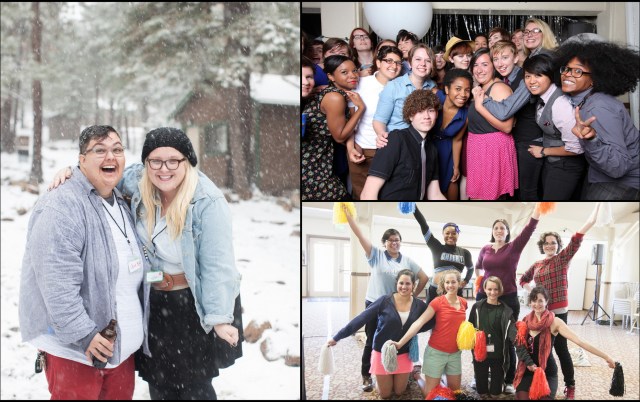 This fall's camp was unforgettable and fucking awesome. Our amazing team was complemented by talented Special Guests including comedienne DeAnne Smith, new media superstar Hannah Hart, Me & My Bois collaborators Lex Kennedy and Emotions the P.O.E.T., rock star Somer Bingham and songstress and actress Haviland Stillwell. Our camp staff included Autostraddle.com team members, A-Camp Tumblr Inventress Emily Gigler and Autostraddle Calendar Girls Miss October 2014 Kai, Miss February 2014 Chloe and Miss June 2013 Dani.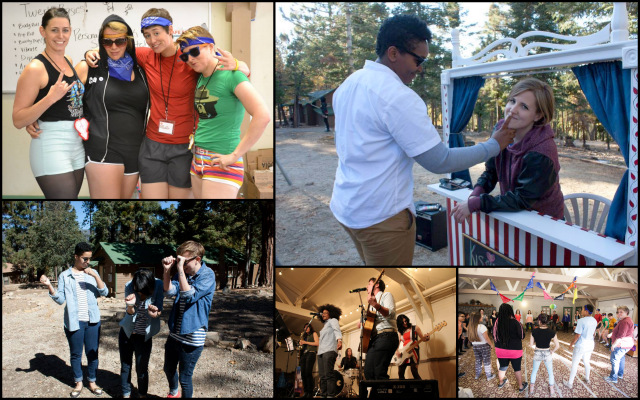 ---
A-Camp October 2013 Recamp #3: Day Three
Friday, October 11th: Day Three of A-Camp
Haviland, The Talent: I arrived Friday morning, and was surprised at how mellow and quiet it was…until I realized there was a good bit of recovering happening from the night before! I went into breakfast, and received a standing ovation from a few of the staff members. And then Riese and I hugged it out, in our usual "I love you so much I've missed you so much omg" way.
Riese, Runaways Counselor and Editor-in-Chief/CEO: Friday morning brought sunshine and also new humans! YouTube superstar Hannah Hart and her manager Sarah, media-makers Lex Kennedy and Megan Benton of Me & My Bois, Actress/singer Haviland Stillwell, Autostraddle Design Director Alex Vega and Animal Trainer to the Stars Mary Tully all joined us in time for Friday's carnival. Also even though she wasn't on staff, one of my favorite humans in the lesbian universe, Kathy Wolfe (founder of Wolfe Video) and her wife Barbara also came on Friday. This added to the already high-level excitement already simmering in our hearts.
Friday Morning Activities

Both Sides Now: A Non-Monosexuality Panel (Dani RDS, Stef & Rachel) // How To Be Alone (Grace & Vanessa) // Basic Bitches Ballet (Chloe) // Blog Anything/Read Something (Laneia, Carolyn & Riese) // Body Positivity and Self-Care (Dani, Kaylah, Mey & Kai) // Encaustic Painting (Bren)
Hoop Dreams (Brittani) // Tardy For The Party: Coming Out Later In Life (Dani, Laneia, Sarah Evan & Donna) // Writing Dirty (Ali & Riese) // Queering Academia (Rachel & Alice) // Custom Personalized Glassware (Liz C)  // Slam Poetry (Emotions the P.O.E.T)
Stef, The Gossip Counselor & Music Editor: The Bisexuality/Non-Monosexuality/Sexual Fluidity Panel is a strange beast, and I can't say enough how glad I am that it's something we've started doing at every camp. Daniela, Rachel and I were all coming at this panel from different places in our lives and relationships, and this discussion focused mostly on how to queer heterosexual relationships or our identities in straight spaces.
Rachel, Girltrash! Counselor & Senior Editor: The last time we ran a panel about sexual fluidity, we got a sense of what conversations about sexual fluidity and bisexuality might be useful to have, and so it was exciting to get to see that happen with campers. We talked about some really useful stuff like how we define sexual orientation, the challenges facing the bisexual community, and how bisexuality impacts our relationships. A lot of people had really interesting and articulate things to say about identity, relationships, and resources, and I feel like I learned a lot!
Stef: Everybody brought up a lot of really wonderful points, but the best part was knowing that everyone in the room could look around at all the other attendees and know that there are lots of us bouncing around the Kinsey scale, and that they weren't alone – at camp or otherwise.
Dani RDS, Stormtroopers Counselor & Contributing Editor: Have you been to any A-Camp panels? Then you know what it feels to realize you just surrounded yourself with about a hundred of the most thoughtful, open-minded English-speaking queers on earth. I walked out of every panel amazed at the stories both panel and audience members were willing to share, stories that sometimes challenge me and my experiences, but never cease to affirm my love for A-Camp. Where else can we have this kind of town meetings?
Chloe, Blue Crush Counselor & Calendar Girl: I was so nervous that nobody would attend my Basic Bitches Ballet class, but I had nine lovely humans prove me wrong. Ballet can be hard and intimidating, but they were all such good sports and tried everything I threw at them. It was so refreshing to teach what I love to do to a room full of wonderful queer women compared to the equally wonderful but much crazier group of 4-9 year olds I teach on a weekly basis back home. Dancing with all of you and seeing the smiles on your faces was such an amazing experience, thank you so much to all of you that came to class!
Riese: When I was putting together cabins for camp, I noticed that we had a lot of women over 28 who'd just come out, or who had just gotten divorced and come out, and most of them also mentioned feeling like they were the only ones in this situation, which was obviously not true! So I asked Laneia, Dani and Donna if they'd be interested in leading a discussion about Coming Out Later in Life, which Robin entitled "Tardy for the Party."
Donna, The Gossip Counselor: The Tardy to the Party Panel was maybe, probably, one of the greatest moments I ever had, ever. It was definitely one of the most moving.
Laneia, Runaways Counselor & Executive Editor: I was super nervous about Tardy to the Party! I always worry that conversations geared toward older / "unconventional" (whatever that means) queers won't be well-received or interesting, which is a dumb thing to think, I know. I was afraid we wouldn't have anything to really talk about, but that ended up being the exact opposite of how things went down.
Donna: The amount of raw emotions and honesty in that room was crushingly beautiful. The other panelists and I shared our stories about coming out later in life, and there was, at first, a kind of stillness in the room. I think that was from everyone relating what they heard to their own experiences. Then there was just an outpouring of tears, feelings, experiences, concerns, hopes, fears, joys, and camaraderie.
Laneia: When the audience started talking, it was everything. One camper shared a story about the time they realized they could be their authentic selves and still have a family, because they'd finally found people in similar situations who'd also had kids, and I swear it was all I could do not to fly out of my seat and hug them and cry until my eyes were bleeding.
Donna: There was total acceptance and understanding in that room. People who often felt alone felt connected at that instant, and I was so happy to be a part of that moment.
Laneia: I know we talk about it to the point of ubiquity, but this panel solidified for me the importance of community, and the importance of having a space to just raise your hand and say everything you couldn't say before and know that you're safe, that those people will take care of your words and keep them — because they needed to hear them as much as you needed to say them. Ugh I just loved everyone in that room so much y'all.
Rachel: Alice and I had never done a panel about academia before, and especially given as we were planning it in the midst of our own classes and grading, we weren't sure how Queering Academia would go. (I'm actually still working on the grading I was supposed to get done at camp. SORRY, KIDS.) It turned out that we got to meet and talk with a bunch of other really cool people with a variety of angles on teaching and learning, from other grad students, people who work with small children, dance instructors, and more. It's really nice to know that I'm not the only one out there! I feel like our workshop helped facilitate the later meetup of grad students at lunch one day — I had to miss it this time, but I'll be there next time!
Lizz, Flashdance Counselor & Style Editor: I'm not usually able to get to a lot of other people's activities, but I snuck into Encaustic Painting with Bren. It was so cool! You can paint with a blow torch and wax! For real!
---
Next: Lots of fun at the carnival, so much fun at the carnival!
Pages: 1 2 3 4See entire article on one page