Sometimes we get press releases about GLBT happenings that we'd love to attend but simply cannot because we are at home re-writing posts erased by bluehost and interviewing the cast of Gimme Sugar. That's when our intrepid interns hit the town, in a little feature we like to call INTERN CAMP CHALLENGE.
This week, Intern Jess goes to the theater to see HAIR, Intern X (Alexandra Walters) checks out a reading of a new screenplay called "Greener Pastures" and Intern Elizabeth Bradshaw watches the hyped-in-her-hometown (Chicago!) Schoolboy to Showgirl: The Alexandra Billings Story.

Intern Jess lets the sun shine in at HAIR (Revival, Al Hirschfeld Theater, New York City)
HAIR is about connection. It's about how to be a part of society, come together as a people and stand up for what you believe in — all at the same time. It's so eerily relevant in 2009 that it could easily pass as a debut rather than what it is; a revival of the 1967 classic with universal themes relating to war, race,  political activism and sexual freedom.
The (often kinda gay) plot: Flamboyantly restless Berger (Will Swenson) and sensitive, soul-searching Claude (gay rights advocate Gavin Creel) live together with Sheila (Caisee Levy), who both men seem to share at times. They reference bisexual experiences (and kiss briefly) and are so touchy-feely with one another you'll spend most of the second act hoping they're about to get it on. The female love interests are there, but the Berger-Claude friendship (or, bromance if you will) dominates.
The Tribe's hippies freely swap sexual partners (I slept with you last night, I'm sleeping with her today) and reference/imply orgies all around. Woof (Bryce Ryness)'s (homo)sexuality is addressed via his masturbatory fantasies of Mick Jagger but it's a non-issue to his friends (what with all the free love happening all around).
Rebellion against sexual repression ('Sodomy') and interracial attraction ('Black Boys') run rampant throughout the Tribe.
It's inevitable to compare HAIR to RENT, and for good reason: Jonathan Larson was incredibly inspired by the original production. HAIR's revival will likely usher in the next wave of NYU students camping out for lotto tickets.
Like RENT, it's fantastic that a new generation will have something so meaningful to see and call their own — something with great potential to inspire freedom of thought and body.
Here's the cast performing on The Tonight Show with Conan O'Brien:

Alexandra Walters (a.k.a. Intern X) goes to a staged reading of Greener Pastures by Lindsay Gambini
Greener Pastures is screenplay about two women in the year 1816 who defy convention by being hot farm girls who want to sleep with each other. They struggle with their feelings and ultimately the boyish farm girl (think Shane in cowboy boots) treks cross-country pining for the wealthy & suffocated girl who just wants to paint pictures. They reunite and are inevitably discovered during their happy honeymoon period; shocking the religious folk with their hot lesbian sex. Each girls respective relatives (who all seem more jealous than judgmental) tell them that they are supposed to get married, stop their "relations", and be miserable like the rest of the world. As I don't want to spoil this entire (potential) movie lets just say that it ends with smiles all around.
A straight read of a screenplay is always difficult to ascertain, as it's only half the show without the many conventions of film (set, props, soundtrack, etc.) The actors were fantastic and created potentially loveable characters. The cute relationship development scenes were really fun and I would've preferred more of those over more familiar conversations like "what do two girls do in bed?" It made me wonder if it's becoming increasingly difficult to tell a story that feels fresh to the gays without alienating the rest of the audience.
There are some really endearing scenes and the boyish farm girl would make many a lesbian swoon. I think it needs some changes to max out the Brokeback Mountain-style crossover potential, and I look forward to seeing it if it gets made!

Elizabeth Bradshaw (a.k.a Intern Elli-B) watches "Schoolboy to Showgirl: The Alexandra Billings Story"
I recently watched "Schoolboy to Showgirl: The Alexandra Billings Story," a roughly 30-minute installment in the documentary series "Out & Proud in Chicago" on WTTW about the first transwoman actress to play a transgendered character on TV. I was skeptical — how much life can be packed into a 30 minutes? On the same network that airs Sesame Street? Quite a bit, it turns out — both about Alexandra and about trans history.
Narrated by the woman who gave Alexandra (then "Scott") her first kiss, half the program covers Scott/Alexandra's life pre-transition. The son of a musical theater director (LOL!), Scott was enthralled by the theatre and begged Dad to be the lead hooker in the Can-Can show. There was no such thing as "transgender" in the 70s, so when Scott was 16 and puberty came full-on, the long hair and feminine clothing didn't feel right anymore. To escape the body he loathed, Scott attempted suicide. He survived, however, and in his isolation an ad for Chicago's Baton Club seeking female impersonators made Scott realize he wasn't alone and there were people out there like him.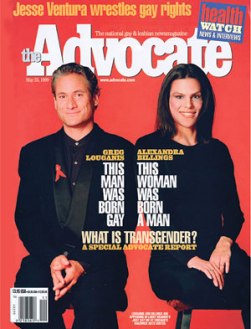 The second half of the doc uses Scott's years as a crossdresser as a vehicle to discuss events like Stonewall, drag clubs and cross-dressing laws. Scott — still living as a man and performing as a female impersonator in clubs — finally got her big break at Chicago's Club Victoria talent night, where she made J-Beals proud doing a Flashdance number in spandex & legwarmers. As Chante, Scott performed all over Chicago and won pageants despite the anti cross-dressing law on Chicago's books at the time. Cops often raided bars looking for law-defiers not wearing the mandated two items of men's clothing. "What, you mean like tube socks?" Scott answered when questioned during a raid.
The documentary neatly glazes over some of the more controversial issues of her life — it avoids mentioning sexual orientation or partners, and then Alexandra herself says that most of her money from working clubs in the 80s went to drugs and how in this downward spiral of self-loathing, feeling like an alien and doing drugs, she met a drag queen Ginger Spice (for realz!), learned about the transitioning option and decided to become a "real" singer/actress rather than just a lip-syncing female impersonator.
Then! Poof! Magic! Scott becomes Alexandra, gets sober, and starts getting roles in the theater like the lead in Lesbian Vampires of Sodom. Then Alexandra discovers she has acquired HIV from unsafe sex.
Despite this Alexandra's life goes on — she reconnects with her best friend from high school, Chrisanne, and the two get married at the Bailywick Theatre in 1995 (before Naked Boys Singing was playing there, I'm sure) and then they actually got married in California (when same-sex marriage was legal). In addition to being the first transwoman to play a trans character on TV, recent years her roles have included spots on ER and Grey's Anatomy.
At this point of the wrap-up the documentary throws all kinds of stats about discrimination against the trans community at you. And it mentions RuPaul. Then Alexandra points out that "I'm eternally grateful. And very lucky." True 'nuff: she's survived a suicide attempt and is living with (but not dying from) AIDS and has avoided getting hate crimed.
She has an active career as an actress, singer and teacher and was the Grand Marshal for Chicago's Pride Parade this year!