Carolyn: High Tea is always a relaxing break from the whirlwind of everything else going on at camp, and a great opportunity to down three cups of genmaicha in thirty minutes while talking about tea like it's going out of style (Which it's not. Tea is forever.). On some level, High Tea is also an elaborate excuse to hang out with new people while still trying new things, and the results were gently caffeinated magic.
Ali: Duh. The Whiskey Tasting, Alex's baby, is consistently wonderful. And this year we had a sponsor! Hudson Whiskey's contributions were fabulous. I can't get over that their Baby Bourbon listens to music as it ages. But you know me – I'm a rye girl. So the Manhattan Rye and the Whistlepig Straight Rye were my favorite selections of the day. I tasted after anyone else because last time I tasted with everyone else and making the cocktail at the end was really hard – the altitude, man. Blame it on the altitude. This time, we all tried an aged Manhattan using one of the Hudson Whiskey barrel aging kits.
Crystal: I dropped by the Whiskey Tasting which seemed like a super classy event. Alex and Ali were wearing waistcoats and looked so sharp and I wished that I liked whiskey, right then.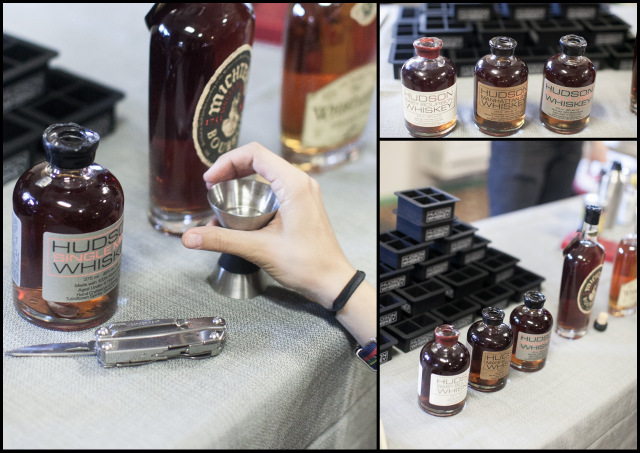 Megan, Program Support Coordinator: I gave Laneia all of my whiskey tastes because I secretly don't like whiskey very much. I think she appreciated this.
Laneia: I did. Also Ali and Alex do the best whiskey tastings! I've never attended another one, but I'm sure nothing could top this, because vests. And smarts.
Sophia: Gosh the Carnival was fantastic, I watched people perform in the sunlight, and people smash balloons and chat and play games, it was just all so ridiculously jolly.
---
Femme Friday Meet-up
Mey: Last camp we had some kind-of unofficial Femme Meet-ups during lunch, but this time we decided to do it right. We all got dolled up after the carnival in our femmiest outfits and met inside Eagle. We had free drinks provided by A-Camp sponsor Strip and Go Bare and that just made it better. There were high femmes, blue jean femmes, lazy femmes, low femmes, and all of them were the best. Meeting all the other femmes and getting to spend time with them is absolutely one of my favorite parts of camp and it gives me so much strength and power to make it through the rest of the year. I love all my femmes and I can't wait to see you at next camp!
Liz C: On Friday afternoon the cutest girl at camp asked me to prom. She brought me a carnival balloon with 'pop me' written on it. And inside was a tiny note that read: "Will you go to prom with me? Love, Brittani" This was my first time being asked to prom and I thought it was pretty much the best thing ever! At least until I saw one of my camper's prom proposals. It was an amazing hand-glittered proposal complete with dangling pockets with reasons to say yes and reasons to say no, and a note that finished with: "I think that you're the bomb so would you be my date to prom?" RHYMING! GLITTER! ACCESSORIES! So many cute prom proposals guys – anyone else have good stories?
The Evening Begins…
Riese: Haviland and Marni were practicing the Spice Girls medley for A-Camp-A-Pa-Looza in our cabin before dinner and at some point I hopped in on the "rap" portion of Wannabe, which inspired Haviland to suggest that I hop in on the performance itself, dressed as my fashion icon Sporty Spice, to do the "I'll tell you what I want what I really really want" bit. Apparently Robin was offered this job and turned it down, clearly it was a hot position. Haviland had a puffy vest, so that was taken care of. Lizz, because she brings a magical closet foldable into a suitcase to camp, had a hot pink sports bra. All I needed were some track pants. At dinner, I asked around to no avail until I spotted a girl in track pants at dinner. I sort of stalked around like a creeper talking to people until I hit up Sophia for the details 'cause the girl, Andrea, was her camper, and I got Sophia's blessing to ask Andrea to take off her pants and give them to me. All the Holograms thought I was insane but I promised them it would all make sense at some point.
Chloe: After dinner my girlfriend asked me to A-Camp Prom, and it was the sweetest thing anyone has ever done for me. After dinner on Friday we went back to my cabin to take a quick nap, but she was acting incredibly strange. Her cheeks were bright red and hot, she couldn't look directly at me, she was super giddy, wasn't able to nap, and insisted we leave early to get good seats for DeAnne Smith's comedy night. Once we got to Eagle, she immediately disappeared off to the bathroom. Then, Grace made an announcement to keep the area in front of the projector clear and started playing a Powerpoint. It was covered in clipart cats and at the end of it, it said "Miss February (Chloe), will you go to Prom with me?" and out stepped my girlfriend holding an adorable bouquet of sticks, due to the lack of flowers on the mountain. I was so surprised, filled with butterflies, and couldn't stop smiling. Oh, and of course I said yes!
---
Comedy Night Hosted by DeAnne Smith
featuring: Lane Moore, Bren Christolear and DeAnne Smith
Carly: DeAnne Smith's Spectacular Comedy Spectacular (that's the actual name of this event) was spectacular. Bren and Lane were also spectacular. SPECTACULAR!
Robin: What can I say about our Comedy Night? I loved it. Bren, Lane and DeAnne were all hilarious.
Liz C.: Bren had a killer stand up set. I die every time I picture her so earnestly informing Brittani that "b's really aren't that hilarious."
Hansen: Deanne's comedy show was so much fun. Comedy night might be my favorite night. I had such a blast watching Bren do comedy! She's so quiet in person, but hilarious in our daily emails, so I was curious to see what she'd be like live and on stage. She was amazing!
Crystal: Bren and Lane killed it. Hilarious.
Laneia: I was ready for DeAnne Smith this time around — I had extra canned champagne and tissues, because the first time she did stand-up at A-Camp, I ended up sobbing/laughing so hard that I almost hyperventilated and totally ruined my mascara.
Riese: I have laughed that hard twice this year, the first time was Deanne's set at May Camp. I also love watching other people laugh so hard? I guess I'm a comedy night voyeur.
Carmen: Before comedy night, I arranged a group of Brittani's biggest fans (me, Liz, Alice, and Rachel, to name a few) and gave us all seats in a row so we could hold up a series of signs that read "B is hilarious." To my extreme disappointment, B never did standup – but to my extreme pleasure, I laughed my ass off for the entire 60-minute thang and even got called out by DeAnne Smith for being too happy. (Later on, DeAnne and I went on to become friends in my most natural habitat: Klub Deer.)
Laneia: She did not disappoint, obvs. DeAnne Smith is the funniest damn spritely, quirky queer this side of the Struggle Bus.
Haviland: DeAnne's comedy is so funny, she has a way of making the audience feel comfortable while she's on stage, and simultaneously super uncomfortable, while telling her mortifying moments. What a rising star!
Marni: DeAnne Smith is a gifted comic and always a joy to watch. She has this amazing ability to make everyone in the room feel like her friend and can land just about any joke because she's so self-effacing and accessible and just as much of a weirdo as a lot of us.
Stef: DeAnne Smith is a special creature. Watching her earnestly serenade Torre with a ukulele was one of the highlights of my life.
Hansen: Deanne was also amazing as ever (the vulva slap story is never not going to bring tears to my eyes) and then she busted out this little stunt where we had to slow-dance with someone for three minutes while listening to "Groovy Kind of Love" by Phil Collins. Three minutes is a long time to be that close to someone you might not know! Thankfully, Crystal claimed me as her dance partner, so I'm definitely not going to complain about how long the three minutes seemed.
Crystal: DeAnne making us slow dance to Phil Collins created a very special bonding moment for me and my co, Hansen, and probably many other people too. Thank you, DeAnne.
---
 Next: A-Camp-alooza and Hip-Hop Night at Klub Deer!
Pages: 1 2 3 4See entire article on one page