A-Camp-alooza
featuring: Stef Schwartz, Marni Kellison, Haviland Stillwell, Somer Bingham, Lex Kennedy, Alex Vega, Cara Giaimo and Donna Rizham
Carly: Ok guys, real talk: I sorta was worried this was going to be a mess, maybe? But then once I saw the first rehearsal I was like OH SHIT THIS IS GOING TO BE AMAZING. And it was. It was totally major and flawless.
Marni: A-Camp-alooza was definitely our most energetic and fun night of music so far. We decided to try to create more of a music festival, dance and sing along-type vibe, and it worked out better than we could have hoped!
Stef: The minute Marni explained the concept, I knew that it had always been my life's ambition to play "Deceptacon" to a room full of screaming queers. Thankfully, Cara and Alex were on board and they helped make my dream a reality.
Robin: It was the perfect solution to our staff driven music show. The "family band" had the entire crowd on their feet dancing and singing along to the best 90's throw-back hits.
Haviland: It was a total blast!
Riese: The music night is always my favorite thing, because it involves: 1) my favorite people and 2) my favorite songs.
Stef: As usual, we weren't able to rehearse very much (in fact Alex had only ever played through 3 of the 9 songs with any of us), but we practiced just enough to be able to wing it.
Haviland: On a scale from 1-10, we had rehearsed… not enough, to ease my perfectionistic mind, but my heart took over, etc. and it went really well!
Brittani: I don't think lesbians being musically gifted is a stereotype but if you've ever watched this group of knuckleheads put together an entire makeshift concert in a few hours, you'd agree it should be.
Somer: Everyone loves a sad, depressing Ani DiFranco ballad, but This. Was. Awesome. In my heart of hearts, I hope it is always this way.
Stef: We kicked off with "Crazy In Love" with Donna absolutely killing it on saxophone, and I knew we'd be just fine. Kai, Gigler and Kaylah were the best back-up dancers anyone could ever ask for, and everybody in the band brought it hard the entire show.
Kaylah: I'll never forget dancing in the opening number. As much as I aspire to be the first on the dance floor a la Footloose, I forgot how nerve wrecking it would be. I convinced Kai, Gigler and myself that we would never be asked back to camp because of the hot mess we displayed… then I saw the dance floor full of moving bodies and I knew it was a success. I think Ren McCormack would be proud.
Riese: Kai, Emily and Kaylah were fantastic Fly Girls and Brittani and Marni were a very queer Jay-Z and Beyonce.
Stef: I rarely looked up from my bass cos I was terrified of fucking up (and some of those songs are kinda hard!), but whenever I did, I noticed the dance party on the floor getting bigger and bigger.
Haviland: So much love! We were hoping everyone would dance and sing along, and they DID!
Brittani: The secret VIP of A-Campalooza was Donna on sax because that means THERE WAS A FUCKING SAXOPHONE.
Carly: Stef is the best band leader and holy shit Donna on sax and everyone was so incredible and talented and fun!
Somer: Donna and I met when I gave her a flier for one of my shows. Since then, she's watched me perform approximately 3,782 songs on stage. This camp, I got to watch HER on stage, sexy sax in hand, with the rest of the staff band, and I fell in love all over again. Even when she almost threw up from stage fright.
Stef: I can't sing to save my life and yet for some reason, at A-Camp I never care. A-Camp-alooza was hands down the most fun I have ever had at camp, or anywhere in my life. Where else but A-Camp do I have an opportunity to wear the Union Jack dress I bought in 2007 for the Spice Girls reunion and have kept hopefully in my closet ever since?
Marni: Stef in the Union Jack dress gave me life.
Cara: Have never had a better time onstage; have never allowed myself to feel more like Britney Spears; have never been more in friendlove with Stef Schwartz; have never seen Vanessa be in so many places at once or hold so many cameras; have never been more impressed by a group of musical weirdos.
Stef: Cara was my co-counselor last camp, and I was thrilled that we worked together so much for this show. We masterminded a cover of the Replacements' "Androgynous," split up the same way Joan Jett and Laura Jane Grace had covered it. Also, Cara's version of "Hit Me Baby One More Time" came out smoky, sexy, and amazing, and I had a lot of confusing feelings for her after that.
Haviland: It was exactly the way I love to perform – with the feeling that everyone there is in on it. Also, I just love making music with Marni, Stef, Vega, and the rest of the A-Camp Family band. This was a REALLY happy, cool group of campers and staff. I am so happy to be part of this community, and to get the opportunity to introduce more and more people to it. We are so good at growing!
DeAnne, The Talent & Writer: OH MY GOD. Everyone was so hot and amazing. Donna on the sax, Somer sounding exactly like Belinda Carlisle, Stef being Stef, Alex holding it down cool as fuck on the drums, Brittani rapping like a superstar, Freakin' Marni, Hat-clad Cara; it was almost too much.
Riese: Big thank you to Somer and Stef for enabling my subconscious to reclaim "Heaven is a Place On Earth" as a magical and lovely song that I enjoy listening to rather than that song they played at Delta Gamma during the only night of sorority rush I attended 13 years ago.
Stef: We closed out with a Spice Girls medley featuring a guest appearance by Riese/Sporty Spice, and I don't think I've ever been happier.
Brittani: This performance was my favorite of the A-camp musical series because of how interactive it was. Most of the songs were anthems once upon a time so everyone knew the words and sang along. There was even a dance floor in front of the stage and during the Spice Girls Medley, a Posh pit (Get it?! I'm so sorry for that joke). Camp is always a learning experience for me because I didn't know that lesbians love the Spice Girls. They were never a thing with my group of friends growing up. Probably because we were all black and everyone couldn't be Scary Spice.
Yvonne: A true highlight of A-Camp was when virtually every single person in the room was singing on the top of their lungs and with all their heart to Spice Girl's "Wannabe".
Crystal: I'm in love with everyone who played on the A-Camp-Alooza stage. Our Heartthrobs cabin danced to TLC and the Spice Girls.
Robin: The Spice Girls medley was fantastic but I think my favorite was Marni's mash-up of Waterfalls by TLC and She Keeps Me Warm by Mary Lambert. Incredible!
Riese: Everybody called for an ENCORE, you guys! This was funny because obviously it's not like this band was a real band with a back catalog from which to choose a hit, so they quickly decided to do "Doo Wop (That Thing)" 'cause we did it at last camp, with Lex Kennedy filling in for Gabby, and then Anne Marie hopping up for the other verse.
Crystal: when the band played "Doo Wop (That Thing)" as an impromptu encore but no one knew the words, camper Anne Marie jumped on stage to fill in. She became my hero that night.
Carly: Her jumping on stage was just the best.
DeAnne: Whoever stepped in and finished that Lauryn Hill rap definitely won camp. Oh, and just so you know, from now forward, for the rest of life, whenever I hear Mariah Carey's "Always Be My Baby," I'll think of everyone at A-Camp. Time can't erase a feeling this strong.
Laneia: A-Campalooza can never be topped. How do we know so many talented attractive hilarious people? And how do we convince them to come with us to a forest on a mountain and then SING FOR US??
Vanessa: Everyone is going to say how amazing this was, so I'll try to be brief. This was the best night of my life. It seems like I'm exaggerating but I'm actually not. I can't pin down a best part. Marni singing a mashup that included Mary Lambert? Lex Kennedy's entire performance? Stef and Alex killing it on literally every single song? My cute girlfriend being the best Queer Britney Spears I've ever seen? Having everyone tease me for holding up two iPhones for the entire performance so I could take video AND photos at the same time (for the record, one of the phones belonged to Stef, AND if I hadn't pulled my ridiculous Stage Mom Situation we wouldn't have amazing YouTube videos to relive the entire performance with, so you're all WELCOME)? Watching my campers be THE CUTEST HUMANS ALIVE? I dunno. Marni had told me her goal was to make the concert feel like "one of those scenes in a TV high school drama, usually set in Southern California, where they're at prom or something and there's an unnecessary band and then everyone starts dancing around the stage and it would never happen in real life but it always looks totally natural." We were both doubtful that we could achieve that dream. We were so wrong. If I had to choose one scene of my life to relive over and over and over until I die, it would be A-Camp-alooza.
Set List [with video links]
Crazy in Love (Beyoncè & Jay-Z): Marni Kellison (guitar/vocals), Stef (bass), Alex (drums), Lex (vocals), Donna (sax) and Brittani (Jay-Z) with Dancers Kaylah, Emily & Kai
I Wanna Dance With Somebody (Whitney Houston): Haviland Stillwell (vocals), Marni Kellison (guitar/vocals), Lex (vocals), Stef (bass), Alex (drums)
Always Be My Baby (Mariah Carey): Haviland Stillwell (vocals), Marni Kellison (guitar/vocals), Stef (bass), Alex (drums)
Decaptacon (Le Tigre): Stef (bass/vocals), Cara (bass/vocals) & Alex (drums)
Androgynous (The Replacements): Stef (bass/vocals), Cara (guitar/vocals) & Alex (drums)
Waterfalls / She Keeps Me Warm (TLC/Mary Lambert mashup): Marni Kellison (guitar/vocals), Haviland Stillwell (vocals), Stef (bass), Donna (sax), Lex Kennedy (vocals) & Alex (drums)
Heaven is a Place On Earth (Belinda Carlisle): Somer Bingham (guitar/vocals), Stef (bass/vocals) & Alex (drums)
Hit Me Baby One More Time (Britney Spears): Stef (bass/vocals), Cara (guitar/vocals) & Alex (drums)
Spice Girls Medley (Spice Girls): Haviland Stillwell (vocals), Marni Kellison (guitar/vocals), Stef (bass), Lex Kennedy (vocals), Cara (vocals)
---
Klub Deer Hip Hop Night
Brittani: As one of Klub Deer's biggest theoretical financial supporters (I support Cee emotionally, it's better than money), I was jazzed (that's right, JAZZED) that my pleas for a hip hop night had finally been heard. Not only were they heard, I got to provide said music for part of it and 'twas a magical experience. The official A-Camp Twerk Team performed to "Get Low." Carmen danced with her headlamp strobe light on the fireplace. Torre stood at the end of the "DJ booth" as my own personal bouncer. If you've never heard a room full of queers turn up screaming, "Martin had a dream!" you're missing out.
Hansen: I have a very interesting relationship with Klub Deer. Sometimes groups of queers dance up on me while I look horrified because I'm embarrassed by that much attention. Sometimes camper Jeanie teaches me how to moonwalk. But one of my favorite things in the world is singing and dancing like an idiot to pop songs, so I'm really glad A-Camp fulfilled this dream with A-Campalooza turning into a sing-a-long, Prom AND Klub Deer.
Dani RDS: Klub Deer is the best party you'll go to all year. Every night I planned on going to bed by 11pm, but by the second night I knew all efforts would be in vain. It's hard to explain exactly how a lodge in the middle of the woods can feel like the VIP section of the best club in town, but every camp the Klub Deer team does it. It's like a friend went through the trouble of renting a penthouse and flying all your friends in to party every night for a whole weekend. Also, if you've never been talked how to moon-walk, don't worry, camper Jeanie has that sh*t on lock – even on rugged carpeting.
Club Hawk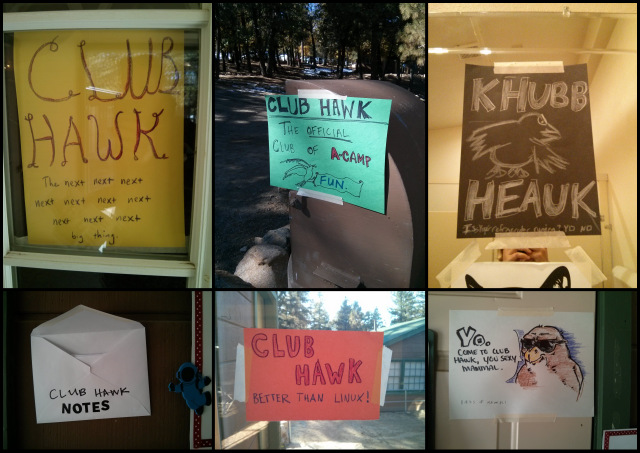 Riese: This camp, somebody began a viral marketing campaign for Club Hawk to compete with the ubiquity of Klub Deer. I was canvassing for Club Bluebird, a dimly lit enclave for poets and lovers, but I really can't say if anybody showed up for that or not.
Carly: I would also like to re-state that I am staunchly pro-Deer and would like to inform everyone that there is no Club Wolf or Club Hawk.
Cee: The Klub Hawk takeover failed. You guys, there is no Klub Hawk. Nor is there a Klub Wolf. There isn't even a hawk lodge. Don't listen to what you've heard, we all know Klub Deer is the best (only) club on the mountain.
Cara:  I don't know who invented Club Hawk. Probably it has always circled, somewhere in the thin mountain air, just waiting to reveal itself to a camper who was strong of heart, pure of spirit, and great at divebombing. In any case, during initiation, my brilliant cabin enabled my addiction to hawk-based signs by undertaking a massive viral marketing effort for the Club (the best club on the mountain). There were a ton of great signs but I particularly remember Kaida's, which offered pull-tabs that directed the hapless tab-pullers to all different spots on the mountain; Em's, which described various amenities of the club ("for when you need a good joke and some pasta"), Emily's because woah she's an incredible artist, and June's, which promised LIVE NUDE HAWKS. Greatest club on the mountain.
Somer:  I wasn't sure whether to believe all the hype surrounding Club Hawk. Was it really better than Linux? Was it cooler than Google Glass? Would I really "fly high" and "be my sexy self" there?
Yes.
Situated directly above Club Deer, only accessible, it was rumored, through a secret door in the back of the middle bathroom with a special knock and the code word "Feelings," Club Hawk was my favorite part of A-Camp. Honestly, I don't know how there was enough electricity on the mountain to power the lasers and the pummeling bass. The aerial dancers were ok, but when Lady Gaga exploded from a hidden panel on the stage and gave everyone a lap dance, I almost passed out from the excitement. Also, Tegan & Sara took turns spanking me; at first it was super-disorienting to be surrounded by kinky identical twins, but it turns out I'm really into that.
---
Well, that's Friday for ya! Tune in next week when we wind this all down with the epic last-day-and-night recap.
Pages: 1 2 3 4See entire article on one page