Hello and welcome to this new thing we're trying out where we help you figure out what you're gonna put in your mouth this week. Some of these are recipes we've tried, some of these are recipes we're looking forward to trying, all of them are fucking delicious. Tell us what you want to put in your piehole or suggest your own recipes, and next week we'll check in and talk about which things we made, which things we loved, and which things have changed us irreversibly as people. Last week, we ate greens.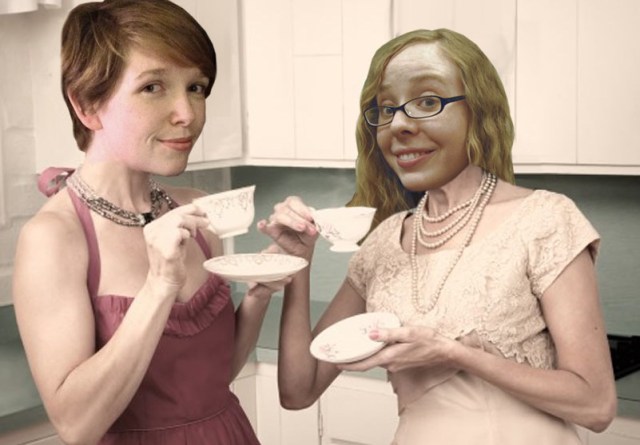 Let's have a chat about the best food in the entire world: avocados. I can't even tell you how many avocados I've eaten in my lifetime. Five bazillion? Close enough. My mother is a hippie from Southern California, and instead of getting candy or junk food as a kid, I'd get sliced avocado as a snack. You better believe this turned me into an avocado fiend. I average about two or three avocados a week (I'd eat one every day if I thought it was healthy for a person to consume that much creamy green deliciousness). Dare I say avocados are the perfect food? First, they're cheap (my grocery store lists them at 10/$10 or 5/$4 like every other week). They mix into other recipes, they're delicious in desserts and they add the perfect amount of richness to any bite.
It seems that my love of avocados is a shared love here at Autostraddle. Turns out we've posted a million recipes featuring avocado, have featured them in Ode to My Pantry and hoard many others from the corners of the world wide web. Here are some of our favorite avocado recipes, but you won't see any guacamole here. Come on, that's predictable. Branch out!
---
1. Avocado Pie
---
2. Chocolate Avocado Pudding
---
3. Daydream Poke
---
4. Ovo-Cados
Hansen: This is one of my favorite recipes ever. It combines the two loves of my life: runny yolks and avocados. I love Marika's version of it from Eggs In Exciting Holes, maybe the best title for a post we've ever come up with here at Autostraddle. The avocado is smooth and adds a bit of needed tang to the rich, creamy yolk. Oh yum.
---
5. Chococado Cake
---
6. Garlicky Avocado Grilled Cheese with Tomato Pesto
---
7. Creamy Avocado Pasta
---
8. Avocado Bacon Egg Rolls
---
9. Avocado Banana Bread
---
10. Chicken Avocado Burgers
---
11. Cucumber Rolls with Creamy Avocado
---
12. Avocado Hummus
---
13. Southwestern Avocado Salad Dressing
---
14. Sweet Potato and Avocado Burgers
---
15. Cilantro Lime Cauliflower with Avocado
---
16. Fudgy Dark Chocolate Avocado Cookies
---
17. Spicy Watermelon and Avocado Salad
---
18. Smashed Chickpea and Avocado Salad
---
19. Avocado Pesto
---
20. Green Goddess Grilled Cheese Sandwich
---
21. Chicken Avocado Soup
---
22. Chicken and Avocado Enchiladas
---
23. Avocado Fries
Hansen: I had tried making these before with a baked-version recipe and they were so sub-par, I had almost given up on the idea all together. But here's the trick: don't bake them. These are FRIES. If you want avocado coated in panko that gets a little soggy and not crispy, go ahead and bake them, but if you want something so delicious you swear you'll never eat anything for the rest of your life, throw caution to the wind and toss some oil in the skillet (but also please be careful, I don't need you getting burned).
---
24. Avocado Mac and Cheese
---
25. Spinach, Mushroom and Avocado Quesadillas
---
26. Avocado, Cream Cheese and Salsa Pockets
Rachel: HAHA WAIT WHAT ARE YOU SERIOUS? I'm mad that there was anyone on earth who knew that these existed and didn't tell me about them before now. WHAT IF YOU ALSO PUT BLACK BEANS IN THEM. WHAT THEN.
---
27. Bacon Wrapped Avocado Fries
---
28. Chilled Avocado Soup
---
29. BLT Stuffed Avocado
---
30. Grilled Salmon with Avocado Salsa
---
31. Avocado and Greek Yogurt Chicken Salad Sandwich
---
32. Carnitas Avocado Pizza
---
33. Brussels Sprout Salad with Avocado and Pumpkin Seeds
---
What are your favorite avocado recipes? Share them in the comments!