The avocado is a versatile fruit. It does well in a lot of forms – guacamole, sliced on a sandwich, cut up in an omelette, mashed up and exfoliating your face. I generally use avocados as a crisis meal if I have no time for anything else, cutting one in half and mashing it up in its skin with salt and pepper and maybe some shredded cheddar cheese. But today I am branching out, and I am going to take these avocados that are quickly ripening in my kitchen and turn them into chocolate pudding.
I made this once before, when only a year ago I lived in the least crunchy co-op ever, which was called Meat House. This is not a lie. It still exists. I loved my housemates there, but they just did not fully grasp the excellence that is this pudding. I feel like it will receive appropriate love here, though, so let's get going.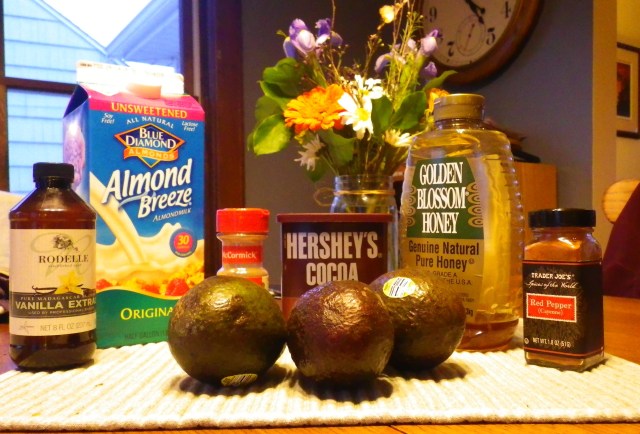 Things you need
Ingredients
3 ripe avocados (or however many avocados. I had three, but if you have more/fewer, adjust the rest accordingly.)
3/4 cup unsweetened cocoa powder
3/4 cup honey (except I used less because I am always terrified of making things sweeter than I like them)
3/4 cup unsweetened almond milk
1 tbsp vanilla
3/4 tsp cinnamon
1/4 tsp cayenne
a pinch of salt (I know, I know, a "pinch" is the least exact, but I added an arbitrary amount because I decided it needed some at the end. Maybe this is the exact reason why so many recipes call for a "pinch" – the pros don't know either, but they cover it up by using a super vague word that makes you feel inadequate.)
You can also use virtually any other kind of milk or sweetener here, so if you're a vegan who doesn't eat honey, feel free to whip out the agave or maple syrup.
Gear
You also need something to mix it all together. I used a food processor. You could also use a blender, hand mixer, stand mixer, or probably a fork if you really needed to.
Putting it all together
Mix it up
Assemble your food processor/mixing situation.

Add your avocados. Don't worry about any brown spots – it's all fine to eat and it's all getting mixed with chocolate in about twelve seconds.
Add your almond milk and honey. (Turns out I actually only had half a cup of honey, so I put in a quarter cup of maple syrup.)
Add the vanilla, the spices, and the salt – for the record, these are not COMPLETELY essential, but they really help take this recipe from, "Cool, you mixed a bunch of chocolate into avocados," to, "This is the most delicious chocolate pudding you ever ate and it's not even made with whole milk." I also feel like the brilliance of chocolate with cinnamon and cayenne isn't recognized nearly enough.
Blend it all together until it looks like pudding. Taste it. Does it need anything? Add it, and mix it some more. This is how the salt got involved for me. Watch out for overblending, though!
Plating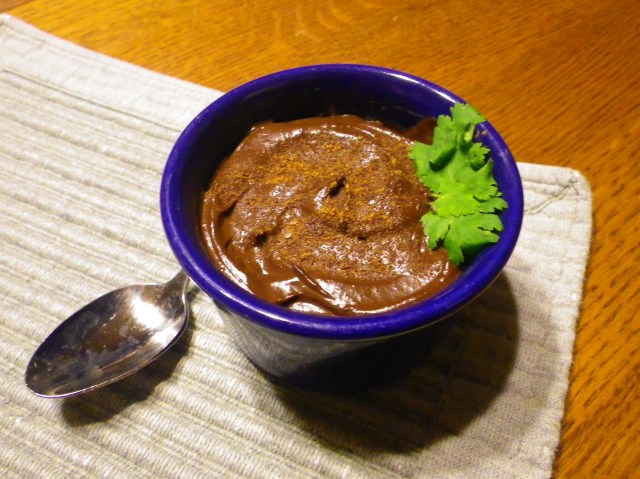 I scooped it into a ramekin and wiped the edges clean and gave it a little peak in the middle for this photo shoot, which made me feel like I was on Iron Chef. I dusted the top with cinnamon, sprinkled it with crushed sea salt and garnished it with some cilantro leaves. The cilantro accents the lingering avocado in the pudding, and also goes really nicely with the chocolate.
Step 3: Eat it!
This pudding is actually healthy for you. I will be eating it for dessert tonight and also probably breakfast tomorrow.