Happy February Straddlers!
I spent the better part of this week getting addicted to House of Cards (because it's still freezing and I need another reason to stay in bed) and digesting my epic meal from Chinese New Year, my new favorite holiday. I have never really celebrated Chinese holidays before before, but having a Chinese girlfriend means frequent trips to Chinatown, which means excessive scallion pancake consumption which is A OK with me. So we had a little dinner party with pancakes, buns and mooncakes galore. (Do you know what a mooncake is? You need to know. Google it!) Turns out it's the year of the horse, which is my Chinese zodiac, so it was basically like my birthday party. Confetti was blasted on the roof.
You may or may not remember that my very first post on Autostraddle was a recipe for scallion pancakes. I look back on that post now and weep. I weep because they are NOWHERE as good as the ones my girlfriend makes. She stuffs them with Chinese chives and they get all soft when the pancakes cook in the pan. MMM. I am working on getting this recipe for you guys soon. She also makes some sick dumplings. Are you guys ok with this turning into a Chinese food column? Written by a Puerto Rican? That could happen.
For now, in totally unrelated news, I made a chococado cake. It's exactly what you think it is. Chocolate and avocados. In a cake. The frosting is also comprised of avocados. It's not scary I promise. However, It IS kind of healthy and ALMOST vegan.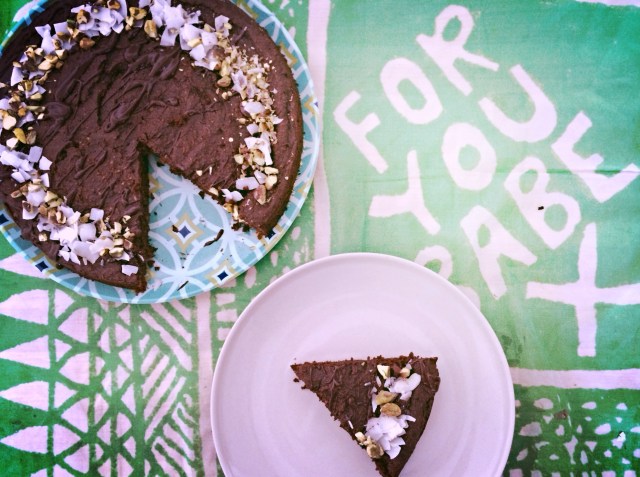 Chococado Cake with Pistachios and Coconut
Whatcha Need:
Cake:
2 cups flour – I used spelt
1/2 teaspoon baking soda
1/2 cup cacao powder (or just unsweetened cocoa powder)
1/2 cup boiling water
2 eggs
1 cup coconut palm sugar (or whatever sweetener you prefer)
2 teaspoons vanilla extract
2 ripe avocados, mashed ( about ¾ cups)
½ cup pistachios, chopped
½ cup unsweetened shredded coconut
Frosting:
1 ripe avocado
½ cup cacao powder
½ cup maple syrup
For the frosting:
MIX: everything together in a food processor until smooth, scraping down the sides.
PLACE: in the fridge until needed.
For the cake:
HEAT: your oven to 350 F and grease a medium size spring form cake pan
POUR: boiling water over the cocoa powder and stir until smooth; let cool.
COMBINE: flour and baking soda in a large bowl.
IN ANOTHER BOWL: use an electric mixer to cream together the eggs and sugar
ADD: vanilla, avocado, and cacao mixture to the egg/butter mixture and mix.
NOW ADD: the wet ingredients to the dry ingredient and blend until just combined.
POUR: into your greased pan and bake 35 to 40 minutes; let cool.
FROST: the top of the cake with your chococado frosting and garnish with pistachios and coconut!