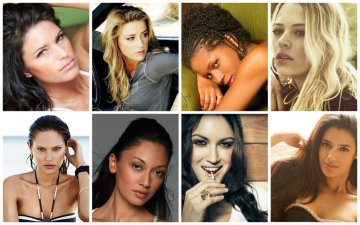 Due to Exec Editor Laneia & Editor-in-Chief Riese's personal preference for more masculine-leaning women and this website's constant effort to promote gender presentation diversity in our imagery, we sometimes forget about people like Sarah Facepalmer/most of the world.
Sarah Jesus Christ P*lmer, a Contributing Editor here at Autostraddle, would describe herself as "a gay girl who likes gay girls who look like girls." Now before you get offended about the "girls who look like girls" idea, take a deep breath and recognize that you know what we mean, and we're not the enemy, and then exhale and move on.
Okay! Now as you may or may not know, we're not into the habitual worshipping of straight models/actresses  over here — this is a queerlady site and we wanna talk about lesbians and bisexuals and other queer ladies!  Also we'd rather introduce you to a lesbian you've never heard of but sure would like to make out with than devote any screen-space to like, Megan Fox. Because come on really, Megan Fox? Really? Right?
So, basically we asked ourselves: what would happen if the Autostraddle Hot 100, the AfterEllen Hot 100, GO! Magazine's Women We Love and the Maxim Hot 100 got together and had a baby?
Well — here you have it, as judged by the universally accepted standards of beauty, 100 SMOKINGLY HOT PHOTOGRAPHS OF SCORCHINGLY BEAUTIFUL HOT 100 LESBIAN AND BISEXUAL WOMEN OF THE WORLD … mostly femme-of-center but some fancy masculine-of-centers too.
Dear femmes — next time your uncle/ex-boyfriend/neighbor/barista says "you don't LOOK like a lesbian" — just link them to this gallery. ((and maybe also to this roundtable.)))
This is what that baby will look like:
[CLICK TO ENLARGE FOR SLIDESHOW GALLERY SITUATION!]