Winter's knell is a knockin' and it's time to get you something to keep your toes warm. There are a multitude of options out there, but I'm going to zero in on a style that has been kickin' around since the 1950s. Dr. Martens are a surefire way to feel properly bad ass against the big, bad chilllllll of winter.
The first prototype of the now infamous 1460 boot came after Klaus Märtens, a German doctor suffered a skiing accident and needed a comfortable shoe. He fashioned a leather boot both sturdy and comfortable, with an air cushioned tyre sole. A few adjustments in fit (and an Anglicized name), the "AirWair" boots were on the market. First gaining popularity with working class postmen and factory workers, the boots soon took on an alternative bent. Punks, skinheads, some new wavers and other subcultures took the boots as their own. Dr Martens have always had an association with those who are rebellious, representing individuality and freedom. With popularity in the 1990s due to the widespread influence of grunge culture, it's no surprise that current 90s nostalgia has sparked a resurgence of the combat boot.
---
Styling Your Docs
The most common and popular styles of Martens are the 1460 boot and the 1461 oxford.
The possibilities are damn near endless. Vegan leather, patent, cloth, patterned, neon there is a Doc for every taste and style. The beauty of this utilitarian boot is you can pair it with almost anything. Styled with a mini-dress and tights looks just as sweet as a heavy flannel coat and sleek black jeans. Bundle up with a big scarf and wool coat, or layer a midi skirt and a bomber jacket, the choice is yours.
---
Purchasing Some Docs
If you purchase these baddies new, they'll run anywhere between $90-$200. If you are looking for a more inexpensive route, checking Etsy or Ebay could cut the price in half. Ebay often has new pairs, were as you can score broken in vintage pairs on Etsy. Local online marketplaces like Craigslist, Kijiji or Facebook are also a viable option for a discounted pair.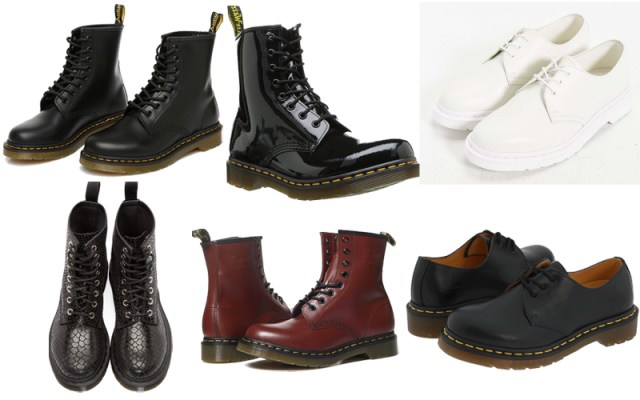 clockwise from top left: Classic Black 1460, Patent 1460, White Monochrome 1461,
Classic Black 1461, Cherry Red 1460, Snakeskin 1460
---
If you are curious about more boots, see Aja's guide for femme styles in 2015, Lizz's Boots 101 or our Boot guide from last winter. How do you do your Docs?