Hey, girl. You look super pretty today! Do you need some winter boots? Yeah, you do. From lazy femmes to Louboutin lovers, I've got you covered in the boots department. We're gonna hone in on what's hot with a sprinkling of style tips, but don't worry, there will also be recs for those of us who struggle seasonally to balance style with substance when the polar vortex hits the fan!
Starting from the ground up, let's find you some footwear to go with all that fly AF flannel and cozy ribbed sweaters, shall we? (Psst, don't forget the socks and femmewear.)
---
SOLED OUT
I've done my best to try and whittle down the most relevant and wearable trends of A/W 2015 for you chickadees. It's a blessing and a curse that being into feminine-leaning style provides one with options as far as the eye can see stretching from endless spokes in the enormous wheel of fashion. And it's no wonder that those of us with limited patience and resources get overwhelmed quickly and fall into the safety and familiarity of our own individual style ruts, for better or worse.
It turns out that the universal theme in trends this year is that there are none; collections lacked a broader cohesion and editors were left scrambling without so much as a satin ribbon to tie it all together.
Now that we're headed into December, the clear frontrunner is a reinvented boho vibe deeply influenced by the 1960s and 1970s; deep muted tones, the prevalence of suede, fringe and patchwork designs, retro heels and heights and so on. But there are also chic hikers, ankle boots and classic weatherproof workhorses like wellies, Sperrys and Sorels.
---
LEG WARMERS
Every femme knows that tall boots practically count as pants when temps drop. The higher the better when it comes to covering up your legs in a thick layer of leather or other sturdy, lined material; it's an essential building block when layering for cold weather.
There are so many variations on tall boots it makes my head spin, but I've rounded up over 20 pairs for you to choose from. This season's leather, faux or genuine, is presented in flat, glossy patent and supple suede finishes, always in rich, saturated umbers and ochres, burgundy, merlot and navy. Look out for hardware touches in unique tones or shapes (think rose gold heels and horse bits ornaments), bold textures like velvet, patchwork suede and anything reptilian. Anything goes except basic black!
BAE'S KNEES
Let's kick it off with the popular knee-high boot! I'm in love with the heel on the middle boot and the whole thing would be delicious with winter creams, whites and soft browns.
The major plus here (and in general) is that all that color and interest can really make head-to-toe black or an LBD sing, and work to bring out a certain shade in a print or pattern you're wearing without being overly matchy-matchy. I love the idea of mixing tones in the same color family with outerwear; navy boots with a shaggy baby blue coat, a milky raspberry suede with a vampy oxblood topper, camels and caramels! That sort of thing is what takes "Hi, I'm wearing some clothes" to "WITNESS ME," you know?
KINKY BOOTS
Designers took "well-heeled" to another level this season with rare exotics and up-to-there stocking boots, both of which require obscene amounts of money and chutzpah to pull off. I can't in good conscience devote too much time to straight-up animal cruelty, but this retrospective on the stocking boot is a delightful read and the vintage photos are spectacular.
Asos also has a variety of stockings boots that are closer to $100 (plus some under a hundo, believe it or not). If you're bold enough to work these, then godspeed and bless your brazen soul. (And please tag me in a photo of you wearing them on Instagram, I will be so very proud and in awe of you if you do!) Extra super bonus points if they have stars on them!
REACH FOR THE SKYSCRAPERS
Looking for something over-the-knee that doesn't quite suggest that you'd like to be bent over someone's actual knee? I suppose that's understandable. No one's going to judge you for going the safe black route with these because frankly, it's a lot of boot. Wearing them means you're definitely in advanced styling territory, and doing it right means being mindful of stuff like hemlines and proportion, and clever about bulk and warmth. Cashmere tights? Yes. So smart! Bulky wool socks? Not unless you want to cut off your own circulation. Ow.
While these are all beautiful and mostly really affordable choices, I would recommend actually hauling yourself out to a store to try these on before buying. When a shoe is covering this much of your body, you'll discover pretty quickly that the size of your foot has nothing to do with your calf or knee or lower thigh — heaven forbid you can't get it over the knee, or that it slouch or droop below it!
Stretchy paneling in the back (sometimes referred to as 50/50) can really help with fit, but if you've got an all-leather pair and will need to bend, stoop and squat a lot for some reason, here's a heads-up: It won't feel very nice. Even my actual English riding half chaps — chaps! not even boot leather! — cut into my skin during long bouts of grooming or what have you. But don't let any of that dissuade you — this is a beautiful approach to winter booting, and I can't think of any other style that screams "dressed to kill" more than the over-the-knee boot! Just be forward-thinking and realistic about your purchase and we'll all live our best and sexiest lives.
LOVELACE & THE MIDI MIDI BOSSTONES
All the laces! This look has a super old-school hunting vibe, or in the case of the all-black pair, hints of Victorian times. Whether it's quilting, metallic pops or contrast, these puppies will stand out without being as intense as some of the styles above.
Something about them gives me awesome Tomb Raider chic vibes, but they're bound to be your comfiest, most practical options whether or not you actually hunt wolves or just crazy mad deals on the internet. While we're here, I'm going to share Vogue's tips for styling midi boots — the boot cut of the season — since it can get a little tricky, with or without laces:
Try a pair with a midi-skirt, and suddenly an expanse of shin (and only shin) becomes something entirely alluring, in the way a flash of wrist or ankle might have caused shockwaves through a Victorian audience. The trick to styling? Find your sweet spot: For those with a bulkier calf, aim for a boot that ends just under the widest part of the muscle. For those with slim limbs, the world is your oyster, but a heel always helps. Still clinging to your minis? Tights will even the whole thing out in a pinch.
SOLID GROUND
Need something with a flatter heel? Then a unique riding or fringe boot might be more your speed! I have to confess that the fringe trend terrifies me a little due to a very ridiculous escalator phobia, but if phobias were logical I'd be just as terrified of a delicate riding boot lace getting caught in one and crushing me to death. (This is probably just internalized anti-femme misogyny scolding me for "impractical fashion" choices, and eff that garbage noise!)
Fringe is also kind of tricky to pull off without looking like a pirate or veering into forbidden cultural appropriation territory. (I know I'm preaching to the choir here but if anything you're eyeballing is being marketed in a gross or questionable way, Just Say No.)
These ones from Asos work because it's just a kiss of fringe on a slightly Western, not-too-slouchy boot with a short stacked heel. They're technically over-the-knee, but still roomy. Keep the layering monochromatic, at least on the legs, to avoid a costume-y look. In the middle we have a gorgeous, goes-with-anything proper riding boot. I have a pair in maroon, and another in a creamy olive green with more of a harness look and I can't say I ever wish I had a black pair on hand! Still, the ones on the right have the perfect amount of polish and are a steal at nearly 50% off if you want a safe bet.
Looking for more budget-friendly options? Nordstrom Rack is fantastic for finding top brands at way, way under retail. These ones are beautiful and just $60!
---
MY ONLY SHORTY
The shorter the shaft, the more things start to mirror men's footwear trends! The devil's in the details — color contrast, cool textures, metallic pops and little touches borrowed from the boys.
TAKE A HIKE
If you're looking for a rugged, flannel-and-cocoa-fireside vibe, a fresh take on ye olde hiking boot might be what you're looking for. Plus, they read as a little sporty and queer, and they really do go with tons of outfits and gender presentations — you can just as easily wear 'em with skinnies and a hoodie as you would a flouncy little skirt and knit sweater, they look dreamy and chill with everything. Modcloth has dozens of pairs but these are my top picks.
Wedge heels are awesome if a regular heel isn't your speed, but the plus side to heels on hiking boots is that they're almost always chunky and really solid, making them an extremely comfy option for when you still want some lift and height. There are tons of flat options, too. One of my favorites used to be a black and brown canvas pair of flat Seychelles hikers!
RIGHT ANKLES
Nothing beats a solid ankle boot, but these aren't your typical booties. These are ramped-up, look-at-me versions that are hopelessly, undeniably cool, with super thick block heels that make them pretty darn wearable. Most of all, they're really, really fun and not at all for wallflowers.
Obviously, glitter and ice blue suede might be better suited to a going-out or nighttime shoe, but the rest can definitely work for daytime looks depending on your style and the occasion or where you work. The burnt orange, olive and patchwork snakeskin (all faux) can be easily toned down to work with all-black or neutral palettes; I love the idea of them with black dresses and tights, or under flowy maxis in muted hippie prints. The same applies to the dusty purple Chelseas! Need something with just as much panache, but with a flat heel? These teal ankle boots incorporate suede fringe and a mess of buckles for major rock 'n roll vibes, and they're under $50.
QUE SERÁ, SOREL
Bean boots. Duck boots. Moon boots. When the going gets tough, we reach for the names we trust. They're waterproof, slush-proof, snow-proof, they often come with a layer of fluffy lining to keep us warm and pack tons of tread to make sure we don't slip and fall and crack our little heads on the concrete. More and more lately, they come in style. Thank goodness!
Sure, you can grab the nameless version in buffalo plaid and hope that they hold up to the elements (who could blame you, they're adorable). If you have the coin, you can even prance around in a winter wonderland in Moschino if you wanted to! And if you're a sneakers fan and can't bear the thought of denying yourself for the next few months, Adidas is here for you. The rest of us are probably reaching for our standbys or are on the hunt for tried-and-true brands that are all but guaranteed.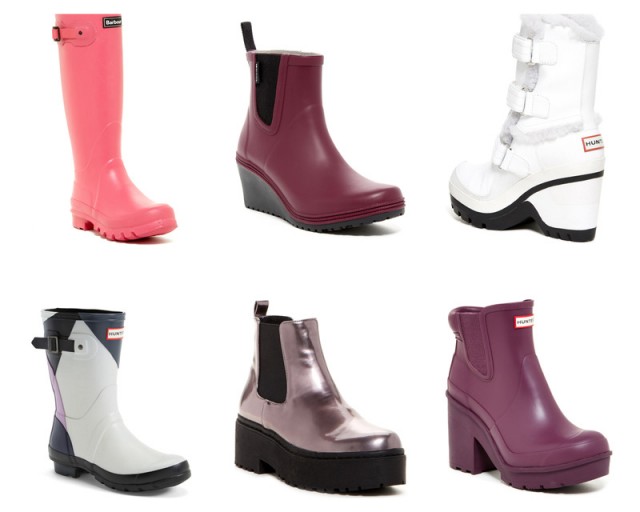 All of these are at Nordstrom Rack right now! The bubble gum pink Barbour wellies are a bold choice, but maybe that's right up your alley. I love these burgundy wedge boots from Tretorn ($65), and if you like a heel, these Hunters come in plum, teal and coral for just $87.50. Hunter fans can rejoice in this genuine sheepskin-lined white buckled boot for $79, or go the more traditional route with an original short Dazzle rain boot, in lavender or sky blue, for $140. Last but not least is a pewter Chelsea with a mean platform for all you space femmes out there (Jeffrey Campbell, $50).

If bright, girly colors aren't your thing, check out the Hunter Original Chelsea Wedge Boot in Ochre or Dark Chocolate, $160. The heeled Hunters I have are really comfortable, and I'll bet these are a dream to stomp around in. Sperry has this no-nonsense rain boot with a zip back for $60, which is a great deal, or the classic Shearwater duck boot in green/tan for $80. I love the equestrian vibe and sole of this mid-calf Tretorn boot. Bonus: It has a microfleece lining for warmth and is just $55.
BREAKIN'
Now that you've got your hands on a perfect new pair, you need tips for breaking them in! If you can, stomp around in your new boots in the mornings on a weekend, when your feet are fresh as a daisy. You can switch 'em out after a few hours and work your way up to wearing them for a full day. This process can take some time and stubbornly toughing it out means keeping your swollen, sweaty feet in brand new, unforgiving leather when you don't really have to!
If you just can't wait and it's the middle of the work week, stash a pair of shoes under your desk so you can swap 'em out and give your feet a midday break. Especially when switching from subzero temps to sweltering offices inside, it's a neat trick for letting body parts breathe in the winter! Have some blister pads on standby just in case.
MORE BANG FOR YOUR GAY BUCKS
Not ready to commit yet? You can check out Lydia's boot guide from last year or get schooled on Lizz's incredibly comprehensive Boots 101. We promise not to quiz you (unless you want us to).