What I Wore is a bi-weekly series about living, loving, and celebrating black femme fashion and confidence.
---
I miss my mama and daddy.
I often do around this time of year. I grew up in a Christian household — my dad is a pastor, my mama is a minister and an all-around badass, and Easter is pretty huge for us. My papa has had a few surgeries in the past months and my mother, well, I just miss her loud laughs and greasing my scalp. Those things, plus the events leading up to the Easter holiday (Lent, Palm Sunday, Good Friday, etc), always remind me of home. I didn't grow up in a fire and brimstone type of situation, still it was fairly religious and I keep a few of the things close to me. I am now far more spiritual than I am religious, but Easter is the Christian holiday that makes me want to put on something cute, head back home and passive-aggressively fight with my family while breaking fast with every food in sight.
The inspiration for this look started with this photo by Photographer Russell Lee. I saw this image a few months ago on Instagram and thought it was beautiful. Five black boys whose mother or grandmother got them up early that morning to put on itchy clothes that they immediately wanted to take off, rubbed grease on their faces after getting the sleep out their eyes and dragged them out the door to sit through a two-hour long sermon on hard pews. It continued when I was thinking of my mama and one of her favorite shows Good Times, Willona (played by Ja'net Dubois, who passed away a few days after I took these photos) had beautiful style. When she adopted Penny (played by Janet Jackson), they were the most fashionable family in the projects. I channeled what an adult Penny would wear in 1976 when coming home to visit for Easter, complete with what she might steal from her mama's closet.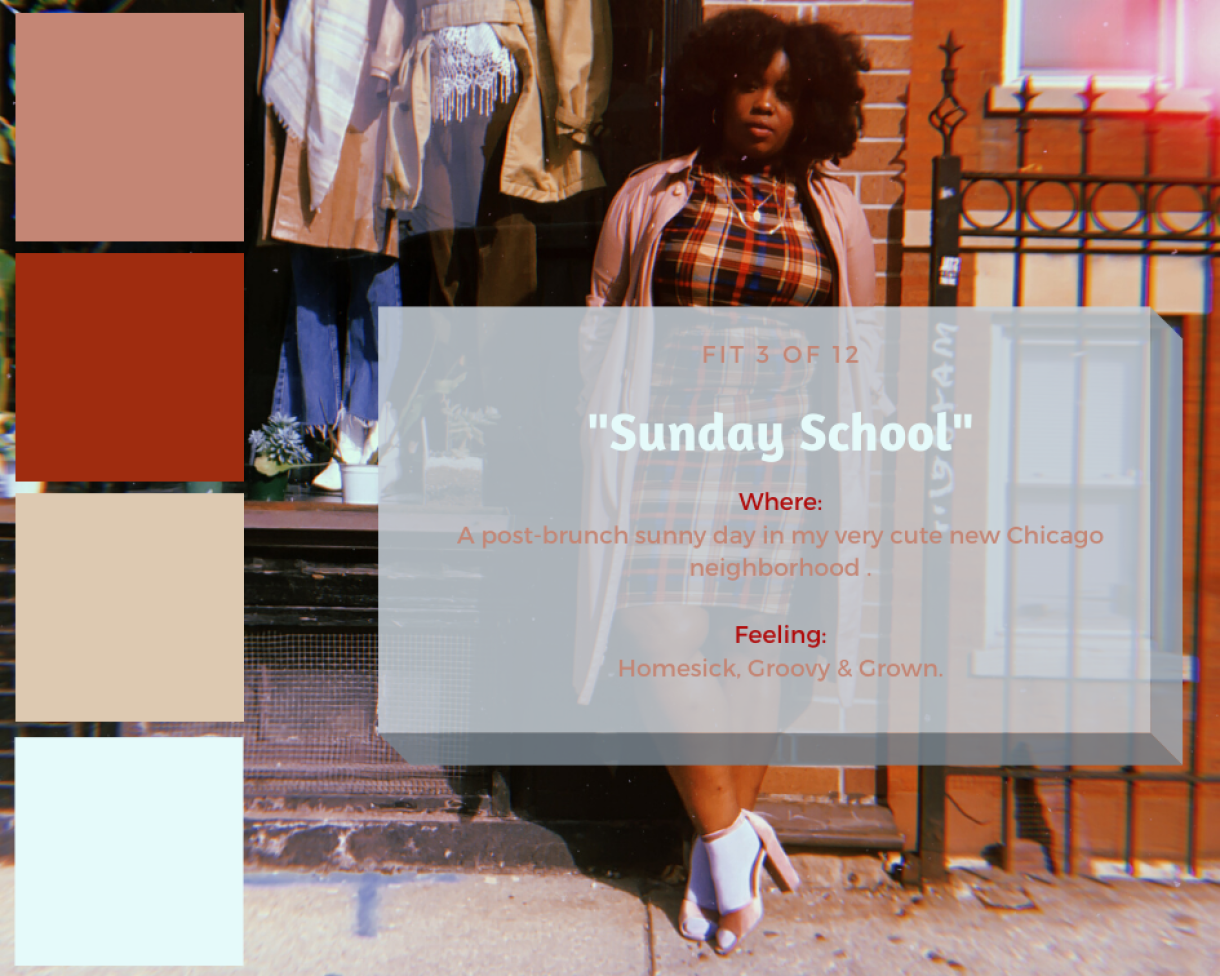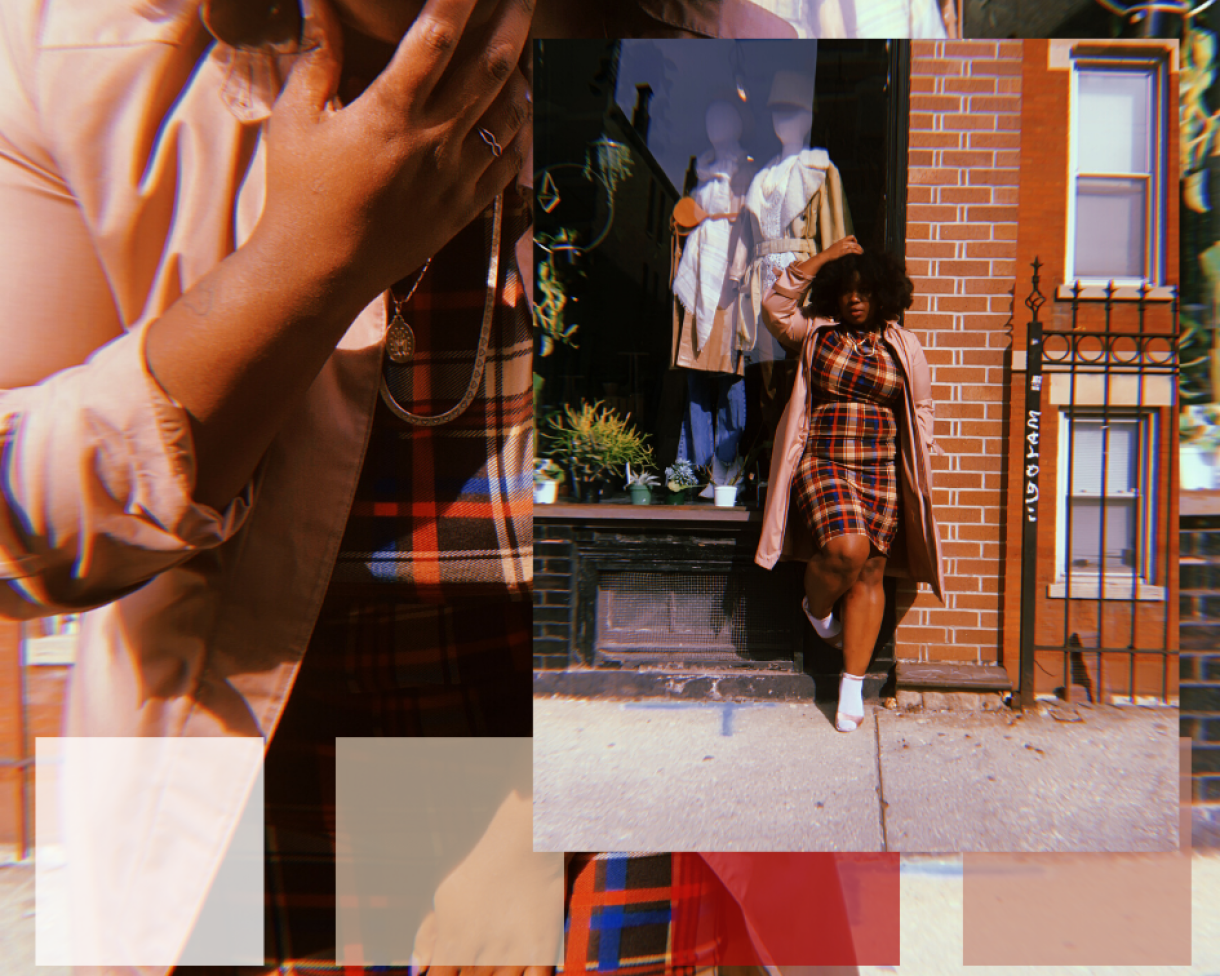 Links to the Fit:
Let's start from the top, with my perfect blush-colored trench coat that I didn't have to steal from my mama — SHE ACTUALLY GAVE IT TO ME! It's a vintage piece from the classic brand London Fog. I wear a 12-14 in coats and usually try to get petite and this particular coat is a 14P. I have a bigger bust, a wider shoulder, and a smaller waist, so the 14 provides movement in the arms and upper body while not swallowing me up at the top. If you ask me I'll tell you I am 5″5 but if you ask my doctor (at the amazing queer-friendly Howard Brown facilities in Chicago, IL) she will tell you I'm almost 5″3. So the petite version of many coats helps it to fall usually right at my knees so I can get the classic trench look and not scrape the ground. I did find a version on London Fog's site for $129 but also found a similar style over at ASOS for around $62.
The plaid two-piece is from fast fashion spot SHEIN. It only cost me $12 of my hard-earned doll hairs. Now, these fast fashion apps scare a lot of people, especially anyone who is no straight-sized. It's honestly hit or miss, but I've had 90% hits. I like the sets because I can wear them together or separate. The material was soft, I washed it and it was fine, and I've ordered several more things after. I like blending high and lower-end pieces. If you don't wear the pieces every day, just like with any other clothes they last for quite a while and stay in swell condition. The location that fit best to take photos was right in front of a spot called The Shudio in Pilsen Chicago. Their plant-filled windows and mannequins with similar 70's vibes flowed perfectly with the look that I created.
The final additions are my favorite pair of shoes from Betsey Johnson. They are pink and covered in soft velvet with a sweet comfortable ankle strap. The heel is square and comfortable and I just love pairing an ankle strap heel with a sock for a cute look and it killed with this one. My stacked floral ring is from a local shop in Chicago called Knee Deep Vintage and my necklaces are from my mommy! I do my own nails every week using KISS products, it takes about an hour and a half and only costs me around $6! I'm going to try to surprise my parents on Easter and I just may rock this exact look when I walk into church that Sunday. My only hope? That I have to get it dry cleaned because of the stains I'll probably get on it from eating my mom's cooking.