Welcome to What I Wore, a series where I explore fashion as shelter in traditionally heteronormative and patriarchal spaces.
---
The Gay Bar
Wow, I bet you did not expect this one. It's just when I go to queer events I feel like there are some judgy assumptions in play about whose outfit is queer enough, which is a bummer, so I'm just saying let's mix it up. No rules!
This outfit consisting of a rapidly deteriorating sweater, pleather pants, and a jacket made into a demi-skirt flashed me forward into a dystopian future where water is scarce but total gender/orientation presentation acceptance is not. That night no one noticed/cared what I was wearing or that I was even there, but I did pay $4.75 for a single domestic beer, so win-lose.
Success rating: 4 out of 5
---
The Grocery Store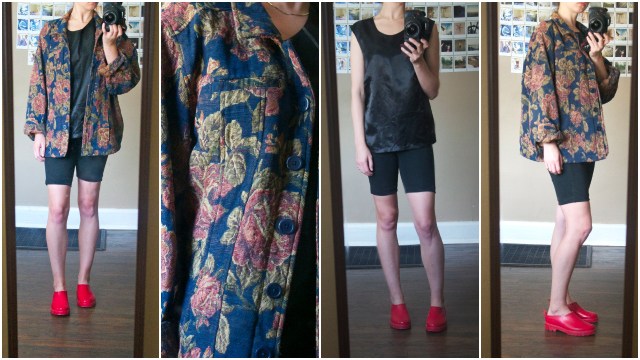 On a recent trip to the grocery store my girlfriend and I were near the bread aisle – a sacred place – when an older woman in one of the store-provided motorized shopping carts approached on our left. We made our way around the other side of one of the wheeled displays to make room for her, and as we got ourselves settled into our new spot in the aisle one of us placed our hand on the other's back. The older woman's eyes registered that we touched. Two women touched in the grocery store. Two homosexuals made physical contact. Her brain must have shorted because she continued her motorized cart directly into the wheeled display, shoving it gently into the both of us. Honestly my favorite thing that's happened to me in 2016.
Now I dress for ladies such as these in hopes that this is a regular occurrence, first lulling them into comfort with my clothes and then shocking them with my actions. I wanted this jacket to create a feeling of sitting on their couch where they watch their stories. The shoes are "smart" as they might say. Then when I take the jacket off, I can turn into – as a facebook friend has dubbed a look like this – a "lesbian art therapist." Talk about multi-purpose! But I unfortunately didn't catch the attention of any older bigoted women.
Success rating: 2 out of 5
---
That Job You Hate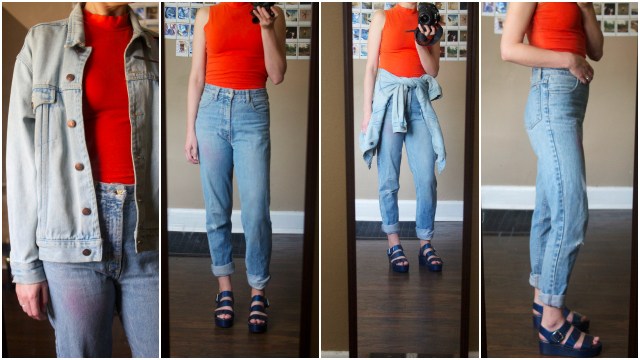 Many of us have jobs we hate, and many of those jobs are deeply, deeply anchored on straight shores. Forced interpersonal contact for like six hours means the flirting between the hets hits Mariah Carey's in "Emotions" pitch levels, and sometimes people even try to do it to you. No thanks! Because my works allows for a casual dress code I often hear, "I wish I could pull off some of the outfits Erin wears," which translated means, "What the hell is this bitch wearing everyday?" THAT'S THE GOAL. On one particular day a coworker said that when I was just wearing a turtle neck with jeans. A turtle neck is apparently all it takes! Also In my forced time with cis men I've also found that they HATE HIGH WAISTED THINGS ON WOMEN.
So to continue this repulsion I combined the two elements mentioned above, throwing an even bigger wrench into that combo by wearing a sleeveless turtle neck, which is something of an abomination. These jeans are great, too, because they're Guess jeans from I'm assuming the very early 90s, which means they fit TERRIBLY. Whenever I where them people go, "I love that you wear those jeans," which means, "I hate those jeans so much."
Success rating: 5 out of 5