Welcome to What I Wore, a series where I explore fashion as shelter in traditionally heteronormative and patriarchal spaces.
---
The Hardware Store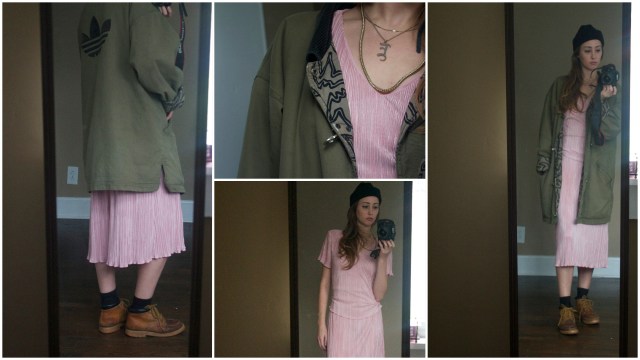 If there is one thing I am unwavering on it is this: I will die in a hardware store before I ask a question. Also, why am I going to hardware stores so much that I have a steadfast rule about them? I don't know, but if every experience I had at a hardware store were a Vine it would be a shot of someone peeking around the end of an aisle asking if I was finding everything okay, then a shot of someone jumping up from behind a counter asking if I needed any help, then a shot of someone peering through shelving from another aisle asking if they can help me find anything, then a shot of someone driving by on a pallet lifter asking if someone's helped me, on loop, forever. I'm confident that when I walk into a hardware store by myself as a woman a silent alarm is set off by the benevolent front desk attendant, so to ward off unsolicited questions I go full rogue – butch it here, femme it there, volunteer at your local cat hotel here, dunk on your grandma there. The brain scrambler of outfits.
Except nothing is confusing enough to stop an orange vested hardware employee from asking if you need help. Nothing.
---
The Auto Shop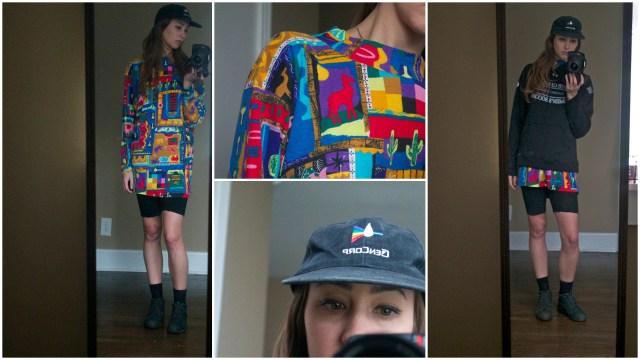 Going into an auto shop as a woman not knowing exactly what the issue with your car is can be daunting, not to mention expensive. I hoped this outfit consisting of bike shorts, a loudly printed turtleneck, an old soccer hoodie, granny boots and a ball cap would say, "Hey, this girl knows sports," and also, "She's bananas." I thought it might afford me the assumption that 1) since I know what sports are I also might know about cars and 2) attempting to upsell might be dicey. For good measure I mentioned the water pump and the power steering fluid reservoir as possible culprits, which is a classic move.
I was given a price that matched the average repair cost I'd found online and even had the taxes taken off. This all could have been easily explained by the fact that I looked/look about 17 and they felt bad for me, but I'm going with fashion!
Also, if I may, for those of us that explore traditionally femme channels of expression who may also be of the mind that things involving the automotive world are beyond our reach: if we have the ability, patience, skill, and steady hand to ombre our eyebrow hairs, we can fix anything on our cars.
---
The Straight Bar
When I want to go for a drink at a bar where I know the crowd will be overwhelmingly straight, I take great strides to ensure a look that says I'm both sexually unavailable and attempting to convert you to a new religion. That way, even if my body language doesn't speak for me, my outfit does. Of course, the best way to communicate these two separate but not necessarily unrelated ideas is monochrome pairings. One night I wore a shade of white (the ultimate monochrome palette) close to chiffon, a high collar, and a modest up-do that together screamed Guilty Remnant.
This outfit was a success and I was able to watch HGTV on mute in peace.