Welcome to What I Wore, a series where I explore fashion as shelter in traditionally heteronormative and patriarchal spaces.
---
Outdoor Music Festival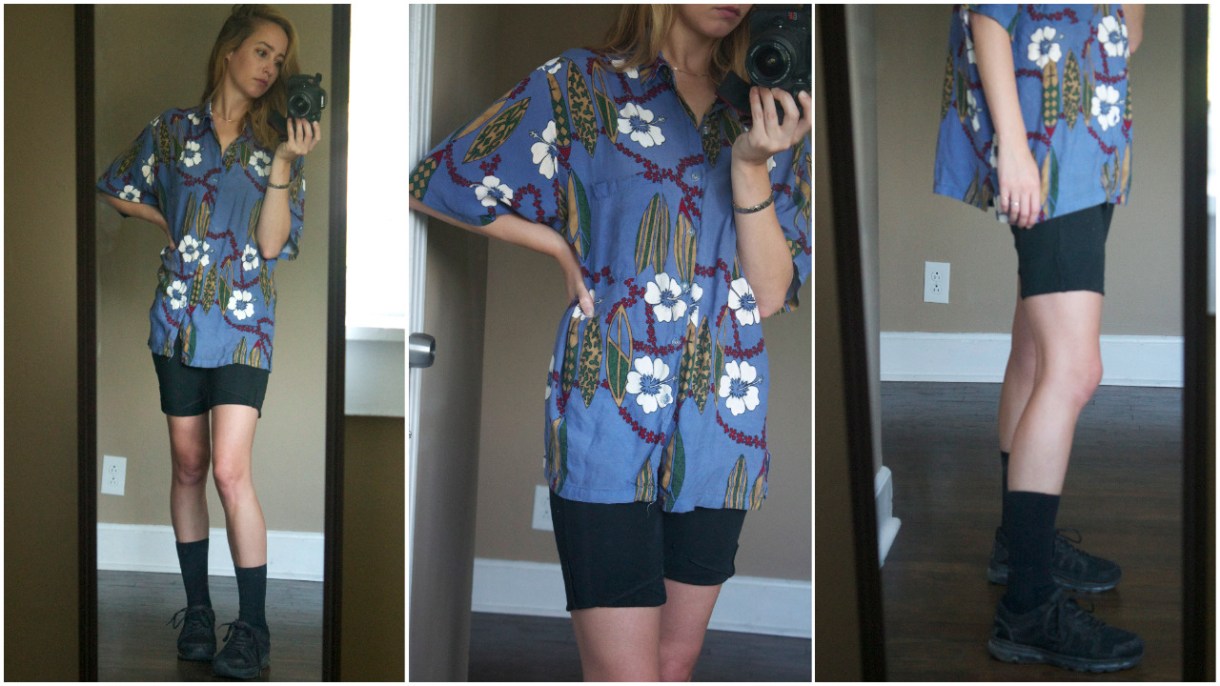 A couple of weeks ago I went to an outdoor music festival in Kentucky, but it was so hot and bright it may as well have been on the surface of the sun. Something I noticed on the first day was a particular uniform the teen boys were wearing. It went like this: tropical or safari-themed short sleeved button up, shorts, mid calf socks, and flat sneakers. It was magical. I love when I notice this happening with young boys because masculinity is a prison from which you are not allowed to express an emotion as neutral as telling another boy you like their outfit, but that doesn't mean they didn't at one point think, "I like the way he looks and I will copy it." Knowing they have that private thought is adorable to me.
Something else I noticed was what a bunch of prized pigs these boys were. Girls flanked them on all sides, they showed zero signs of self-awareness, and their bodies were both unburdened by the male gaze and given the agency to do what they pleased when and how they wanted! And so the next day I decided to become one of them. I'd enjoy the freedom to be me and if it was my choosing, I too could pop off my shirt at a moments notice.
Could have been the effects of heat exhaustion, but I felt simultaneously seen and unseen in the most beautiful way possible. Turns out I also looked pretty gay so that helped.
Success rate: 5/5
---
The Mall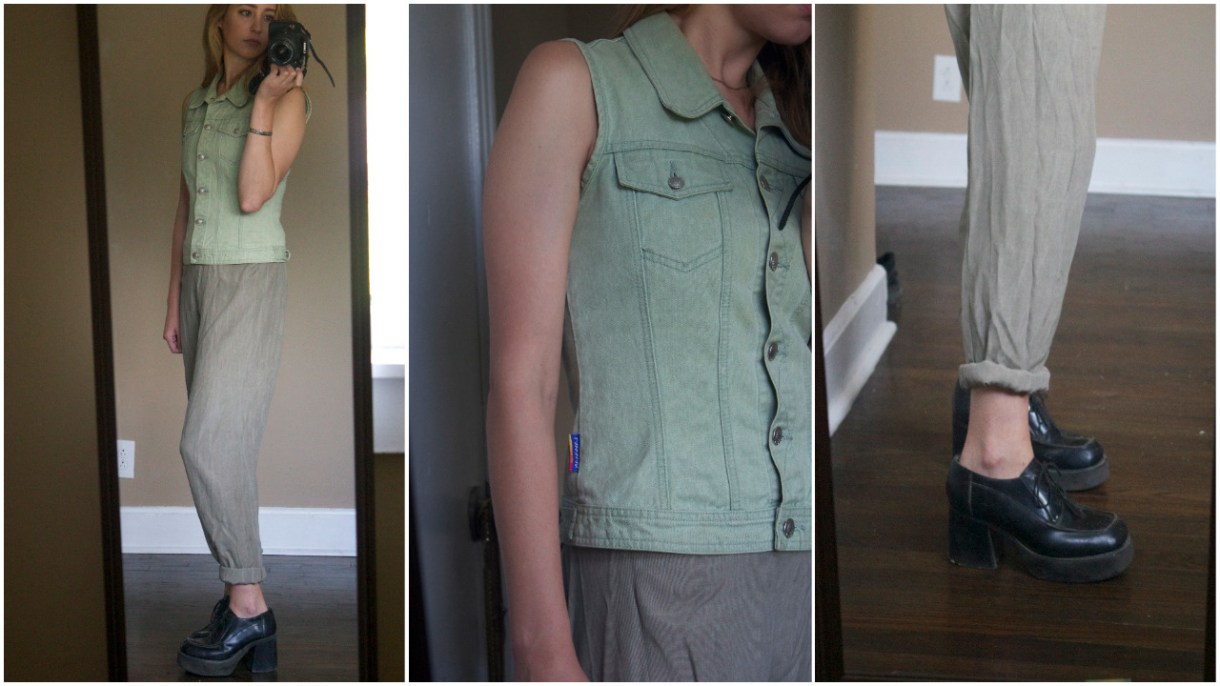 Sometimes a trip to the mall is necessary. Maybe you need to try on 18 pairs of the same pant only to find out that somehow in your absence from retail your body type has been discontinued, so then you just decide to walk around until you can feel your body grounding itself back into reality. My favorite addition to the mall is Cinnabon's miniature seating area immediately next to the register that seems to suggest, "We will not take even one step before diving into this thing."
While the mall's culinary world has adjusted with the changes of time, the crowds remain the same. Is there anything a straight couple loves more than a Saturday at the mall connected to Chuy's Mexican restaurant, Dave & Busters, and a Regal movie theater??? Hell no there isn't! It's the perfect place to, as they call it, "people watch," and as I call it, "blatantly stare at people." It's a haunting experience to be on the receiving end of one of these stares, and sometimes I feel if they stare long enough I will also become straight, like the gay equivalent of a dementor. So, I took preventative measures in the form of an undeniably queer clothing item: the denim vest.
This reminder worked! Even though there were straight people wall-to-wall, from sea to shining sea, every so often I'd catch the green collar on my denim vest and think, "love to be gay."
Success rate: 5/5
---
Electronic Store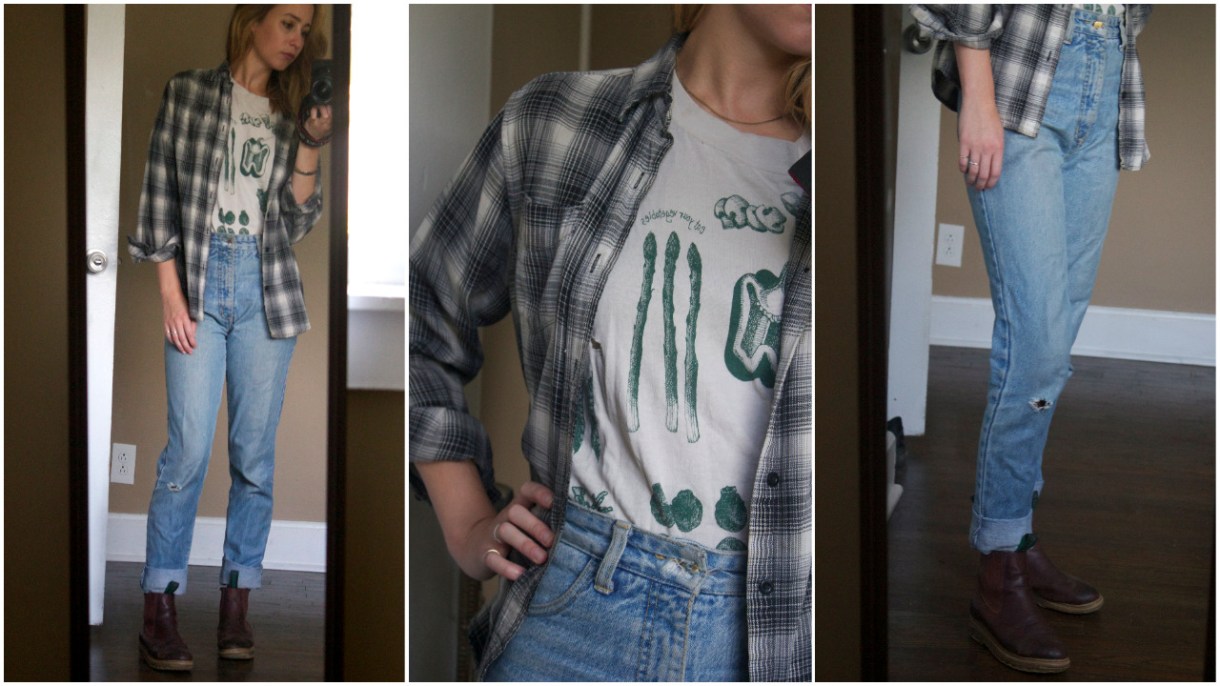 Something that still shocks me every time it happens is when sexism pops up around electronics. At this point in my life I'm anticipating it with things like cars, sports, and science, but I've never gotten used to the electronics thing. One time I was on my computer at a cafe and a guy came up to me and without a hint of sarcasm asked me if I was journaling. (Ladies, what else do you use girl journal for?)
For this trip I was going in for a pretty specific adapter that some stores don't carry, so I knew I'd have to speak with someone about it. Anticipating the worst case scenario – that no women worked there – and hoping to Freaky Friday the situation, I decided to dress like a guy who might explain back to a woman the audio adapter that she's just specifically asked about. I went with jeans and a vintage style tee under a cuffed long sleeve button-up.
The man I talked to had said they didn't have that particular adapter, but maybe the adapters they had for completely different equipment might work?
Success rate: 1/5