Things have been changing really fast for LGBTQs. Stigmas are blowing up, laws are being struck down, cultures are evolving. State-by-state marriage equality has quickly shifted from impossible to inevitable and the 2013 Supreme Court decision on DOMA enabled couples from states without marriage equality to still receive federal tax benefits if they marry out-of-state. That alone has had an enormous impact on how we and our families view our relationships and has prompted a mad dash down the aisle for many same-sex couples, especially lesbians. We've come a long way from when most Americans thought gay marriage was an abomination and most parents of queers weren't even speaking to their children anymore, let alone pestering them about the promise of eventual grandchildren. Now those numbers are shifting: a huge chunk, but no longer the majority, of queers are estranged from their families or closeted. It's becoming increasingly possible, although not universally so, to live openly in cities besides recognized gay meccas. Indeed, on our recent Grown-Ups Survey, 80% of you reported living in an area that was at least somewhat gay-friendly. Doors are now open to us as queer adults that weren't open ten or even five years ago, and deciding which one to walk through is often very confusing. All we know is that something about our lives are fundamentally different form the lives of our heterosexual peers.
Some activists fear that won't be the case for long, and that the queer community will suffer for it. In her speech Pro-Family Ideology and The Queer Community of Friends, which makes a case for valuing chosen family over biological ones, Sarah Schulman recalls "a time that is not long past, when queer people were at the bottom of every society." Most queers faced pretty limited options: be closeted, be isolated, be quiet, or move to a gayborhood. That last option wasn't always economically possible, especially for women and people of color. For most of gay history, we'd been outsiders by necessity, and were defined by our uniqueness and our opposition to the state, including, at times, our mandated exclusion from fighting wars on its behalf or teaching in its public schools.
Schulman traces the evolution of LGBTQ politics to a point where "Gay Liberation, through the venue of mainstream media, was replaced by Gay Rights." The movement was no longer about the freedom to be different, but the chance to be the same. Laws to ensure marriage equality (which give homosexuals access to a heterosexual institution) are passing more quickly than laws protecting LGBT folks from workplace discrimination (which protect homosexuals from being penalized for being different). Still, many queers have no interest in marriage, family, or any state-backed institutions. And unlike heterosexuals, society largely hasn't expected us to feel otherwise — in fact, they've fought hard to ensure our lack of access to those institutions. So we formed those "chosen families" to replace estranged biological families and to substitute for inabilities to have our own families. We kept going out and turning up well into adulthood. We blazed our own unusual trails with no clear road map, and those trails have led to inventive and inspiring multi-generational communities.
So here we are at a crossroads. What rites of passage, if any, commemorate a queer adulthood these days? The birth rate is the lowest its ever been and heterosexuals are fleeing and delaying marriage in droves, while many queers are flocking towards it. Regardless, it remains true that non-heterosexual women usually don't face the same pressure to be married and have kids by their thirties in the same way straight women do (so far). We face financial barriers to parenthood and systemic discrimination in the healthcare system that most straight couples don't have to deal with, which means if we do have kids, it often happens later in life. The statistics on queer adult women's mental health and overall well-being suggest that there remains something fundamentally more difficult about existing on these margins.
Surely every queer generation has been through this — this looking at the world around us and marveling at how different it is than the one we expected as kids and even as twentysomethings. So this is our time.
What life stages do we employ to replace the standard marriage-and-kids narrative? For those of us following that narrative, how do we "queer" our marriages and families — or do we even? Will we go the way of the mainstream, will we stick with our foremothers' queer traditions, or something in between? What do we consider when we plan our lives, decide where to live? How do we prioritize our career in an egalitarian household? Is it better to struggle to start your own businesses, or to work for the man to support a family? What makes us truly happy? What the fuck is an IRA? Many of you are struggling with these same questions — we surveyed you, so we know!
Here's what we had to say about it. Eight of our writers are answering this question for themselves and we've got some infographics for a more objective look at the matter. Let's dig in.
---
Infographic #1: Your Relationships & Families, According To The Autostraddle Grown-Ups Survey
---
My queer adulthood has been easier than I ever expected. I grew up a small homophobic town in Sydney where the words "dyke" and "faggot" were acceptable insults. (The first time I was called a dyke was when I was about 8 years old and it was by my own parent, so). Being different as a child/teen was tough and so I assumed adulthood would be more of the same. It hasn't been, though, or at least my adult hardships haven't been related to my queerness.
When I got the hell outta dodge, thankfully homophobia didn't follow me. I've been lucky to enjoy almost the same opportunities in my adult life as my heterosexual friends. I've been able to get a basic education and build strong friendships and have a successful career. The only thing that I haven't been able to do is marry someone I love (same-sex marriage isn't legal in Australia), although that's recently changed now that I'm engaged to a US citizen.
As I've entered into my thirties, my priorities have changed. My twenties were about coasting. I had a rough teenagehood and some health issues and two partners who passed away by my mid twenties, so I've spent a lot of the past decade feeling utterly exhausted. All I wanted to do was go with the flow and not think too hard about myself or anything else. I don't regret those years; they were filled with great life experiences and a long-term relationship that I had to leave but will always cherish. I eventually just reached this point where I'd become so passive that I'd stopped growing and had lost all sense of purpose and direction.
Now, at age 31, my priority is taking control of my life and making these years count. I'm working on becoming my best authentic self, as naff as that sounds. I'm figuring out how to live a life that I can feel proud of and spend my time doing things that will make me a better person in every way – emotionally, mentally, physically. I want to get fit and grow vegetables and make things with my hands. I want to keep learning and improving myself, and keep finding new ways to add value to the things and people that I love. I guess decades from now I want to be able to look back on my life and say yeah, I made the most of it.
---
There's this thing I do sometimes where my girlfriend and I are cleaning the house or watching TV or drinking beers at our favorite pub or getting ready for bed and I really, earnestly, fervently go, "I love you. I just love you so much. I love our life together. And I like you. I really like you too. Baby, listen to me okay, I really love our life together." It freaks her out. It's the kind of thing a person says in a movie right before she gets hit by an asteroid. But I can't help it. I do love our life together, and it's not a thing I ever even dreamed of having. I didn't realize I was gay or come out until my mid-20s, and so I never planned or hoped or wished for anything in my future other than infinite Harry Potter books and a couple of backpacking trips around Europe.
I grew up in rural, rural Georgia, where Jesus was breakfast, lunch and dinner, and the only thing worse than being gay was blaspheming the Holy Ghost. (No one knows what it means to blaspheme the Holy Ghost. It's just that Jesus said it was the only unforgivable sin, so Christians worry all the time that they're accidentally doing it.) I knew I didn't want a husband, that was for sure. I knew I didn't want to have kids. But I had no idea that a wife was a thing I could wish for, so I didn't think much about my future at all.
But now here I am, doing a job I never in a quadrillion years would have had the courage to pray for; and living my life every day with my best friend, the woman I'm going to spend the rest of my life with. We share laughs and colds and blankets and bills and even a Netflix account. It stuns me. It overwhelms me. "I didn't know life could be like this," is a thing I say to her at least every other day.
Since I turned 30, I have felt an urgent, unyielding, existential tug on my mind asking and asking and asking if I'm using the quick breath of life I have on this earth to do something that counts.
I'm friends with a handful of people from my high school on Facebook. Ones who have never quoted Rush Limbaugh, referred to President Obama as the antichrist, or used the hashtag #AllLivesMatter. My childhood friends look like their parents now. Or like their parents did when we were kids. Just like them. Their kids look just like they looked in our school pictures. My childhood friends post photos of the same fields where we played softball, the same gyms where we practiced basketball. We were Spartans. Their kids will be Spartans. Their kids' kids will be Spartans. There's a certain kind of comfort in that, I think. A measurable, predictable kind of satisfaction. Hopefully they will be surrounded and buoyed up by the love of their kids and grandkids and great-grandkids for the rest of their lives.
The thing about not having kids, about not living in my hometown, about not choosing a career that promises wealth or a predetermined ladder of success, about not locking into the "college, husband, kids, grandkids" track of life, about not believing in the God I was raised to worship, is that I'm not really sure what my time on this earth means to anyone but me. Since I turned 30, I have felt an urgent, unyielding, existential tug on my mind asking and asking and asking if I'm using the quick breath of life I have on this earth to do something that counts. Every day — sometimes multiple times a day — I ask myself, "If I get smashed by a car today, will I have given all the goodness I had to give?" I want to die broke from spending goodness. I don't want any goodness left in the bank. I want to have splurged on the world. On cats and dogs and panda bears and the people I love and the people I barely know and the planet itself.
That's the way I'll measure my success at the end of my life, as a childless queer grown-up, which is silly because giving goodness isn't quantifiable and who knows if I'll have time to tally up anything before I bid this earth goodbye.
The thing that makes me feel most like a grownup is that actresses who are my age are all moms on TV now. I think the weirdest thing about life is you're Buffy, you're Buffy, you're Buffy, and then one day, when you're not even paying attention, you become Joyce. It throws you when you realize it happened. You knew it was coming, but you never expected it.
I wonder sometimes if I'll ever see thick, woolen socks in the Mirror of Erised like Dumbledore did. Probably not. But then, the older I get, the more I suspect that thick, woolen socks aren't what Dumbledore saw at all.
---
Next: Riese and Kaelyn

Infographic #2: LGBTQ Relationships & Marriage
---
Riese, CEO / Editor in Chief
My Mom had me when she was 24, so that age was burned into my head as the age at which one has their first child. Obviously, realizing at 23 that I didn't want to marry a man at all, let alone bear his children, delayed that early goal. But whenever I'd panic that I'd not yet reached this or that life stage yet — marriage, pregnancy, financial security, better physical health, owning instead of renting— I'd just tell myself, "it's okay, you're not 30 yet." I thought my twenties would last forever.
But there was something else going on, too, something that I felt and have tried to write about here and there but don't know how to explain: underneath it all, I fully believed I'd die before the age of 35. I was gonna live fast, get a lot accomplished in an abbreviated amount of time, and die young. When questioned about various reckless life decisions, I thought to myself, "Oh these silly people who think they're going to live forever! So worried about long-term repercussions! Who wants to go tanning with me and do six drugs at once?"
I'm not sure how I managed to hold onto this misconception while also clinging fervently to the belief that I'd have children and a family one day. I guess both of those ideas just sat in my head, fighting for attention.
Regardless, I didn't achieve everything in my twenties. I didn't live fast enough, despite living as fast as I possibly could. I turned 30 and realized that I needed more time. I needed to live past 33! I mean, I've still gotta make Autostraddle and A-Camp into world's best self-sustaining employer of queer women, I've gotta have a kid, I've gotta write a memoir, a novel, and a YA series… and that means I need a lot more years, which means I gotta get healthy.
But it was a daunting prospect: everybody told me that the thirties were the best years, but all I saw in the mirror was somebody who'd lived way too hard in their twenties. Being a catastrophe lost its charm when the results came in. But what the fuck was I gonna do about it?
I worry that the social anxiety and introversion that made me seem like a weird or quirky twentysomething makes me seem like a misanthropic and deranged grown-up.
When I turned 30, I had more barriers than ever to making a grown-up life for myself — I was less financially stable than ever, living in what was becoming the most expensive and therefore least sustainable-for-me American metro area, my girlfriend wasn't sure what she wanted out of life yet (or if she wanted to spend it with me) and I was still drinking way too much. This business I started — Autostraddle and A-Camp — had become its own kind of child, and she gets more and more time-consuming every year. I'm responsible for putting food on a lot of tables besides my own. Plus there's the stress, the hours, the instability. I feel like the nature of this job — and the fact that I have to wean myself off all my psychiatric medications before I can get pregnant — means there'll never be a Good Time To Have Kids, and sometimes I wish I could just get pregnant on accident (like my Mom did!), you know? Almost all my straight peers have married and had kids, even while doing med school residencies or starting businesses of their own. They make it work, right? As queers, we're expected to select an opportune and financially stable time to have children, since for us it's always a conscious decision. That's hard to do.
Last summer the breakup that I thought would kill me ended up being the push I needed to embrace the positive aspects of adulthood. Ever since turning 31, I'd felt like I was sliding down the mountain towards death… but it turns out there's a huge plateau up here with lots of good sites for camping and the cliff is a long ways off. My present girlfriend and I talk about that stuff a lot, so it feels more real now — marriage, kids, a house, moving to a reasonably priced metro area. We talk about the future and what we want out of it, for our families and souls. I drink a few times a month at most. I'm still hungry for experience and adventure, but I want comfort and stability, too. I've had to leave behind self-destruction in favor of consciousness, but I like it. I also think my politics have gotten a bit less radical and more pragmatic.
There remains so much I thought would magically fall into place by my age that hasn't yet, and I don't know why or what to do about it. I worry that the social anxiety and introversion that made me seem like a weird or quirky twentysomething makes me seem like a misanthropic and deranged grown-up. Sometimes I feel bad that I still dress like I did ten years ago, but luckily I'm gay, so as long as Ellen still wears sneakers and jeans every day, I can too, right?
---
KaeLyn, Contributing Editor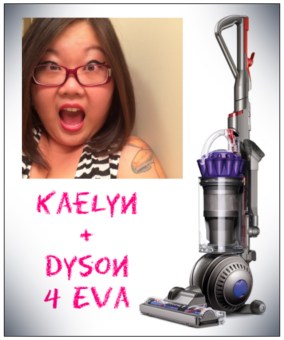 There are some days I feel like I'm the epitome of everything I never wanted. And that's not necessarily a bad thing. Let me back up. I never dreamt of my wedding or having babies when I was a kid. When my first grade classmates played "house," I voluntarily self-cast myself as the family dog. I liked playing veterinarian with my Pound Puppies over playing with Barbies. I imagined being an artist, an actor, a writer, a veterinarian, a marine biologist, a Greenpeace activist (True story: I asked my mom if she would bail me out of jail for cutting whale nets when I was about six years old. She said, "Nope. Don't get arrested"). I never imagined being a wife or mother. As I got older, I entertained romantic notions of being a starving poet living in a barren industrial flat in NYC. I imagined being part of a social movement, going to rallies in Washington, D.C. I imagined living with mangy cats and casual lovers. I couldn't imagine anything beyond my mid-twenties. I didn't know what that would even look like. I never wanted to be "normal." I never wanted white picket fences.
Somehow along the path between 20 and 30, though, everything changed. I don't want to live in NYC anymore. Being crammed into a crappy apartment with roommates sounds like a nightmare. And though I suppose I do regret never doing it, I don't regret the reason why I never did it. The last semester of my senior year, I started dating my current partner and we've been together since. We got together when we were stupid in love and willing to overlook the very real issue that we wanted different things when it came to big stuff: family, children, small town v. big city. We were 22 and 23, respectively, and that stuff seemed so far away. Life was fun. We were in lust. I personally thought we would sizzle and then fizzle out because I couldn't imagine life together that far down the road.
I couldn't wait to be 30 because I felt like people would finally start taking me seriously.
But a decade later, we are still in love. We have both gotten some of what we want and made compromises on other things. We moved to a larger (but not major) city for a job I accepted and ended up putting down roots here. Waffle was willing to go to a bigger city for me, but it turns out I never forced the decision. My work goals have been met with abundance. Waffle gives me the support and space to focus on my career. I'm not rich, but I'm doing work I love for a very livable wage. We also got married — something I never ever thought I'd ever do — and bought a house that's all ours. We're planning on making a human kid in the near future, something Waffle has always dreamed of. We have weird grown up things like supplemental life insurance policies and a crude financial plan and a fancy latex mattress. We're content and happy and making it all work.
The other thing that changed is that I just let go a lot in my thirties, personally. I couldn't wait to be 30 because I felt like people would finally start taking me seriously. I think that did happen, a little, but surprisingly, passing the 30 mark let me take myself less seriously. I no longer feel like I'm sitting on a ticking bomb. I have patience now. I just have less fuks to give, too. I care less what people think and I demand to be respected instead of worrying about whether or not I am (and believe it or not, that actually works). I still have idealist radical politics, but I have more focus and pragmatism. I am slowly changing out my heels for sensible flats. I'm more forgiving and less quick to judge. I have less tolerance for straight-up BS. Time is racing by and I can finally imagine a future beyond the next five years.
No, this is not the future I dreamed of as a kid, as a teen, as an early twenty-something. If anything, it is more conventional than I ever imagined. Largely, this is because I'm more comfortable with myself and because I feel like I have less to prove. I never wanted to be one of those white picket fence people who stay in their hometown and never leave. And I'm not that. Every decision I've made has been with intention, not because it is the status quo. So here I am and I'm damn glad. I can't wait for my forties just because I want to know what that tastes like. And I hope I get more grey hair.
---
Next: Laneia and Bren

Laneia, Executive Editor
I'm not sure I can talk about what it means to be an adult in my thirties without telling you what it meant for me to be an adult in my teens.
All I ever really wanted to do was leave my hometown. The only way people seemed to do this was to go to college out-of-state, so that's what I'd always assumed I'd do. But there was always something kinda unbelievable about that dream. Like when people asked me where I wanted to go or what I'd study, my answer was usually a rehearsed and empty lie involving schools I'd never get into. So when I got pregnant and married at 17, those dreams ended, and although it was depressing and disappointing (not to mention terrifying), it was a relief, too, because it meant I wouldn't have to figure anything out now. I wouldn't have to try hard and risk failure, or navigate things I'd never seen another human navigate! I could just follow the path that I'd been watching other people take all my life! I told myself I was doing the things I would've done anyway — get married, have kids, set up house with a man, learn how to make lasagna — I was just doing them sooner than I'd imagined.
From the age of 17 forward, I had nothing in common with the rest of my peer group. So instead of venturing out into the world and "finding myself" like most people in their late teens and early twenties, I folded back into my family. Slade was raised with extensive help from his grandmother and great-grandmother for the first three years. Finishing high school and finding pride in my role as a housewife and mother hinged almost entirely on the acceptance and support of my matriarchs, so they became my peer group.
For me, being a queer adult has been one great reconciliation. It's meant forgiving — actually forgiving — myself for finding happiness in things that I'd deemed 'straight people things.' Like realizing that my brand of parenting was queer before I even identified myself as such.
Sometime around my mid-twenties I had an epiphany that actually, I probably wouldn't have "eventually" done these things I'd been embracing, because it turned out I was gay, so marrying a man and having kids with him shouldn't have been in my cards. And yet there I was! They were totally my cards, and I'd been playing them for so long on autopilot, and without peers I could relate to on levels beyond familial attachment, that they didn't even feel like mine anymore. I didn't realize how dangerously depressed I was and I thought just coming out and leaving my husband would fix everything, but of course it didn't.
I tend to burn every single bridge right down to the ground when I embark on major life changes, and coming out was no exception. But this time I torched bridges to my own self, and it took several years to start building them back. I'd stopped cooking, my relationship with my children grew detached and unfamiliar, I coddled an extremely cynical view of anything I deemed 'heterosexual', like marriage, parenting, capitalism, or anything that looked too easy or too fun. I was depressed and hurtling toward a jagged little rock bottom, which I slammed into a few times. Rebuilding those bridges back to myself has been the most interesting personal shit I've handled in a while.
For me, being a queer adult has been one great reconciliation. It's meant forgiving — actually forgiving — myself for finding happiness in things that I'd deemed 'straight people things.' Like finding happiness in a world that isn't radical to the untrained eye. Seeing myself in a Sunday Scrapbooking project. Lying completely down on a bed of knowing I have two weeks of homemade meals planned out and half of them are frozen. Realizing that my brand of parenting was queer before I even identified myself as such, and drawing real strength from that. (I owe this realization to Aja, during our parenting discussion group at last year's A-Camp, which I talked about here.) These things have been invaluable, and I wouldn't have had them without this queer peer group.
We talk a lot about how much we've learned and what we know as thirtysomethings, but there are a lot of times that I look to my thirteen or twenty year-old self to guide me to the realest shit, because those are the times I got elbow-deep in unselfconscious self work. I try to balance those selfish findings of myself with what I've learned of the world as an aware adult, and that's led me to some of the best conclusions: that I can be excited about a girl, that I can marry her, that I can plan dinners for weeks in our tiny freezer, that we can make plans because even if we fail, I'll still have her.
This is the first time I've felt on par with my peers since 1998. I'm embracing what feels authentic to me and just me, regardless of where it falls on some spectrum of authentic queerness or authentic radical motherhood. It's helping me feel ready to do the scary shit, like move back to the woods and homeschool these weirdos and grow my own cucumbers because why in all fuck am I depending on anyone else to do that for me? This is just the most basic housewife bullshit and yet it is the most alive I've felt because I got here on my own terms this time. Like I surrendered and suddenly found every single one of my muscles and now I'm just aching to use them.
---
Infographic #3: LGBTQ Parenting

---
Bren, Doer of Things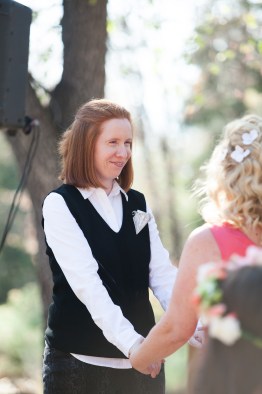 The major difference between my adulthood and that of my non-homotastic friends is that everything has been delayed so so much. I just got married last year. They'll be celebrating anniversaries of 5-13 years. I'm just now thinking about having kids and they already have them. Their kids will be graduating from college when I'm picking out a pre-school. They did the thing in their early 20s where they tried crazy things to "find themselves." I didn't do those things. I felt like the gayness was all my parents could deal with. If I started changing my major every Quarter, smoking the marijuana or broke my arm while water skiing on a plywood board with my feet duct-taped to it they'd really lose their minds. I was a model student/human.
So at 30 I went coo-coo-bananas and quit my very well-paid and stable job and moved out of my comfortable home with central air and across the country to a tiny apartment with ONE window A/C unit to be un/under employed so I could find myself. I'm still looking, but the search area has greatly diminished.
Things I've thought about as an adult that had never before crossed my mind:
Why is my water bill so high?
Mutual funds
We can't possibly be using this much water (while looking at water bill)
Grass (the kind you mow)
Our water meter must have a leak
Having kids
Why do I pee so much now?
All the ways I'm probs gonna mess up my kids
I should get a pee bowl for the car, just in case.
The most efficient time to run sprinklers
What music I'd want at my funeral
The consequences of my actions
---
Next: Alley and Gabby

---
Alley, Contributing Editor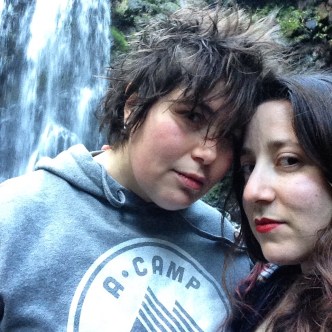 Figuring you when you're going to be an adult and what that means is never easy. We've constructed whole genres around it. But there have always been models. One of the most scary and exciting parts about becoming an adult when you're queer is that we're expected to make up our own rules about what that looks like. One thing I've noticed is that our style doesn't tend to "grow up" in the same sort of "mom jeans" way our straight counterparts embrace. Sometimes this means we have less professional jobs, but sometimes it doesn't. In Portland, the workplace tends to be a lot more casual, but Silicon Valley's wunderkind-in-a-hoodie culture has also made wearing jeans into the office a norm. So, you know, just one more way heteronormative culture has seen us be cool and happy and wants to appropriate it. But I'm happy to share as long as we get our due (I'm looking at you Bieber haircuts).
Speaking of "career and education," I don't really know why I never thought past college but I didn't. I didn't live quite so hard that I thought I'd definitely die, but I wouldn't have been surprised if I did. Honestly, sometimes I'm surprised that I haven't bit the dust, considering how often I've come close for various self-destructive reasons. I'd still rather live free and happy until 60 than give up my vices to reach 80. However, 60 does sound a lot more like a real age than it did ten years ago! So while I haven't completely given up things like alcohol or going out all night and will indulge whenever I damn well please, I do indulge slightly less than I used to.
In high school, I'd fantasize about being one of those dyke punks living in a house with five other dyke punks but instead of working at the local coffee shop like the others, I'd get a "real job" and enjoy the best of both worlds. For the most part, I've been able to do this. I've struggled with employment, but since a brief stint in food service back in '99 when I was 19 and lived in Olympia, I've never returned to the barista life, and I've lived in plenty a punk house. Now, I've moved up a notch to living in a three-bedroom with just one other queer human!
Now I'm on the cusp of home-buying, though it's a cusp I've been on a long time, since I was laid off from OregonLive.com in 2009. I've managed to save a sizeable amount for a down payment, without any familial assistance, but it never seems to be enough. Every time I get a raise, save more, get pre-approved for a higher loan amount, I find that home prices have also risen to beyond my new means. Maybe that's a blessing, though. I spent my twenties working hard for the man, maybe it's time to take that down payment and use it to see the world. Being an adult means you can make big decisions, even if that decision is to play a game that sounds like it's just for young people. I'm not done with the adventure, but when I am, it might be time to face the most grown-up decision of them all.
I used to think I wanted children. Or really just one child. But as I approached my thirties (I'm 33 now), partnerless since my early 20s and largely fine with that, I started to give up that idea. I was happy with my life and busy enough that I couldn't imagine how I could fit in raising a child to an already overwhelming schedule. Sure, I thought, I like kids, and I'm even vain enough at times to want to see a little me running around carrying on my weirdo legacy if not my mental health genes, but I can also borrow friends' kids and go to the science museum on my own. Maybe it was always in the back of my mind, or maybe it started when I started watching The Fosters with my roommate but at some point, I just accepted that if a child was meant to come into my life, she would. Maybe I'd foster children, or date someone with a child. I'd recently done the latter, and her 7 and 12-year-old were fabulous, crazy individuals, and I got to skip their gross baby years, too! Something else has happened, too: the last couple people I've dated were significantly younger than me, but also positive that they wanted babies. There's no guarantee my current relationship will survive, let alone produce offspring, but being in it has got me thinking about kids again.
I would say I'm grown, but I'm not all that different from the human I was at 15. I have seen more. I have partied enough. I have changed my mind. Bringing another human into the world or caring for a human as one of their primary parents would change my life incredibly, but it wouldn't have to change who I am. I have seen alternative parenting around me. I have seen my queer community rally around genderfree moms, dads, and kiddos. I have seen our community raise little humans with flair, aplomb and so much free childcare. I'm excited at the prospect of being a part of that.
I am pretty mad I don't have my first novel written yet, but I've been doing real good work on making the memories and material to go in it. Now it's time to sit down and reflect.
---
Gabby, QTPOC Speakeasy Content Editor & In-house Loverboi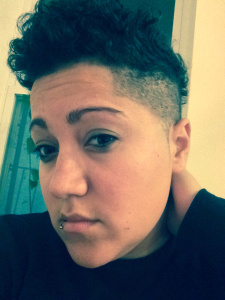 I'm 32 years old.
A year ago, I had a dream job. I was working with kids in the Bronx, making films and sharing my skills as a storyteller. Great salary, insurance, and close to home. My job connected to my creative passions and love of working with youth. It gave me a place in the world. For the first time in my life, I felt like a proper grownup.
If you had asked me last year how I felt about my ability to adult, my whole response would have been some 'work hard, follow your spirit and the universe will open itself to you' monologue.
Part of me still believes in that monologue even though it tends to leave a bloody bitter taste in my mouth. Sometimes when people talk about the universe and its interaction in their life, it sounds too similar to the way people speak about being blessed or right with God, as if hardship comes from not honoring the galaxy every night or lighting enough Virgen de Guadalupe candles. No really and truly sometimes life fucks with you. Sometimes that grant that funded most of your department falls through, sometimes the white guy you work for just doesn't think you're good enough to continue, sometimes the universe makes you fall.
So you fall. I fell. I am falling.
And here's where I have to take a pause.
In my twenties, I wanted to be a hot n fresh queer filmmaker. I worked in tv/film, got cash for my first short film, made some waves, had a sexy party girl girlfriend and I thought my shit couldn't ever stink. I went to all the parties, drank all the liquor, did all the reckless shit I could possibly do and waited for the world to discover me and congratulate me and make a name for me.
In the middle of all the partying, I tried hard to work on my craft. I wrote more screenplays, I reached out and kept reaching and no one would reach back. No one would invest money in the work I was trying to do, in the work I was doing. I kept getting offered entry-level film positions, unless I really really knew someone who was doing the hiring, then maybe i'd get a bump up.
I hadn't developed the consciousness yet to understand why no one would bump me up high enough, even though I was just as talented and hard-working as anyone else. I started to feel the weight of my worth, my real worth, the worth that had nothing to do with partying and being a flaky, flagrant jackass. Once I scraped away at all that and pulled myself out of the all nite revelry, I saw my craft and my skills and knew I could be better.
I think that's the start of my adulthood. It took my best friend dying, my party girl turned addict girlfriend finally leaving me, and me fully and wholeheartedly realizing that I was worth more than all of it, for me to attempt any real progress.
The universe isn't always pretty nor does it always leave warm sunshine kisses on cheeks. No, sometimes the universe stomps on your fucking heart and leaves you with Grey's Anatomy on repeat for a month or six.
This is life. Life with addiction, depression, life as a creative person, life as any kind of person, really. Life with death. Life with trauma. Life as a fat brown dyke. Life on the struggle bus. Life as someone soaring so fucken high there is no end, only horizon.
In this life, there are things that slow us down.
I'm learning that adulthood, for me, is seeing how well I can recover from what comes my way.
Right now, I have a contract for my first novel. The process has been extremely slow but so incredibly thorough. Younger me wouldn't have had time for this. 32 year old me is like yes, lordt deliver me.
Slow and steady.
Right now I'm in this good stable and romantic love thing with a woman who has life goals and takes steps every single day to achieve them. She's a gentle soul who doesn't judge my artsy weirdo ways and encourages me to keep pushing as a writer, as a youth mentor, and as someone who believes in the general goodness and beauty of people in this world. She is a source of strength and encouragement.
We've finally gotten comfortable enough to fart around each other, btw.
And one day, I know she and I will be proud mamas and we will teach them how to survive and be strong and believe in themselves.
We will teach them how to make pizza and write poems in finger paints and on Sundays, we will all pray together to the Universe.
That's real love, to me, adult-ish love. Love I can believe in.
I'm broke-ish. The dream job helped me save some money. It's more money than I've ever had but could also be used by someone to buy a name brand purse or a high fashion pet. But it's there, waiting for me. It's my mad money, my get out of jail free money, my maybe I could put a down payment on a little house somewhere with the sweet girl money.
My relationship with my parents is the best its ever been. Without them, I'd be lost, hungry and possibly homeless. No hyperbole.
As for employment, I just quit a retail job because it was sucking the life out of me. And I know that sharing my financial situation leaves me open to criticism: well how dare you quit a job if you're broke. etc. Well i'll be broke if it means I'm not having panic attacks or riding the subway for 3 hrs a day. I'll be broke if it means not having to pretend like I give a fuck about what some middle management dude has to say about who I am.  I'll be broke if it means I have the time to write and look for a better job, something I can sink my teeth and my heart into, I have to believe that job exists. It did once. So it has to again, right?
Lots of days I feel like the living embodiment of every statistics-based article on the quality of life for queer women of color: under/unemployed, no insurance, high levels of depression, more likely to drink above the recommended daily allowance, living under or at the poverty line, mad fucking smart, under appreciated, will work for respect. will work for deliverance. the one you wanna hug. the one you want at your party. the one who is a force.
Struggle bussing the whole way, y'all.
Struggling also because I won't settle for less than I'm worth.
And I don't have to prove the value of my choices to anyone and it's so liberating. I don't need anyone's approval anymore. I used to thirst for it. Now I make the decisions I need to make at my own pace and it's so satisfying.
I want to write, speak, teach, and travel around meeting all of the people. Is there a job interview for that? Basically it means I just have to keep doing what I do until more opportunities open up and that's scary.
Cuz for someone like me:
queer, latina, masculine presenting, chubby, nerdy, not able to function when bored, uninterested in math or science or tech or the latest app, a daydreaming fierce weirdo writer artist mentor who wants to spread love and tell stories and share knowledge
There's no path. I read Audre Lorde and Erika Lopez for guidance. I look to latina writers and media makers in my life. I read the things Riese writes and I read the things Roxane Gay writes because I need inspiration. But still it's all on me to pay my bills and make my way.
I'm still learning how to do that.
My path through life is much more honest now. I don't sugar coat how I feel or put someone else's needs – imagined or otherwise- before mine. I no longer stay in situations that are detrimental to my health, spiritual, physical and/or mental.
I only accept love that is healing and gentle.
I listen to myself.
I love myself.
I am healing every day.
Pages: 1 2 3 4See entire article on one page