Gallup released the results of a poll last week that aimed to determine which of the U.S.'s 50 top metropolitan area has the highest percentage of the adult population who identify as LGBT. San Francisco came out on top with 6.2% of the population identifying as LGBT, followed by Portland, Austin, New Orleans, Seattle, Boston, Salt Lake City, Los Angeles, Denver and Hartford, Connecticut. Gallup notes that "the top ten includes metro areas from every region of the country except the Midwest."
But those numbers tell a deceptively simple story (and an incomplete one, since the numbers are obviously inaccurate — more on this in a bit). The more complicated one is this: when it comes to geography, you can't really lump every letter in the LGBTQ acronym together anymore (if you ever could). As the population of out LGBTQ folks across the country increases, so does the space between where the boys live and where the girls and non-binary folks live. In The Pacific Standard Magazine, sociologist Lisa Wade looked at this particular phenomenon last week — why lesbians and gay men don't live in the same areas — drawing on the Gallup data and inspired by last month's Contexts article, "Lesbian Geographies." "Most of us are familiar with the idea of a "gayborhood,wp_postsa neighborhood enclave that attracts gay men," writes Wade. "It turns out that lesbians have enclaves, too, but they're not always the same ones."
This isn't news to me: I'm a person who decided to leave New York for San Francisco and decided immediately upon arriving in the Bay that I actually wanted to move to Oakland. I'm in Berkeley now, but we can't afford to stay much longer and are currently plotting a move back to the Midwest. I know it'll be quite an adjustment because, well, Oakland and Berkeley are teeming with lesbians. We are everywhere and gay men are not. Sometimes I go to Trader Joe's and wonder if I'm at A-Camp. I never worry about holding my girlfriend's hand in public. There's a women's-only area in my local YMCA.
The city of San Francisco is an entirely different story, though: I see maybe one lesbian for every 20 gay men I spot in The Castro. There may be a lot of dykes hanging out in Dolores Park, but they're usually going home to Oakland at the end of the night, or to far-flung crash pads in neighborhoods you can't walk to from The BART. The Mission and Noe Valley, once legendarily "checkered with lesbian-themed bookstores, bars, gyms and discotheques" where "groups of single women shacked up together in giant housing collectives, drank coffee companionably at the women-only Artemis Cafe, opened small businesses along the Valencia street corridor" and "formed ad hoc political groups," isn't the same place Michelle Tea told me about in Valencia. 
San Francisco Weekly's 2014 Pride Issue featured a cover story about why gay women were "fleeing to the suburbs" while "their gay male counterparts are flocking to San Francisco's most desirable and costly neighborhoods." Author Rachel Swan noted, "all over the country, lesbian districts are evaporating, even as their gay counterparts — places like the Castro, West Hollywood near L.A., Chelsea in New York, and D.C.'s Dupont Circle — are becoming more affluent, and staying close to the city center. The reasons for this are many, and open to conjecture, but the trend is undeniable." The primary reason, of course, is money: we make less money than men and can't afford to live in the same neighborhoods. There's often interesting divisions happening within states, too, like the 2010 Census Data that suggested that while same-sex female couples are more likely to live in Northern California, gay couples prefer SoCal. Gay men love the beach and ladies love the trees and the mountains, maybe.
When I lived in New York, from 2004-2010, I saw quickly that legendary "gayborhoods" like the West Village and Chelsea were almost exclusively male. Although lesbians were known to be living in areas of Brooklyn like Red Hook and Park Slope, I found plenty in neighborhoods simply known for being relatively inexpensive, like Spanish Harlem and Morningside Heights. In 2005, The New York Times declared that even Park Slope was no longer enjoying "the cultural cachet of being New York's premier lesbian neighborhood," noting that "as happened with the gay scene in the West Village, its reputation has somewhat outlived its reality, especially for many younger lesbians." A 63-year-old Lesbian Herstory Archives coordinator told The Times that although she'd enjoyed a thriving feminist lesbian community in Park Slope in the '60s and '70s, it was already losing its dykey base in the '80s, when "Wall Street companies were giving prospective employees bus tours of Park Slope, a once-edgy neighborhood that had become prime real estate." They cite a Brooklyn Historical Society report that showed that "many lesbians, mostly Latinas and younger women, were being priced out of Park Slope even in the early 90's."
It's not just that lesbians are moving to the suburbs or outer boroughs of gay meccas, though, they're often shacking up somewhere else entirely. "Lesbian couples are more likely than gay ones to live in rural areas, in part because they seek different things from their hometowns," Francie Diep writes in The Geography of Queer Folks, summarizing Lisa Wade's conclusions. "For example, lesbian couples are much more likely than gay couples to be raising children, the costs of which might be lower outside of cities." This is perhaps consistent with a recent survey that showed most same-sex couples raising children are doing so in the South. Or, as Lisa Wade summed up one theory on why lesbians might be more comfortable in the rural south than gay men: "If being "butchwp_postsis normative for people living in rural environments, lesbians who perform masculinity might fit in better than gay men who don't." There's also a strong tradition of rural lesbian communes and rural queer women's lands, which continues today.
There's a lot to chew on with all this information, old and new — especially for me, as I've been tracking this particular mystery for six years and have been consistently surprised by the wildly disparate data available on the topic, both in terms of where LGBTQ women live and which places are most friendly to LGBTQ women. Most evaluations of LGBTQ geography lump men and women together, despite the fact that the two subcultures rarely overlap in practice, thus rendering themselves useless to lesbians. As we've documented, counting queer folks in general has been a challenge for the world, let alone nailing down those queer folks to particular geographical areas and drawing significant conclusions from that information. Even the Gallup poll that prompted last week's conversation has a plus or minus 1% margin of sampling error at the 95% confidence level, which means the specific ranking of any particular city — as they're all within one or two percentage points as the cities above and below them — isn't readily apparent, just its general ranking. 2012 Gallup data about which states had the highest percentage of LGBTQ residents revealed that "the variation in the percentage of adults across U.S. states who identify themselves as LGBTQ is relatively small" and cautioned against drawing significant conclusions from the data, aside from the general conclusion that "states with proportionally larger LGBT populations generally have supportive LGBT legal climates."
We're apparently starved for this information, though, and won't stop looking for it or trying to summon it. The Advocate does its own annual ranking of the most gay-friendly cities, using different criteria every time. Last year's equation factored in LGBT elected officials, lesbian-coupled households, gay rodeos, gay bars, women's colleges and "concerts by Mariah Carey, Pink, Lady Gaga and The Jonas Brothers." The rankings often seem designed to produce controversial results — like in 2011, when Minneapolis, Santa Fe, Pittsburgh, Orlando and Las Vegas snagged the top five spots and New York and Los Angeles didn't even rank.
In 2012, I took a crack at making a list of our own, entitled "The 21 Most Lesbianish Cities In The US," looking at factors like our own reader location statistics from Google Analytics, Tegan & Sara concerts, LGBT-friendly colleges, LGBT or feminist bookstores, lesbian nightlife, inclusive ENDA policies, same-sex marriage legislation, and rankings from magazines like The Advocate and The Daily Beast. That year we also undertook the Queer Girl City Guides Project, where we solicited locals to tell the world about their homes and native lands. Despite the hordes of readers and writers we've got in Los Angeles, San Francisco and New York, those cities have been the hardest to find guide authors for — but we easily secured guides for cities like Spokane, Durham, Burlington, Pensacola, Madison, Columbia, Gainseville and Saratoga Springs. Our most popular City Guide is the one about Columbus, Ohio.
For the book There Goes the Gayborhood? by Amin Ghaziani, statistics ended up being only a small part of the research he drew on. He focused primarily on an analysis of 617 newspaper articles on the topic from all over the United Sates and by interviewing 125 gay and straight Chicago residents. This is a subject that requires looking at lots of data sets, lots of articles and drawing on lots of personal experiences to come up with anything like a comprehensive picture. So let's do that.
---
The Numbers
First let's look at the geographic data we have about all LGBT people, including the data released by Gallup last week. Here's what they learned about the LGBTQ populations of the U.S.'s major metropolitan areas, compared to 2000 census data, and ranked in order of the percentage of the population in each area identifying as LGBTQ: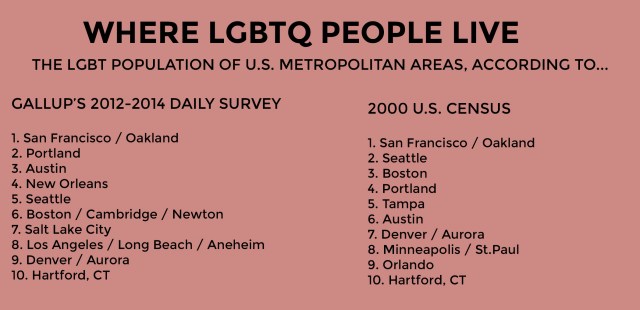 Unfortunately, there's no breakdown of this data by gender. The best we can do in that department is to compare it to the data we have from our own readers, who are mostly queer women. In our 2014 Autostraddle reader survey, which had 3,455 respondents, we asked "if you live in the United States, which, if any, of the following cities is closest to you?" I then took that data and grouped together cities considered by the U.S. Census to be part of the same Metropolitan area to see how it compares to the data above.
Of course, the 2014 Autostraddle Reader Survey has a lot of demographic specificities besides sexual orientation that could explain why we live where we live: like that the majority of survey-takers are between the ages of 18 and 34, 49% are single, 90% have been to college and 96% didn't have kids. It's not data that'd stand up in a research journal or paper, but it's interesting nonetheless. Most importantly, perhaps, is the fact that these women are Autostraddle readers, which suggests an interest in queer community in general that not all queer people share. Our Google Analytics metro-area data reports traffic in this order: New York, Los Angeles, San Francisco / Oakland / San Jose, Chicago, Boston, Washington DC, Philadelphia, Seattle, Atlanta, Portland, Houston, Dallas, Minneapolis, Denver and, finally, Detroit.
On the other end of the demographic spectrum we have data that looks only at same-sex couples, as counted by the U.S Census. The "Lesbian Geographies" piece in Contexts (written by the author of There Goes the Gayborhood?) drew on Trulia's analysis of 2010 U.S. Census Data, which revealed a market that "looks different for gay men and women, who often cluster in very different neighborhoods even in the same metro." This chart has Trulia's zip code analysis, as well as the straightforward by-city ranking directly from the census.
The New York Times looked at the zip code data set and determined its most surprising element was "how far same-sex couples have dispersed, moving from traditional enclaves and safe havens into farther-flung areas of the country." They suggested that baby boomers were retiring and moving away from places like West Hollywood and San Francisco towards places like Pleasant Ridge, Michigan (population 2,569) and Rehoboth Beach, Delaware (population 1,398). But are these numbers really large enough to be meaningful? Trulia says Rehoboth Beach, for example, has a 2.4% share of same-sex female couples — with a population of 1,398, that means there are 33 lesbians in Rehoboth Beach. That's not a lot of lesbians!
Here's the first bit of information regarding "huh well, these numbers seem off" — Trulia says West Hollywood consists of 8.9% gay households. But West Hollywood did its own survey and found 41% of the WeHo population is gay and bisexual men and 5% of the population was lesbians and bisexual women. So — grain of salt.
So, two last sets of Autostraddle-related numbers: we asked the 6,058 United States residents who filled out our Lesbian Sex Survey two months ago (open to all women who had sex with women, and drawing on a more diverse population than the Reader Survey) what state they lived in, and when comparing the percentage of survey-takers who live in each state compared to the percentage of U.S. residents overall who live in each state, a few things stand out enough to be noted here. Lesbian sex survey-takers are…
Slightly more likely than the general population to live in California, New York, Illinois or Washington
Way more likely than the general population to live in Massachusetts or Oregon
Slightly less likely than the general population to live in Florida, North Carolina, Georgia and Indiana
Finally, we have this infographic from The Williams Institute about where one might find the most same-sex couples raising children. This shows what percentage of the same-sex couples in each city reported that they are raising children under the age of 18. So, for example, 22% of same-sex couples in Detroit said they were raising children under the age of 18.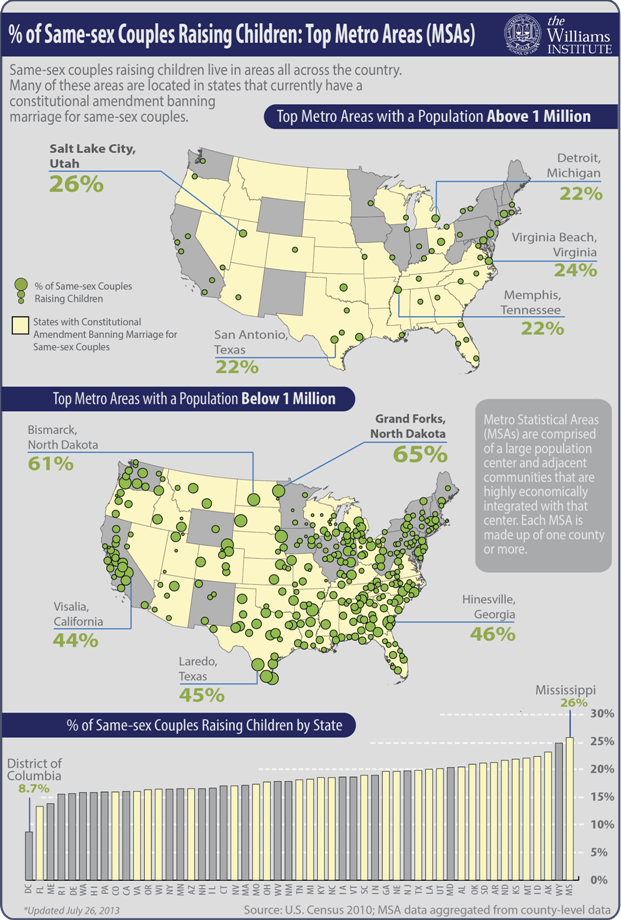 Because female same-sex couples are more likely to be raising children than male same-sex couples, it stands to reason that the cities highlighted above skew more lesbian than gay. Same-sex couple parents and their children are also more likely to be of color than different-sex couples, and the high rankings of cities like San Antonio (63.2% Hispanic/Latino), Detroit (83% black) and Memphis (62.6% black), could reflect that trend.
---
Beyond the Numbers
Let's be real: a lot of these numbers are admittedly imprecise and many of them are just simply and obviously wrong! (This isn't news to the statisticians and researchers, I should add — they recognize the limitations of their numbers, and the inherent challenges in surveying LGBTQ populations.)  As I mentioned above, although the Census reported West Hollywood to be 8.9% queer, West Hollywood's own demographers found its residents to be 41% queer men and 5% queer women. If their numbers about the East Bay were right, maybe there wouldn't be such long lines at Ships in the Night.
The government only tracks co-habitating same-sex couples. Gallup only records people who are interested in revealing their sexual orientation or gender identity to a stranger on the phone. It's hard to say if people who live in cities like Birmingham, Alabama, which landed squarely at the bottom of Gallup's list of the most LGBT-occupied cities, are less likely to be LGBTQ or just less likely to say so. I mean, Birmingham scored a 9 out of 100 on the HRC's Municipal Equality Index.
Plus, 6% of a neighborhood being gay does not a gayborhood make, regardless of how small a percentage of the population we are. Asian-Americans make up about 5% of the entire US population, but Mission Hills – Vineyards North in San Francisco, considered a top "Asian-American neighborhood," is 74.6% Asian-American. LGBTQ people are between 3% and 10% of the population, depending on which survey you believe, and our #1 gayest neighborhood according to Gallup, The Castro, is just 6.2% LGBTQ. Have you been to The Castro? It is way more than 6.2% LGBTQ! Portland, the whitest large city in America, is 6.3% black. It's considered the second-gayest city on Gallup's list… and is supposedly 5.4% gay? Have you been to Portland?
At the very least, if LGBTQs comprise around 5% of the entire U.S. population, our numbers ought to hover around 5% in most places, and far exceed 5% in the areas where we allegedly gather. Pick up the local LGBTQ Weekly in any of the metro-areas listed above and you'll see that with the amount of shit going on, there's definitely more gay people in these areas than the Census or Gallup is uncovering. Although lesbians seem unable to support dedicated local lesbian bars, they're flocking in droves to girls nights, local roller derby teams, lesbian softball leagues, organized "queer brunches," pop-up queer barbershops and other spaces like readings, protests, The Planet and basketball games. "Lesbians like to hunker down and stay in," a lesbian Chicago resident told Amin Ghaziani. "We like to stay on our patios, drink our beer, and have our barbecues. That's why you don't see us walking around… women have house parties or gatherings, or we would rather go out to dinner — but in small social settings. Not to say that women don't go out to bars, but generally speaking, it takes a lot of effort to draw women out to bars."
Furthermore, the overall demographic of LGBTQs doesn't jive with the demographics of the areas where we allegedly live. LGBTQs are more likely to be of color, but the neighborhoods cited as gayborhoods are overwhelmingly white. Queer women and trans people are more likely to be poor, but the neighborhoods cited as gayborhoods are overwhelmingly rich. In There Goes the Gayborhood?, Ghaziani noted from his interviews with queer people of color, "The social and residential choices that people of color make resemble those of same-sex families. The outer ring, or the most general residential (and social) filter, is the ethnic community… Within this, many people of color seek a "queer safe space."" Later in the book, Ghaziani (a gay man of color himself) says that, "in an act of exquisite agency, queer people of color are forming new gayborhoods of their own, rather than disappearing off our cultural map."
These are just some of the reasons why, when it comes to gayborhoods, numbers from places like Gallup and the U.S. Census are important, but so are lived experiences, newspaper articles and random surveys of lesbians who read this website. Any information is useful information when the official information is so light on, well… information.
But looking at where they started can help us figure out where they're going.
---
Gayborhoods: A Tiny History
Gayborhoods originally began to thrive after World War II, when a few things happened: gays and lesbians, newly exposed to a freer sexual society in Europe, opted to remain in military base cities rather than return to their hometowns. Gays and lesbians who'd been discharged for homosexual conduct moved into "self-protective" "refugee camps" (terms employed by activist Carl Wittman) in cities like Chicago, Seattle, San Francisco, San Diego, Philadelphia, New York, Miami and New Orleans.
The push for women to join the workforce during the war resulted in many queer women finally achieving financial independence from their home community but even moreso enabled those who'd been working in factories since their teen years to blend in. "In their minds," write Kennedy and Davis in Boots of Leather, Slippers of Gold, "the important effect of the war was to give more independence to all women, thereby making lesbians more like other women and less easy to identify." It became less unusual for women to have independent income, socialize in exclusively-female social groups, and walk home at all hours without a male companion. Industrial centers like Buffalo, New York, became hot spots for lesbians. In San Francisco, many gay women joined the Woman's Army Corps, headquartered in the Presidio. Believe it or not, one patron recalls that in the '50s, there were more lesbian bars than gay bars in the North Beach neighborhood of San Francisco because "fewer doors were open through normal channels (work, clubs, organizations) for women to meet other women of a like mind."
Meanwhile, a thriving lesbian population had been building in Los Angeles since the turn of the century, as Hollywood was basically the only industry offering women an a way to get rich independent of her family. Businesses sprang up catering to these new populations, and after New York City's Stonewall riots in 1969, the "great gay migration" (as it is described by anthropologist Kath Weston) of the 1970s and 1980s began, with gays and lesbians moving to cities in search of community just as those same cities were experiencing "white flight." Justin Ocean wrote in The Advocate (as quoted in There Goes the Gayborhood?) that "the cycle of queer pioneers turning the dilapidated into destinations seems to be an intrinsic fact of gay life."
Of course, by the late '90s, people were already saying that gayborhoods were being overwhelmed by straights and facing an impending demise. "Gayborhoods long provided sexual minorities with a safe space in an often unsafe world," writes Amin Ghaziani in There Goes The Gayborhood? "But now the world itself is becoming much safer." There are so many reasons and theories for the overall decline of gayborhoods that we could talk about for days, but today we're aiming to reach a conclusion about gendered geographies. So, to that end, it bears mentioning that if anybody's sticking around in the "gayborhoods," it's gay men. They can afford it, they're less likely to have kids, more likely to have the kind of extra income you need to enjoy an urban lifestyle and, as Ghaziani points out in "lesbian geographies," "Gay men are more influenced by sexual transactions and building commercial institutions like bars, big night clubs, saunas, and trendy restaurants, while gay women are motivated by feminism and countercultures." Furthermore, women are less able to own real estate and open businesses that'd mark the neighorhood as their own. In a Time Out Chicago April Fools' article making fun of the lesbians who'd seen Chicago's Girlstown evolve into a Boystown, moved to Andersonville, and now wanted to ensure Andersonville remained as girls' town, the magazine quoted "out activist Pat Bushman" pointing out that "There are more than 25,000 dykes living on the North Side, and frankly, I'd like to see the city try and live without the $1,879 we spend annually on bars and nightlife."
Sadly, the influx of moneyed residents has resulted in San Francisco becoming remarkably unfriendly to the queer and trans youth who once relied on its streets and services, a transformation already happening in New York, where development threatens the thriving community of homeless queer and trans youth who rely on the community found at the Christopher Street piers.
"San Francisco is a textbook example of what happens when gay people become part of the power structure," writes Matilda Bernstein Sycamore in City of Brotherly Love. "They engineer the election of anti-poor pro-development candidates over and over and over again; they advise property owners on how to get rid of long-term tenants; they fight against the construction of a queer youth shelter because it might impact community property values; they arrest homeless queers for getting in the way of happy hour." It's unsurprising that these climates quickly edge out many lesbians as well as queers of color and trans people.
Ghaziani also points out that lesbians tend to move out of a male-dominated gayborhood because… well… men.
---
Do Queer Women Flock To Queer-Friendly Areas?
Gallup says it did a survey in 2013 that found only 12% of LGBT adults "considered the levels of LGBT social acceptance in a city as a major factor in their decisions about where to live," which struck me as wildly improbable. I don't know any queer woman who doesn't consider that element when deciding where to live — but maybe the fact that I've chosen to live in places like Ann Arbor, New York and the East Bay means that I'll obviously know a lot of people who have considered that factor.
But a lot of queer women never considered that factor because they've never had a chance to choose where to live in the first place. You stay where you grew up, where your family is, where your job is. You stay somewhere because you can't afford to move elsewhere.
We asked our readers about the gay-friendliness of their home in our Autostraddle Grown-Ups Survey, which garnered over 4,000 responses from readers 29 and up. The data revealed that either most of the world is gay-friendly, or a lot of you have migrated to gay-friendly places. 38% of you live in very LGBTQ-friendly areas, 27% in somewhat LGBTQ-friendly areas and 15% in legendarily LGBTQ-friendly areas (e.g., San Francisco, Chicago). Of those who didn't report living in an LGBTQ-friendly area, 10% reported their area as "neutral" to LGBTQs, 2% weren't sure, 7% reported a "somewhat hostile" environment. Only 1.47% of respondents said their area was "very hostile" and only .37% said it was unsafe to be "out" where they live. I imagine that many living in hostile areas didn't make a "choice" to live there — it's where they're from, where their family is, where they could find a job or where they've always been.
The Municipal Equality Index, put together by the HRC, ranks 353 cities on their gay-friendliness — while acknowledging that the numbers can't replace lived experience of the city's friendliness. It is worth noting that a few areas considered gay meccas did not score that well — Ferndale, MI got a 57, while East Lansing scored 100. Miami, Florida got a 53, while Orlando scored 100. Still, the majority of cities with large gay populations scored high on the municipal equality index.
There's a general sense of inevitable acceptance, though, that results in people like me deciding to move back to areas of the Midwest that presently lack legal protections. Even if things aren't great now, the sense that things will change eventually might turn back the tides of lesbian migration. We've been forced to pay a hefty premium to live amongst our own and many of us are ready to settle down somewhere cheap as soon as it's safe to do so. Although Gallup said that no Midwestern metropolitan areas showed up in its top ten, some of our most active Straddler Meet-Up Groups are in the Midwest: Cincinnati, Chicago and Minneapolis.
---
So, Where Do Lesbians Live?
The simple answer: everywhere. We often live in the same cities as gay men but can rarely afford the same neighborhoods, and we're more likely to skip town to start families in more affordable areas with better public schools. Lesbian bars and women's bookstores, once anchors of lesbian neighborhoods, are shuttering epidemically, but there are other social hubs for lesbians that continue thriving and reveal consistent trends in lesbian geography.
For example, lesbians are more likely to be involved in academia — as students or as professors — and to cluster on or near college campuses. Women's colleges and other universities with strong queer communities are all over New England, which seems to host a disproportionately large lesbian population. Boston and Cambridge, specifically, have been lesbian enclaves for centuries — recall the "Boston Marriages" of the 19th century — and seem to remain so. A college town is likely to offer many of the cultural benefits of a city, including liberal politics, independent businesses and museums; but with lower rent, more green space, and good public schools for kids. Northampton (home of Smith College) has more lesbians per capita than any town or city in the country and is part of what's made Western Massachusetts so damn queer. There are also high lesbian populations in college towns like Ann Arbor, Berkeley, Madison, Ithaca and Raleigh-Durham. Oakland is touted as having the highest lesbians per capita rate, and there's a rich history in The East Bay — former Oakland residents include Gertrude Stein, Holly Near, Pat Parker, Angela Davis and Audre Lorde; and many of its buildings were designed by (allegedly) lesbian architect Julia Morgan. The North Oakland / South Berkeley area has long been lesbian territory, and is refreshingly racially diverse as well. But the tech boom in the city is pushing rents to unfathomably high rates, which is already trickling into the East Bay. It's hard to know how long it'll remain affordable for queers of color, young queer women, trans and non-binary folks.
When we did the 21 Most Lesbianish Cities report, the comments lit up with queer women professing the greatness of their cities and proclaiming them the gayest city ever: Philadelphia, Albuquerque, Tuscon, Austin, Salt Lake City, Columbus, Miami, Houston, Burlington, Asheville, San Diego, Minneapolis… and on and on. There's stuff happening, but a lot of it is just under the surface.  "Lesbian neighborhoods… consist of clusters of homes located near countercultural institutions, like artsy theaters, bike shops, and cooperative grocery stores," writes Ghaziani. "This gives them a quasi-underground character, and makes them seem more hidden."
Does this mean we've all assimilated? Does it mean we don't need lesbian neighborhoods anymore? Does it mean the men have kicked us out of the best places to be? Nope. But it does mean that now, if you're in a position to decide where to live, you don't have to pick between a place with lesbians or a place without lesbians, but rather can choose whether or not the lesbians you want to hang out with, work with, and run into at Whole Foods live there. There may not be many lesbian bars left for someone to walk into and find people like them, but you can still walk onto the internet and find people like you who live where you live, and then just pick a place to hang out in 3-D, and do so.
---
Final Thoughts
There are many limitations to the survey and research on this topic. It's unclear if any transgender people were included in any of these counts or if the "T" was just slapped on to the acronym out of force of habit. There's also no data on how racially diverse these LGBTQ populations are. Picking a place to live as a queer woman of color adds layers of anxiety to an already complicated decision-making process — not only must they wonder if the alleged gayborhood is primarily men, but also if it's primarily white.
There's definitely no data on the best places for trans women to live — we're currently looking to rectify that, so if you have tips, please email our trans editor, Mey Rude, who is putting together that list. (mey [at] autostraddle [dot] com)
We're also looking to put together a list of 21 Underrated Lesbianish Places To Live to draw attention to cities and towns with significant populations of queer women that aren't often acknowledged as such. For this, we desperately need your input, and welcome it in the comments. We're especially interested in towns and cities with thriving QTPOC populations and resources. So let us know!
---
So, I turn to you, queer women of this country: where do you live? Is it friendly to LGBTQ women? Does the gay-friendliness of a place influence your desire to live there? Are there misconceptions about the gayness of your town / city / village?