---
I've lived in Pensacola for seventeen years, although there was a big gap between the first 10 and the latest 7. As an out lesbian in high school, I hated everything about Pensacola and left for Atlanta after my junior year. But the beach and my family called me home, and I've been back here since 2006. I run lesbianpensacola.com, am a workout fanatic and spend most of my free time playing outside.
I love Pensacola's natural beauty — there's water everywhere — and the progressiveness of the everyday gay scene has come a long way in recent years. Florida was a anti-gay-marriage state, and Pensacola is part of the conservative panhandle. We're the home of the court decision that inspired the documentary Unfit: Ward vs. Ward, in which a judge granted custody to a murderer rather than a lesbian. That said, we've hosted a massive annual gay Memorial Day celebration for many years.
Pensacola is a complicated place for queers. While we play host to tens of thousands (some say more) of LGBT tourists on Memorial Day weekend, that weekend is not representative of everyday life. There're many queers in prominent careers in Pensacola, and a visibility of out LGBTQ people has increased in the last few years. The community here is fairly close-knit, and many friendships span a decade or more.
Drink, Drank, Drunk
The Cabaret (101 S. Jefferson Street), Emerald City/The Otherside (406 E. Wright Street), and The Roundup (560 E. Heinberg Street) are Pensacola's gay bars. The Roundup is mostly men and the others are mixed. Florida laws still allow smoking in bars, so expect a lung-full of cigarettes if you go to a bar here. The Cabaret is my favorite of the gay bars. Emerald City, which is club-like, dark, and usually loud, is the place to dance. The Otherside is literally the other side of Emerald City, and is more of a traditional bar. The Otherside often hosts Drag Queen Bingo on Fridays. Seville Quarter is the traditional drinking sector of downtown Pensacola, and lately the younger queer crowd seems to have made a place for themselves among the usual Seville partiers. Most women I know meet potential dates through friends, not at bars. The dating scene can feel a little incestuous at times, but it can be nice to get a full background workup on your newest love interest.
The Beach!
The beach is Pensacola's trump card. The sands are as white as sugar and the Gulf of Mexico stays warm almost all year. Pensacola Beach isn't actually within the city of Pensacola, but we still consider it ours. Fort Pickens is an 1800s military installation within the National Seashore, and it's a huge draw for tourists and locals. Within the National Seashore, there are incredible nature trails, campgrounds and pristine beaches. The actual fort is an amazing piece of history, and the beach around the fort is gorgeous.
No matter what part of Pensacola Beach you choose to visit, you'll find unique beauty and wildlife. Obviously, the undeveloped parts are more natural, but none of Pensacola Beach is as overrun with development as many other beach towns. There's a public boardwalk with several shops, restaurants and bars almost immediately after you cross the bridge to the beach, as well as ample public beachfront with quick access to food and drinks. When you visit, pack your sunscreen and get ready for a full day of bikini-clad fun.
Get Educated
The University of West Florida is the main four-year university in Pensacola. Its campus boasts a gorgeous nature trail and miles of mountain biking trails. Pensacola State College, formerly Pensacola Junior College, has several campuses and tons of degree and technical programs. Pensacola Christian College is a four-year university for people who think women should wear long skirts and go on chaperoned dates. PCC is definitely not a queer-friendly place.
Boys and Their Sticks
Pensacola recently got the Blue Wahoos, a minor league baseball team that plays in the most beautiful baseball stadium you'll ever see. The newly constructed Maritime Park (301 W. Main Street) is their home field, and it overlooks Pensacola Bay and downtown. People from all walks of life are Wahoos fans, but I've never been to a game without seeing at least a dozen other lesbians. Even if you don't like baseball, the stadium is a fun place to catch a sunset and people-watch, and tickets are fairly cheap.
The Pensacola Ice Flyers is the latest hockey team to play at the Civic Center (201 East Gregory Street). If men skating around, whacking pucks and getting in fights turns you on, an Ice Flyers game will feel like home. I've heard of some not-so-friendly locals hassling queers in the past at Ice Flyers games, but I also know several happy lesbians who enjoy the games every season.
Baked, Fried, on the Side
Downtown Pensacola is home to tons of good restaurants. If you stay in downtown proper — mainly Palafox Street and surrounding areas — you'll find something tasty. The downtown area has become more energized lately, and the thriving restaurant culture is evident by the multitude of eateries almost on top of each other. Pensacola Beach has lots of food choices, too, and almost all of them have a flip-flop-friendly atmosphere.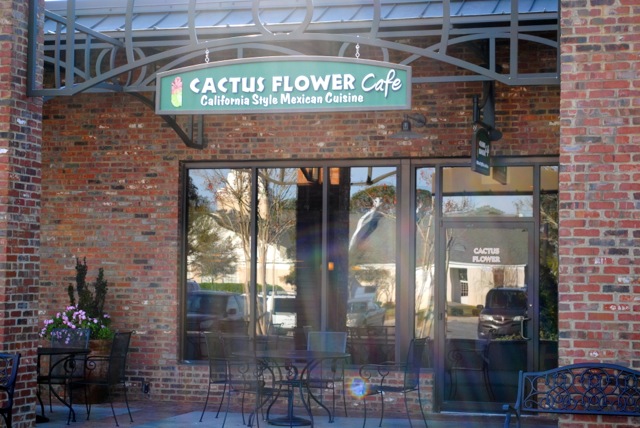 Cactus Flower Cafe (3425 N. 12th Avenue) My favorite restaurant in Pensacola is on 12th Avenue in historic East Hill (the gayborhood). Cactus Flower is women-owned, and has delicious, upscale Mexican food that can be made vegetarian, vegan or unrestricted. New locations have popped up recently, but the mothership on 12th Avenue is my sentimental favorite.
Ozone Pizza (1010 N. 12th Avenue, Suite 111) Ozone hosts Ladies' Night every Thursday evening. You can score an inexpensive personal pizza and drink specials just for being female. Pizzas can be made conventionally or can accommodate vegetarians and vegans. Asked to be seated in the "board room," named after the surfboards on the wall, if you want a quieter experience.
Ever'man Natural Foods (315 W. Garden Street) Ever'man Natural Foods is Pensacola's health-centered co-op. It's currently under renovation to become bigger and better, but is still open for business as usual. In addition to supplements, groceries and household products, Ever'man has a mostly organic deli and juice bar inside the store. Deli hours are much shorter than store hours, but in general, if it's lunchtime Monday-Saturday, the deli is open. Prepared food is also available from deli coolers during regular store hours.
World of Beer (200 S. Palafox Street) If you're walking around downtown and want a bar with plenty of outdoor seating and a huge beer selection, check out World of Beer. It's a chain with a local vibe. The drinks are pricey, but you won't be fit to drive for a while after just one glass of Delirium Tremens.
Joe Patti's Seafood (524 South B Street) Joe Patti's is an iconic Pensacola business. You will know it from the road by the giant neon shrimp sign and huge American flag. It's a working wholesale seafood warehouse, and a hugely popular place to buy freshly caught fish, shrimp, crabs and everything else edible from the ocean. There's also a wine store, sushi counter and deli in the building. When you walk in, expect huge crowds no matter what time you're there. Frank Patti himself is often calling service numbers and cutting tuna for sushi. If you don't have a clue how to prepare seafood, you can request that your shrimp be steamed to your spice preference. Although the atmosphere is not at all romantic or peaceful, Joe Patti's sushi counter has the best and cheapest sushi in town, and you can order it to go.
Peg Leg Pete's (1010 Fort Pickens Road) Beer and seafood on the beach can be found at Peg Leg Pete's. The grouper nuggets are delicious, and the beer is always cold. Peg Leg Pete's is the last restaurant before the National Seashore.
Paradise Bar and Grill (21 Via de Luna) Paradise Bar and Grill usually draws a mixed crowd, but a lot of local lesbians swear by Paradise for a good time. Like Peg Leg's, it's not actually in the city of Pensacola, but we locals throw Pensacola and Pensacola Beach together all the time.
Sluggo's Vegetarian Restaurant (101 S. Jefferson St. Suite A) Sluggo's is a great vegan/vegetarian restaurant, full bar, and music venue. The bar still offers friendship tabs and has indoor and outdoor seating available.
End of the Line (610 E. Wright St.) End of the Line is an awesome vegan restaurant and coffee shop. Sunday brunch offers heaping plates of creative food, and daily specials compliment a fantastic menu.
Health
While I don't know of any LGBTQ-specific health services, Pensacola's neighboring city, Gulf Breeze, is home to the Andrews Institute. The Andrews Institute is one of the most respected sports medicine facilities in the nation, and in addition to patching up famous athletes, they fix up the rest of us weekend warriors, too. Bonus: they're at the foot of the bridge on the way to Pensacola Beach.
All in the Family
PFLAG has an active chapter in town and they meet every third Monday of the month at 6 pm at Ever'man Natural Foods co-op. Pensacola's Metropolitan Community Church has traditionally offered a safe place for LGBTQ people to worship.
Want to tie the knot (although not legally) while vacationing at the beach? Legacy Event Design can help plan your wedding. Get in touch with them at (850) 332-7505.
The Gayborhood
East Hill is Pensacola's gayborhood. By no means is it completely queer, but it's the closest thing we have to cluster living. The parks are beautiful, the neighborhood borders lovely (but polluted) Bayou Texar and same-sex couples abound.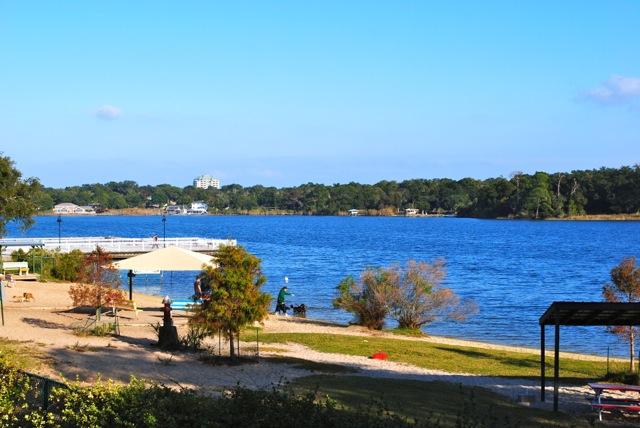 East Hill is a mostly historic neighborhood with fantastic parks, most notably Bayview Park. Bayview has public tennis courts, paved walking paths, multiple boat launches, picnic facilities, and a fenced-in dog beach. There's also a playground for the little ones, a senior center, and a community center onsite. Bayview is Pensacola's Central Park.
Faux Hawks and Tats
Hula Moon is the most hyped tattoo parlor in town. They've inked colorful designs on tons of satisfied customers throughout the years.
Hair-wise, most lesbians in Pensacola go to whatever salon fits their budget and career needs.
Putting on a Show
The Saenger Theater (118 S Palafox Place) hosts pretty good concerts and shows and is the home of the Pensacola Symphony Orchestra. Most shows at the Saenger are a good opportunity to meet well-dressed women.
Vinyl Music Hall (5 E. Garden St) is a cool, small venue in the heart of downtown Pensacola. Events are almost exclusively standing-room-only, with various age restrictions depending on the show. Vinyl's prime location makes it easy to grab dinner, drinks and watch a show within the same city block.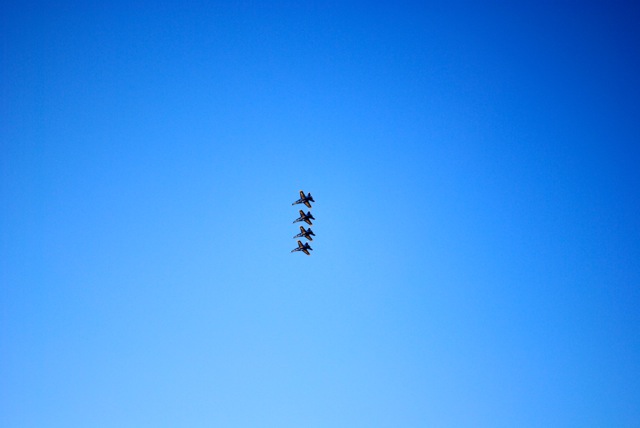 Pensacola is a military town. We're home to the Blue Angels, the U.S. Navy's flight demonstration team. If you're interested in military history, the Naval Aviation Museum is an awesome place to connect with top-notch exhibits. The museum is located at Naval Air Station Pensacola. If military museums aren't your thing, at least try to catch a Blue Angels air show or live practice. The pilots are famous, talented and iconic to Pensacola.
Memorial Day Weekend
The event — the one a lot of local queers look forward to all year — is Memorial Day Weekend. If you haven't been down here for it, make your plans now. You'll learn what it's like to live in a gay party city, if only for three days.
There's a downtown Pride event that gets bigger every year, but it's nothing like Memorial Day Weekend. Pride usually draws protestors, and while Memorial Day Weekend does, too, the sheer number of LGBT people easily overtakes the negativity. Businesses, the "graffiti bridge" (a train trestle over 17th Avenue on the way to the beach), and the beach get covered in rainbow flags. Guest rooms sell out everywhere, and bridges become rainbow parking lots. If huge crowds of queer people on the beach make you happy, Pensacola should be at the top of your list.