At 2:50pm today, two consecutive explosions happened near the finish line of the Boston Marathon. As of now, no one knows what caused the explosions. The FBI is currently on the scene trying to figure it out. Medical tents and professionals who were originally supposed to take care of runners have been repurposed to care for the injured. According to Boston police, two people were killed and 23 were injured. Several buildings in downtown are on lockdown, including Copley Plaza Hotel, and others have been evacuated. Everyone who was still racing at the time was taken off the course, the surrounding area has been blockaded, and nearby public transit has been shut down.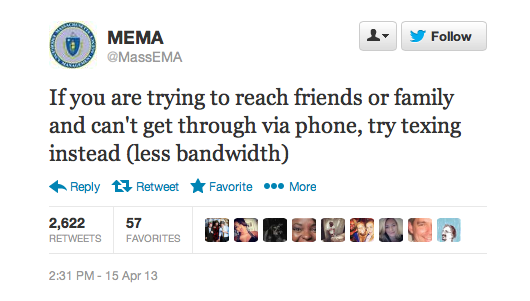 Solid information has been hard to come by, but a live newscast is happening on WBZ News.  The New York Times is liveblogging, too, and there is a helpful tweetstream up at Boston.com. There will be a press conference with city officials in about 20 minutes.

If you haven't heard from friends or family in Boston, please try not to worry — the phone lines around here are very tied up and it has been hard to even get texts. We'll update this post when we know more. Best of luck to everyone and we love you.
Update [4:43pm EST]: It has been confirmed that this was an intentional bombing. The Associated Press has reported two more bombs were found and dismantled near the scene.  Boston Police are asking anyone with video of the finish line to turn it over to them in order to help with the investigation.
Update [4:50pm EST]: A fire today at the JFK Library was not related to the bombings.
Update [4:52pm EST]: According to the press conference, all the victims have been removed from the scene and brought to hospitals, and officers have been sent along to the hospitals to get in touch with family members. Police are recommending that people stay home or in their hotel rooms, and that no one congregates in large crowds.  If you are trying to locate someone, call the Mayor's Hotline at 617-635-4500. If you have information that could help the police with their investigation, call 1-800-484-TIPS.
Update [5:02pm EST]: Google has set up a Person Finder tool to help people check on each other.
Update [5:15pm EST]: The city is shutting down cell service in order to prevent more remote detonations.
Update [6:11pm EST] 
President Barack Obama is speaking about the explosions at the White House, says: "The American people will say a prayer for Boston tonight, and Michelle and I send out deepest thoughts and prayers to the victims."
Update [6:39pm EST] U.S. Rep. from Massachusetts Bill Keating confirmed two unexploded devices were found, one at a hotel on Boylston Street and that this was a "sophisticated, coordinated, planned attack." Via CNN.
Update [6:44pm EST] The Boston Globe reports 115 injured, 2 dead. Area hospitals report 90 injured.
The American Red Cross has announced there is enough blood on hand to meet the current demands.
Thanks to generosity of volunteer blood donors there is currently enough blood on the shelves to meet demand. #BostonMarathon

— American Red Cross (@RedCross) April 15, 2013
Update [6:50pm EST] Cell service remains slow, so keep in mind that Google has set up a webpage to help people contact their loved ones who might have been in the area.
Update [6:55pm EST]
Boston area hospitals announced 110 injured.
Sprint and Verizon denied rumors that that law officials suspended wireless service throughout the city to prevent remote detonation. Cell service was slowed due to overloading traffic following the explosions.
Boston.com has opened Google Docs for people who need a place to stay or have a place to house runners and visitors overnight.
Update [7:05pm EST]
US Rep. Michael Capuano speaking about the explosions said, "I want to remind everyone that this is not just about the people of Boston; the Boston Marathon is an international event with runners from all over the world. I would not be at all surprised if some of those injured aren't from Boston or Massachusetts."
See this link for footage of the first explosion going off. I am not going to embed it because I want to warn you that it is really upsetting to watch.
Update [7:15pm EST] If you are in Boston and unsure how to contact your loved ones, you can register at the Red Cross Safe and Well Listings. Those with loved ones in Boston can also search the list.
Update [7:30pm EST] NBC, Boston Globe and CNN are all reporting that one of the two victims of the explosions was an eight-year-old boy.
Boston Globe confirms that one of two victims killed in Marathon explosion was an 8 year old boy. bostonglobe.com/metro/2013/04/…

— The Boston Globe (@BostonGlobe) April 15, 2013
Boston Police are still taking all tips regarding the explosions, however many callers are encountering busy signals.
High volume of tips on crimestoppers.Task force tip line 617-223-6610 -617-223-6612 Boston@ci.fbi.gov #tweetfromthebeat viaCherylFianda

— Boston Police Dept. (@Boston_Police) April 15, 2013
Boston area hospitals are now reporting 120 patients treated for injuries related to the explosions.
Update [7:45pm EST] MGH reporting eight critical care patients, 22 patients overall.
#MGH is treating 22 patients, none are pediatric. 8 are in critical condition. Injuries range from cuts and scrapes to amputations.

— MassGeneral News (@MassGeneralNews) April 15, 2013
The Boston Globe reiterated that the JFK explosions earlier were likely unrelated to the Copley Square explosions.
UPDATE: Fire at JFK library earlier today likely unrelated to marathon bombings b.globe.com/17Cnzmc via @globevasznis @globecullen

— The Boston Globe (@BostonGlobe) April 15, 2013

Rumors of suspicious packages being delivered to Northeastern University were also declared false by University Officials.
Rumors about suspicious packages delivered to #Northeastern are absolutely false.

— Northeastern News (@northeastern) April 15, 2013
Emerson University is on Lockdown.
RT @danobrien155: @emersoncollege still in lockdown. Only people with valid Emerson IDs allowed in buildings, per announcement from EPD

— Emerson College (@EmersonCollege) April 15, 2013
WBUR.org has information regarding event cancellations in the city.
Update [7:55pm EST]
Street closures in Boston include: Clarendon from Huntington to Newbury, Newbury from Clarendon to Hereford, Huntington from Belividere to Clarendon. Copley Station also remains closed and Gov. Patrick encourages those in the city to stay away from Copley Square and Boston area hospitals to ensure safety and let officials and medical personel do their jobs.
Update [8:30pm EST] Current estimates of those injured due to the explosions is at 124. WBUR reported on air that many injuries were of lower extremity bone and tissue.
From Boston Area hospitals:
MGH: According to their Twitter feed, there is no truth the rumor that MGH is on lockdown. Despite other rumors, there are no suspicious packages in the MGH parking garage and the building has been cleared. MGH patients numbers have been updated to 29 patients though those in critical care thankfully remains at eight.
Brigham & Women's Hospital: Boston.com is reporting that a suspect is being cared for at Brigham & Women's Hospital. This has not been commented on by the hospital. The hospital also reports 28 patients, two of whom are in critical condition, eight to ten of whom are in serious condition.
Boston Children's Hospital: Eight patients have been admitted to Boston Children's Hospital from the marathon, however one of these patients was a 42-year-old. They will not be receiving any other patients from explosion site according to Boston EMS.
Tuft's Medical Center: According to their Twitter feed, a suspicious item was found at Tuft's Medical, but there were no explosions or concerns and the hospital was cleared by Boston PD. Their Emergency Department was temporarily cleared but is now fully operational and open.
Beth Israel Deaconess Medical Center: BIDMC has closed the hospital to visitors purely as a precaution. BIDMChas 21 patients form the marathon, seven of whom were critically injured and are currently in surgery. They requested via their Twitter feed that those with appointments tomorrow call their doctors to ensure that they are still scheduled.
Boston Medical Center: BMC is treating 20 patients , two of them children, mostly for lower leg injuries. High security, including a SWAT team, at BMC was reported to be just standard procedure and nothing to be alarmed about.
Update [8:40pm EST] The Boston Athletic Association released a statement at 8:00 pm EST:
The Boston Athletic Association extends its deepest sympathies to all those who were affected in any way by todays events.
Today is a sad day for the City of Boston, for the running community, and for all those who were here to enjoy the 117th running of the Boston Marathon. What was intended to be a day of joy and celebration quickly became a day in which running a marathon was of little importance.
We can confirm that all of the remaining runners who were out on the course when the tragic events unfolded have been returned to a community meeting area.
At this time, runners bags in Boston which remain unclaimed may be picked up by runners presenting their bib number or proof of race participation at the Castle, at 101 Arlington Street, in Boston.
At this time, we are cooperating with the City of Boston, the Commonwealth of Massachusetts, and all federal law enforcement officials.
We would like to thank the countless people from around the world who have reached out to support us today.
Update [8:55pm EST]
According to Boston Police Department Commissioner Ed Davis, three individuals are confirmed dead. Additionally there is no truth to the rumor that there is a suspect at Brigham and Women's. I apologize for contributing to the dissemination of that rumor earlier.
Update [9:00pm EST] Wall Street Journal reports five additional undetonated devices have been found in total in addition to the two that were detonated earlier today.
The Associated Press now estimates injury numbers related to the explosions at 134 with 15 defined as "critical."
The FBI has taken over the investigation.
FBI has taken over the investigation #tweetfromthebeat via @cherylfiandaca

— Boston Police Dept. (@Boston_Police) April 16, 2013
Update [9:10pm EST] Despite rumors to the contrary, at this time Boston Police Department does not have a suspect in custody.
BPD does not have a suspect in custody #tweetfromthebeat via @cherylfiandaca

— Boston Police Dept. (@Boston_Police) April 16, 2013
Update [9:20pm EST] I will continue to refrain from posting images of victims, however for those who wish to view it, the the Associated Press has released the raw footage of the second explosion going on. There are no overt injuries in the video as the second explosion is recorded from over by where the first explosion took place, however it is upsetting to watch the crowd panic and to hear the explosion, and commotion of the scene.
Update [9:30pm EST] The City of Boston Twitter has released the official crime scene parameter image below:
Update [9:35pm EST]
Just a few reminders about numbers to call:
Relatives of victims or missing persons can call the mayor's hotline: 617-635-4500
Information about the explosions for the Boston Police Department: 800-494-TIPS
Information about the explosions (or visual images) for the FBI: 1-800-CALL-FBI (1-800-225-5324), prompt #3
Update [9:45pm EST] The Green Building at MIT, the tallest (and most frequently hacked) building in Cambridge, is shining the American Flag tonight.

Update [10:00pm EST]
MGH doctor speaks about the explosion patients outside MGH LIVE right now
Update [10:25pm EST] Live on NBC, MGH Trama Surgeon Dr. Peter Fagenholz was generally an all around total boss handling the interview. Fagenholz reiterated that there were 29 injured patients at MGH; eight in critical condition. He explained that there was still very little information available to the public, but that many injuries were compound tissue and bone from shrapnel. Reporters pressed him about whether the injuries, particularly whether they seemed similar to battle injuries. Fagenholz explained that while the trauma team does not usually see this volume of such injuries, amputation and shrapnel injuries are not "other worldly." Additionally, he took the time to remind viewers that while the Boston area hospitals do not need blood donations at this time, they will in the very new future when blood supplies will need to be replenished. He ended by explaining that he had been doing surgeries since 8am (obviously before the explosions) and needed to return to continue.