Hi crush monsters, this is Straddler On The Street, a feature where I celebrate all of you incredible Autostraddle readers by hunting you down, demanding you chat with me, and then writing about you on the Internet so we can all crush on you. Get excited, because butterflies in your stomach 24/7 is a fantastic way to live.
Header by Rory Midhani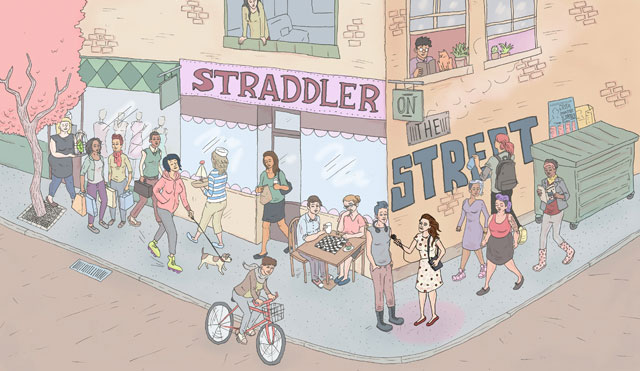 ---
Straddler On The Street: Dhati, 21
I met Dhati at The Strand Queer Ladies Speed Dating event in February, and it turns out that was the evening she discovered Autostraddle! A "totally awesome straight friend" dragged her to the event after Dhati came out to her, and the rest is history. Actually, the rest is in this interview that you should read, because Dhati is so interesting and also really sweet and obliging when it comes to my crazy requests (specifically, she told me she'd be happy to be a Straddler On The Street but she didn't have any recent photos of herself, so I forced her to meet me in Midtown when I got off work one evening and engage in a madcap photoshoot all around Bryant Park…yes, I will go to great lengths to interview every last one of you!).
So who is Dhati? She was born in India, but moved to the Middle East when she was very young. She lived in Dubai for two years and then Bahrain for 14 years. She headed to California for university and is a recent grad from UC Berkley, which she says is the place that helped her out of the closet. She moved to Manhattan on Christmas Day of last year and is hoping to find steady work before her visa expires, but in the meantime she's hitting the gym a lot and teaching herself Korean. Oh, and FYI, she's totally single.
You went to UC Berkeley, and said being there "helped you out of the closet." Can you talk about that?
I wasn't out — even to myself — in high school and I was choosing between the London School of Economics (LSE) and Berkeley. For some magical reason, I really wanted to go to the super liberal Bay Area. Looking back, I think it's because part of me knew I needed to be truthful to myself…the LGBT scene in Berkeley is so visible. In [my] sophomore year, I finally mustered my courage and went to a Queer & Asian club meeting. After the meeting, I SHOT OUT OF THE CLOSET LIKE A ROCKET to my closest friends. It was like I found my people.
That's amazing. Did you start to come out to everyone after that?
I started slow. I worked as a Resident Assistant in the dorms at the time, so some of the first people I came out to were my staff because I trusted and worked with them and it's a super inclusive, safe community. Then I slowly came out to my friends who were also my residents. When I started telling friends who knew me for longer, it was funny how a few of my older friends were totally not surprised. I think we all knew, but couldn't say it.
You mentioned your family is somewhat conservative; are you out to them now?
I'm not really out to my parents. I tried to tell my mother, but I had to convince her that I was bi — I'm not — and will someday marry a man — preferably won't. Now I can't bring up that conversation and she pretends we never had it. My brother, on the other hand, is totally cool and supportive. And he also totally knew since third grade when he found my diary, haha…
Haha, typical older brother!
Yeah, looking back, I think he even gave my mum the diary. I don't really remember much from what happened except that I felt like I had done something wrong. It's funny, at that age, no one talks about sexuality, but I still knew I was different somehow… and that it was "bad."
Ugh, that's such a familiar feeling for young queer humans, I think. Can you talk about how you felt when you were younger, before you were out to yourself?
Like I said, I always knew there was something different about me. When I was younger, I may have believed I could grow up to be a man — don't laugh — because I liked girls like men do. But I couldn't tell anyone. Whenever people talked about crushes, I would say my crush was some guy who was nice to me at the time. I'd even ask guys out in high school, mostly hoping they would — and they did — turn me down so I could pretend to be upset and hung up about it.
I would never laugh about that. I know there are often misconceptions that many North Americans have about life in South Asia and the Middle East. Do you want to talk about your time growing up there — your own experiences with how it may or may not have impacted your sense of yourself and your process of coming out? 
My parents are pretty traditional Indian parents and I grew up in the Middle East. Not really any outlets to be honest. I had a "girly" phase because my mum always commented that her "little girl" wouldn't dress up and wear cute things. I think I convinced myself that I could do that. Totally couldn't. Not to say that I don't have the rare urge to look "pretty" or wear a dress, but I am more comfortable being a "tomboy."
I wanted to ask about growing up in the Middle East — I'd love to hear about the ways in which it was difficult to be honest there, but also to hear if you think there are any misconceptions about life in the Middle East that people in North America subscribe to?
Well, I guess it [was] similar to growing up in regions of Asia where people are socially conservative and — how do I put this without scaring people? — raised kids with an iron fist. Very involved parenting. Now throw in a whole lot of religion and religious laws — maybe even compare them to the religious anti-gay protesters here — and you get a whole lot of confusion for out LGBT+ friends. Plus fear. It's still illegal there to be queer, I believe, and it's not even a great place for women's rights, though Bahrain is more liberal compared to some of the other countries.
As for stereotypes about the region, well, it really depends on where you're talking about. Bahrain isn't a terrifying place to live — before the people started rebelling, but that doesn't concern us foreigners — for anyone, really. It can be a pretty luxurious place too. But Saudi's not a fun place to be a woman, let alone LGBT+. I've heard some terrible stories. But I dare say don't put that impression on the ENTIRE region. I feel like as long as the religious laws dominate, civil rights progress isn't really an option.
I feel a little jumbled in my thoughts about it. My childhood was great — I was safe, had a good education, plenty of freedom to grow up. But that's because my family was well off there. It's the same as here — money helps make things smoother, right? Even if you're part of an oppressed class, it helps.
Yes, that definitely makes sense. Money can be the great equalizer I guess, even when things aren't really equal.
Exactly. So I loved Bahrain as a child. Not so much as a young adult.
Moving into the future — you said you came to Manhattan a few months ago. What is your ideal plan moving for what happens next?
Erm…get a stable job? I really hope to stay in the United States. Just because it would be easier here. I'm staying with my awesome brother right now and trying to settle down. However, my heart was left in the Bay Area, so part of me still hopes I can go back there. But you know, if none of that happens, I guess I'm off to India when my visa expires.
What will you do if you move back to India? Or are you just hoping that won't happen?
I am creating back-ups in India for sure. My father is a very organized person so it would simply not do if I wasn't prepared for everything! As for the hoping it doesn't happen, my perception of that has changed a little thanks to Straddler On The Street, in fact.
Oh! Tell me more!
One of the Straddlers On The Street — Jaime — mentioned what it was like to be queer in the South and how people move to follow LGBT+ friendliness. That's totally what I was doing — trying to stay here because I could breathe a sigh of relief. But India has a vibrant and very brave LGBT+ community all over the country, especially in the big cities. They speak out, march, and deal with the consequences there for the sake of themselves and for the sake of others. It's noble. And I feel that having had a taste of being out of the closet, I am not going to get back in. Maybe I'd join that cause. It's one worth joining for sure and fighting for rights here is one thing, but there…each additional person is more valuable.
I'm so glad that reading about someone else's experiences made you feel more comfortable. That makes me super happy. Moving away from some of the heavy stuff, I have to ask you my favorite frivolous question… do you have any celeb crushes?
Always an awkward question! I could be safe and default to Emma Watson, because damn!, or Charlize Theron, because hot damn!, but I have to be honest. As an insane fan of K-pop, most of my celebrity crushes are Korean singers. So if you really want to know, Jeon Hyosung [leader of South Korean girl group, Secret], Son Ga-In [member of Korean girl-group Brown Eyed Girls] and BoA [referred to as the Queen of Korean Pop] would probably be my queen crush. It was super hard to limit my answer to three of them, haha!
Yes of course I really wanted to know! I'm glad you were honest. Do you have anything else you'd like to share with the Autostraddle community?
Hi, community! Congratulations on finding something as awesome as Autostraddle. Now go share to all, so that maybe they too can find something to inspire them!
---
If you would like to be featured as a future Straddler on the Street, please email vanessa [at] autostraddle [dot] com. Include a few photos, 3-5 sentences about yourself and put "Straddler Submission" in your subject line. Approximately a million people have submitted so far, so please be patient as Vanessa goes through her inbox — you're all sexy with really smart brains, and don't you forget it!