Hi crush monsters, this is the sixth installment of Straddler On The Street, a feature where I celebrate all of you incredible Autostraddle readers by hunting you down, demanding you chat with me, and then writing about you on the Internet so we can all crush on you. Get excited, because butterflies in your stomach 24/7 is a fantastic way to live.
Header by Rory Midhani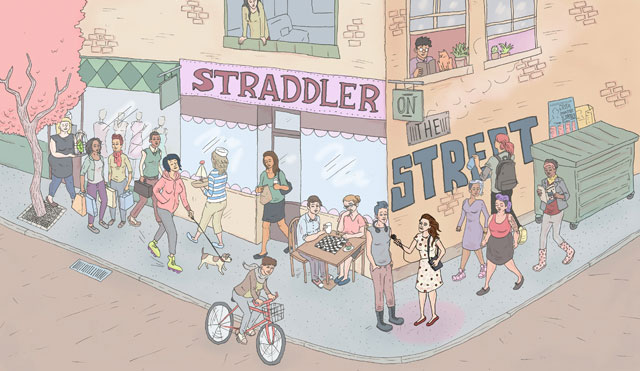 ---
Straddler On The Street: Jaime, 28
I was introduced to Jaime by our very own Sarah Fonseca, and from the very first round of emails we exchanged I was kind of blown away slash highly intimidated by Jaime's amazing brain. A born and bred Southerner, she now teaches English and Women's and Gender Studies at Louisiana State University. She has an MA in Women's Studies and is in the fourth year of her PhD; her dissertation focuses on Southern sexuality studies, specifically 20th century Southern lesbian lit. Last spring she designed and taught a course called "Sexual Otherness in Southern Fiction," and this spring she'll be teaching "Lesbian Writers, Lesbian Writing."
Jaime is exactly as well-read and charming as you'd expect her to be. In one of our many emails she described New Orleans so beautifully that I absolutely have to share her words with you:
New Orleans is magical; you cannot escape the lure of the city. I try not to over-romanticize it, but it's hard. There's no place like New Orleans. La Nouvelle Orléans. It is both new and old; its secrets are never fully revealed. One might argue that New Orleans is a smell, remembering a whiff of exotic spice or coffee with chicory wafting in from the port. Others might point to the wrought-iron balconettes of the French Quarter or lazy, historic mansions in the Garden District. It's the City That Care Forgot! We have jazz and zydeco, of gumbo, red beans and rice, beignets, king cakes, krewes, and crawfish. But to me, New Orleans is all about its people. And there are some lesbians in New Orleans for sure.
You're probably swooning by now (beautiful woman + gorgeous words = hi perfect crush!) so without further ado, let's meet Jaime.
Okay first of all, your description of New Orleans made me want to move there yesterday, and I am a die-hard New York girl.
Aw, I love that! Please do. You'd be surprised how many die-hard NYC girls move to NOLA. They're both unforgettable places: the City that Never Sleeps and the City that Care Forgot. They go together well I think.
Have you always lived in New Orleans?
No, but I've always lived in the South. I've traveled outside of the South quite a bit, but I'm a Southern belle at heart.
Tell me what being a Southern belle means to you.
Lesbians stick it out in the South. There's a "great gay migration" that happens, but many of us stay. That it is harder to be part of the LGBTQ community in the South is not in itself revelatory. I think it's ultimately more productive to consider why we stay, you know? Why it is important to stay and tough it out? Because it's home. Because of the food! Because of the culture. Because it's familiar and comforting inasmuch as it's difficult.
I sometimes feel that as a queer community we tell our small-town youth, "Don't worry if things are hard because one day you can move," and I don't feel like that's always useful or fair.
Exactly. I agree with you. The system needs change, not location. There are many ways of being a lesbian and many places in which to do it, all having their own stylistics and joie de vivre.
Do you think the system ever will change?
I don't know if it ever will, but I do know it won't as long as rumors of "it's harder to be gay in the South" keep circulating.
Do you feel uncomfortable as a lesbian in the South?
I have no fear in NOLA. I proudly hold hands on any street, I kiss in public. No one looks askance, at least not overly. People clap. It's not all ignorance and bigotry.
I want people to clap when I kiss! Absolutely no one claps when I kiss anyone in Brooklyn.
People clap for anything down here. Beads. Beer. Football.
Well okay, now I'm definitely going to visit. I have approximately a million questions to ask about the class you taught and the class you're going to teach. How did you conceive of your classes? What's it like teaching something so close to you personally? And can you give me any tips about what's on your syllabus so I can read along and pretend I'm still a student? Because I miss that shit.
Okay, so one at a time. I have my MA in Women's Studies so I generally try to buck the system. I had the opportunity to teach fiction about two years ago, and I taught "greatest hits" novels. Coetzee, Toni Morrison, Carson McCullers; a lot of short stories, Jhumpa Lahiri, Junot Díaz, Margaret Atwood, Zadie Smith. And I enjoyed it. I did.
But when I was offered the chance to teach fiction again, I decided to look at sexual otherness in Southern fiction. I wanted to teach materials that not only meant something to me personally, but more importantly, expanded my students' minds in terms of what they've been exposed to. So I taught my favorite gay and lesbian novels written by Southern authors. I taught Dorothy Allison, Shay Youngblood, Doris Davenport, Thomas Hal Phillips, Truman Capote, Minnie Bruce Pratt. I wanted to challenge my students and delight them. I wanted them to be taken in the same way that I've been.
And were they?
They were, yes. Despite initial hesitance. But the hesitancy wasn't because they were adverse to the subject or special emphasis of the course, it was an unfamiliarity with the material. However, the fact that it was Southern literature helped. For example, I taught from Dorothy Allison's collection of poems, "The Women Who Hate Me." We're talking pretty explicit lesbian sex imagery there. Peaches and plums and shining thighs. What surprised me was that food — that is, Southern food — became a way for them to identify with the material, even though they couldn't necessarily identify with the sexuality. Allison mentions putting salt on watermelon in one of the poems. Sweet and salty and all that. So yes, from one angle, there's a lot going on with lesbian sex — sweet and salty, hello! — but at the same time, Allison is using Southern food customs as a way to articulate sex, and my students could understand that. Because they know why we put salt on watermelon in the South.
That's amazing! While we're on the subject, tell me about some of your favorite Southern foods.
Oh my. Well, it's not just types of food, you know, like okra or crawfish or jambalaya or grits. For me, it's more about what food MEANS culturally. What is conveyed through food, the attitudes and practices regarding food as a cultural symbol of Southernness. But yes, on a surface level, the food tastes good!
Alright, now I'm gonna get super gay. I want you to tell me about your cat and how you guys fell in love.
I could go on forever! You'll be sorry you asked. Her name is Stella. She is crunchy and crankypants and utterly adorable. She's near 15. She wandered onto my front porch when I lived in the gay bubble of Baton Rouge. She is the prettiest kitty in all of Louisiana, and she has a fleur de lis face. Perfect for Saints fans!
Well my big lesbian secret is that I'm deathly allergic to cats so I have to live vicariously through others.
No way! I am too.
Oh my god, wait, how do you live?!
She makes me sick, even after four years. I get hives every now and then. But she's worth it.
You're a better lesbian than I am! Now I'm going to ask you about your favorite things. Favorite bar and favorite restaurant in NOLA, please.
OH MY GOD NO YOU DIDN'T. Okay, favorite bars in NOLA are wine bars. Delachaise on St. Charles or Bouligny Tavern on Magazine Street. Favorite restaurant? I like 13 on Frenchmen in the Marigny and Carmo on Julia Street in the Warehouse District.
Favorite Southern author?
Can't. [Pause.] Minnie Bruce Pratt. Her poetry from We Say We Love Each Other.
I'm impressed, you totally didn't even take a long time!
It was hard, but I just went with what I felt when you asked.
Okay my personal favorite question: celeb crush?
I don't have celeb crushes. Seriously. I only crush after I meet a woman and watch her move and stand and sit or sip from a glass. The crush happens through the looking. The observing. The watching. And crush is a great word by the way! Crush is an echo of itself. A sound and a touch, you know? And a feeling!
Okay be honest. Is it a Southern thing or are you and Fonseca just particularly charming?
Hmm. I don't know? Let's go with it's just us.
I'll vouch for that.
No seriously though, just to go on for another second, crush is a great word. Not only a sound of itself, but it seems to achieve a near perfect unity with the state it describes. Crushing intensity, heightened sensations, concentrated everything. So no celeb crush, but maybe too much time crushing on the word or the women who make the word possible.
Oh my god, you are an English major's delight! Before we say goodbye, is there anything else you'd like to share with the Autostraddle community?
Yes! We need more collating of our history, records of our individual histories. It would be wonderful to see more scholarly work that would provide portraits of our make up as a community and dimension as a culture. More than anything else, our presence and influence in the world. That was advice Katherine V. Forrest gave me in an interview with her, and I think it bears repeating over and over to our community. We hunger for stories about our lives.
I couldn't agree more. Thank you, Jaime, for sharing a piece of your story.
---
If you would like to be featured as a future Straddler on the Street, please email vanessa [at] autostraddle [dot] com. Include a few photos, 3-5 sentences about yourself and put "Straddler Submission" in your subject line. Photos must be high-quality vertical shots that are taken outdoors or in very amazing indoor lighting — low-light selfies, while sexy in their own right, will never ever ever be considered. Approximately a million people have submitted so far, so please be patient as Vanessa goes through her inbox — you're all sexy with really smart brains, and don't you forget it!