If you've ever been to the Empire State, chances are you've been to one place: Manhattan. There's no doubt The City is a haven for queers, but if you venture upstate you might find yourself pleasantly surprised by everything else that New York has to offer.
Saratoga Springs, NY, is roughly four hours north of Manhattan. I was born and raised in Saratoga and I've come to love its unique vibe. Saratoga lacks the frenzied bustle of a big city, but it's somehow both lively and laid-back at the same time. It is the epitome of the quintessential northeastern town: easy-going, liberal and gay-friendly.
+
LGBT Nightlife
+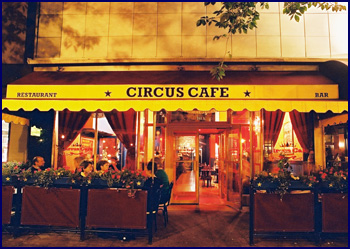 Although Saratoga doesn't have its own gay bar, queers seemed to have adopted Karaoke Nights on the first, third and fifth Saturdays at Circus Cafe (329 Broadway).
Another bar in Saratoga worth visiting is Tin 'n' Lint (2 Caroline Street). Caroline Street is the epicenter of nightlife in Saratoga, with multiple bars clustered onto one short stretch, but Tin 'n' Lint stands out from its competitors. It's a tiny, grungy little dive bar known for its cheap drinks and eccentric history. Its walls are covered with photographs and memorabilia with peoples' names carved into the wood. Although the legend has dissolved recently, for years it was rumored that Don McLean wrote his famous song, "America Pie," on a napkin in the bar.
Some of that history holds up one block over, at Caffé Lena (47 Phila Street), where Don McLean was a resident singer. The folk music cafe has also hosted Bob Dylan, Ani DiFranco and Arlo Guthrie. It's especially popular among local indie singers and is also a venue for the Saratoga ArtsFest, a week-long festival in June celebrating music, dance, visual art, film and theatre.
Head forty minutes south of Saratoga to New York's capital, Albany, and you'll find a surprisingly high concentration of gay bars. Rocks (77 Central Avenue) is one of the most popular venues, particularly because of its full calendar of events and friendly staff. Although it tends to be more popular with men, it was recently renovated and now has a large dance floor.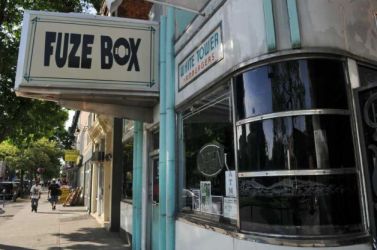 Right across the street from Rocks is Waterworks, Albany's original gay bar. It tends to be balanced in terms of men and women, but it draws more lesbians than its neighbors and also attracts a younger crowd. The two-story set-up, with "The Pub" on the first floor and "The Club" upstairs, contributes to the bar's dynamic atmosphere.
One block down the street from Rocks and Waterworks is Fuze Box, a club popular among both men and women. One of Fuze Box's most popular events is Therapy Thursday, an 18+ dance party. Although the event draws a wild crowd mostly comprised of local college students, Fuze Box has tightened its security policies recently, breathalyzing before entry and sometimes after.
Oh Bar (304 Lark Street), offers a more relaxed vibe than Rocks, Waterworks or Fuze Box. Lark Street itself has a great neighborhood feel, with book stores, coffee shops and ethnic restaurants. Oh Bar is in tune with that scene. Although it's smaller than the other gay bars in Albany, it has the feeling of a "lounge" or a neighborhood bar where friends gather. It's certainly not a rowdy dance club, but gays and lesbians alike enjoy its welcoming atmosphere.
+
Performing Arts and Arts Groups
+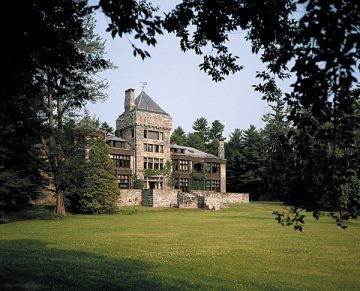 Saratoga Performing Arts Center, located within the Saratoga Spa State Park–which is famous for its mineral springs–is another hallmark of the city. In addition to hosting the New York City Ballet and the Philadelphia Orchestra each summer, SPAC is also (in)famous for its rowdy Live Nation concerts. Many bands return to SPAC year after year, including Phish, O.A.R., The Allman Brothers, and Dave Matthews Band.
Yaddo, located just outside of the Saratoga's downtown, is a 400 acre artists' colony devoted to providing retreats for writers, photographers, musicians and other visual artists. The gardens, however, are open to the public, and the rose garden, fountains, and pathways are rich with history. The estate dates back to the late 1800's, and Yaddo is even rumored to be haunted by members of the Trask family, who lived in the Yaddo mansion before it was turned into an artists' colony. Edgar Allen Poe even stayed at Yaddo when it was operating as a gristmill and tavern, and legend has it he wrote part of "The Raven" while staying there.
+
Restaurants and Coffee Shops
+
Uncommon Grounds (402 Broadway), is a coffee shop located in the center of town. There's always an eclectic crowd there, and it's a great place for both getting work done and hanging out. With great art on the walls, awesome bagel sandwiches and gourmet coffee, it's become a Saratoga mainstay. Oh, and be sure to try their hummus!
One of the smaller cafés in town, Saratoga Coffee Traders (447 Broadway) is known for its fair-trade, organic coffee. They also have lots of speciality drinks to choose from, in addition to a delicious selection of sandwiches and paninis. Nestled in the back of the shop, but impossible to ignore, is a retro candy bar, which adds to the café's unique flavor.
Stroll down Broadway, Saratoga's main street, and you'll see that Saratoga has a surprising number of ice cream places. However, Johnny's Gourmet Italian Ices (382 Broadway) is newer to the block, and it's one of the only places in town with a wide selection of vegan ice cream flavors that actually taste better than most non-vegan ice cream I've had.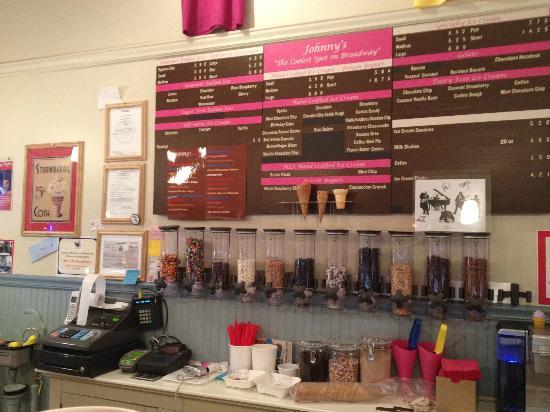 A great choice for late-night food, Esperanto (6 1/2 Caroline Street) is located right near the bars. To accommodate that crowd, it's open until 3:30 a.m. on the weekends. "Espo's," as it is called, has food from all over the world at fantastically cheap prices. Their falafel is one of my favorites, but meat-eaters rave about Espo's signature creaturion, The Dough-Boy, a pizza dough roll with sauteed chicken breast, cheese and scallions. As for me, I'm a fan of the vegetarian version, which is named appropriately: The Dough-Girl.
Four Seasons (33 Phila Street) is quite literally a vegetarian's paradise. With an expansive selection of organic groceries, it also has a buffet with lots of great vegan and vegetarian options. The menu changes daily, and their smoothies are a must-try.
+
Purchases and Pompadours
+
Magic Moon (15 Phila Street) calls itself a "unique metaphysical boutique." Along with incense, herbs, and smoking accessories, you'll find a smattering of pro-equality merchandise, too, like rainbow stickers and pins. It's an eclectic little store, but definitely fun to browse through. 
Swagger is a relatively new establishment in Saratoga, but it definitely fills the niche for edgy haircuts. Technically a barbershop, Swagger also offers women's haircuts starting at $31. Swagger rocks a cool, retro interior, and patrons who are 21+ enjoy a complimentary can of PBR. Can't get much better than that in a hair salon.
+
Sports
+
Most people who know and love Saratoga associate it with one main feature: horse racing. The Saratoga Race Course has been attracting tourists every summer since 1863, when it first opened. Saratoga itself is rich with Victorian history, which all stems from the race track. The races start in late July and continue until early September. If you've never been, you know that it's an experience for sure, one that has continued to define Saratoga. It's also the reason why the population shoots up in the summer as people from all over the country come to watch the Thoroughbreds run.
+ 
College Life
+
A short walk from Saratoga's downtown area is Skidmore College, a small liberal arts college. It was founded in the early 1900's as a women's college, and didn't begin admitting men until 1971. In many ways, the sentiment still remains. For one, it has a really strong gender studies program. Not only is Skidmore's student body over 60% female, but, the college is extremely open and accepting. Skidmore's LGBTQ group, Pride Alliance, has a significant presence on campus, and the college is adamant about offering gender-neutral housing to all students who are interested in it.
+
Support for LGBT Families
+
The Bridge is the LGBTQ community council for the region surrounding Saratoga. The organization offers meet-ups, such as Ladies' Night Out and Lesbian Brunches, as well as support services for LGBTQ individuals and families in northern New York. The Bridge also sponsors free yoga and zumba classes for LGBTQ families every month at Bliss Yoga Studio in Glens Falls, which is only about twenty minutes from Saratoga.
Saratoga Pride is an organization committed to uniting the LGBTQ community in the Capital Region. They consistently update a calendar of LGBTQ events in the area, including cocktail nights, lesbian networking events, meet & greets and gay bowling.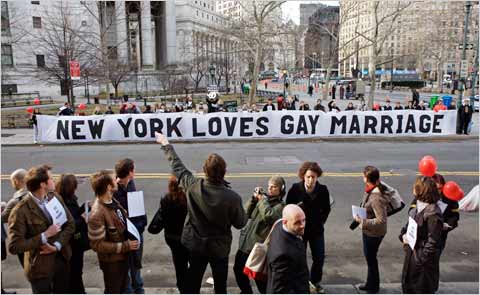 +
Gay Pride
+
Capital Pride Center, the LGBTQ community center for Albany and the surrounding cities, hosts Capital Pride week at the end of May. The 11-day festival includes the parade in Albany, as well as an art show, a youth prom, comedy night, family events, and parties at the local LGBTQ night clubs.