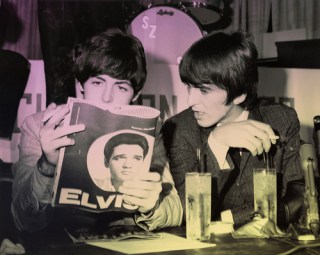 HELLO and welcome to the 32nd installment of Things I Read That I Love, wherein I share with you some of the longer-form journalism/essays I've read recently so that you can read them too and we can all know more about secret shoppers and book collecting! This "column" is less feminist/queer focused than the rest of the site because when something is feminist/queer focused, I put it on the rest of the site. Here is where the other things are.
The title of this feature is inspired by the title of Emily Gould's tumblr, Things I Ate That I Love.
My Father's Unholy Local Union (August 2004), by Doug Crandell for The Sun – If you can get past the hurdle of how much the last sentence of the first paragraph makes you want to spork your eyes out, this is a really interesting essay by a not-very-sympathetic narrator dealing with his father's infidelity and other things.
Amber Waves of Green (July 2012), by Jon Ronson for GQ – "GQ sent Jon Ronson on a journey into the secret financial lives of six different people on the ladder, from a guy washing dishes for 200 bucks a week in Miami to a self-storage gazillionaire. What he found are some surprising truths about class, money, and making it in America."
Uncomfortable in Our Own Skin: The Body Image Report (June 2012), by  Eva Wiseman for The Guardian: "…when I know that beauty is subjective, that nothing terrible would happen if I put on weight, when my desk is covered in annotated research on bodies, do I still feel bad about the way I look?"
Katie Holmes 'Biggest Nightmare' in Scientology History Say Experts (July 2012), by Dana Kennedy for The Hollywood Reporter – WHAT. Don't tell me you weren't really relieved about Katie Holmes and aren't totally obsessed with how fucked up scientology is and are totally gonna read the article.
The Secret Shopper (June 2012) , by Willie Osterweil for The New Inquiry – Anybody who's ever worked or is working in the service industry in any capacity, like retail or food service or anything, will appreciate knowing more about those omnipresent mystery shoppers.
When Lois Pearson Started Fighting Back (June 2012), by Michael J. Mooney for D Magazine – This is one of those sick fucks who like totally destroyed this poor woman, assault, rape, all the trigger warnings.
Open Letter From a Millenial: Quit Telling Us We're Not Special (June 2012), by Sierra for The Phoenix & The Olive Branch:  "[David McCollough's message to high school grads] doesn't belong in an address to the generation who began running the rat race at age 4. It doesn't apply to the generation that knows hard work guarantees nothing, that can't hope to own a home before we have our own children, that pours coffee for other people's parents for free in the name of gaining "work experiencewp_poststhrough "internship.wp_postsDavid McCullough ought to have given that speech not to the graduates, but to their parents. We have not yet begun to shape the world: we are living in the one you created. And it's killing us."
The woman in the Facebook Frat House (June 2012), by Katherine Loose for The Wall Street Journal – "The author joined Facebook in 2005 as one of the first members of the company's nascent customer-relations team. It was just a year since Mark Zuckerberg had moved Facebook's headquarters from his Harvard dorm room to California. When she arrived, there were 50 employees working from a small office in downtown Palo Alto, and the collegiate culture remained thick. Here is some of what she remembers from those days."
The Monster of Florence (July 2006), by Douglas Preston for The Atlantic – "Between 1974 and 1985, seven couples—fourteen people in all—were murdered while making love in parked cars in the hills of Florence. The case was never solved, and it has become one of the longest and most expensive criminal investigations in Italian history."
Death by Degrees (June 2012), by The Editors for n+1 – Interesting to think about. – "Americans have been affluent enough for long enough that it's difficult to remember there was once a time when solidarity trumped the compulsion to rank. The inclusive vision that once drove the labor movement has given way to a guild mentality, at times also among unions, that is smug and parochial."
My Life As a Bibliophile (June 2012), by Julian Barnes for The Guardian – I fear that when I finally live in a place I plan on staying for more than a year, that I will quickly fill the entire house with books. Which will be AWESOME!