By Casey and Cori (no, not THAT Kacy and Cori)
Welcome to Gaynesville! Its a small little bubble of liberalism in a sea of southern weirdness. There's lots of fun to be had here; we've got everything from world-class education to the beauty of wild Florida nature, not to mention fresh cooked local meals and dance parties that will knock your socks off. We've lived in Gainesville a combined 20 years (Casey's been here for 5 years, Cori moved here at the ripe old age of 6 and has been out in the queer community for the past 4 years). We were surprised at how queer friendly Gainesville is for a small southern city. It's a great place to live, filled with great communities, lots of local music, and plenty of opportunities for artists, students and professionals alike.
I Love the Nightlife! I Like to Boogaaay!
Gainesville has a lot of bars and clubs downtown. Only three are official "gay bars" but downtown is very gay friendly for the most part. Here's an overview of the official gay nights:
There is a great little club down town called the University Club (UC) that has drag performances every Thursday, Friday and Saturday night. They also have an amateur drag show on Wednesday nights so if you and your friends work up the nerve, you can stage your very own performance!
In Florida we LOVE dive bars. So much, we have our very own queer dive bar called Spikes (4130 NW 6th Street). It's the oldest remaining gay bar in Gainesville and the atmosphere is warm and friendly with a pool table, outdoor patio and a jukebox. The community at Spikes is what keeps us coming back — every time we're there it feels like family. They often have open invitation potluck meals on the holidays because they know some people may need a home away from home.
Want to put a little wiggle in your pickle? Very recently a dance night was instituted on the third Wednesday of every month. The Queerotic Dance night takes place at the Backyard at Boca Fiesta (232 SE 1st Street), a back-porch bar sandwiched between a downtown restaurant and pool hall. The cover charge is often donated to local LGBTQ causes.
+
Yummies in Your Tummies
The food is one of the great jewels of Gainesville. There are so many family-owned restaurants featuring locally-grown produce and livestock from family farms and almost every restaurant has vegan and vegetarian options. The weekly Wednesday Farmer's Market and the Citizen's Co-op are great places to stock up for your own home cooked delicacies.  Here's a few of our favorites:
The Top (30 N Main Street) A "New American" style restaurant with everything from steak to tofu scramble. A nice spot for Sunday brunch, a full bar with nightly drink specials.
The East End Eatery (1202 NE 8th Avenue) is a quaint Mom and Pop restaurant that has waffles rivaled by no other and has a small menu that is accented by daily specials.
Flacos (University Avenue at NW 2nd Street) is the late night cuban sammie shop to stop at for lunch, dinner or for that post-bar crawl sober-uping delicious snack.
La Tienda (2204 SW 13th Street) ….OOOoooooo… La Tienda, I just drooled. Want some authentic mexican food? La Tienda is one of our favorites! Get some amazing mole (mo-lay), a luchador mask and visit the deli in back.
Vegetarianism be damned! If you are a juicy meat loving burger gobbler you need to check out Macs Drive Thru (129 NW 10th AVE). Macs is one of those small town essential drive ins. Every afternoon the line of cars is looped around the restaurant spilling into the road and around the block. And there's nowhere else you can get a burger, fries and a shake for less than 5 bucks.
The Jones Eastside (401 NW 23rd Avenue) serves locally grown breakfast all day every damn day!
Satchel's Pizza (1800 NE 23rd Avenue) is a Gainesville landmark. Their price point is a little high, but that is because Satchel believes everyone working at his restaurant should make a living wage and have benefits. The pizza isn't a traditional New York style, but boy is it delicious. As a connoisseur of pizza, Casey would say the butter and rosemary brushed crust is a delicious touch to their style of pizza. The serve both vegan AND gluten free pizza, so all you animal lovers and celiacs can enjoy their delicious dough as well!
The College Life
Welcome to the land of frats and sororities. The University of Florida is one of the largest universities in the United States. UF has a history of being anti-gay (you know, back in the cray-cray days of McCarthy and the Johns Committee), but many would argue that the University is making strides to change this perception. UF even instituted March as Pride Awareness Month in 2000 and brings in various LGBT entertainers. This year there were performances by Uh Huh Her, various drag performances and speakers such as poet Andrea Gibson and the Great John Waters.
Sante Fe College is another Gainesville-based source of higher education. SFC has two campuses and is popular for its smaller class sizes and lower tuition fees.
Get Sporty! And in Touch With Nature
There isn't much in terms of queer sports in Gainesville, but there are PLENTY of sports for participation and spectating alike. The University of Florida is home to Gator everything (football, baseball, basketball, volleyball, gymnastics). If you're a student here, it's easy to get some cheap football tickets, but even if you're not a student there are plenty of people who sell their tickets on Craigslist. Cori had a panic attack the first time she went to a football game (she's not one for the large crowds of sweaty, overly affectionate strangers) but tailgating is pretty awesome.
Gainesville is lucky enough to have two (TWO) roller derby teams, The Gainesville Roller Rebels and The ACR Hunnies. These wheeled vixens are a joy to watch, but be careful… the front row is the nose bleed section (aka Suicide Seating). There're also plenty of recreational sports around town: soccer, rugby, frisbee, and softball to name a few. There is a gay running group, but we hear it just happens to be filled with only gay men. Maybe you can help change that; we've been told that they're interested in it becoming a LGBTQ running group.
To us, the best part of living in Gainesville is being so close to some amazing natural phenomena. We are about an hour and fifteen minute drive from either coast (Crescent Beach and St. Augustine on the East, Cedar Key and Horseshoe Beach on the Gulf) and less than an hour away from many artesian springs.
Gainesville has some of the most amazing bike trails, both road and mountain (well, it's Florida so technically hills). The Hawthorn trail is a 16 mile paved rail to trail that starts in downtown Gainesville, rides though Paynes Prairie and ends in Hawthorn, Florida. Make sure to stop off at the Alachua Sink to walk down the boardwalk to the prairie and see all kinds of wildlife like, herons, alligators, deer, wild horses and bison. The San Felasco trail is a world famous off-road bike trail system filled with more than 30 miles of rip-roarin' fun! There are many more on-road and off-road trails scattered around the town. Gainesville Cycling Club (GCC) is great way to get acquainted with the local cycling community through group rides.
North Central Florida is home to dozens of natural springs. The Florida Flamingays are a couple of queers who have written some great reviews of some of the best springs including information about accessibility, safety, and other helpful details. Whether you're floating in a tube down the Ichetucknee river or snorkeling over the sunken confederate ship in Troy springs, you won't be disappointed by any of these amazing treasures.
Neighborhoods of Interest
One of the things we love about Gainesville is the wide variety of housing available. Whether you're looking to live in a swanky modern condo, a beautiful restored home in a historic neighborhood, a low to reasonably priced house or apartment or a tent in your friends lawn, we have it! The Duckpond neighborhood in Downtown Gainesville is a great place we suggest looking for housing. Carol Estates, Grove Street and Pleasant Street neighborhoods are also great places to find a quiet house with a couple roommates for a decent price. If you love the college vibe, the "student ghetto" is where you will find the house parties and cheap rooms. The price of housing is very reasonable in most of Gainesville, and the crime is low. Not to mention: the average cost of living in Gainesville is 3.5% lower than the US average.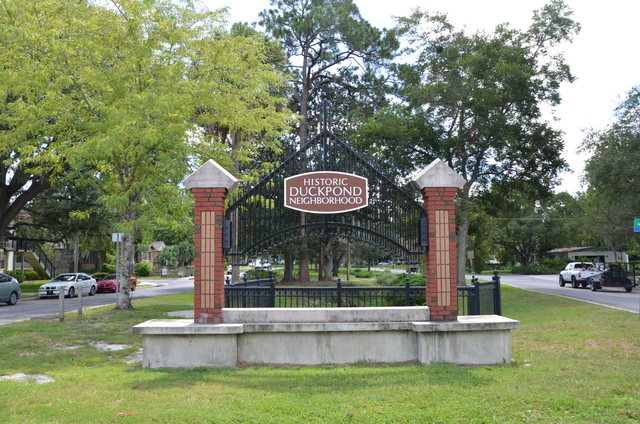 COMMUNITY!
One of the most amazing parts of Gainesville is the diverse and loving community that has formed here. For a small southern town, the Pride Community Center in Gainesville is very active place; it works with the city to put on a Pride parade every October. The local PFLAG chapter meets the third tuesday of every month at the United Church of Gainesville. There really is something for everyone here.
Jesus' Love Bomb is a recently organized group that works to counter and distract from the Dove World Outreach Center's relentless protests at any event that may include a gay person or people just generally have a nice time. (Yes these buttheads have garnered national attention by threatening to burn the Quran and lynching an effigy of President Obama, but they really aren't all that smart and are easily flustered by silliness and common sense.)
Wayward Council has been a Gainesville staple for fourteen years and, although they no longer have a storefront, this group of scrappy young punks are working together to create underground spaces all over town and support local and national artists with garage shows and guerilla record sales. The punks in this town are a hard group to break in to, but for the most part they are all fiercely loyal and supportive of the entire queer community.
Want to brush up on you Hothead Paizan? Looking for a 'zine about the queer prison movement? The Civic Media Center (433 S Main Street) is the place to go. The CMC hosts the Queer Reading Group discussions, screenings of documentary films and houses a reading room and library of all kinds of non corporate media.
We can't drive home the point enough that Gainesville is a rather small southern town, but that the queer awareness is pretty amazing here. Every October there is a Pride parade that is multiple (YES! MULTIPLE!) blocks long and ends with a great little festival in the Downtown Community Plaza.
Spectrum is a group of trans people and allies working to raise awareness of trans issues in the Gainesville area. Spectrum offers free workshops for various groups to help promote awareness for all genders.
Wild Iris is a feminist lesbian bookstore in between midtown and downtown Gainesville. The store has been criticized for not accepting trans ladies into their women-only variety show, but the store does have a non-fiction LGBT and gender identity section. Wild Iris is the last feminist bookstore in the state of Florida.
Places to Avoid
At all costs! Avoid the hell's mouth, I mean midtown. Actually, midtown is not specifically dangerous for the LGBTQ community, its just not that friendly at times. Or maybe a better way to put it is: the people who hang out at midtown tend to drink copious amounts of pitchers of beer and think it's acceptable to stare at people who are different and ask questions like, "Are you a boy or a girl?" In the end, it's a fun place to hang out, but not for everyone. And we recommend going in groups large enough to take over.
Gainesville is a moderately diverse town, but the one thing that really gets to us about Gainesville is that it's still fairly segregated. Carol Estates is the most racially diverse neighborhood with an almost equal number of people of color living side by side with whites. On there other hand, there are neighborhoods like the Duck Pond which are still dominated by "old rich" southern white folks who haven't gotten with the program. As for sexual and gender identity diversity, in 2010 Gainesville was listed as 11th gayest city by the Advocate in the US. There really is no gayborhood in Gainesville, but there also isn't any specific area of town that would be unsafe to live specifically as a LGBTQ individual.
Looking at the laws surrounding the cities protection of the LGBTQ community there is some good news, some bad news, and some ugly news. First, lets start with the good. Gainesville includes LGBTQ individuals to the Florida Civil Rights act, which protects some basic civil rights (i.e. you can't get kicked out of your home or fired for being a lesbian). The bad: Florida does not recognize same-sex marriage. Now the ugly: not only does Florida not recognize same-sex marriage, they refuse to recognize ANYTHING (domestic partners, civil unions) that isn't marriage. The implications of this are endless and have sometimes resulted in state workers not being able to provide health insurance benefits to domestic partners. Fortunately in Gainesville, the city workers and UF employees have been allowed to offer domestic partnership (even same-sex) benefits.
That said, the city is VERY friendly. Moving here from the north, it took Casey a while to come to terms with southern hospitality. People REALLY would give you the shirt off of their backs down here! Gainesville has been much more queer friendly than some northern cities we have been to. As long as you avoid certain bars at certain times of the day, you will be surprised that queerness is generally accepted. Come and visit the next time you get a hankerin' for some sunshine. We guarantee you won't be disappointed!